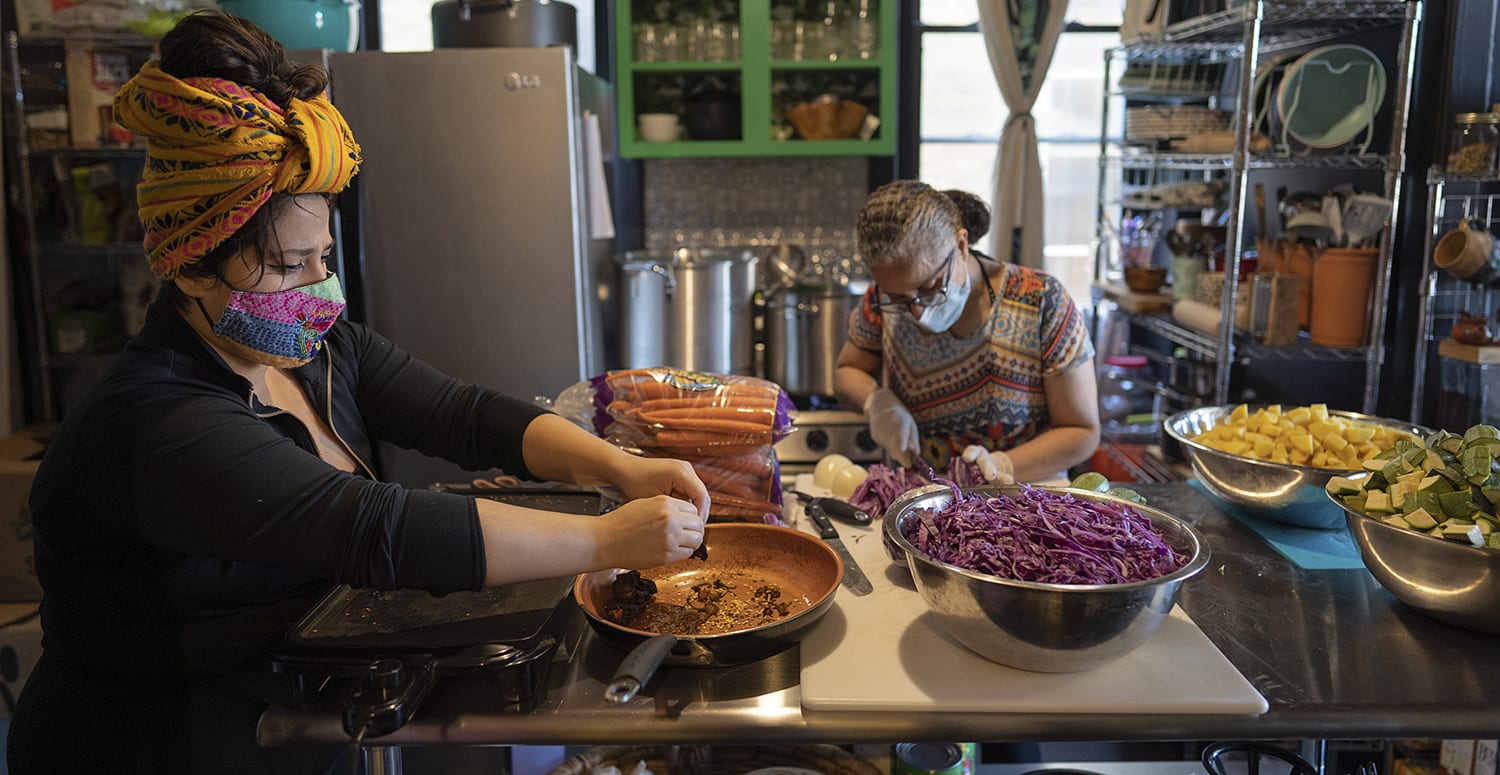 Max Herman / CatchLight Local Chicago
Farm, Food, Familias partners with diverse chefs to bring dishes with cultural specificity to Black and Latinx communities in need.
Karla Morales prepares guajillo peppers while her mother, Daisy, chops vegetables for a Mexican zucchini stew on Feb. 3, 2021 in Chicago, Ill. The food is for Farm, Food, Familias, a mutual aid network feeding families in need across the South Side of Chicago. Max Herman for Borderless Magazine / CatchLight Local Chicago
Karla Morales woke up last Wednesday at 5 a.m. to cook a Mexican zucchini stew with her mother, Daisy. They've been cooking together since Morales was a child, but this was a new recipe for them. Working side by side, they chopped red cabbage, zucchini, carrots, onions and grilled guajillo chiles, combined the ingredients in a big pot, then added homemade frijoles and chochoyotes. They then stirred in blended spices before leaving the stew to simmer. 
Morales has run her food business Amor Y Sofrito out of her home kitchen for four years, cooking vegan Latinx soul food for home deliveries and markets. But this stew wasn't for her customers. By dinner time, dishes would reach families in need across Chicago's South Side through Farm, Food, Familias, a mutual aid network.
"When the pandemic happened, I was trying to feed the community," the Mexican-Puerto Rican chef said. "But feeding so many people by myself got to me, and I had to stop." She found another way to give back when Farm, Food, Familias asked for her help last May. "It was such a godsend," she said.
Farm, Food, Familias is one of several mutual aid groups in Chicago addressing local food insecurity, which COVID-19 has exacerbated. Each Wednesday, volunteers and staff members prepare and deliver hot meals to families in Chicago's Englewood, Little Village and South Chicago neighborhoods. Carefully prepared by seasoned chefs, these dishes represent diverse cuisines from places like Mexico and the Carribean. More than just meals, they are often nourishing foods that provide residents — many of whom are immigrants — with flavors that evoke a sense of comfort, or even of home. 
Since March, Little Village and Englewood have recorded more than 19,000 confirmed cases of COVID-19. The neighborhoods are home to many Latinx and Black communities who have been disproportionately affected by the pandemic, facing higher mortality rates and greater economic hardship than white residents. 
Food insecurity, already a longstanding issue, has also become more pronounced: Feeding America estimates that food insecurity in Cook County rose by 51 percent from 2018 to 2020, a number that represents 270,000 additional people unable to attain enough food to live an active, healthy life. Today, the county has the third-largest population of food-insecure people in the United States: nearly 800,000 people, or roughly 15 percent of the population, are impacted. Additionally, the Greater Chicago Food Depository distributed more than 77.5 million meals in fiscal year 2020 — the greatest amount in its 42-year history.
"The communities that we're distributing to were already suffering and oppressed and in need of care and mutual aid before the pandemic," said Taryn Randle, founder of Getting Grown Collective, an organization advocating for land and food sovereignty. "[The pandemic] put shit into perspective. It provided affirmation and purpose in the passion that we had already."
Last May, Randle cofounded Farm, Food, Familias with Little Village Environmental Justice Organization (LVEJO) to address the urgent need to feed families. The idea was sparked by a conversation between Randle and a representative for LVEJO after they attended a four-week virtual cooking class hosted by local chef Roberto Pérez. Pérez organizes these workshops through Urban Pilón, an educational culinary initiative he co-founded to honor and preserve cooking traditions from Puerto Rico, the Caribbean and Latin America while using natural, healthy ingredients. 
Getting Grown Collective and LVEJO invited Pérez and another chef, Fresh Roberson — founder of food and farming project Fresher Together — to cook meals each week using produce harvested from a collective of local farms and gardens. The organizations chose Pérez and Roberson because they wanted to bring the specific cultural flavors of the chefs' kitchens to families who might find them comforting or familiar. (Roberson, who was born and raised in North Carolina, takes pride in southern culinary traditions and often makes comfort food such as collard greens and meatloaf.) A week later, Farm, Food, Familias launched with an initial target of 50 meals a week.
Getting Grown Collective had received a grant for a project that is now on hold due to the pandemic, and it reallocated the funds to support Farm, Food, Familias. Initially, just eight individuals were responsible for harvesting, cooking, packaging and delivering meals. Now, supported by community donations and additional grants, the team consists of 15 employees, including five chefs, as well as 10 volunteers. Every week, they serve 350 meals to more than 100 families. Farm, Food, Familias also enlists team members who check in on families weekly to make sure their needs are being met. 
Last Wednesday, Esmeralda Arroyo was among the Little Village residents who received meals from Farm, Food, Familias. Born in Mexico, she moved to California in 2005, then to Chicago two years later. She is a parent coordinator at Madero Middle School, where she arranges classes for parents, but her work had been suspended due to the pandemic. She and her husband, who works in roofing, have struggled to support themselves and their two children. 
"You feel like you are seen, that you aren't abandoned and that there are people who are thinking about us," she said of Farm, Food, Familias' actions. "The people who donated money so that we could have a meal or two or three — it has helped us a lot." Arroyo added that she and her husband love that the group provides foods from different cultures that they otherwise wouldn't be able to try. So far, her favorite meal has been sweet potato fajitas prepared by Pérez.
In addition to weekly meal deliveries, Farm, Food, Familias is planning to expand its reach by providing free produce boxes, medicinal herbs and teas, cooking classes and a recipe book with meals by participating chefs. It has also started to distribute unused produce and extra meals to local love fridges — community-stocked refrigerators that invite neighbors to take what they need and leave what they can. 
For Morales, the support network allows her to spend more time with her four sons at home as she cooks while giving back to her community. She has put Amor Y Sofrito on hold to focus on the mutual aid group, being a mom and taking care of herself. She's grateful that she can offer her skills to feed her neighbors and is excited for what the post-pandemic future holds for her and Farm, Food, Familias.
"It's a beautiful feeling to be able to be such an important part of the community in these times," she said. "I don't know if [Farm, Food, Familias] realizes that they've also been so helpful to me. I feel like I'm just one of those families that they're helping by letting me make a difference."
Learn more about Farm, Food, Familias and support their work here.
Our work is made possible thanks to donations from people like you. Support high-quality reporting by making a tax-deductible donation today.                                                                                                                                   
Donate