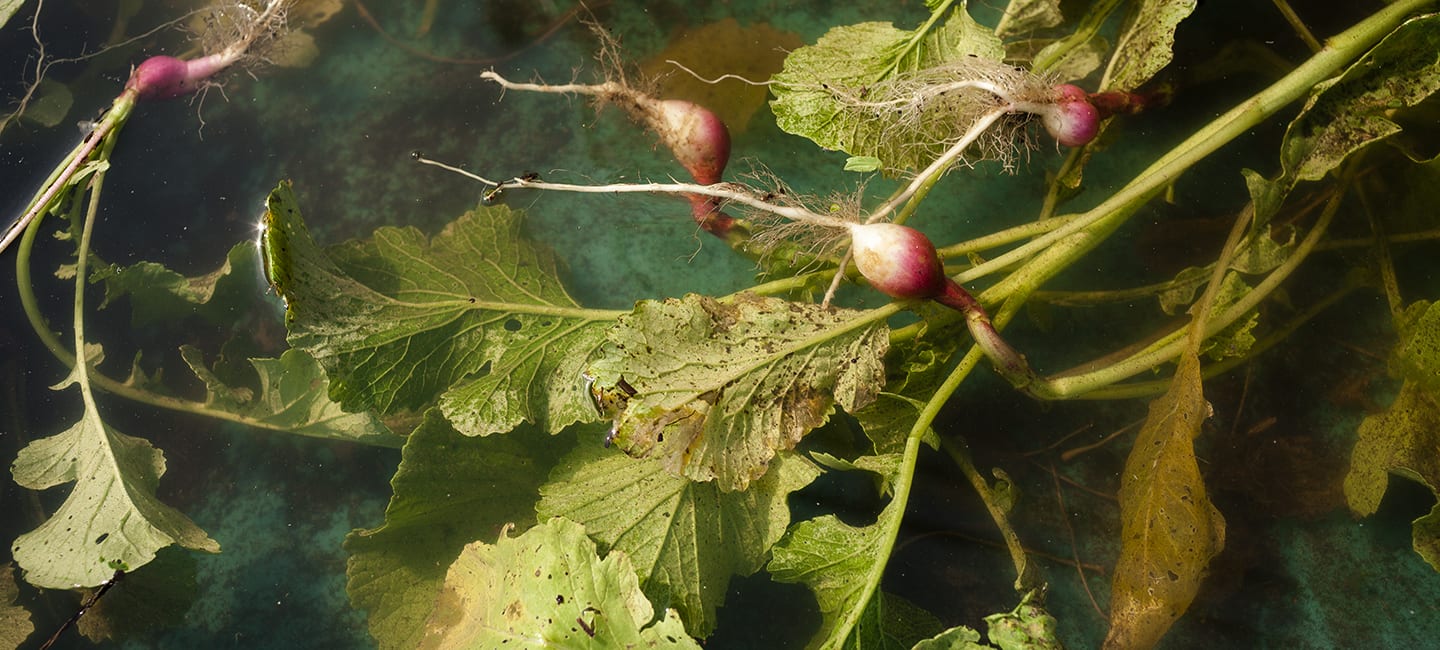 Michelle Kanaar/Borderless Magazine
The COVID-19 pandemic and pricey new water permits have challenged the eight-year-old Global Garden Refugee Training Farm on Chicago's North Side.
Above: Radishes at Global Garden Refugee Training Farm in Albany Park July 18, 2020 in Chicago Ill. Michelle Kanaar/Borderless Magazine
On a sunny Saturday morning in June, Beda Pradhan picked mint, green mustard and bok choy from her plot in the Global Garden Refugee Training Farm in Chicago's Albany Park neighborhood. 
Pradhan is one of five refugee farmers who grow produce to both eat and sell on the one-acre urban farm on Chicago's North Side. Farmers sell produce at local restaurants and farmer's markets as well as through Global Garden's Community Supported Agriculture (CSA) program. What Pradhan doesn't sell, she keeps for her family, making dishes like gundruk — a classic Nepali fermented dish — with the leafy vegetables she harvests. 
For Pradhan, the farm is about more than just the food and extra income. It's about a sense of belonging in a place far from home. The Bhutanese refugee came to Chicago in 2012 after living in a refugee camp in Nepal for most of her life. 
"I like that I get to meet other community members and people from Bhutan," Pradhan said. 
Since 2012, Global Garden has been a community space and a source of food and income for Pradhan and over 100 refugee families in the Chicago area. But the farm and its farmers are facing challenges this year with new city fees for water access as well as the closure of local restaurants and farmer's markets due to the COVID-19 pandemic. 
While farmers used to be able to tap into nearby fire hydrants for $5 per growing season, Chicago's Department of Water Management is now requiring anyone who wants to open a hydrant to purchase a reduced pressure zone valve that prevents backflow into the water system. The new equipment is expensive: the valve plus installation and certification by a city inspector costs up to $1,700, or 340 times what water access cost to urban farms like Global Garden in past years.
"We are better situated to cover these new costs than many very small community gardens that operate without cash transactions," says Global Garden's executive director and founder Linda Seyler. "But it's still a big financial burden for us."
Like most community gardens and urban farms, Global Gardens cannot afford to install a permanent water line to the farm, which can cost up to $40,000. While rain barrels, which capture rainwater for later use, are a cheaper alternative, they do not provide enough water alone for crops to survive this year's record heat.
"This is really frustrating that the city tried to bring such a big change amid the pandemic," said Shivana Shrestha, a volunteer at Global Garden. "All we want to do is garden for the handful of good months we get in Chicago and improve the health and wellness of our communities." 
The increased water access costs come at a challenging time for the farm as many of the restaurants and farmer's markets where farmers used to sell produce are closed or have reduced operations due to the coronavirus pandemic. 
In 2019, the farm's five commercial farmers earned over $18,000 collectively in supplemental income through direct sales at a local farmer's market, the farm's CSA, and to the nearby Tre Kronor restaurant. Original plans for the farm's 2020 season were to double or triple each farmer's income over that of the previous year by selling at four weekly farmer's markets, instead of just one, and by selling to more restaurants. 
Instead, the farm has shifted its focus to the CSA. At $375 a seasonal share, 58 community members, most living within walking distance of the farm, now receive paper grocery bags full of freshly picked produce weekly. Global Garden has also opened a farm stand across the street from the farm. Between the CSA and the farm stand, Seyler says that she expects the refugee farmers to be able to make at least the same amount of money as in 2019.
Shrestha, an immigrant from Nepal herself, helps man the farm stand and acts as translator for the refugee farmers, who often speak little English when they arrive in Chicago. She got involved in the farm while working as a research assistant focused on community gardens at the University of Illinois at Chicago and the Field Museum. She says she loves Global Garden because of how closely it mirrors the farms in Nepal. 
"This garden is a space built for improved access to food and nutrition but community is vital here," said Shrestha. "The farmers are so generous to everyone. It's very much like a family."
Global Garden Refugee Training Farm was founded in 2012 by Seyler and 37 refugee Burmese and Bhutanese families. They built the farm on a lot that had been vacant for over a decade. The farm was initially funded by a grant from the Federal Office of Refugee Resettlement and today relies on a mix of grants, individual donations and produce sales to stay afloat. Global Garden now feeds refugee families from countries as far-reaching as Burma, Bhutan, Somalia, and the D. R. of Congo. 
Illinois is home to over 120,000 refugees, with the majority of them living in the Chicago area. Refugees come to the United States through a government resettlement program after fleeing violence or war in their home country.
For Bhutanese farmer Manmaya Kalikoty, Global Garden reminds her of her life before she became a refugee.
"I grew up in a village in Bhutan and always helped my mom farm. That's why I always like to be with nature," Kalikoty said.
Before coming to the United States, Kalikoty lived in the same Nepali refugee camp as Pradhan. While they didn't know each other at the camp, the two have become close friends since coming to Chicago and working on the farm together. They live near each other on the city's far North Side and sometimes take the bus down to the farm together. 
Like Pradhan, Kalikoty's family — which now includes five children and four grandchildren — relies on the produce she grows in the farm to eat. Among her crops this year is amaranth, sweet peppers, eggplants and green beans. Over seven thousand miles away from Bhutan, Kalikoty is able to share with her family a taste of home.
"I have always been a farmer, I've always grown my own food," said Kalikoty. This is what I know and what I like to do."
Global Garden's seasonal farm stand is open on Saturdays from 9 a.m. to 2 p.m. on the corner of Lawrence and Manor. The farm accepts donations on their website.
---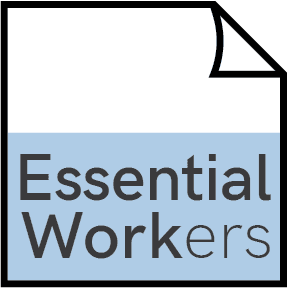 This story is a part of the Solving for Chicago collaborative effort by newsrooms to cover the workers deemed "essential" during COVID-19 and how the pandemic is reshaping work and employment.
It is a project of the Local Media Foundation with support from the Google News Initiative and the Solutions Journalism Network. The 19 partners span print, digital and broadcasting and include WBEZ, WTTW, the Chicago Reader, the Chicago Defender, La Raza, Shaw Media, Block Club Chicago, Borderless Magazine, the South Side Weekly, Injustice Watch, Austin Weekly News, Wednesday Journal, Forest Park Review, Riverside Brookfield Landmark, Windy City Times, the Hyde Park Herald, Inside Publications, Loop North News and Chicago Music Guide.
Our work is made possible thanks to donations from people like you. Support high-quality reporting by making a tax-deductible donation today.                                                                                                                       
Donate