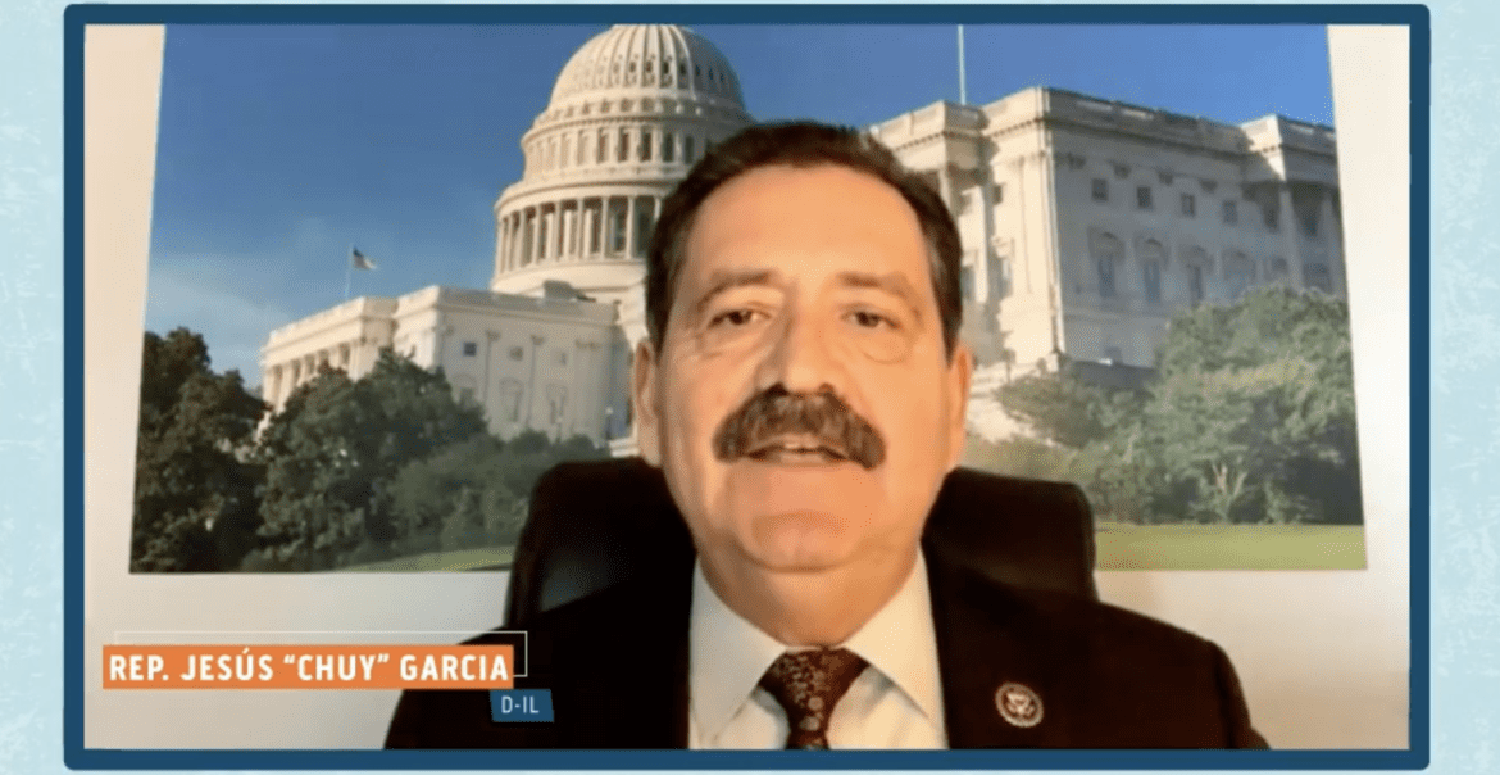 A group of congressional Democrats, led by U.S. Rep. Jesus "Chuy" García of Illinois, is renewing the push for sweeping legislation that would dismantle many segments of the so-called prison-to-deportation pipeline.
Above: Rep. Jesus "Chuy" García discusses the New Way Forward Act during a virtual press conference, January 26, 2020. [Screenshot]
This article was originally published by Injustice Watch.
A group of congressional Democrats, led by U.S. Rep. Jesus "Chuy" García of Illinois, is renewing the push for sweeping legislation that would dismantle many segments of the so-called prison-to-deportation pipeline.
First introduced by García in December 2019, the New Way Forward Act stalled during the previous Congress but was reintroduced last week with more than 30 co-sponsors, including Reps. Alexandria Ocasio-Cortez, Ilhan Omar, Rashida Tlaib, Ayanna Pressley, and Pramila Jayapal, vice-chair of the House Judiciary Committee's immigration subcommittee.
The bill would reverse more than two decades of bipartisan policies that have led to the criminalization of immigrants. Among other provisions, it would end mandatory detention policies for immigrants in deportation proceedings, prohibit the federal government from deporting immigrants based on criminal convictions more than five years old, decriminalize unauthorized border crossings, ban local law enforcement from aiding federal agents in the "investigation, apprehension, transport, or detention" of immigrants, and phase out the use of private detention centers and county jails to hold immigrants in federal custody, according to a copy of the bill shared with Injustice Watch.
At a news conference last Tuesday, García celebrated President Joe Biden's actions on immigration to date, including an executive order undoing some of former President Donald Trump's policies and a major reform bill providing a path to citizenship for millions of immigrants living in the U.S. without authorization.
But García, who is himself an immigrant from Mexico, said the Biden administration must also do away with decades-old punitive policies that land thousands of immigrants in immigration detention every year after coming into contact with the criminal justice system.
"While these executive orders and Biden's legislation mark a positive first step, we know the work has just begun," García said. "The systemic racism that we see play out every day in our communities is intentional and codified into law. Reversing this damage requires us to do the same. It's time we stop criminalizing desperation in America and we chart a new way forward."
Going forward by going backward
Current immigration law mandates that immigrants convicted of many crimes are ineligible for deportation relief. Often, those immigrants are forced to wait out their deportation case while in immigration detention. And it's not just undocumented immigrants who are at risk of being deported. Legal permanent residents, if convicted of certain crimes — even some misdemeanors — are also eligible for deportation.
Since Black and Latinx communities bear the brunt of over-policing, immigrant residents of these communities are also more likely to end up in detention, which can tear families apart and rob them of a breadwinner. Having a detained family member may result in housing and food insecurity, as well as mental health issues like depression and anxiety.
This wasn't always the case. In 1996, Congress enacted the Illegal Immigration Reform and Immigrant Responsibility Act, which increased the number of crimes that made an immigrant deportation-eligible and instituted new, mandatory detention rules for non-citizens convicted of crimes, including minor offenses such as drug possession. The law also prevented immigration judges from using their discretion to provide immigration relief for those who didn't qualify.
The New Way Forward Act would undo these hardline policies put in place by bipartisan consensus, said César Cuahtémoc García Hernández, a law professor at the University of Denver and an expert on the relationship between the immigration and criminal justice systems.
"The New Way Forward Act is, in many ways, a return to the past," García Hernández told Injustice Watch.
García Hernández also said the bill would reverse the turn towards criminalization by ending the prosecution of immigrants who illegally crossed the border after being deported.
"Historically, the federal government would sometimes deport someone if they found them to be living in the U.S. without its permission, but it would not prosecute that person for a crime and then deport them, which is what we do now," he said.
The number of immigrants in detention has ballooned over the last two decades, going from about 20,000 immigrants a day in fiscal year 2001 to more than 50,000 in fiscal year 2019, according to government statistics. Many of those immigrants end up in detention as the result of contact with the criminal justice system for non-violent offenses.
'I'm being punished again and again.'
Robert Panton is a 54-year-old father of three currently detained by Immigration and Customs Enforcement (ICE). His pre-recorded audio testimony was played at Tuesday's news conference.
As a child in the 1970s, Panton moved to New York City with his family from their native Jamaica. He arrived on a green card.
In 1991, federal prosecutors sentenced Panton to life in prison for selling heroin. In August, a federal judge granted Panton compassionate release for underlying health issues that make him susceptible to the worst impacts from COVID-19.
When Panton was released, ICE was there to pick him up. His criminal conviction means he's obligated to wait in immigration detention as his deportation case winds its way through immigration court.
Under the New Way Forward Act, Panton would not have automatically been placed in deportation proceedings, and detained by ICE, as the result of his drug conviction. Instead, an immigration judge would've considered Panton's deportation case at an immigration bond hearing upon his release, with the possibility of granting him relief. The elimination of mandatory detention policies would also mean he might have been allowed to stay at home with his family while his deportation case moved forward.
"I have been detained by ICE for over six months. The biggest pain is the people waiting for me: My daughter, my sons and my sisters. Every day, ICE not only punishes me but my family by keeping us separated," Panton said.
"Our legal system has something called double jeopardy, where you can't be punished twice for the same crime. Because I am an immigrant, I'm being punished again and again.
This is a nation of second chances — and it's time for mine."
Our work is made possible thanks to donations from people like you. Support high-quality reporting by making a tax-deductible donation today.                                                                                                                                   
Donate