Samantha Cabrera Friend for Borderless Magazine / CatchLight Local Chicago
Over half of the workers keeping offices and stores clean in the United States are immigrants. During the COVID-19 pandemic, their job has become more essential than ever. 
Above: María Salud enjoys her one day off on Nov. 4, 2020 at River Park in Chicago, Ill. Samantha Cabrera Friend for Borderless Magazine / CatchLight Local Chicago
For many housekeepers, the coronavirus pandemic has forced them to choose between working and staying healthy.
On the frontlines of the fight to stop the spread of COVID-19, they are being asked to disinfect buildings for little pay and often with poor protection.
"Everyone, no matter what's going on, is still negotiating down wages for the most laborious jobs," said Analía Rodríguez of the Latino Union of Chicago, which serves low-wage immigrant and U.S.-born workers. "We end up with workers in hazardous conditions who are not being paid fairly." 
Nearly 60 percent of the maids and housekeepers keeping offices and stores clean in the United States are immigrants. Cleaning and janitorial staff are considered essential workers in Illinois, yet many immigrant cleaners are ineligible for traditional unemployment benefits if they lose their job and were not eligible to get a COVID-19 stimulus check, due to restrictions on mixed-status families. 
The pandemic has strained low-wage workers like cleaners, says Shelly Ruzicka of Arise Chicago, who has heard from many Latino and Polish immigrants who lost their jobs or had their hours cut in recent months. Despite these challenges, she's seen workers increasingly standing up for their rights during the coronavirus pandemic. 
"It seems like this very deep mental shift," said Ruzicka. "You see some economists saying workers are going to take chances because there's not a lot of jobs out there. Whereas workers are being like, 'No. I need the job, I need the money, but I also need to be alive.'"
María Salud has felt that shift during the pandemic. The 45-year-old undocumented Mexican woman lives on the North Side of Chicago and holds multiple jobs, including that of housekeeper. 
Early in the COVID-19 pandemic, she began to lose work as clients shut down their offices and didn't feel comfortable having her in their homes. So when her friend told her about a job cleaning a large store downtown in March, María Salud eagerly agreed to do it. The experience left her traumatized.
---
We do not have rights. But, to be honest, this is because I am undocumented. 
The cleaning company agreed to pay us $13 per hour. They said they were going to pay us in cash, that it was easy.
I was excited. I thought maybe this gig would lead to more jobs in other places. There are no jobs right now, so I had to take it.
I knew disinfection was risky during the pandemic. They kept telling me that I have to do things right because the lives of others are in our hands with coronavirus.
There were three of us working and they gave us three hours to disinfect the entire store. It was four floors and a basement. 
They did not give us a facemask. They did not give us anything. They only gave us gloves, a roll of paper towels, and wipes.
I had brought my own equipment, but when you went inside the store, you had to leave all of your stuff in the front. They didn't let me take it inside and use it. 
---
Double your impact today. Between November 1 and December 31 NewsMatch will match your new monthly donation 12x or double your one-time gift, all up to $5,000.                                                                                                                     
Donate
---
The chemicals we used were strong. I later learned that another cleaning crew had tried to get the gig but they had complained that the chemicals were too strong and they had wanted more money. We were the gullible ones willing to work in a dangerous situation for less.
After breathing the chemicals for a while, it started to hurt. I got a headache. My eyes were burning. I have asthma and try to take care of myself. I still get mad when I think about how disrespectful they were and how they did not protect me..
I asked the leader for new gloves, because I had already thrown mine away. But he got mad at me and said, "Ugh, you turned out to be so delicate." He didn't give me new gloves.
People are afraid of getting sick and that is why they ask us to clean. But they exploit you. If they really cared about health, the most logical thing would be for them to say, "Here are some gloves and a facemask."
At the store, we started off the job paying a lot of attention to details. But when we knew that time was running out, we stopped doing that. I was in the restrooms in the kids section when they told me that the three hours were up.
Then the leader told me, "Oh no, we are still missing the basement." So he took us down there and said to just clean it very quickly. We did and that was that. 
They were supposed to pay me $13 per hour, or $39 total. I had to pay my train fare. 
No one wants to give you anything. That is what bothers me. That it is not fair. It should be required to give us at least gloves and a facemask. But you have to bring your own facemask. You have to bring your own gloves. And it is not fair. It is not fair.
It took them three months to pay me. I kept sending text messages asking what was going on. They had given us a check early on, but when we went to cash it in, it was rejected because the signature did not match the one on the account. 
I was very annoyed because I had paid for transportation and risked my health during the pandemic and still they did not pay us. I said that this was an injustice.
But the same thing is happening everywhere. Someone asked me to clean a condo recently and told me to bring my gloves and a mask. It bothers me that they do not give us the equipment. They are abusing us during a pandemic.
The employers know that there are no jobs and that we need to pay our rent and our bills. That is why they keep our pay, or pay us late, or pay us too little. That is also why they do not give us the right equipment. If we did not have to work, I think we would not do it. But we cannot stay home, because no one is paying our bills. 
They are abusing us because of the pandemic. They know we cannot go anywhere. Why? Because there are no jobs.
I decided to speak out and started recording videos at work. Why? Because we are no longer in a time of slavery. I've had employers pull my ear if I made a mistake. I am tired of being mistreated at work.
Excuse me, but we are here to work. They are taking advantage of us and our desperate situation. They blame you for stealing, for things you didn't do, and you have to tolerate it all. Why? Because we need to eat and need to pay rent.
---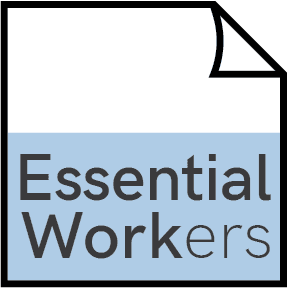 This story is a part of the Solving for Chicago collaborative effort by newsrooms to cover the workers deemed "essential" during COVID-19 and how the pandemic is reshaping work and employment.
It is a project of the Local Media Foundation with support from the Google News Initiative and the Solutions Journalism Network. The 19 partners span print, digital and broadcasting and include WBEZ, WTTW, the Chicago Reader, the Chicago Defender, La Raza, Shaw Media, Block Club Chicago, Borderless Magazine, the South Side Weekly, Injustice Watch, Austin Weekly News, Wednesday Journal, Forest Park Review, Riverside Brookfield Landmark, Windy City Times, the Hyde Park Herald, Inside Publications, Loop North News and Chicago Music Guide.
---
Our work is made possible thanks to donations from people like you. Support high-quality reporting by making a tax-deductible donation today.                                                                                                                       
Donate