Efrain Soriano/Borderless Magazine
D'Cameron May makes their way through the crowd while "NalinA," a pop song by Korean boy band Block B, plays during a drag performance at Furama restaurant in Chicago, Ill., Aug. 19, 2023.
D'Cameron May stepped onto the drag stage four years ago. Now, they have a home among Chicago's queer immigrant scene.
Bathed in the dim yellow light of a tucked away storage room at Furama Restaurant, D'Cameron May painted their face to prepare for their Dim Sum and Drag performance in late August. The Pakistani African American drag king applied red makeup to their eyes and brows and drew sharp black lines to accentuate their features, drawing inspiration from oil painting techniques and manga artist Hirohiko Araki's artwork. The bright colors stood in bold contrast to the monochrome room.  
Slowly, other drag artists joined the 25-year-old, bringing the closet-sized room to life.
Want to receive stories like this in your inbox every week?
Sign up for our free newsletter.

Inside the Chinese restaurant nestled in Chicago's Uptown neighborhood, the kings and queens traded jokes, passed spare bobby pins and hair ties and helped each other get into their outfits. The vibrant chatter enveloped the room as they prepared to perform for an eager audience. 
Over the past few years, May has found a home among Chicago's queer immigrant scene. The community has helped May grow artistically, carve out a space for self-expression through drag and test the boundaries of the art form. 
"I love how interconnected the immigrant, specifically the queer immigrant, scene that I've hung around with in Chicago is. Everybody really has each other's back," May said. "We may find each other annoying from time to time but everyone still has a deep-rooted care for each other."
Efrain Soriano/Borderless Magazine
But it took May time before they found their support system.
Growing up in Houston, Texas, May was involved in the queer scene and watched drag performances at local venues. Despite the state's conservative policies, May said they were able to see drag as a craft and art form because they would often watch RuPaul's Drag Race with their mom, who is also queer. But although Texas is home to one of the largest South Asian populations in the U.S., May didn't feel connected with their hometown's South Asian population.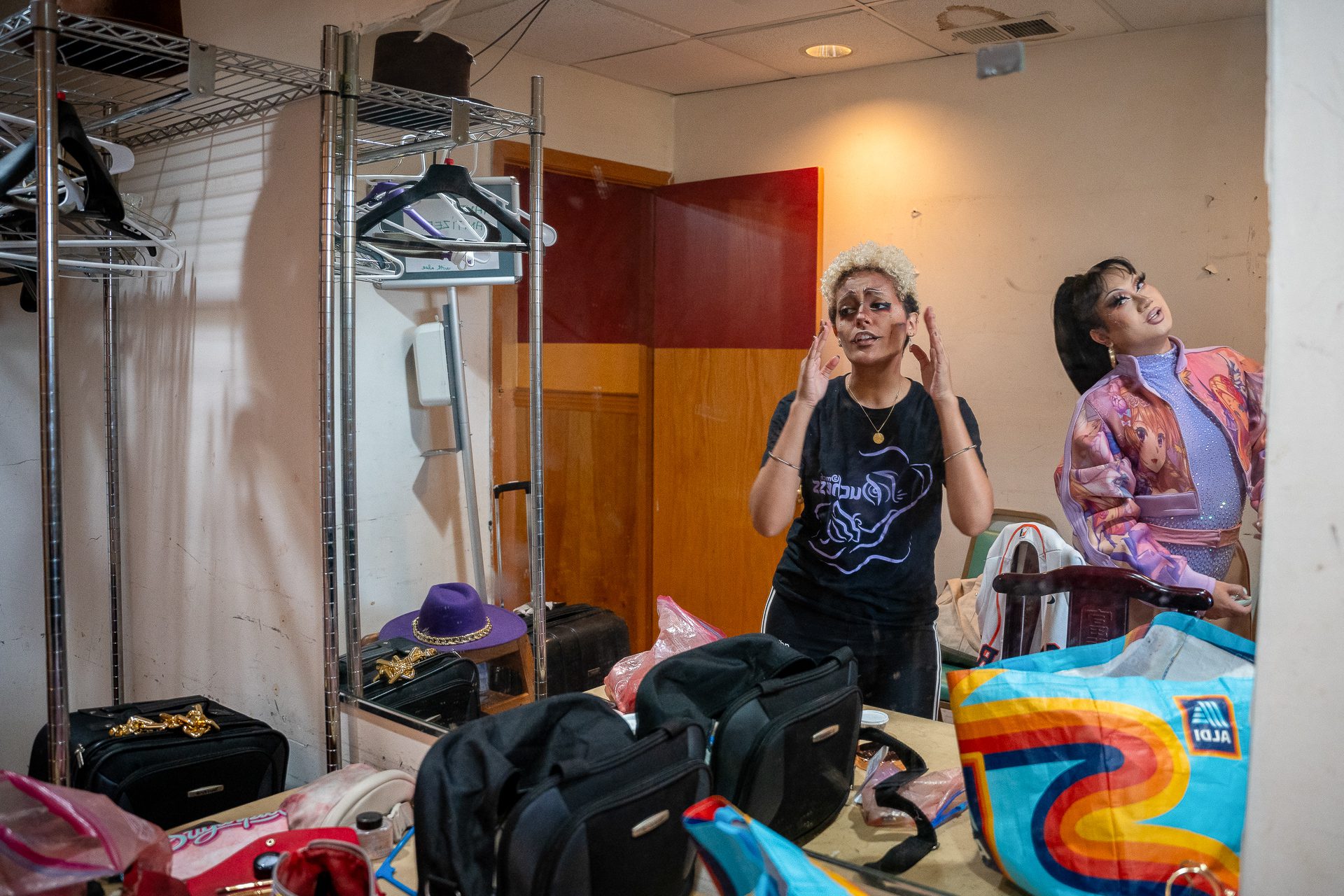 Efrain Soriano/Borderless Magazine
"It is a little bit difficult from time to time for me to find Desi community. There's definitely colorism. There is racism, unfortunately," May said. "Being queer isn't always accepted by everyone within the community." 
Their first taste of a unified community came when they left the South and started doing drag in St. Louis, Missouri. The Midwest also empowered May with support among the queer Desi community in Chicago — a connection they didn't have growing up in Houston. 
"It's entirely possible I wasn't looking for community in the right places. I was also much younger when I was living in Houston," May said. "But the fact that I've been able to find, foster and sustain relationships with other queer Desis, it's very meaningful."
A welcoming community nurtures a talented drag performer
In the summer of 2019, May made their drag debut at the "Young and Reckless" open-stage drag competition at Attitudes Nightclub in St. Louis. Their performance earned the then-college student a roaring applause from the audience and a first-place finish in the competition. 
Hearing the audience's cheers and earning the win based on the audience's response was a validating moment for May. And they continue to approach their drag with a focus on their audience. It's important for them to always "paint for the back row," May said. 
Regardless of where the audience is seated, May wants them to hear their music, see their facial expressions and see their costume. 
Four years later, May continues to live by this approach.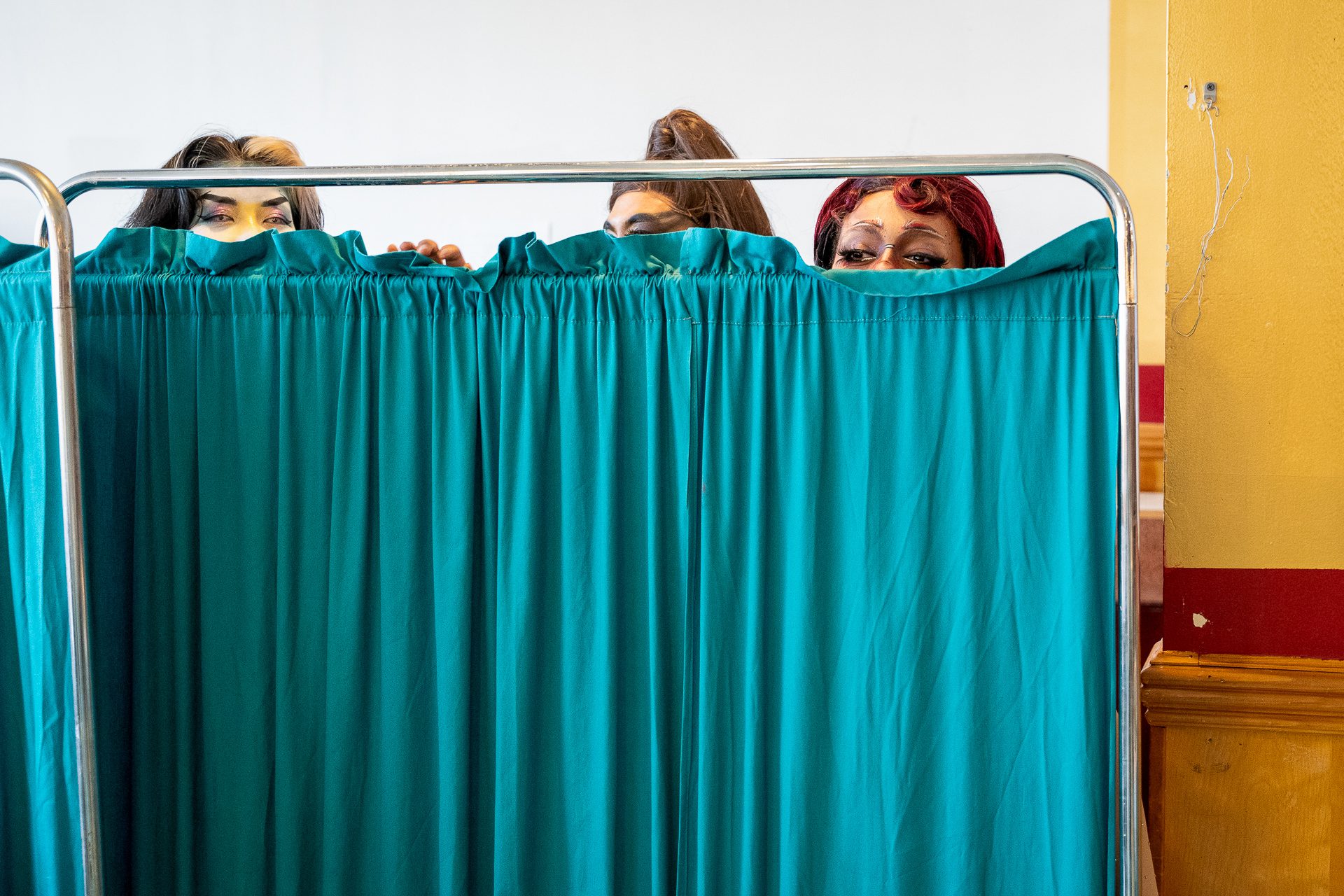 Efrain Soriano/Borderless Magazine
As they stepped onto the stage for the Dim Sum and Drag performance in late August, May made their way through the crowd and interacted with cheering audience members in every corner of the restaurant.
"The further people are, I think the bigger your details need to be because you want to be seen by everyone in the audience," May said. "You don't just want the people closest to you to get the best experience."
While the performance for an audience is a big part of the art form, drag is also about the collaborative process behind the scenes, May said.
The House of Effort in St. Louis was where May met their drag family, led by drag queen Duchess — May's drag mother. May looks back fondly on weekly family meetings at Duchess' home, where the group, comprised of drag kings and queens, would work together on their costumes, song mixes and upcoming looks. And the group still meets weekly online, even though the family is sometimes spread out around the world.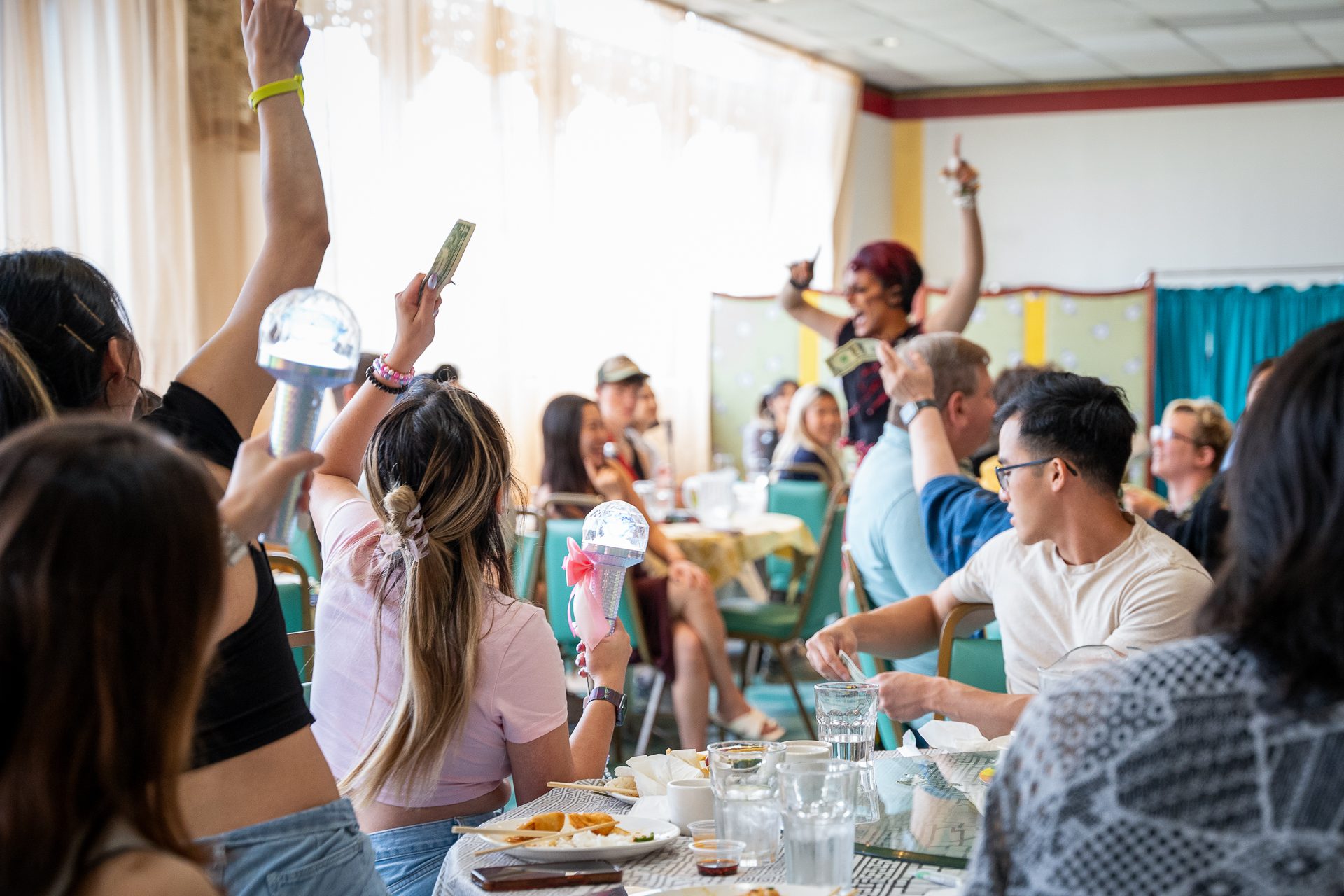 Efrain Soriano/Borderless Magazine
May's drag family became a support group that taught them the things they could not learn in school as a costume designer. May learned about the types of embellishments that work best, how to book performances and general etiquette.
"My drag family was also motivating me to continue to expand on my own art. That external motivation really helped drive my own internal motivation," they said. "It's just good to be around people who you feel like are helping you grow."
After primarily performing in St. Louis, the pandemic opened new frontiers for May to explore the drag scene. May's drag expanded past the bounds of St. Louis, as online drag performances transcended state lines.
During the pandemic, May began performing online for audiences in Chicago. They eventually made their way to the city to visit friends and take the stage in person when pandemic-related restrictions were lifted.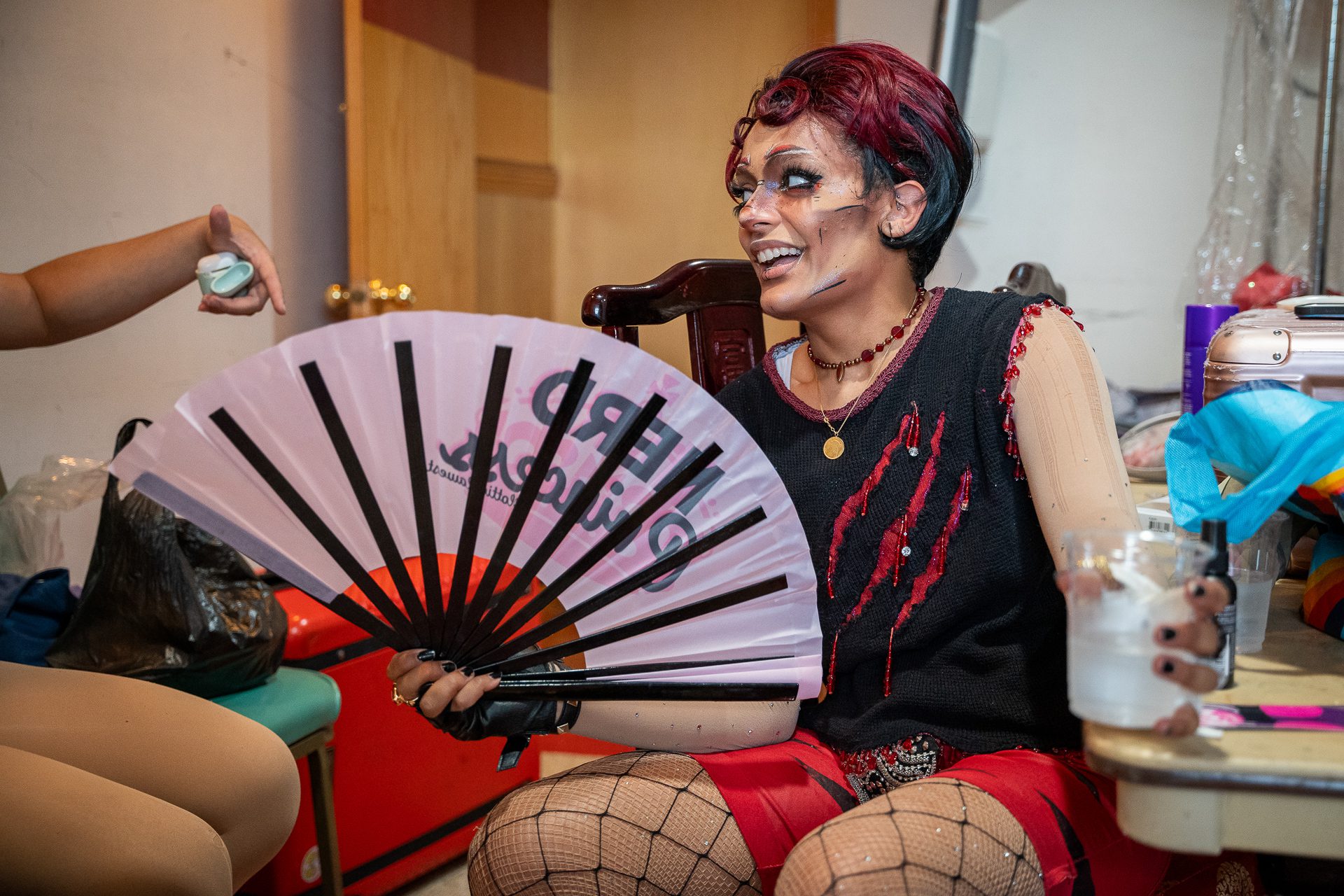 Efrain Soriano/Borderless Magazine
In Chicago, drag queen Abhijeet, the organizer of Dim Sum and Drag, connected May with the queer Desi community. May described the queer immigrant community in Chicago as a connection that runs deeper than identity alone.
"It is especially important to me to be able to engage with community that not only speaks the same language but also has a similar way of moving throughout the world," May said. "It's always refreshing getting to hang out with people who have a similar point of reference to you."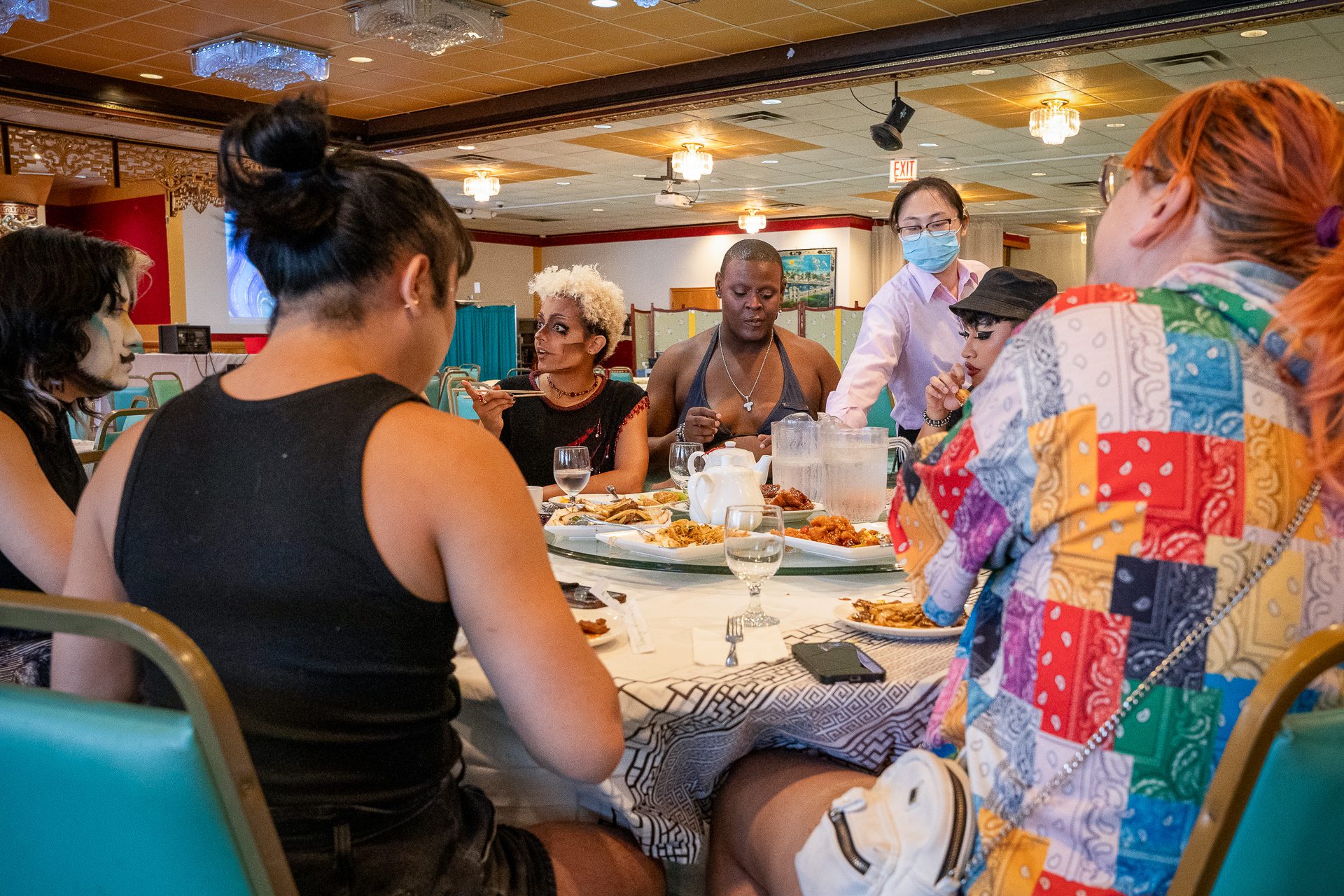 Efrain Soriano/Borderless Magazine
Carving Out Space for Other Drag Performers
In their short few years doing drag, May has been thinking of ways to push the boundaries of the community, expand the art form, and reimagine what it means to do drag and where people can do it.
And these experiences of finding community in both St. Louis and Chicago have motivated May to build the same for other performers. 
After finishing up their rewarding and tiring performance at Furama for Dim Sum and Drag, May quickly packed their makeup, costumes and other belongings and embarked on a nine-hour trek to St. Louis, to host their second-ever drag barbecue.
Efrain Soriano/Borderless Magazine
In St. Louis, May is pushing the limits of what it means to do drag and the usual setting for these performances. They want to use the drag art form to build spaces outside of traditional drag environments where people can continue to show off their craft and build community.
While many drag performances are usually in bars or clubs, May's drag barbecue mixes their passion for community building with a unique event — one where people can bring food and drinks, enjoy drag performances and connect in the comfort of someone's backyard.
The drag barbecues May hosts are reminiscent of their first dinners with their drag family in St. Louis.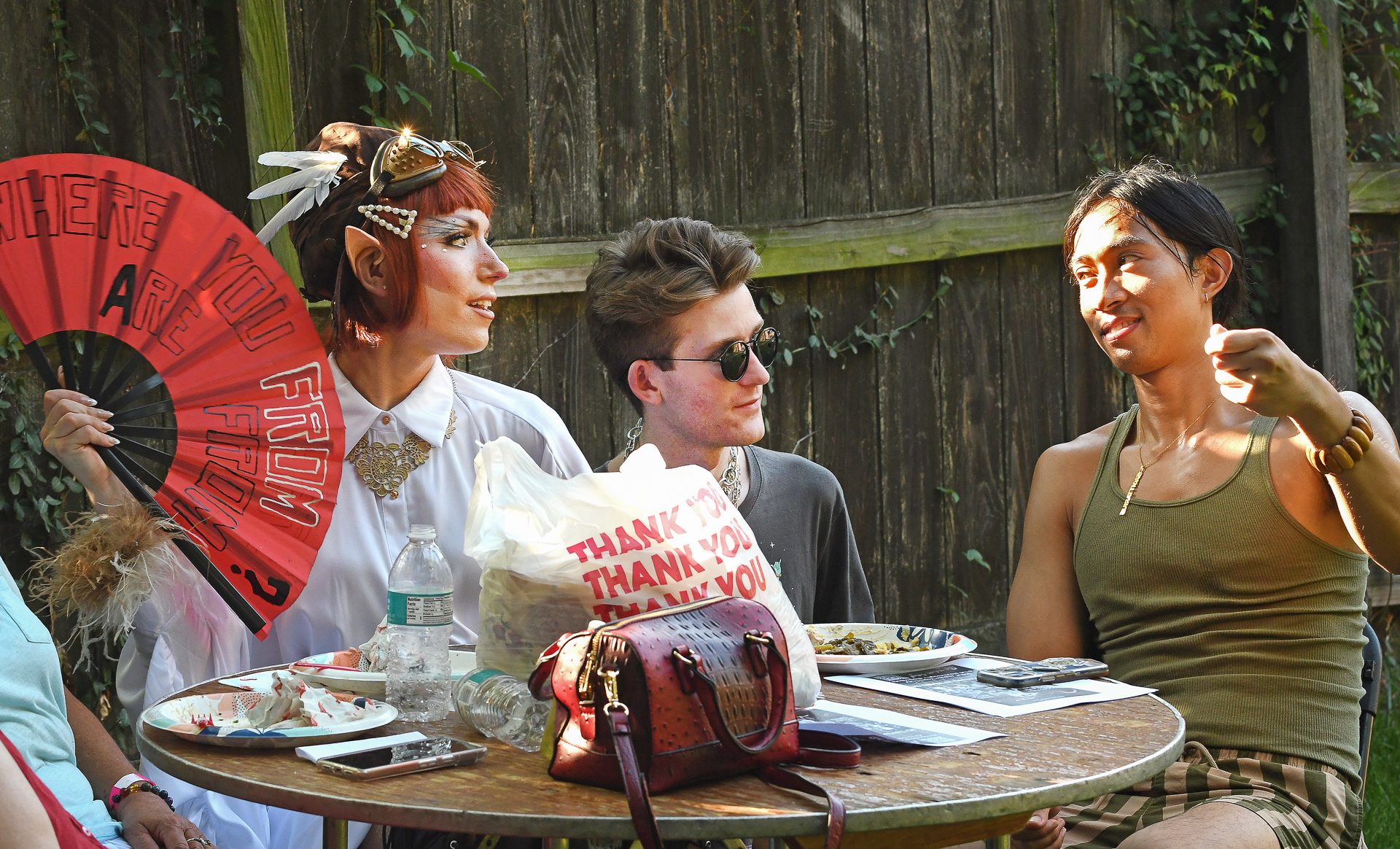 Photo by Terry Witt
May wants to emulate the welcoming environment of being with their drag family at those first dinners, creating a space where "we're all hanging out together and we're having a good time together," they said. "And it wouldn't be the same type of together if any of you weren't here."
Reflecting on their four years as a drag performer, May is eager to take the kindness and guidance that other performers have shown them and pay it forward to others, while also growing their own artistry.
"I don't believe in permanence, I like the idea of always being able to evolve because just because things can be different or changed doesn't mean that the first one was wrong," May said.  "I am just an amalgamation of everything that I've ever enjoyed."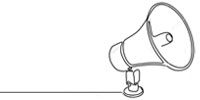 Bring power to immigrant voices!
Our work is made possible thanks to donations from people like you. Support high-quality reporting by making a tax-deductible donation today.