William Estrada for Borderless Magazine
Carolayns Gonzalez with her three daughters and nephew at Piotrowski Park in Chicago, Ill., July 9, 2023.
Inside a temporary shelter in Chicago's Little Village neighborhood, six migrant families share their memories of home, hopes for the future and what it is like living in tight quarters with 200 people.
Surrounded by their few belongings within their designated 9-by-9-foot space, Vannesa Carolina Godoy, her husband and their three children lay down on the floor of a basketball court to sleep for the night. This night marks the end of a long trek across seven countries that began in Zulia, Venezuela for Godoy.
They share this court with roughly 200 other migrants, 93 of whom are children, from places like Venezuela, Colombia and Peru. Such is the case for the many families that currently call the Piotrowski Park Fieldhouse in the Little Village neighborhood of Chicago home. 
Many of them arrived with nothing as they lost personal belongings such as legal documents, jewelry, clothes and family photographs during their months-long journey to Chicago, Illinois. Those fortunate enough to find work can afford to replace what they lost, but most of them have relied heavily on donations from the Little Village community. 
"The first few days it was difficult sleeping on the floor with the children, but they provided us with some inflatable mattresses there, given to us by the people who came from the street, and they donated clothes to us," said Godoy.
Get Borderless in your inbox
Sign up for our free newsletter. Each Thursday we share ways to support immigrant organizations and stories about our communities.

As part of the continued community effort to engage with those living in Piotrowski Park, Borderless Magazine teamed up with artist William Estrada and community organizers  Laura García Ramírez and Elvia Rodriguez to host a pop-up event that included various arts and crafts activities, music, food and family portraits. More than 50 family portraits were created and printed out by Estrada on July 9, 2023.
In spite of the conditions they live in, families are doing what they can to feel at home at Piotrowski Park. 
"Those who live here are already like family to us; we understand each other, we communicate," said Veronica Morillo, 24, who has been living at the fieldhouse for two months. "I feel like when we leave here we're going to miss them too."
Borderless Magazine sat down with six migrants from Venezuela staying in Piotrowski Park to hear their thoughts about what home means to them.
William Estrada for Borderless Magazine
Vanessa Carolina Godoy, 37, originally from Venezuela
Godoy left Venezuela due to the economic crisis. "I had to leave the country without wanting to. But I had to leave due to the situation that existed." After a long journey across seven countries, she arrived in Chicago with her husband and their three kids in May 2023.
In Venezuela, when we were at home cleaning or if we went out to a party, we would listen to salsa or merengue. But my favorite artist is Daddy Yankee.
When we arrived here, we were sleeping on the floor. My family all sleeps together upstairs, sharing the space with 12 other families. Everyone living here, all 200 people, shares the bathroom downstairs as well. 
In the future, I would like to have a big house, with a pool, if possible. I would like the decorations to all be white. I want my children to each have their own room, or the boys in one room and the girls in another. I want my children to have a television and bicycles — everything they didn't have back in Venezuela. 
I believe getting an education is the most important thing — a priority. Studying is everything. I want my children to learn English. 
William Estrada for Borderless Magazine
Carolayns Gonzalez, 29,  and Crystal Gonzalez, 9, originally from Venezuela
Carolayns was born and raised in Venezuela but spent the last four years living in Peru. She left Peru in search of safety and freedom for her three daughters. In Peru, she didn't feel comfortable letting her children play outside. "They didn't know what a park or movie theater was," says Gonzalez. "You can't trust anyone when you travel as a single mother with three daughters," she says. Carolayns and her family left Peru after hearing about targeted violence toward young girls near their home. Three months later, they arrived in Chicago in May 2023. Her sister came with her son shortly after. 
Carolayns: I miss home so much. It was a very humble life because I am a single mother. And it's very hard because I have three girls. My home in Venezuela was a very humble but comfortable place. I really miss Venezuela. I have not seen my dad there for four years. It has been the longest, hardest four years. This journey has been too hard.
I place a lot of value on what I have here in this shelter.
I have a mattress and a smaller bed. We put our belongings along the beds. It is a very small space, and we do not have privacy. You don't go to sleep comfortably. It's not a pleasant thing.
Crystal: In Peru, it was total confinement. We weren't allowed to go outside because a young girl had been killed at the corner. My mom was scared so we didn't go outside.
What brings me the most joy at this moment is my bicycle and my friends. Sometimes we make TikToks because we are bored.
Carolayns: In the future, I don't ask for a mansion. I don't ask for that. I just ask for my family to be there — nothing else. For it to be something familiar and that all my family is together including my mother and father. That's all I ask for. I'm not used to luxuries or anything like that. I don't care about having a big television or having a big refrigerator. I just want something small and warm that feels like home.
I just want to be able to say that my children prospered.
Crystal: I don't want any wealth. I just want a home where I am safe. Something to share with my family. Something small with a small fridge and a small kitchen. Not like a super big apartment. A little house. All I want is to be with my family — all my family.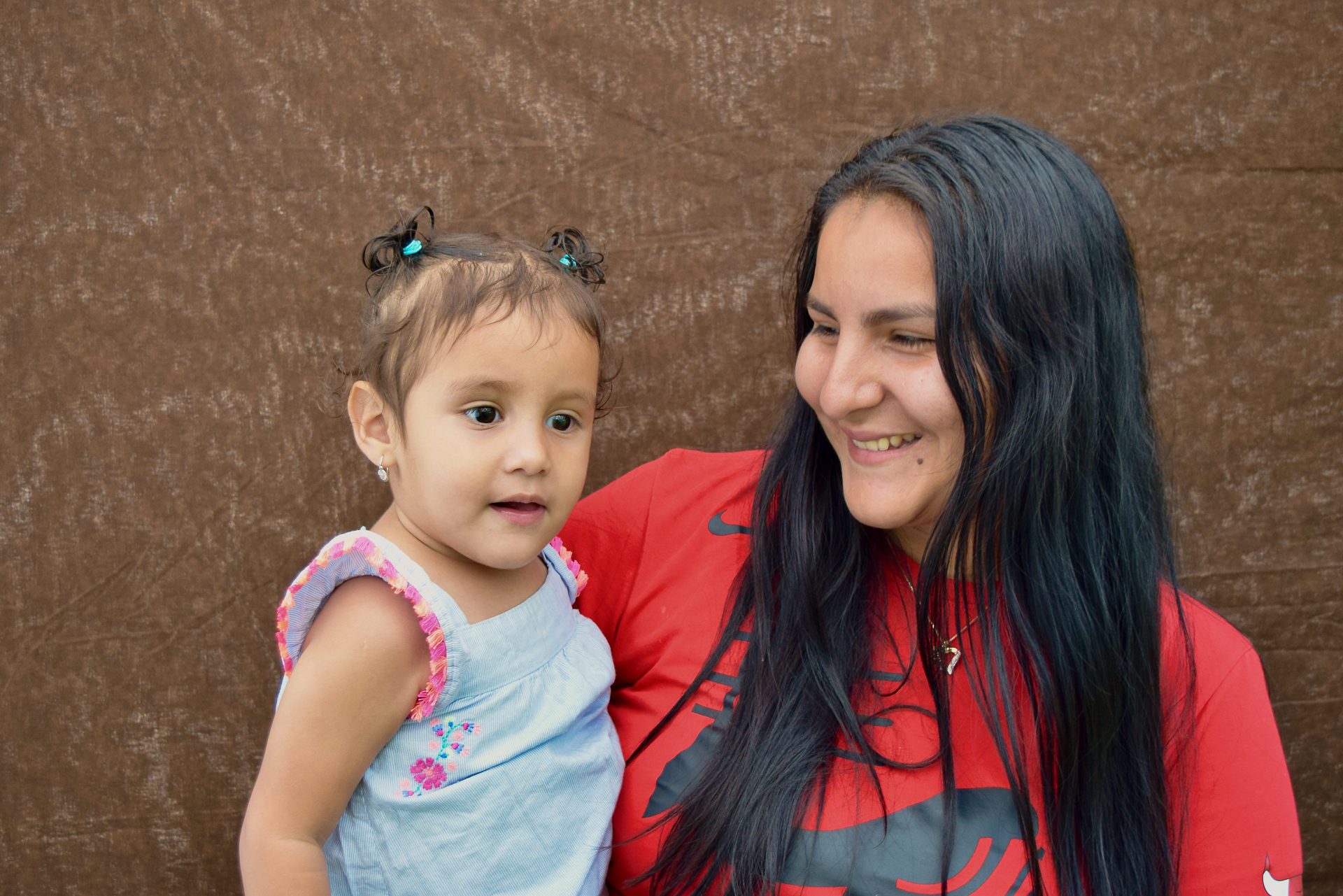 William Estrada for Borderless Magazine
Marlyn Aguirre, 25, originally from Venezuela
Before coming to Chicago, Aguirre lived in Ecuador for the past four years with her husband and daughter. They left for the United States together, but her husband was deported before they arrived at the U.S.-Mexico border. Aguirre and her daughter have lived in the fieldhouse since early May 2023.
Right now you do what you can. We lack nothing, but we are not very comfortable. 
What brings me joy the most is that I have my daughter with me.
In the future, I would like to live with my family. My three children, my husband, who will come in the future, and my mother. I want to work, clean our house, listen to Ricardo Arjona. My mom also loves Ricardo Arjona.
As for decoration, I love sunflowers. If I could have a house painted yellow with everything yellow and everything to do with sunflowers, I would. I feel like it conveys something nice and peaceful.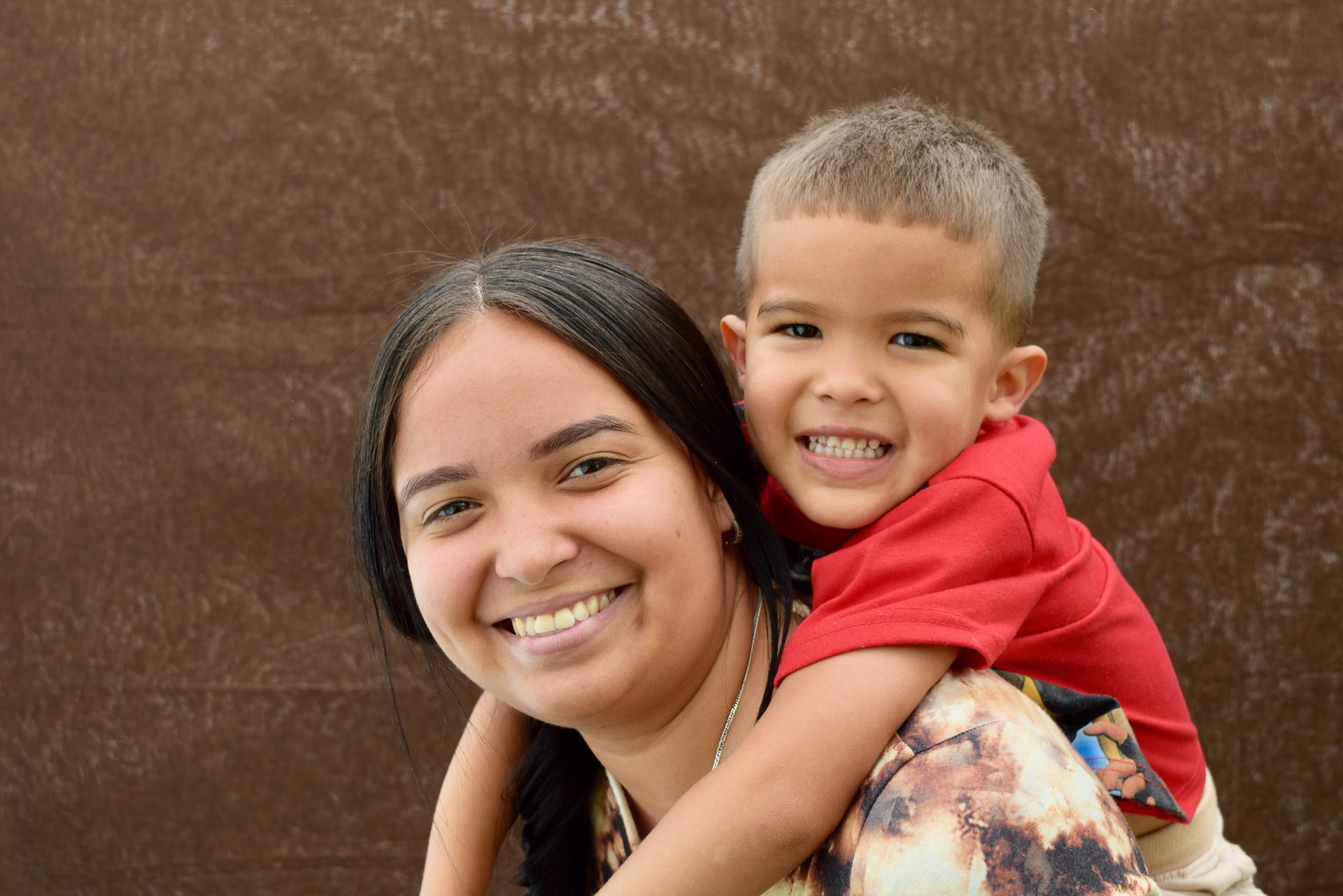 William Estrada for Borderless Magazine
Veronica Morillo, 25, originally from Venezuela
Morillo and her 4-year-old son Rafael are from Santa Rosa, Venezuela. They left Venezuela to meet up with her partner who arrived in Chicago months ago to find work. She hopes to eventually bring her entire family to the States. 
In Santa Rosa, we are a big family — about 100 people. We grilled and made hamburgers to share with the family. But my favorite food is fried fish with fried green plantains, salad and skate.
Throughout this trip, I have carried this chain that I have here. I have had it for over five years. I have never left it. It is of Jesus Christ. My mom gave it to me and that's why I never take it off. I always carry it because I feel like it's like a blessing.
At the moment, we feel good in the shelter. The treatment at the beginning was a little harsh because we are not used to the laws, or following some of the rules. It was a little hard at first, but now those who live here are like family to us. We understand and communicate with each other.
In the future, I hope to have a home similar to the one in Venezuela and to be able to share that with my family. I can already imagine myself in my house with elegant furniture, a nice kitchen, listening to reggaeton, and living with my son, my partner, my mother, and my brothers and nephews.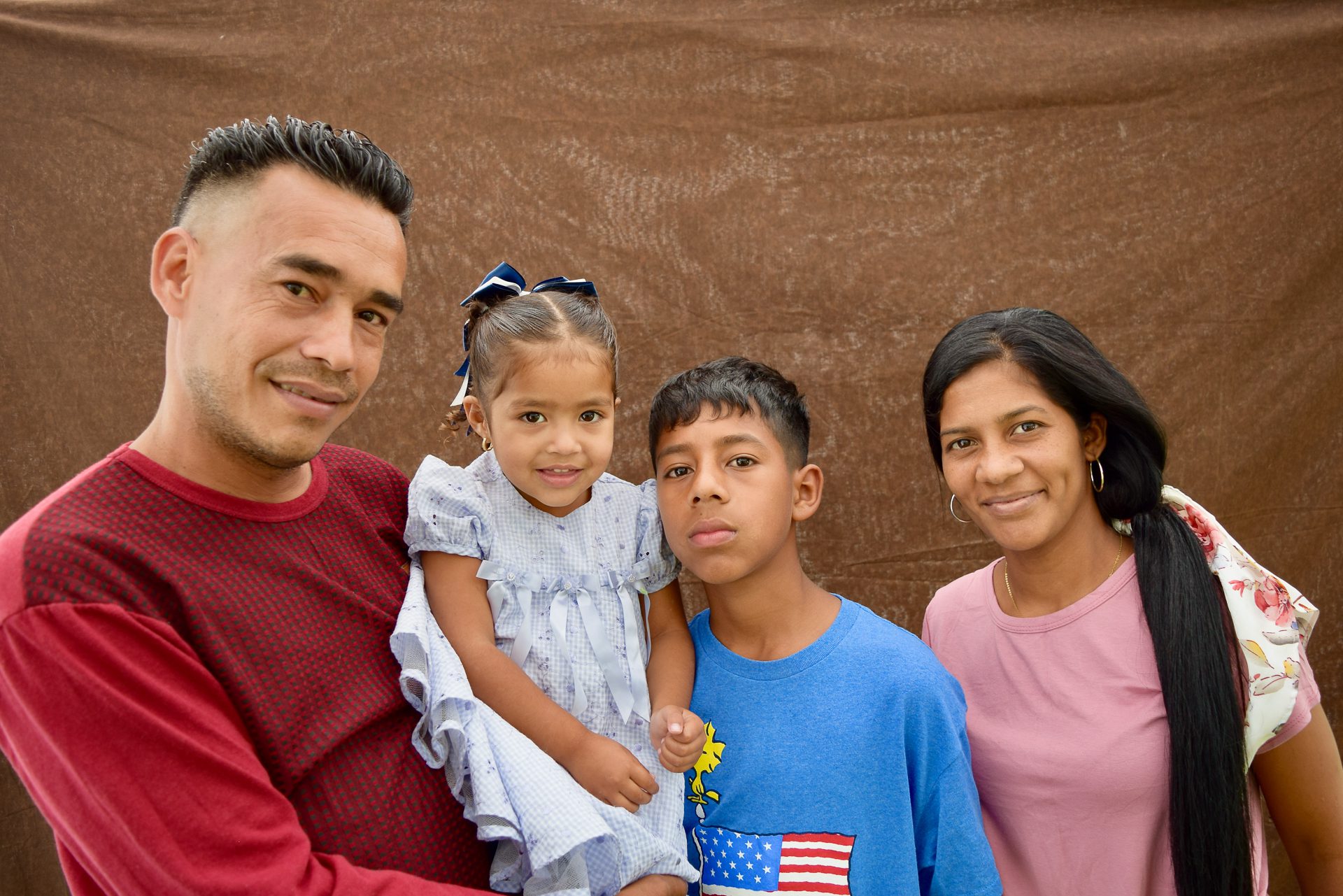 William Estrada for Borderless Magazine.
Yolanda Mendez, 32, originally from Venezuela
Mendez spent one year in Chile with her family before coming to the U.S. She made the trip with her son, daughter and husband from Anzoátegui, Venezuela. Mendez and her husband have found work at a laundromat. Their commute is about 30 minutes by bicycle and they work from 8 pm to 4 am. 
In Venezuela, my home was a normal, pretty house. A spacious house with a patio in the front of the house. It was very cute.
The current living situation is hard because there are a lot of people in the space. We are a bit crowded. 
We try to take the children to the park daily. On Sundays, we go to church and the kids are able to get distracted too. We hope to God that something comes out of this soon.
The future is the hope we have right now. I don't ask for much. We are hoping for a  normal, little house. We would be happy anywhere. I hope it is the same as my home in Venezuela. We want to live in peace. We would like to get good jobs and have our children do well in school. We hope to also learn English.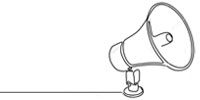 Bring power to immigrant voices!
Our work is made possible thanks to donations from people like you. Support high-quality reporting by making a tax-deductible donation today.