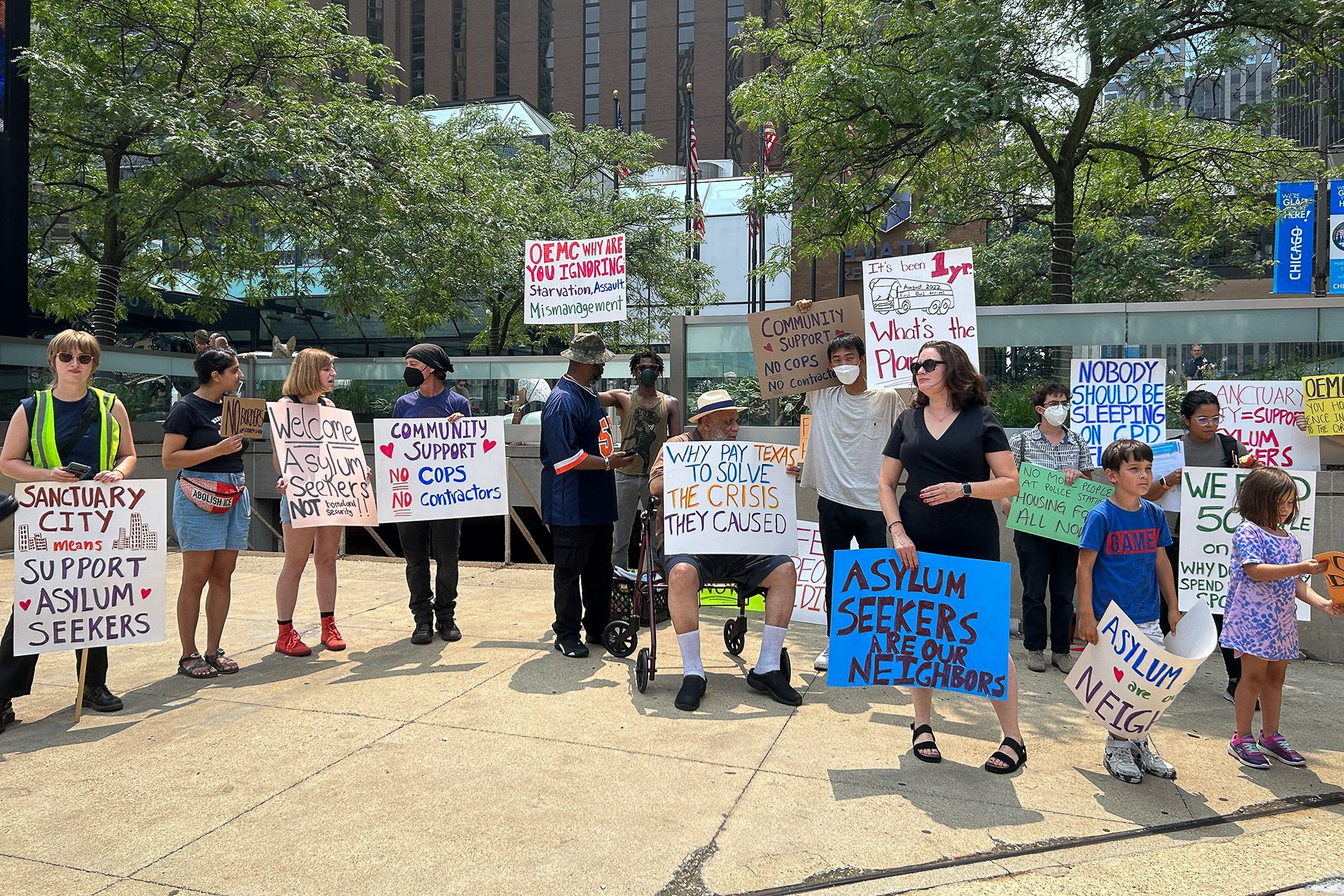 Katrina Pham/Borderless Magazine
About fifteen Chicago community members protested outside the Hyatt Regency Hotel where the National Homeland Security Conference was being held in downtown Chicago, Ill. Monday, July 24, 2023. Community members called for Chicago's Office of Emergency Management and Communications, who ran the conference, to prioritize aid for migrants sleeping in police stations.
Immigrant organizers called for increased funding for community members helping migrants bused to Chicago.
While Chicago's emergency management department hosted a national conference in downtown Chicago Monday, community members stood outside their hotel demanding that the city of Chicago allocate more resources to help the migrants being bused to Chicago.
Over 10,000 migrants have come to Chicago since last August as part of Texas Gov. Greg Abbott's program busing asylum seekers from the border to cities across the country. The city has struggled to find housing for the migrants or present a comprehensive plan on how to take care of them. Over 950 migrants are estimated to be sleeping at police stations at this time.
Get Borderless in your inbox
Sign up for our free newsletter. Each Thursday we share ways to support immigrant organizations and stories about our communities.

While the city has contracted with a staffing service to support the migrants, advocates say that that money could be better spent supporting local organizations who are currently providing frontline care at shelters and police stations, including handing out things like food and bedding.
"The people being trafficked here are not the burden," said Halle Quezada, a Police Station and Response Team representative, at the protest outside the Hyatt Regency Hotel where Chicago's Office of Emergency Management and Communications were hosting the National Homeland Security Conference. "The utter lack of coordination and preparation from our city departments — that is the burden. These predatory contracts that are absconding with our tax dollars and exponentiate the suffering, that is the burden."
The Police Station and Response Team is a collective of volunteers supporting asylum seekers living in Chicago's police stations. PSRT along with representatives from Organized Communities Against Deportations and Edgewater Mutual Aid Network organized the protest.
Read More of Our Coverage
Protesters called on OEMC to dedicate more resources toward providing asylum seekers with food, housing and legal support. They also called on the office to end its contract with Favorite Healthcare Staffing, which they say charges overly expensive rates to profit off of their work. According to PSRT, the staffing service received $42 million from the City to run shelters, and has been promised an additional $47 million of the $51 million city budget for migrant aid.
Instead, activists said that community members should be the ones taking care of newly-arrived immigrants. 
"It is us who have us, and can create and be imaginative as to how we actually have to support other human beings," said Xanat Sobrevilla, an organizer with OCAD. To hear more from Sobrevilla, check out our Instagram post here.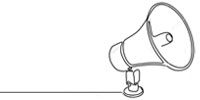 Bring power to immigrant voices!
Our work is made possible thanks to donations from people like you. Support high-quality reporting by making a tax-deductible donation today.