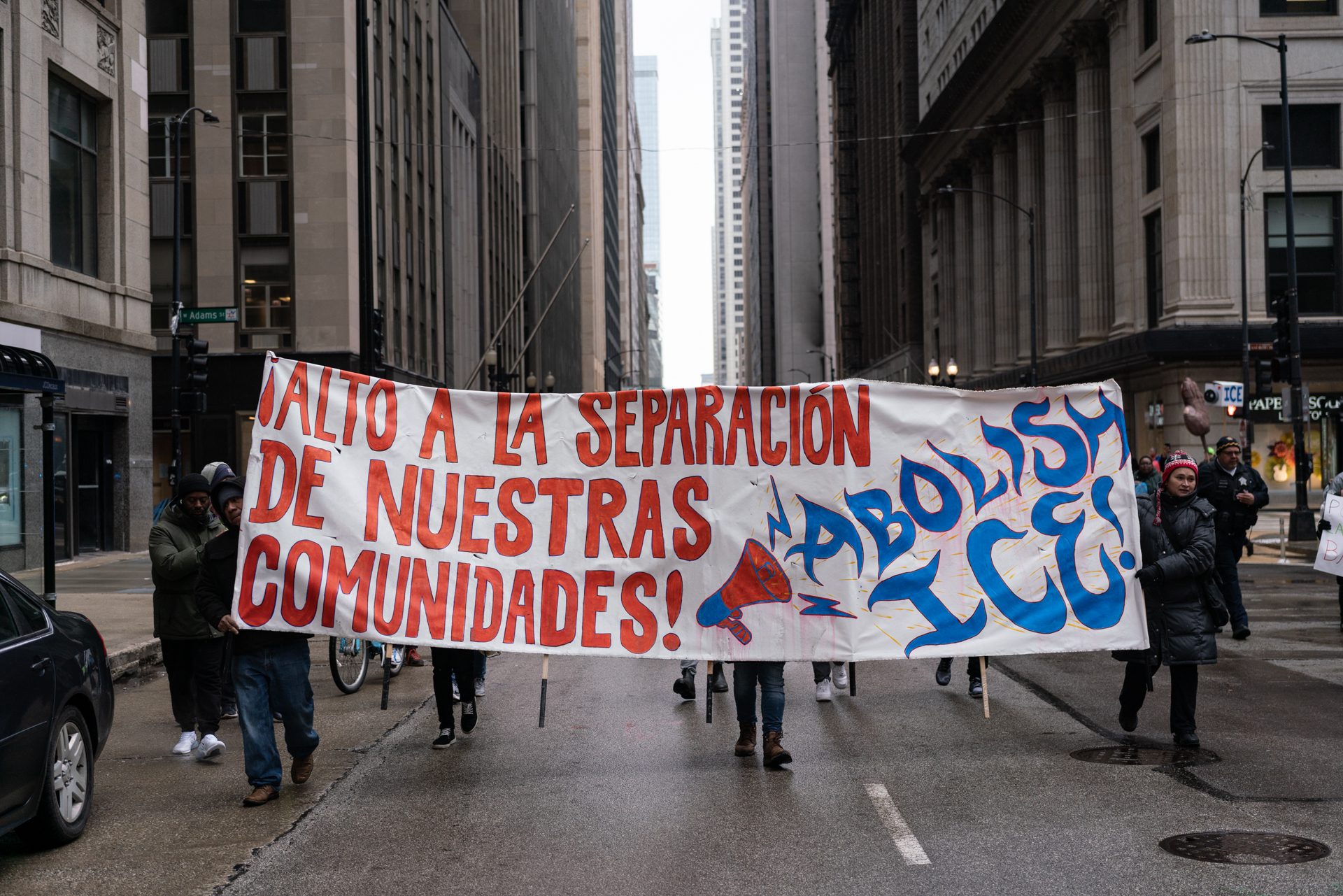 Demonstrators march from Federal Plaza to the Immigration and Customs Enforcement Field Office in downtown Chicago during a protest of ICE on March 25, 2023. Max Herman for Borderless Magazine
Immigrant demonstrators called for the end of Immigration and Customs Enforcement and the detainment and surveillance of immigrants.
Members of Colectivo Huehuecoyotl, a group of Aztec ritual performers, cleansed the space around Chicago's Federal Plaza midday Saturday, greeting mother earth and calling for the end of injustices against immigrants. The "prayer in movement" was a reminder for the 40 or so protesters gathered in the falling snow in downtown Chicago that they were standing on indigenous land and U.S. citizenship is a settler-colonial concept.
Max Herman for Borderless Magazine
The crowd gathered to protest the 20th anniversary of Immigration and Customs Enforcement, an agency created under the Homeland Security Act of 2002 following the Sept. 11 terrorist attacks. Speakers went on stage to talk about their experiences with ICE, reflecting on the impact of two decades of family separations, incarcerations and deportations.
The demonstration was organized by members of Organized Communities Against Deportation and delegates from the Arab American Action Network (AAAN) and United African Organization (UAO).
Get Borderless in your inbox
Sign up for our free newsletter. Each Thursday we share ways to support immigrant organizations and stories about our communities.

"We are here to continue the annual tradition of using stories as a political tool to demand social change," said Antonio Guiterrez. Gutierrez is a strategic coordinator for OCAD and is also an undocumented immigrant. "We know that when we share our stories we create a sense of community."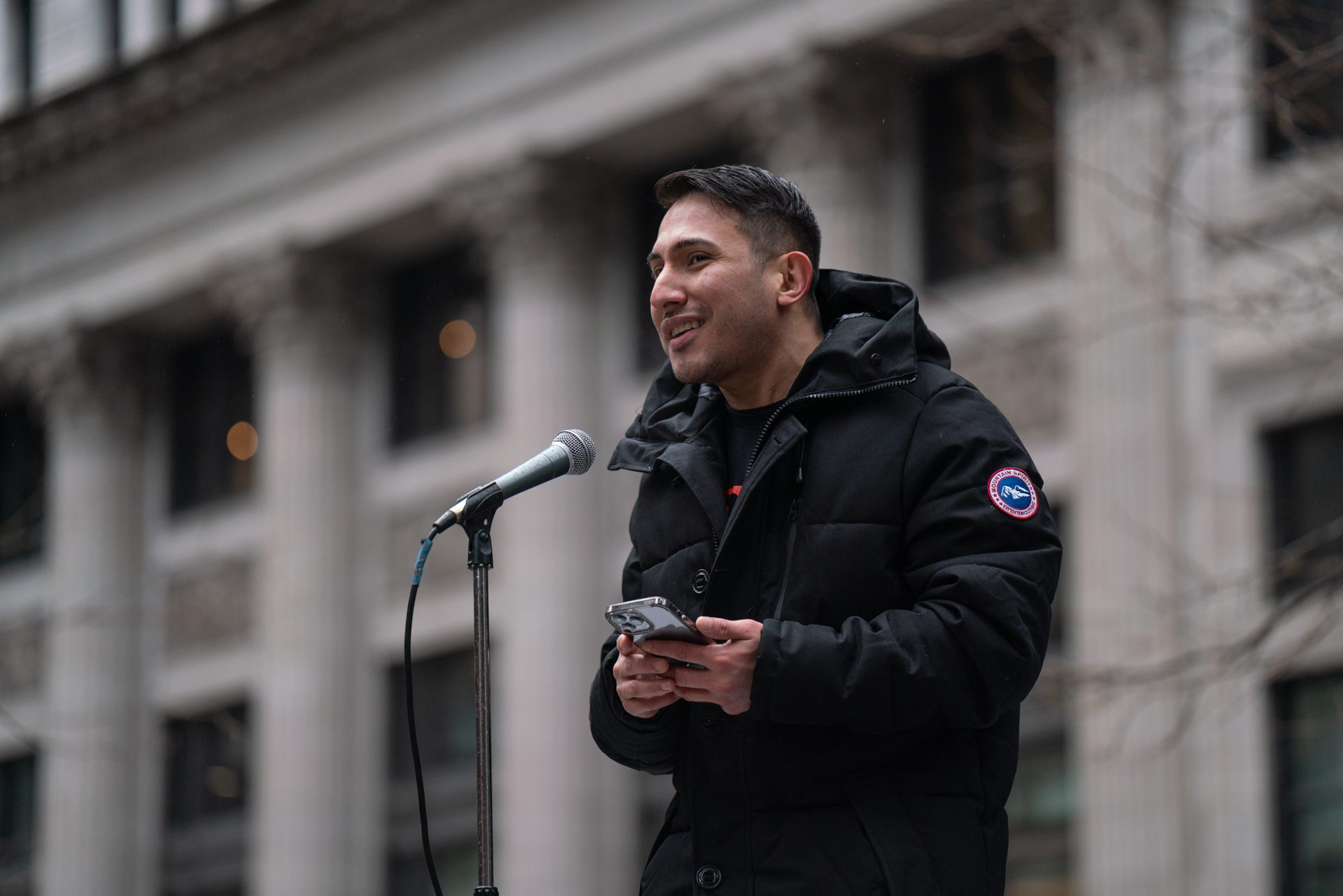 Max Herman for Borderless Magazine
It's been over a year since Illinois outlawed immigration detention facilities in the state. Still, organizers say that more needs to be done to address the damage that ICE is doing to communities here, including the agency's use of surveillance and ankle monitors. Demonstrators demanded the abolition of ICE and an end to domestic surveillance and family separation.
Among the speakers was Cesar Mauricio Elizarraraz. Elizarraraz is a Mexico-born, longtime resident of Crystal Lake who was held in ICE custody at the McHenry County jail from Sept. 2019 to June 2021 awaiting deportation. His family believed that his immigration case was related to a criminal conviction he received as a teenager. While ICE regularly makes immigrants with past criminal convictions priorities for deportation, this practice has been criticized by organizations like the ACLU for destabilizing communities and not making them safer.
Elizarraraz gave an emotional speech at the rally, retelling his experience of being separated from his family. "I lived a nightmare for 21 months. I was dehumanized in many ways, forced labor under conditions no human being should ever endure."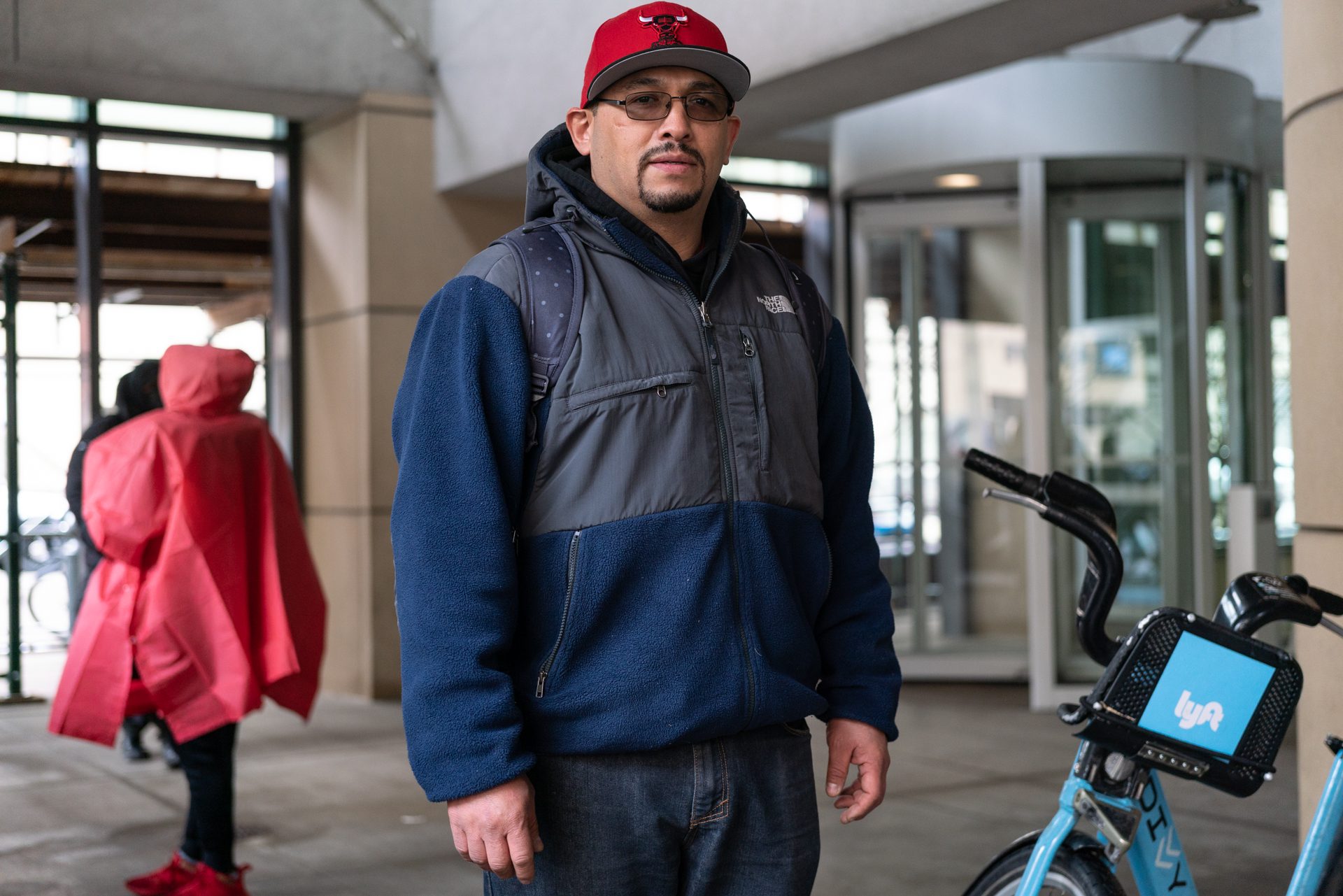 Max Herman for Borderless Magazine
Fasika Alem, UAO's program director who is originally from Ethiopia, spoke about the dangers of surveillance and anti-Black discrimination. "I'm here representing those that are still afraid, that are still traumatized, because of ICE."
UAO is a Chicago-based organization that promotes social and economic justice, civic participation and empowerment of African and Black immigrants and refugees in Illinois. It has been a prominent group in advocating for the Illinois Way Forward Act and more humane asylum policies.
"Even though we have ended ICE contracts with local jails here across the state of Illinois, the legacy of ICE continues to haunt our families," Alem said. "ICE detention facilities have a long history of unsafe and harmful conditions. Detainees in these facilities have reported cruel and inhumane conditions, as we've heard today, including sexual, physical, medical and psychological abuses and anti-Black discrimination action. These [conditions] ranged from forced strip searches and unprovoked pepper spraying to prolonged solitary confinement and critical medical treatment negligence."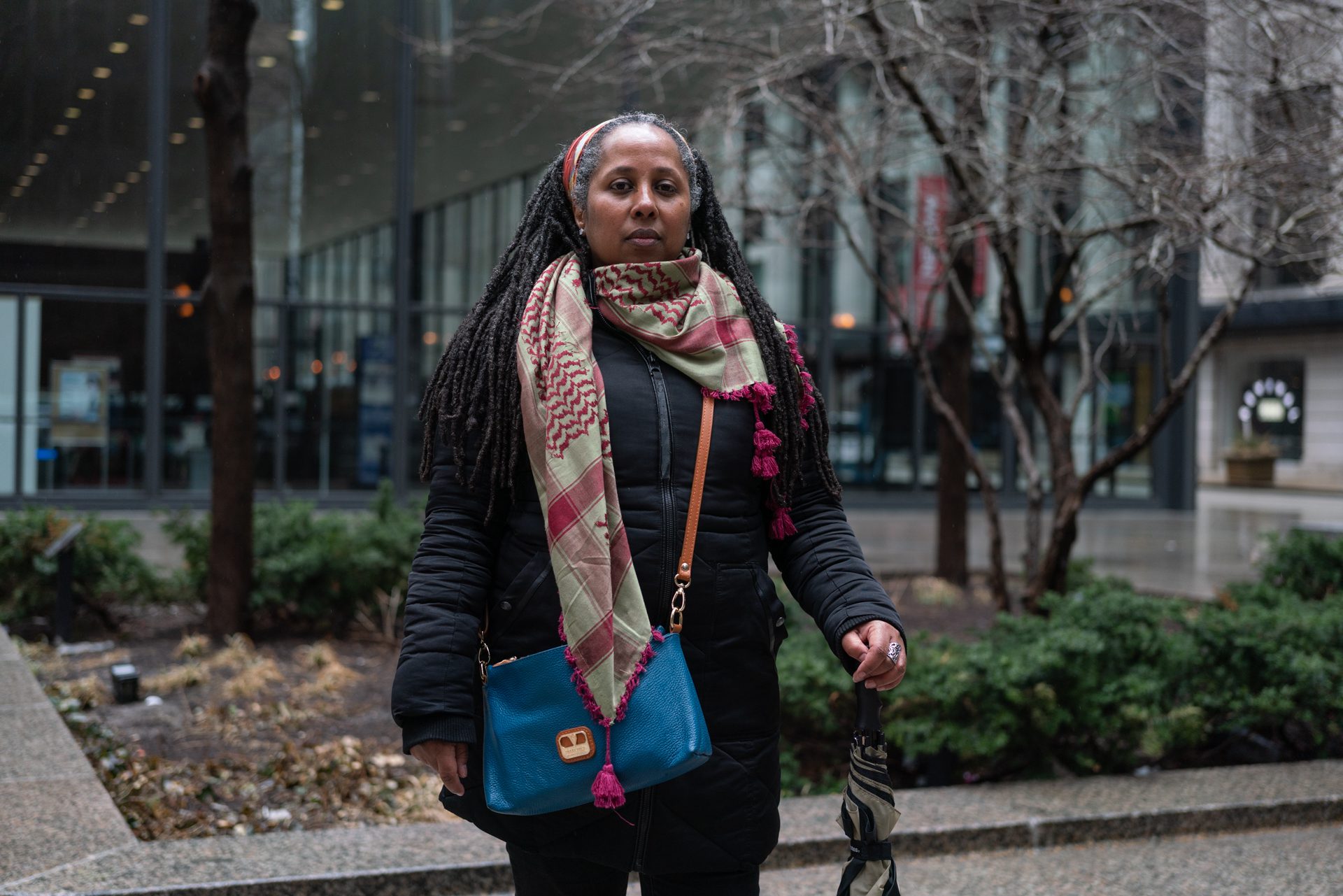 Max Herman for Borderless Magazine
While Illinois no longer has immigrant detention facilities, organizers say ICE's alternatives to detention in the state have their own problems. The agency has dramatically increased its use of its Alternatives to Detention (ATD) program in the Chicago region this year, including ankle monitors and check-ins as an alternative to imprisoning immigrants awaiting decisions on their cases. ATD enrollment in the Chicago region is up 13% in 2023, the second-highest bump in the country. Meanwhile, the use of ankle monitors by ICE is decreasing in most other areas, according to a recent Transactional Records Access Clearinghouse (TRAC) report.
While a National Immigration Forum report notes that ATD is more cost-effective than traditional detainment, the same report notes that electronic monitors have been known to cause serious physical injuries such as "inflammation, severe cramps, bleeding, sores, and numbness around the foot and leg." Because the monitors need to be charged frequently, wearers must stay near an electrical outlet and have restricted movements.
For these reasons, immigrant organizers here say that after their victory with the Illinois Forward Act, their sights are set on ending ICE's use of surveillance and ankle monitors.
Max Herman for Borderless Magazine
After the speeches, demonstrators on Saturday marched from downtown Federal Plaza to the ICE field office at 101 W. Congress Parkway, while wearing paper and cardboard shackles and ankle monitors. They chanted "undocumented and unafraid," and carried posters that read "stop deportation" and "abolish ICE."
With CPD officers looking on from the near sidewalk, protestors symbolically ripped off their cardboard ankle monitors and threw them on the ground.
Elizarraraz was there with his family. He is grateful to be reunited with them after being detained, but his deportation case is still pending and he may still have to leave them.
"When I was first released, ICE placed an ankle monitor on me and was instructed to do routine check-ins at the field office here in Chicago," he said. "ICE has since removed the monitor and de-escalated the supervision order, but I'm still under their control."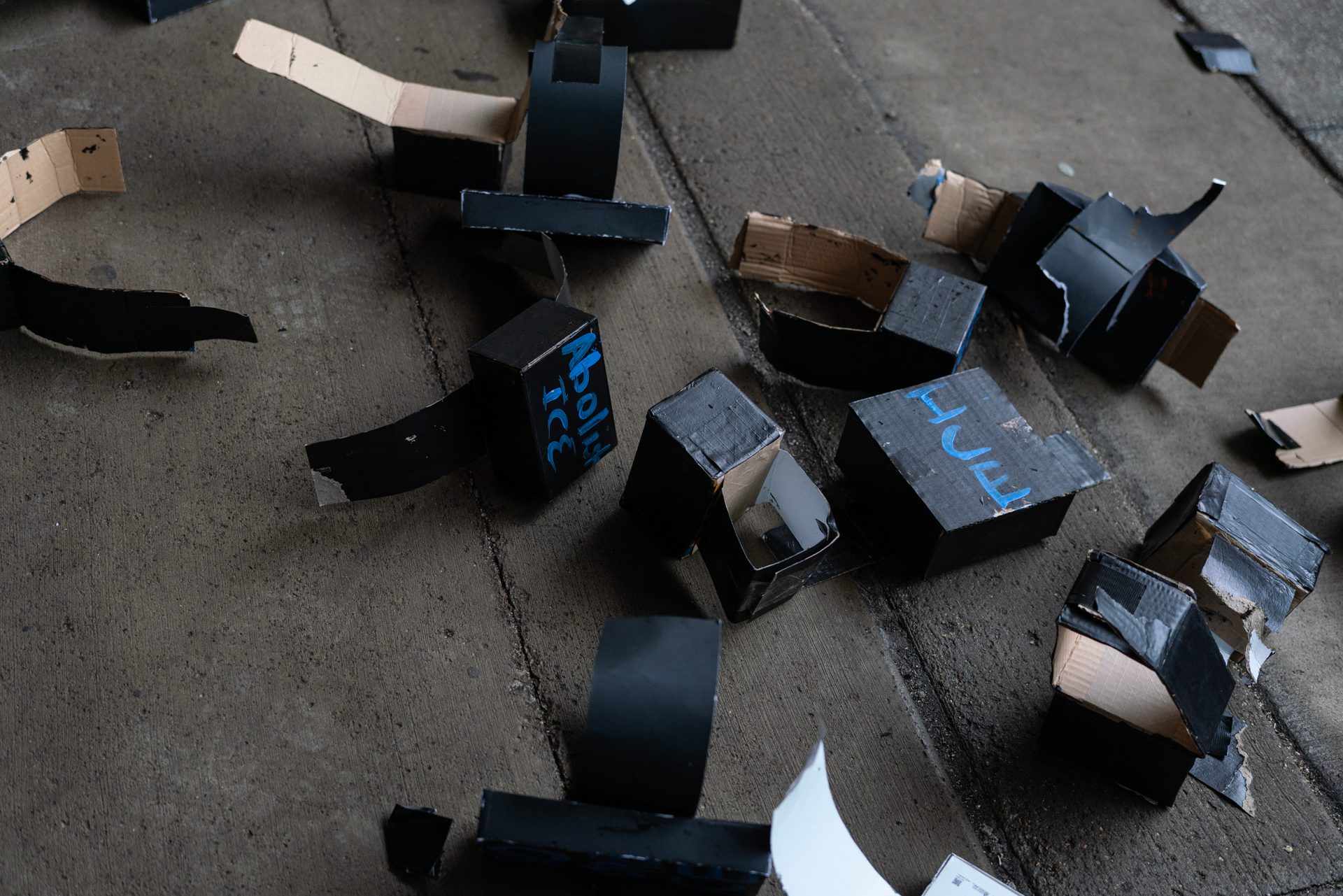 Max Herman for Borderless Magazine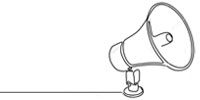 Bring power to immigrant voices!
Our work is made possible thanks to donations from people like you. Support high-quality reporting by making a tax-deductible donation today.