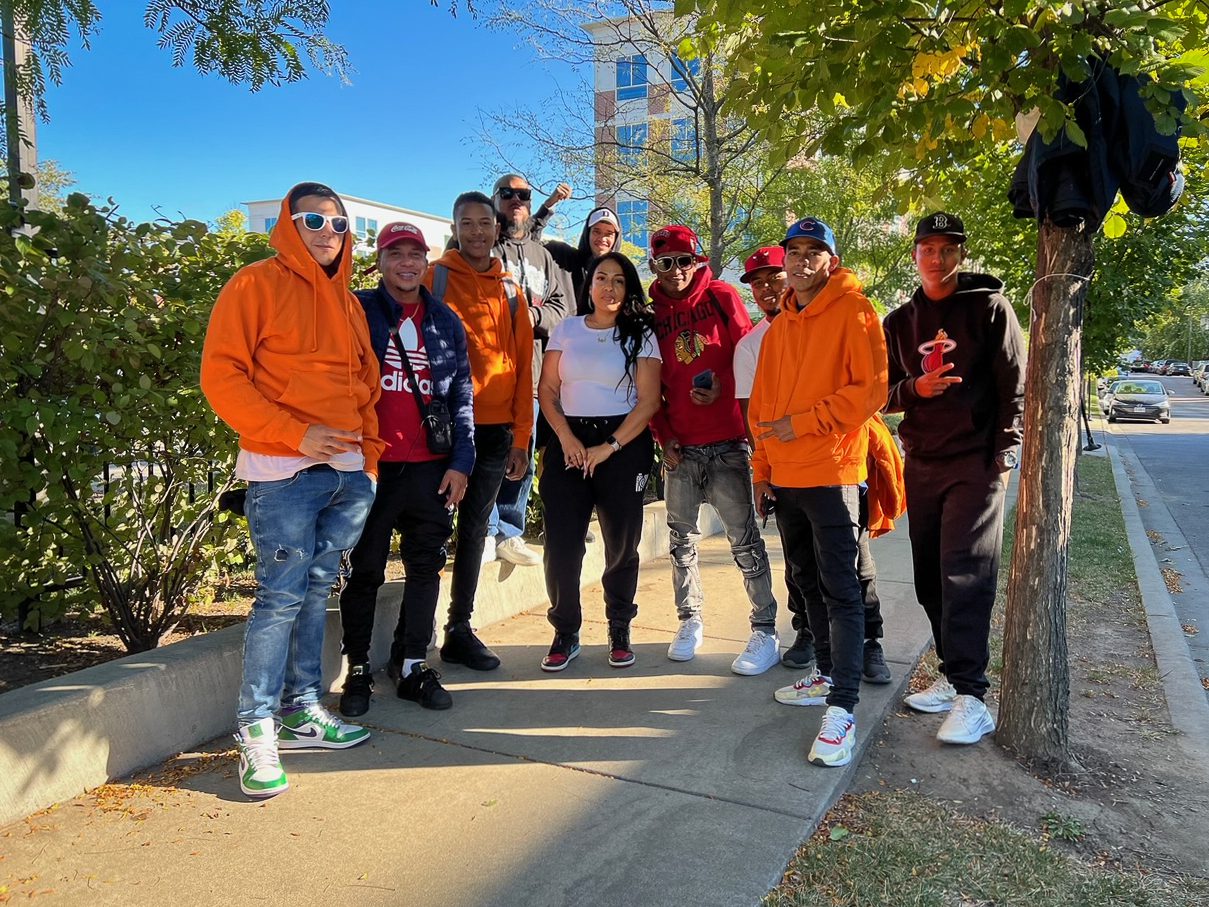 Photo by William "The KiD" Guerrero
Members of The Mural Movement hand out donated hoodies and t-shirts to recently arrived asylum seekers Oct. 2022.
The Mural Movement started as a beautification project but has grown to provide solace and support for community members — generational or recently arrived.
Juan Carlos Santillan looked, for the first time, at the canvas portrait artist Milton Coronado spray-painted of his brother Luis Santillan.
Luis immigrated to Chicago from Mexico with his family in 1995. He was 15 at the time. He grew up to raise his four children here. Then he was shot and killed in 2010 at age 30.
Want to receive stories like this in your inbox every week?
Sign up for our free newsletter.

Juan says the artist Coronado is an inspiration to him and other families who have lost a loved one to gun violence.
"He actually has the energy to empower and bring peace," Santillan said of Coronado. "We know that they're passed, but they're still here (in spirit)."
The portrait was one of dozens displayed at Coronado's exhibit "In Loving Memory" at Vault Gallerie on Día de los Muertos this past November, to honor and remember local victims of gun violence.
The exhibit was organized by Delilah Martinez, the gallery's owner and founder of The Mural Movement, an organization that is highlighting the power of art to heal Black and brown communities grappling with gun violence and racism.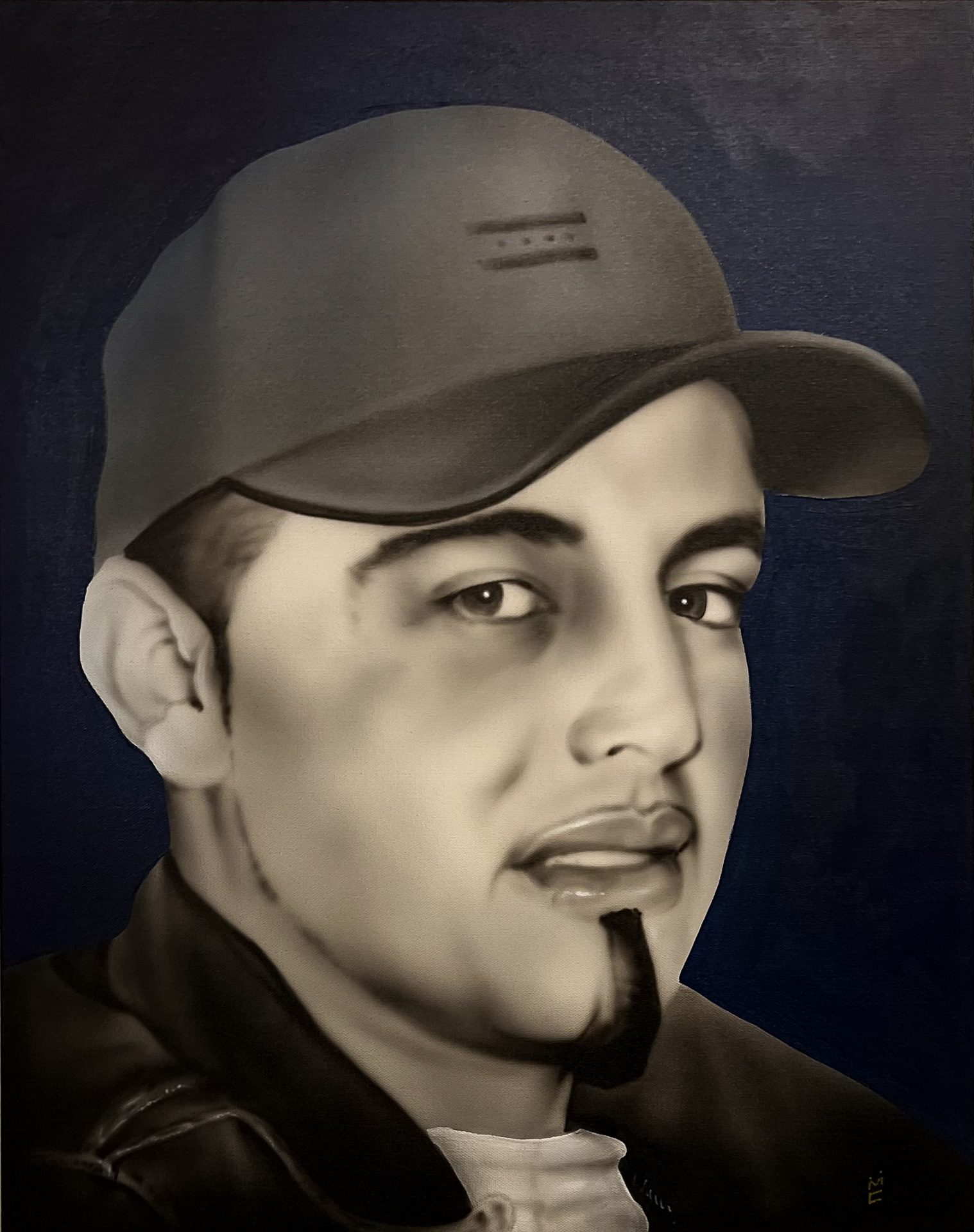 Photo by Martha Contreras
Martinez said she admires Coronado and his artwork greatly, and The Mural Movement now exclusively commissions the artist for their tribute murals.
Since its beginnings in 2020, The Mural Movement has expanded beyond its original message of Black and brown unity. Today, they organize and finance tribute murals dedicated to victims of COVID-19, police brutality and gun violence. Chicago had 695 homicides last year, and more than three out of four homicide victims were Black, according to police data.
Coronado, a first generation Mexican immigrant, started drawing at 5 years old as a way of coping with his grief when his mother died of a brain aneurysm. However, he said it wasn't until he spray-painted a mural of his father in 2016, 15 years after he was shot and killed in 2001, that he understood what his art could do.
"I realized that murals like this have the power to heal," Coronado said.
In the Wake of George Floyd's Death
Martinez started The Mural Movement in the summer of 2020 in response to the killing of George Floyd. She saw planning and financing street murals as a way for her community to support and uplift Chicago's Black community and the Black Lives Matter message.
"My focus has always been Black and brown unity," Martinez said. "We need to support each other."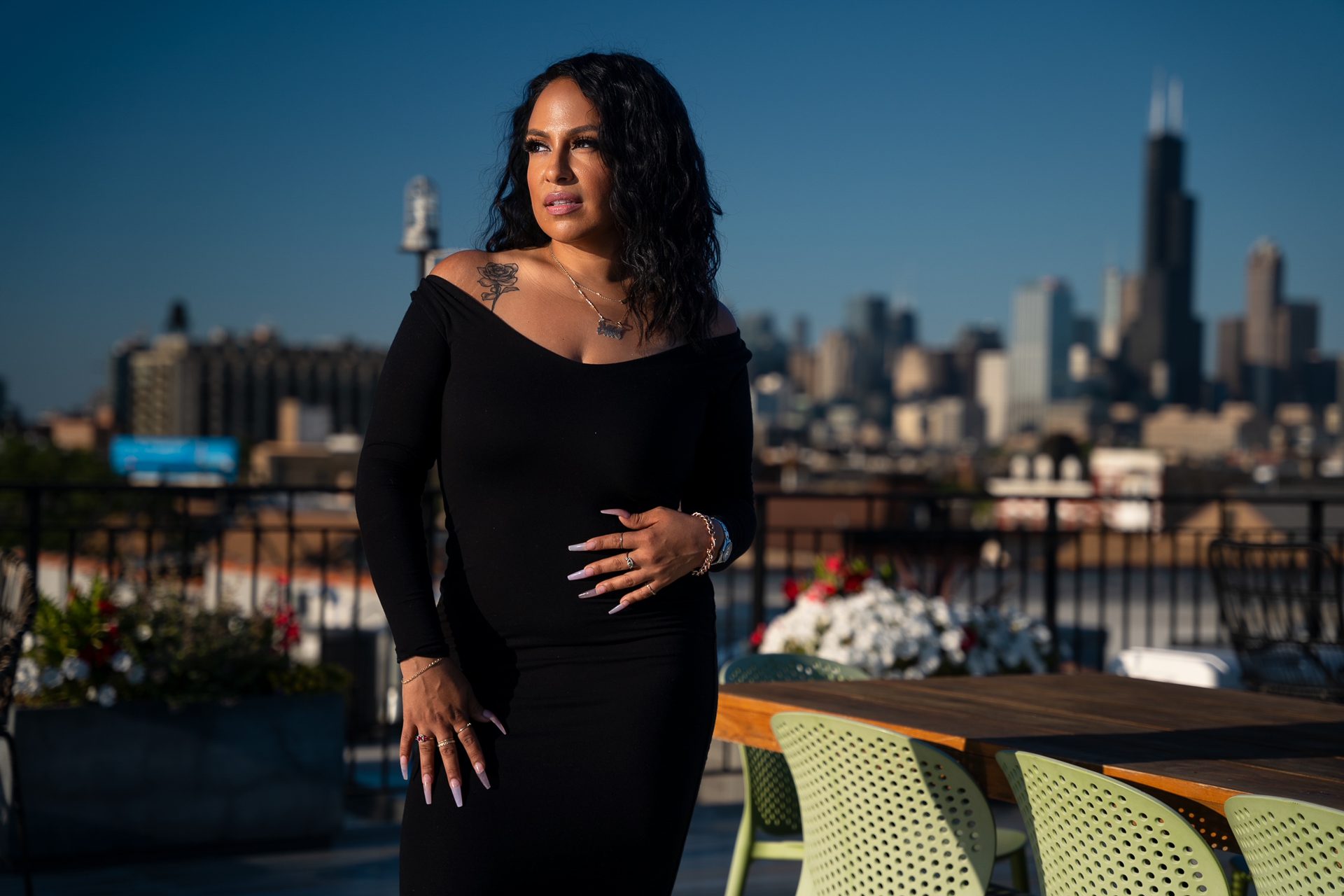 Photo by TakeOff Films
Martinez raised a couple thousand dollars with a GoFundMe page to paint portraits of Black people over boarded up storefront windows around Pilsen that had shattered during the BLM protests. She also planned a series of street murals. Eight artists volunteered a week of their time and collaborated on the largest mural with two figures representing Black and brown communities holding hands with "Black & Brown Unity" surrounding their embrace.
Then it was white-washed and erased later that June night in 2020 in an act of vandalization and "hatred," she said.
"We were just so hurt that it fueled my fire to start a GoFundMe page and start doing more murals," Martinez said. "That's how it all started."
What began in Pilsen's 18th Street as a seven mural volunteer project evolved into a movement of community empowerment that expanded to cities across the nation, from San Diego to New York. The Mural Movement now has 186 murals nationwide.
Martinez herself went to San Diego with her team and helped local artists paint eight murals, two of which were in a migrant shelter that she visited with her sister. She also led an art therapy workshop there.
Devastating Gun Violence
For Martinez, focusing on gun violence — a problem that challenges both Black and Latino communities in Chicago — was a natural fit for the Mural Movement.
William "The KiD" Guerrero volunteers with The Mural Movement and helped Coronado paint tribute murals and organize vigils for community members lost to gun violence, including Melissa Ortega and Adam Toledo.
Eight year-old Ortega immigrated from Mexico with her mom, and was killed in La Villita months after her arrival to Chicago early last year. The Mural Movement held a vigil and protest against Chicago gang violence in January, walking from where she was killed to her mural marking the anniversary of her death.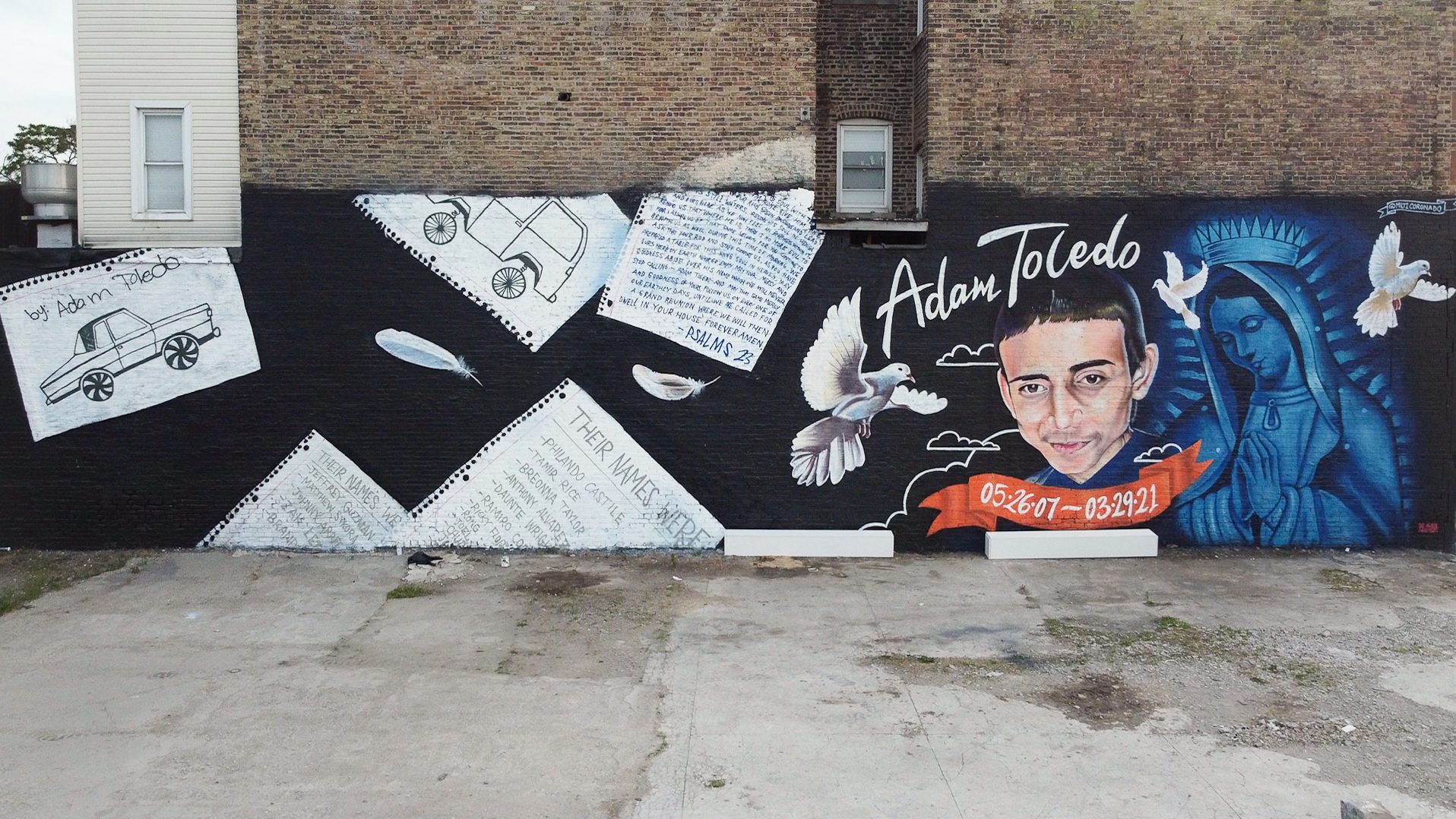 Photo by Delilah Martinez
Thirteen year-old Toledo, also Mexican, was killed. He was shot by a police officer in 2021.
Adam's mural was tagged by gang members three times, Guerrero said. Each time The Mural Movement fixed it, gang members threatened them and told them not to come back. But they fixed it again.
Guerrero, 21, said he himself wakes up with a fear of dying from gun violence every day, but would rather die helping the community he loves.
A Need for Winter Clothes and Shoes
In addition to holding food donation drives, or remembering victims of violence through murals and vigils, The Mural Movement is working to provide food, winter clothes and shoes for the more than 5,000 migrants who have arrived in the city since Aug. 31.
Government officials including Illinois Gov. J.B. Pritzker and Chicago Mayor Lori Lightfoot vowed — with the help of the Salvation Army — to ensure migrants with, according to Lightfoot, "shelter, food and, most importantly, protection" upon their arrival to Chicago in affirmation of Illinois' stance as a welcoming state. However, volunteers working with migrants say that has not been the case.
Ald. Byron Sigcho-Lopez (25th) demanded city officials address the "humanitarian crisis" during a news conference at City Hall in November. Sigcho-Lopez housed four migrants at the time, and called the city out for not providing bare necessities including shelter.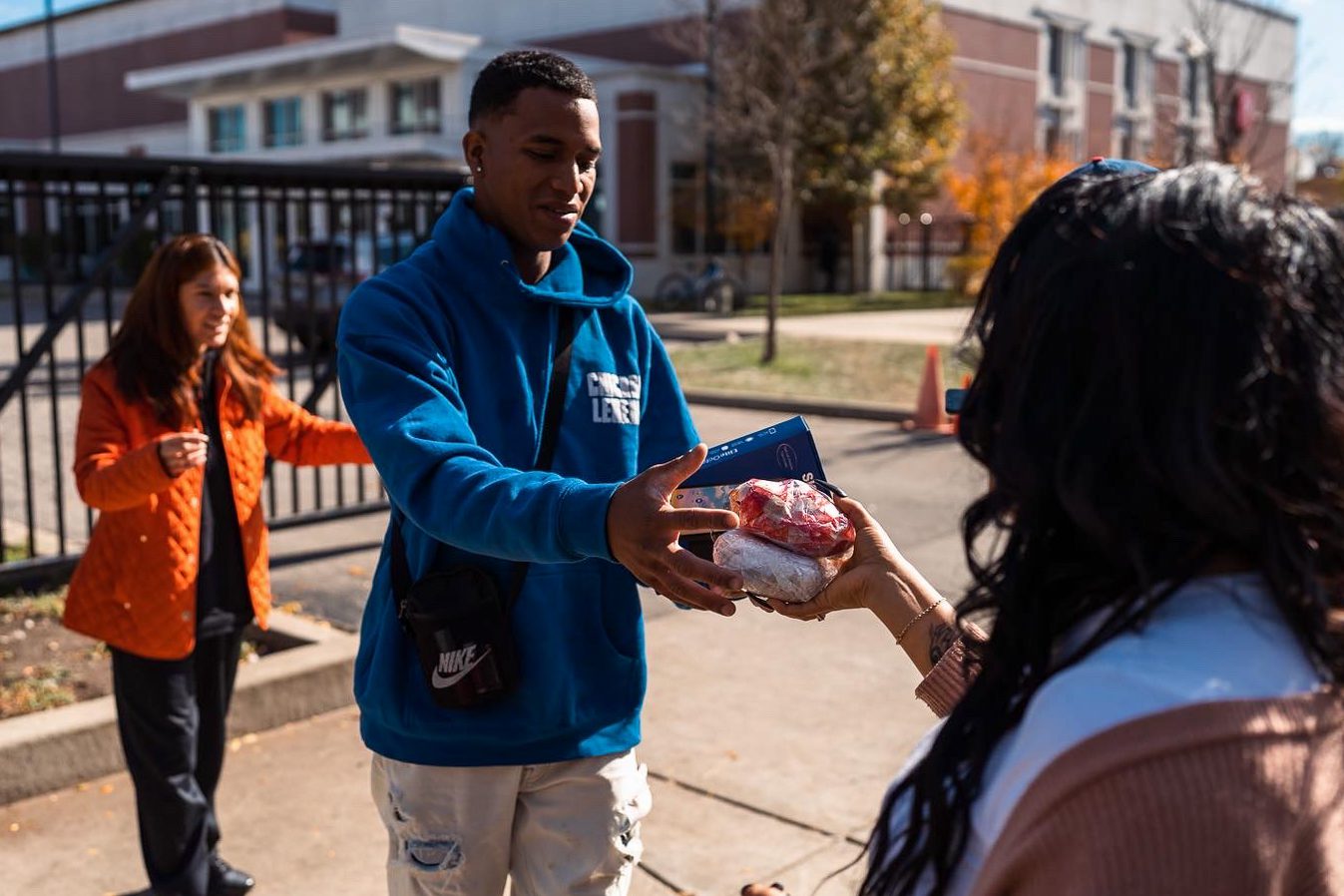 Photo by William "The KiD" Guerrero
The alderman said he recently opened a shelter housing 14 migrants in coordination with the Pilsen Food Pantry, and is waiting for the city and state to see if they can expand capacity. Martinez said The Mural Movement is working closely with Sigcho-Lopez to provide mattresses, blankets, clothes and toiletries by fundraising through social media and a GoFundMe.
Martinez says she used the platform to raise money for toiletries the night migrants first arrived in August. Then, after seeing how many arrived shoeless, she used her gallery to organize a donation drive for socks and shoes overnight.
"They don't walk here shoeless, you know," Martinez said. "They're on the trail, they have shoes on and they have backpacks. They bring in stuff from their home to come to the United States, but the U.S. Border Patrol takes everything from them."
Along with volunteer Ricky "El Jefe" Medina, Martinez said she works tirelessly with Guerrero to provide these basic necessities.
Guerrero said he saw many people outside in -10 degree weather wearing T-shirts and joggers despite the Salvation Army's claims to be providing the migrants with winter clothes. He said the city needs to better address the humanitarian crisis.
"When we see kids without a shoe. When we see kids with sandals. When we see kids with not even a jacket, it's like, are they doing the work that they're claiming to do? Or do we need to do it?" he said.
Martinez said many families are on the streets because shelters are at overcapacity and kick them out with nowhere else to go and not enough resources to establish themselves. She said single mothers struggle the most to establish themselves because they are "in limbo" with no resources on where to live and who to take care of their kids.
"If we don't provide them daycare services how do we expect them to work? So that way they can afford to get their own apartment, so that they can afford to send their kids to school and live like everyone else here," she said.
Martinez said she feels restless because she doesn't have the resources to help them. Yet.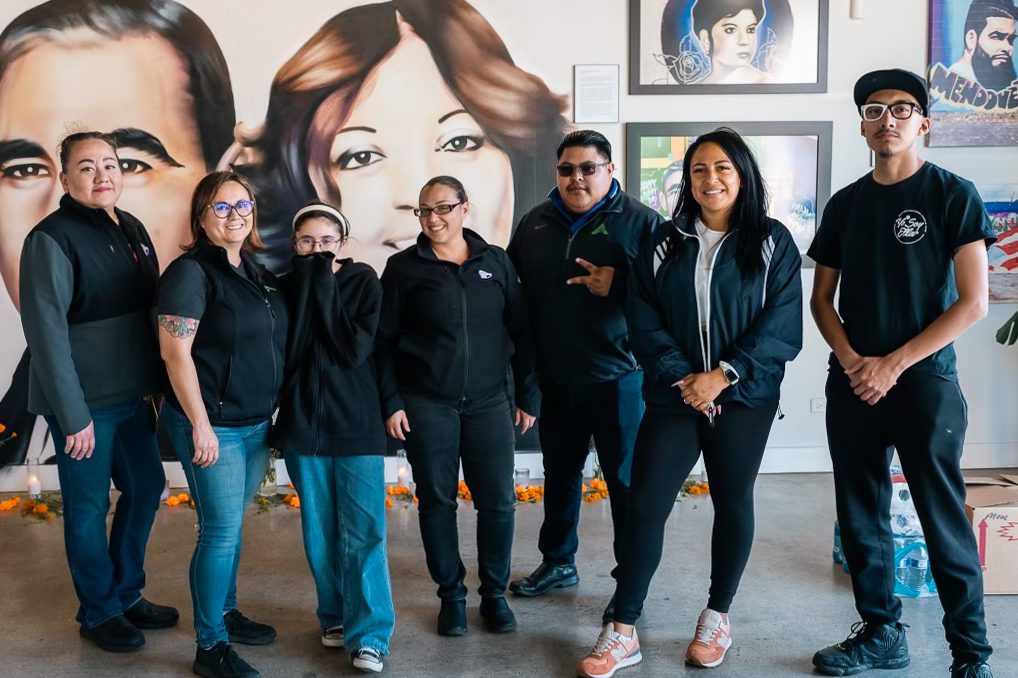 Photo by David Lucena
By the Community for the Community
While The Mural Movement initiates and organizes projects, Martinez said it is "the power of the people" that uplifts the community.
Martinez was able to provide 80 phones for individuals and families seeking refuge at the Salvation Army using community donations and the help of an AT&T employee. The employee provided iPhones with a month of internet service for $60.
"They were putting us on the phone with their families and it was really emotional," she said. "It was something so simple like making a phone call to your family that we take for granted here."
Apart from unifying migrants with their families, The Mural Movement hopes to create more unity with the city and within.
At the In Loving Memory event honoring gun violence victims, Coronado and Martinez urged the community to support each other in the face of unjust violence.
Coronado invited Pastor Johnny Delgado to share a special word of prayer for the families of victims, Pilsen, Chicago and The Mural Movement. Delgado asked God for the strength and grace to love.
"Our city goes through a lot of damage because people don't know love, but we can make the difference," he said. "It's our brokenness that unites us."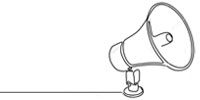 Bring power to immigrant voices!
Our work is made possible thanks to donations from people like you. Support high-quality reporting by making a tax-deductible donation today.