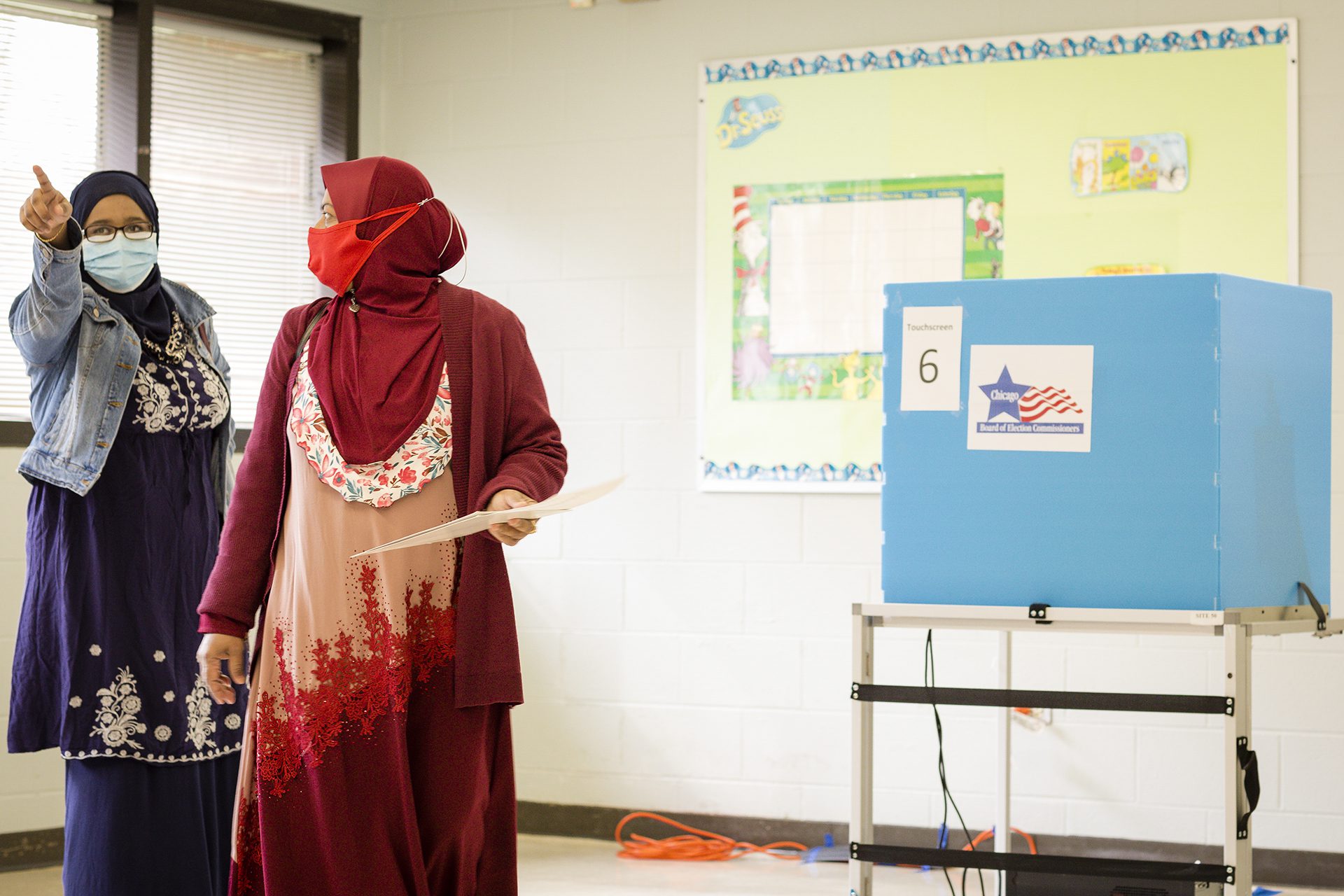 Michelle Kanaar/Borderless Magazine
Bibi Sabura votes at Warren Park in Chicago, Ill., Oct. 20, 2020.
From what to bring to who can vote, we answer your questions about voting in the midterm elections in Illinois.
There's a lot of misinformation about voting being spread on the internet, especially around the voting rights of immigrants.
One in seven Illinois residents is an immigrant. More than half of these immigrants are naturalized U.S. citizens and are eligible to vote.
To help clear up any confusion ahead of the 2022 midterms on Nov. 8, Borderless has compiled this guide to help readers navigate registration, voting and some issues you may experience at the polls.
Want to receive stories like this in your inbox every week?
Sign up for our free newsletter.

Registration
Who can register to vote?
In Illinois to register to vote you must
be a U.S. citizen
be a resident of Illinois and of your election precinct at least 30 days before the next election
be 18 years old or older on the date of the next General Election
You cannot
Find out more at HowToVote.org.
What if I've been convicted of a felony?
Voting rights for convicted felons vary from state to state.
In Illinois, individuals with felony convictions automatically regain their voting rights at the completion of their prison or jail sentence, per Article III, Section 2 of the Illinois State Constitution.
You can vote in Illinois if you previously served a felony prison sentence, are waiting for sentencing or are in the midst of a trial.
You cannot vote if you are a convicted felon about to go to prison, or are currently in jail or prison for a felony.
How do I register to vote?
In Illinois you can register to vote in person, by mail, or online.
Registration deadlines are Nov. 8 for in person, Oct. 11 for mail and Oct. 23 for online.
Online voter registration will resume Nov. 10, 2022.
Voters may register in person at an early voting site or their election day polling place with two forms of ID, one with a home address. Those may include:
A current and valid photo ID
Utility bill
Bank statement
Government check
Paycheck
Lease or contract for residence
Student ID and mail addressed to voter's residence
Government document
Remember, identification is not required to vote at the polls in Illinois, although you will be required to verify your signature. But if you are registering to vote on election day, you will need to bring it with you.
How do I know if I'm registered to vote?
You can check your registration status online using your name, date of birth and address.
Check Your Voter Registration Status at the nonprofit site Vote.org or look it up on the Illinois government elections website.
Voting
What are we voting on?
Citizens in Chicago will be voting on a wide range of elected leaders, including the Illinois governor, senators, House representatives and judges. You can get a preview of what your ballot will look like using Ballotpedia's Sample Ballot tool.
Additionally, Injustice Watch has an extensive guide to the judges who are up for election on Nov. 8. And the Sun-Times/WBEZ has a voter's guide to all of the people who are up for election in Illinois.
Also on the ballot in Illinois is an amendment on the right to collective bargaining.
A "yes" vote supports amending the Illinois Constitution to:
state that employees have a "fundamental right to organize and bargain collectively through representatives of their own choosing for the purpose of negotiating wages, hours, and working conditions, and to protect their economic welfare and safety at work" and
prohibit any law that "interferes with, negates, or diminishes the right of employees to organize and bargain collectively."
A "no" vote opposes amending the Illinois Constitution.
You can read more about this proposed amendment in this booklet published by the Illinois Secretary of State.
In Cook County, residents will vote on a property tax to help fund the Cook County Forest Preserve.
A "yes" vote supports increasing the district's property tax by an additional 0.025% for the 2022 levy year to provide forest preserve funding.
When can I vote?
The polls in Illinois will be open Election Day, Tuesday Nov. 8 from 6:00 am to 7:00 p.m. Many locations around the state will be open for early voting ahead of Tuesday, however.
The Chicago Board of Election Commissioners website lists early voting locations for each ward.
50 Chicago early voting sites will be open from Oct. 24 through Nov. 8:
Weekdays from 9:00 a.m. to 6:00 p.m.
Saturdays from 9:00 a.m. to 5:00 p.m.
Sundays from 10:00 a.m. to 4:00 p.m.
and Election Day from 6:00 a.m. to 7:00 p.m.
Can I still vote by mail?
Yes, if you already have your mail-in ballot. The deadline to request a mail-in ballot was Nov. 3.
The deadline to submit a completed mail-in ballot is Nov. 8.
Where do I vote?
If you're not sure where your polling place is, here are some websites where you can find out:
Polling Place Locator search by ZIP code (IL State Board of Elections)
Find Your Polling Place search by address (Vote.org)
Help Voting
What is voter intimidation?
One issue you may encounter while voting is voter intimidation. That can look like:
Violent behavior inside or outside the polling site
Verbal threats of violence
Confronting voters while wearing military-style or official-looking uniforms
Spreading false information about voter fraud, voting requirements, or related criminal penalties
Brandishing firearms or the intimidating display of firearms
Aggressively approaching voters' vehicles or writing down voters' license plate numbers
Disrupting voting lines or blocking the entrance to the polling place
Harassing voters, aggressively questioning them about their qualifications to vote
Following voters to, from, or within the polling place
What should I do if I see or experience voter intimidation?
Here are some tips for protecting yourself and others from voter intimidation compiled by Georgetown Law and the American Civil Liberties Union:
If you fear imminent violence, call 911.
Notify your local election official at your polling place.
Document what you saw or experienced: what happened, where, and when, and whether any voters were deterred from voting.
Call Election Protection at 866-OUR-VOTE (866-687-8683).

Assistance is also available in Spanish at 888-VE-Y-VOTA (888- 839-8682),
in Arabic at 844-YALLA-US (844-915-5187),
and Asian languages at 888-API-VOTE (1-888-274-8683).
A video American Sign Language line is available at 301-818-VOTE (301-818-8683).

Contact the U.S. Department of Justice Voting Rights

Hotline: 800-253-3931
TTY line: 877-267-8971
Notify local and state officials, including poll workers, your county clerk, elections commissioner, elections supervisor or your state board of elections.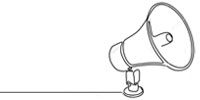 Bring power to immigrant voices!
Our work is made possible thanks to donations from people like you. Support high-quality reporting by making a tax-deductible donation today.