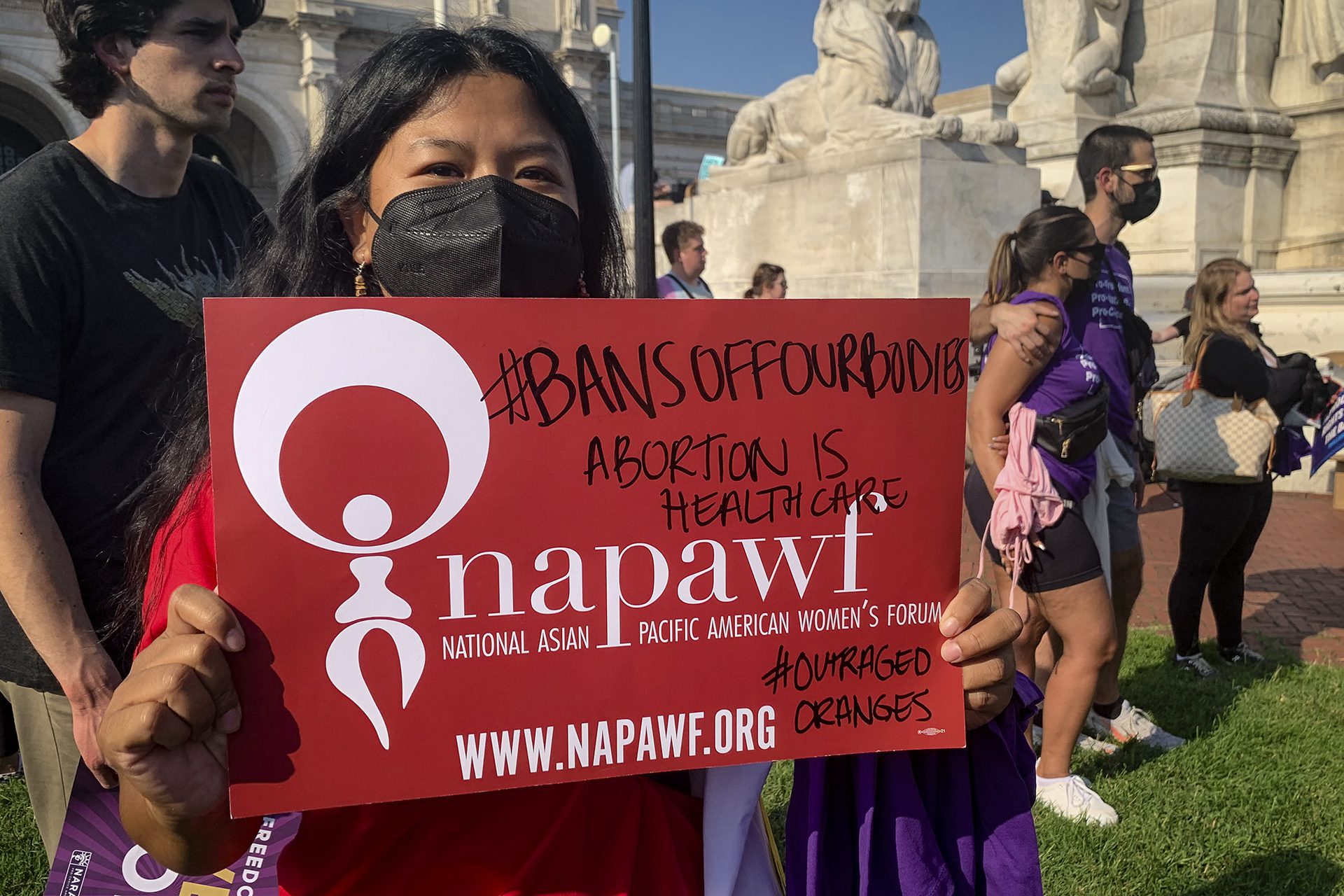 Photo courtesy of NAPAWF
May Thach, National Asian Pacific American Women's Forum Florida Organizing Manager, attends a Unity March event in Washington, D.C., June 25, 2022. The event, which organizers called the first national rally led by Asian Americans and Pacific Islanders, called on the government to take action on reproductive rights, economic justice and ending racial violence specifically toward the AAPI community.
Reproductive justice advocate Joy Pettigrew talks about barriers to abortion for Asian Americans and Pacific Islanders.
The U.S. Supreme Court's decision to overturn Roe v. Wade, the 1973 landmark case which established the constitutional right to an abortion, is expected to result in bans in almost half of the states.
Advocates are warning that the reversal of the almost 50-year-old decision will disproportionately impact individuals with low incomes, people of color and immigrants.
Get Borderless in your inbox
Sign up for our free newsletter. Each Thursday we share ways to support immigrant organizations and stories about our communities.

The National Asian Pacific American Women's Forum (NAPAWF), a nonprofit with a main chapter based in Chicago, is among the advocacy groups raising concerns about the impact on access to abortions and reproductive care for Asian Americans and Pacific Islanders. The organization is working to reintroduce legislation that would remove barriers for immigrants to access Medicaid and purchase health insurance through the Affordable Care Act.
Borderless Magazine spoke with Joy Pettigrew, a Chicago-based campaign coordinator with NAPAWF's Reproductive Justice Commission, about what the end of Roe v. Wade means for the AAPI community.
Borderless Magazine: What kind of work does your organization do?
Joy Pettigrew: NAPAWF builds power with AAPI women and girls to influence critical decisions that affect their lives, families and communities. One of the big focuses for NAPAWF is reproductive justice. A lot of movements focus on making abortion legal … but we recognize that for AAPI communities, that's not enough.
Abortion could be legal, but many women of color can't afford it, or can't access it, or have to travel hundreds of miles to the nearest clinics. So even where there might be choice, there is no choice, because there's no access. Roe v. Wade being overturned really harms AAPI communities and women of color in general.
Borderless Magazine: And how does the Supreme Court decision affect AAPI community members in particular?
Joy Pettigrew: It is an attack on reproductive freedom, and therefore it is a direct assault on Asian American and Pacific Islander communities. We know that seven out of 10 Asian Americans support legal abortion, and actually 85% of AAPI women believe that women should have the right to make their own reproductive choices. Also, a third of AAPI pregnancies end in abortion. So abortion is a huge part of reproductive care and a necessity for AAPI communities.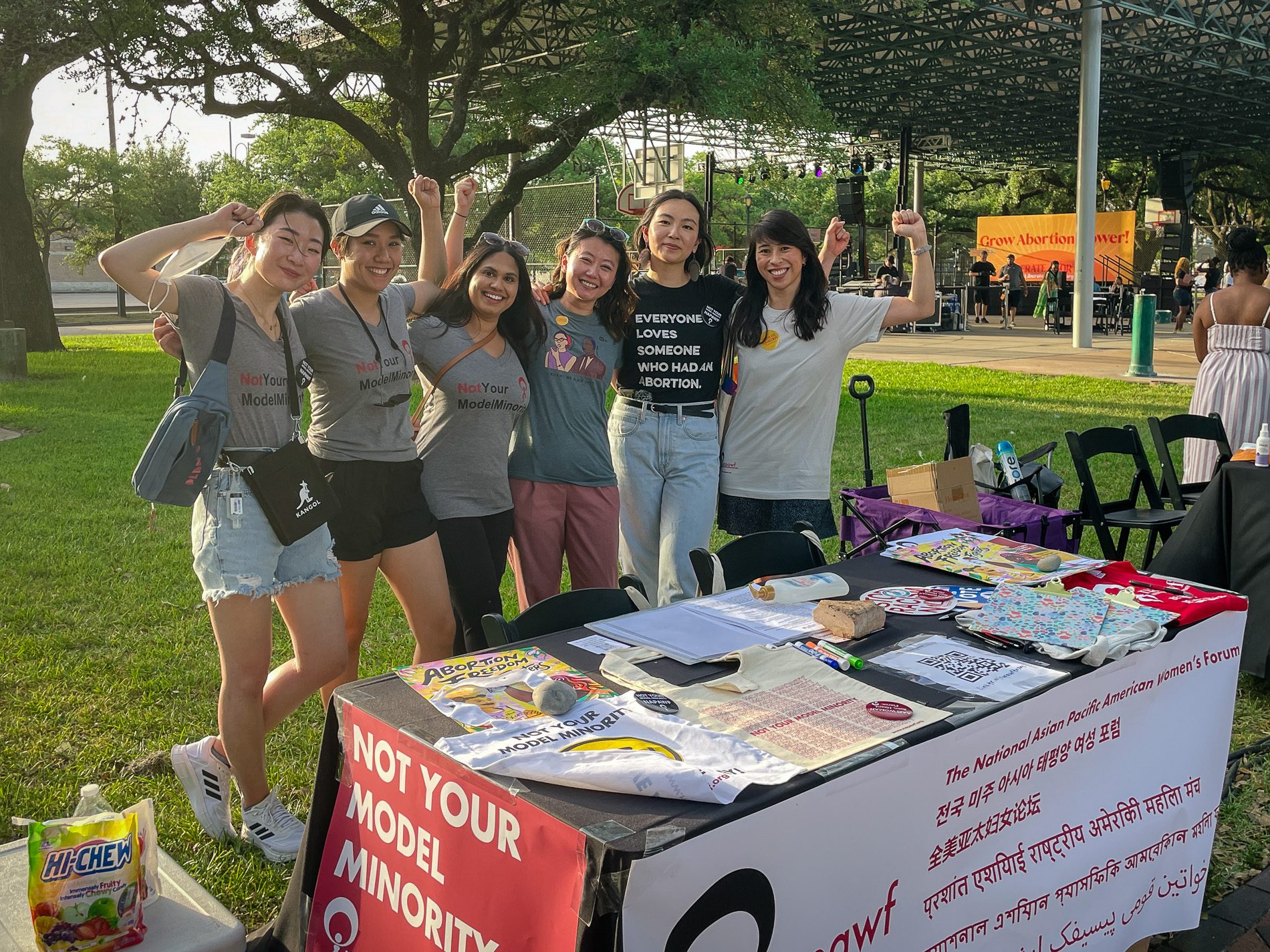 Photo courtesy of NAPAWF
Also, Asian Americans are overrepresented in frontline, low-wage jobs. That makes it really difficult or impossible to get time off of work and money for transportation and overnight accommodations to travel for an abortion.
There's such diversity [in how we] define AAPI. A lot of data is aggregated data, it isn't collected around specific ethnicities, like how abortion care is utilized in the Vietnamese American community versus the Japanese American or Chinese American communities. There's a lot of misunderstanding [because of] how we're always grouped and seen as a monolith or a model minority.
Many AAPI families are bilingual. A Pew Research report reveals that 66% of AAPIs speak a language other than English at home. It is challenging to navigate the healthcare system and to ensure that you're getting the best care with the barrier of language access.
There are also intersectional issues that have compounded impacts on AAPI women and their ability to access reproductive care and health care in general. Many women come to the U.S. as spouses of immigrants and are issued dependent visas, which may or may not grant work authorization. A lack of work authorization leaves many immigrant women reliant on their spouses for both their livelihoods and their ability to stay in the U.S.
Read More of Our Coverage
Borderless Magazine: What kind of challenges are foreign-born community members facing?
Joy Pettigrew: The criminalization of abortion heightens fears of adverse immigration consequences for undocumented individuals, refugees and other immigrants regardless of their immigrant status. We know that six out of 10 Asian Americans are immigrants, and are 16% [of the undocumented population]. So there is a level of heightened fear around criminalization.
There's a lot of misinformation on what is legal and what is not legal when it comes to abortion care … And within immigrant communities, there are old cultural stigmas that discourage conversations around reproductive health.
Borderless Magazine: What is NAPAWF doing to change that?
Joy Pettigrew: Part of what NAPAWF is seeking to do is to be a bridge between AAPI advocacy spaces and gender reproductive justice spaces.
An example of that is that NAPAWF's New York City Chapter, [which] recently partnered with the National Latina Institute for Reproductive Justice to advance a reproductive freedom and equity act, which ensures that pregnant New Yorkers have abortion access regardless of health insurance status.
NAPAWF is also conducting research on medication [for] abortion use within AAPI [communities]. We need disaggregated data on reproductive access and health, and doing this research along with policy and campaign work is part of how we're fighting for justice.
Read More of Our Coverage
Borderless Magazine: Aside from abortion, are there other reproductive health issues affecting the AAPI community that this ruling could impact?
Joy Pettigrew: We believe that reproductive justice is about so much more than abortion. If you really think about reproductive justice, it's about … accessing contraception, good and comprehensive sex education, STI (sexually transmitted infection) prevention and care, alternative birth options, adequate prenatal pregnancy care, domestic violence, even being safe to raise a child and all the systemic realities around that.
We are advocating for an intersectional lens in which you think about race and ethnicity, about access to health, and reproductive issues.
Part of the campaign I've been working on in Chicago is to create a reproductive justice commission on a city level. The hope is to have a structure on a city-level where community members, providers, and the people impacted most get to influence policy and address the intersectional issues that impact us. It is about health access, but it's also about safety, funding, and economic resources, because all of that ultimately impacts reproductive justice.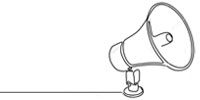 Bring power to immigrant voices!
Our work is made possible thanks to donations from people like you. Support high-quality reporting by making a tax-deductible donation today.