Shuran Huang for Borderless Magazine
Mahdi Rasikh, a Hazara lawmaker who was elected as a member of the Afghan House of Representatives of the People, in his friend's house in Odenton, Md., Friday, April 22, 2022.
Mahdi Rasikh went from weaving carpets in a refugee camp to representing his hometown in Afghanistan's Parliament. But after the Taliban took over, Rasikh had to escape to the U.S.
More than 76,000 Afghan refugees have fled their homes and come to the United States since the Taliban takeover of the Afghan government in August of last year. Scattered across the United States, they include human rights advocates, government officials, translators, students and more. Journalist Saleha Soadat is one of the thousands of Afghans who were evacuated from Kabul airport ten months ago. In this special Borderless series, Broken-Winged Birds: Afghans in Exile, Soadat documents their struggles and hopes for the future.
"All human beings should be respected, regardless of their ethnicity, religion, language, and color."
With this campaign slogan, Mahdi Rasikh won a seat in Afghanistan's Parliament during the 2018 elections. As the representative of his hometown of Behsud in Wardak Province in central Afghanistan, Rasikh championed education and fought for justice, particularly for the Hazara people who have long faced persecution by Pashtuns for their ethnic identity.
Want to receive stories like this in your inbox every week?
Sign up for our free newsletter.

Now 37 years old, Rasikh was born in the Dai Mirdad district of Behsud into a lower-middle-class Hazara family. His parents are illiterate but saw education as the only way for their eight children to escape oppression. Mehdi studied philosophy and sociology before entering politics with the goal of championing human rights in Afghan society. "The fundamentals of any human society are justice and mutual acceptance," he told Borderless Magazine. "Otherwise, human society loses its values and its meaning."
After being forced to flee Afghanistan in 2021 as the government collapsed, Rasikh settled in Maryland. He now lives in exile and remains separated from his family.
In the first of a series of stories told by Afghan refugees resettled in the United States, Borderless spoke with Rasikh about his journey from a small town to a city and from an educator to a lawmaker.
In 1998, life was difficult. Afghanistan was ruled by the Taliban. My family and I had to flee to Pakistan that year, when I was around 13 years old. Going to school became a dream for me. I started reading and writing in a refugee camp in Peshawar, but I did not have enough time to study due to my family's low income. My father was the only breadwinner and had to feed my four sisters and three brothers. I spent most of my time carpet weaving to help my family survive. We spent three years struggling in the hot weather of Peshawar.
After 9/11, when the U.S.-led international forces arrived in Afghanistan, a window of hope opened for me and my generation. My family and I got the opportunity to repatriate to Kabul. My mother enrolled me in Marefat High School in West Kabul, and later on I passed the university entrance exam with high marks and enrolled in Kabul University to study philosophy and sociology. Later, I got a master's degree in philosophy from Kateb University.
After completing my bachelor's degree, I established Koshan High School, a private school for over 1,500 girls and boys in western Kabul. My dream while I was in exile was slowly becoming a reality. Besides promoting education and literacy, I was encouraging students to join extracurricular activities like debate and speech club, volunteering, performing arts and the school magazine.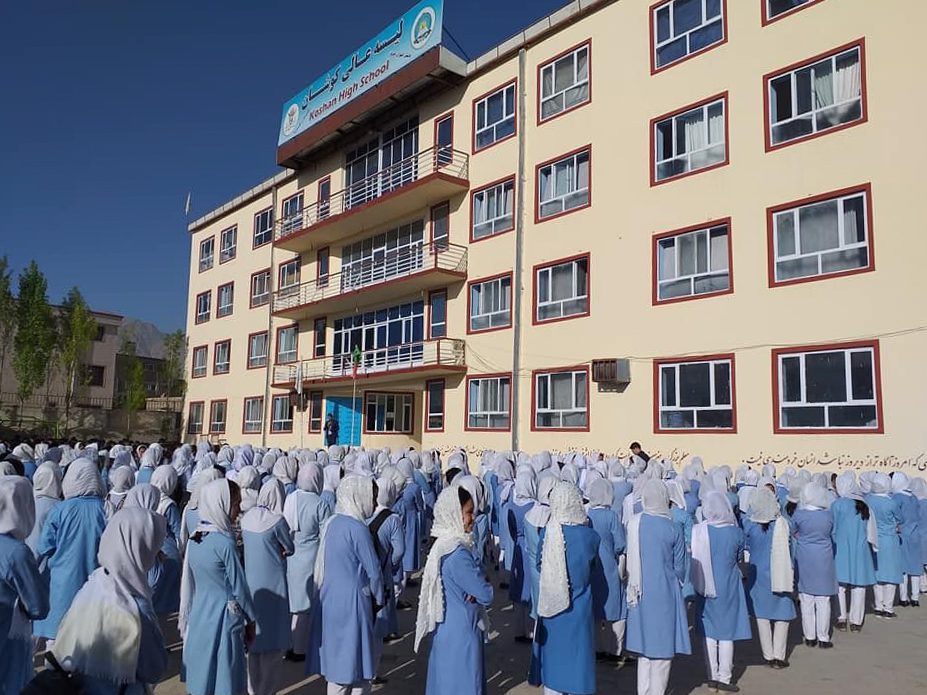 Photo courtesy of Mahdi Rasikh
But in 2016, the Taliban, in coordination with Pashtun nomads, commonly known as the Kuchis, attacked my birthplace in Behsud. The fields and property of the local Hazara people, including my family property and my father's house, were looted, and most of the village houses were set on fire. I had to stop teaching school and went to Behsud to defend my family and the affected people.
The issues between Kuchi nomads and Hazara people in the central regions of Afghanistan have existed for many decades.The nomads have always had political support due to their ethnic affiliation with the Afghan government, and they have used this advantage to oppress other ethnic groups in Afghanistan, especially the Hazaras.
The roots of the conflict lie in the genocide of the Hazaras during the 1890s, when an estimated 60% of the population was exterminated, tens of thousands were sold as slaves, and their lands were distributed to the Pashtuns as a reward for taking part in the genocide. Over the past 100 years, the Pashtun-dominated governments have continued their persecution and discrimination of Hazaras. The massacre intensified under the previous government headed by Ashraf Ghani Ahmadzai, who has ethnic ties to the nomads. Every spring season, the Hazara homeland — historically known as the Hazarajat — comes under attack by the Pashtun nomads.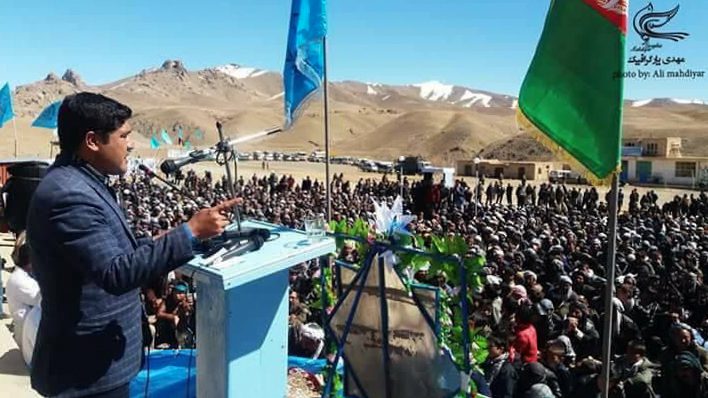 Photo courtesy of Mahdi Rasikh
My family was displaced to the mountains. For nearly two years, I stayed alongside my family and local people to resist and defend them from the Taliban and nomads' aggression. Unfortunately, due to the political support of President Ghani, the invasion and aggression in the Hazara regions increased.  
In 2017, wanting to find a permanent solution to peace, I arranged a meeting with local village representatives, government officials and tribal elders. It was the exact time when we were approaching the parliamentary elections in Afghanistan, and I was invited to the people's assembly in Behsud. At the end of that assembly, the local people proposed that I run as their representative. They believed that we should have our own true representatives in policy-making institutions like the Parliament to change Afghanistan's policies to end the oppression of the Hazaras.
In 2018, I ran for the parliamentary elections in Maidan Wardak Province and succeeded. As a representative of the people in the Afghan Parliament for nearly two years, I worked for basic human rights in society by creating several draft laws and fair policies with my fellow parliamentarians.
But with the fall of the Afghan regime to the Taliban last August, all my dreams and many years of hard work were completely demolished. Though central Afghanistan, known as Hazarajat, is safe and peaceful, Kabul-Behsud Highway is known as "Death Road" for Hazaras. During the last two decades, the Taliban have established a chokehold on the central region in Jalrez District at the outskirts of Hazarajat. They have been taking Hazara passengers out of their vehicles and shooting or beheading them on the spot. Every spring nomads storm local lands and pastures to demolish and destabilize the region. The local population of Behsud District gathered to protest against instability and the invasion of Taliban and nomads. But the security forces directly and indiscriminately opened fire on civilians, killing 11 people and wounding 31 others.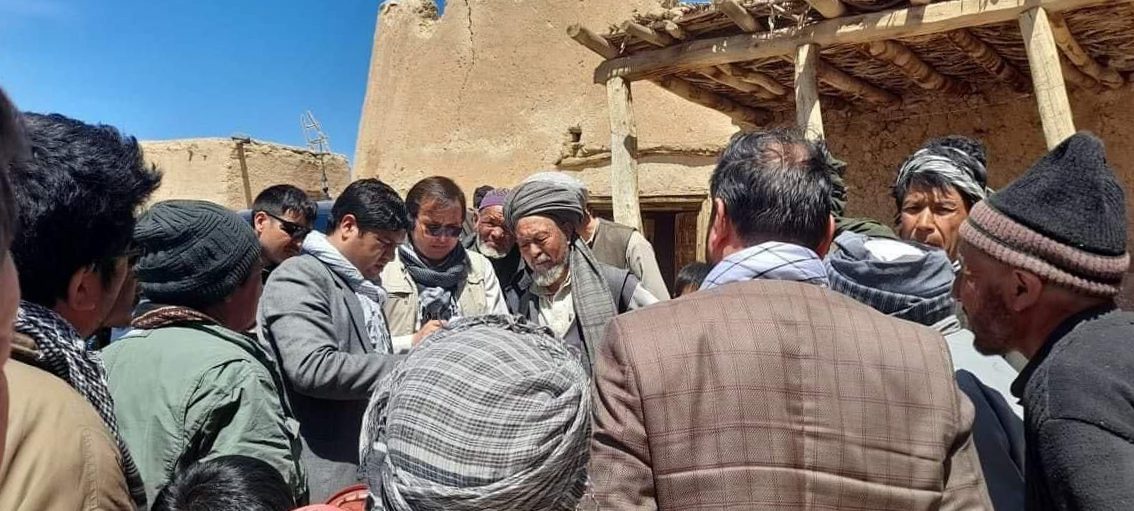 Photo courtesy of Mahdi Rasikh
I went to Behsud to investigate this on behalf of the Afghan Parliament. On my way back to Kabul, former security forces, on the orders of Afghanistan's National Security Council, shot my convoy. My bodyguards and my driver were injured. I escaped from the area using my armored vehicle and was rescued. I realized that President Ashraf Ghani Ahmadzai was willing to assassinate a member of Parliament.
In early August 2021, as the security situation in Afghanistan deteriorated, my colleagues and I in Parliament's security committee had numerous meetings with top security officials. What I heard was really worrying. My perception, given the information provided by security officials, is that the Afghan government was in fact handed over to the Taliban and did not fall. I believe that the handover of the system by Ashraf Ghani Ahmadzai to the Taliban also stems from ethnic affiliations.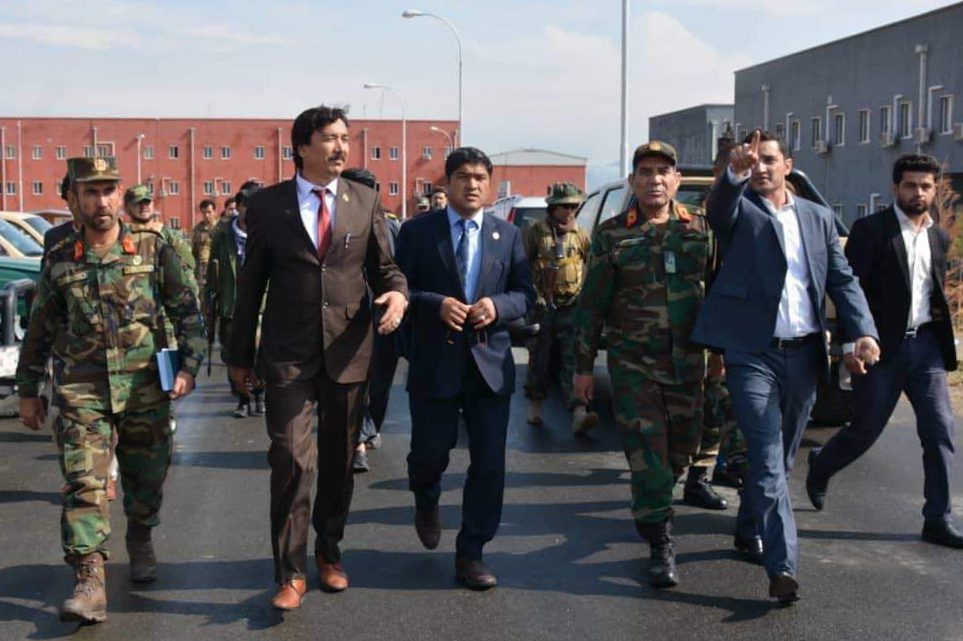 Photo courtesy of Mahdi Rasikh
After the surrender of the Afghan regime to the Taliban, several of my associates and I fled to the United States due to serious security threats from the Taliban. Now I live with my brother in a corner of Maryland, far away from my home. My wife and my child are living in Turkey, not knowing their fate. And my parents and siblings are still in Afghanistan, living in secret.
Living in the United States is more comfortable and easier than in underdeveloped countries like Afghanistan. Here, human lives are valued and governments believe in the rule of law and human values.
But for me, who represented the people and had big dreams for change in my country, being an immigrant is like being a broken-winged bird that falls in a corner of the world away from its nest, only breathing and thinking about my homeland.
I am going through difficult days of immigration. I can't speak English very well. So finding a better job here is difficult. Like a newborn, I am trying to learn a new life from scratch. I still hope for a better tomorrow and a better life.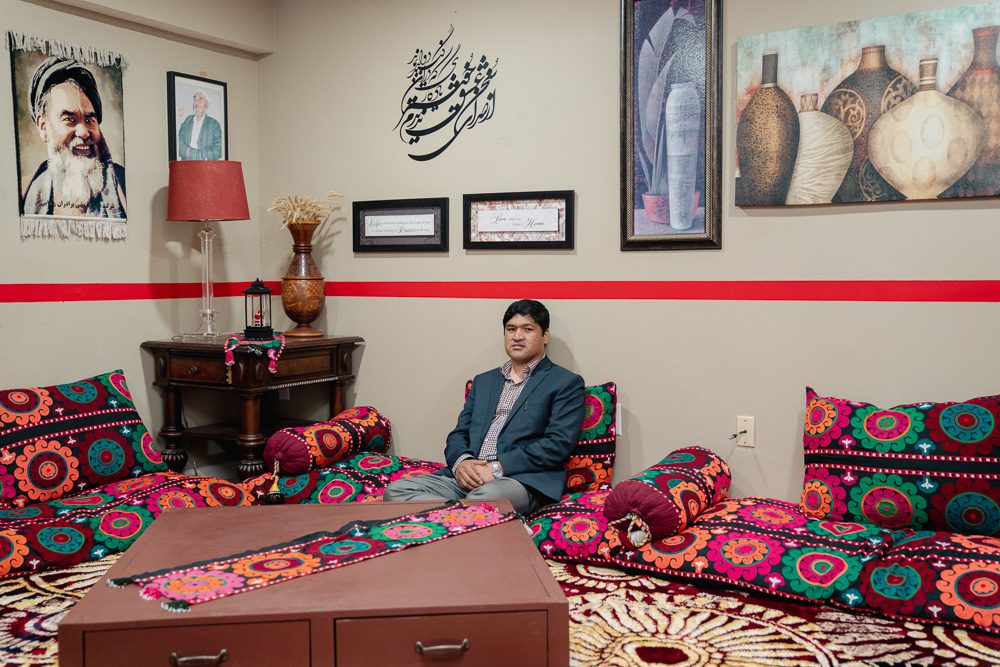 Shuran Huang for Borderless Magazine
I am still in touch with my people in Afghanistan, almost on a daily basis. Now my people expect me more than ever to fight for sustainable peace and justice in Afghanistan. The Ghani Ahmadzai government accused the Taliban of killing Hazaras. Now that the Taliban have taken power, killing Hazaras in Afghanistan is still the norm.
In recent weeks alone, there have been more than five bloody attacks on Hazara schools, mosques and public transportation, killing nearly 100 people and injuring more than 150 others. I believe the Hazara genocide in Afghanistan is systematic and planned because of our race and religion.
I am meeting with a number of Afghans living in the United States to create a movement that raises the voices of the Afghan people, especially women, ethnic and religious minorities who are currently oppressed by the Taliban. I am facilitating meetings with human rights organizations and world leaders.
I know that returning to Afghanistan in the current situation will be accompanied by death. But I still have dreams of a humane life in Afghanistan, and I plan to spend my remaining days working for the betterment of my homeland and my people.
This series was made possible with support from the Crossroads Fund and PEN America. This series is available in English, Spanish, and Dari Persian. For republication inquiries, email info@borderlessmag.org.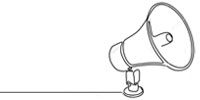 Bring power to immigrant voices!
Our work is made possible thanks to donations from people like you. Support high-quality reporting by making a tax-deductible donation today.