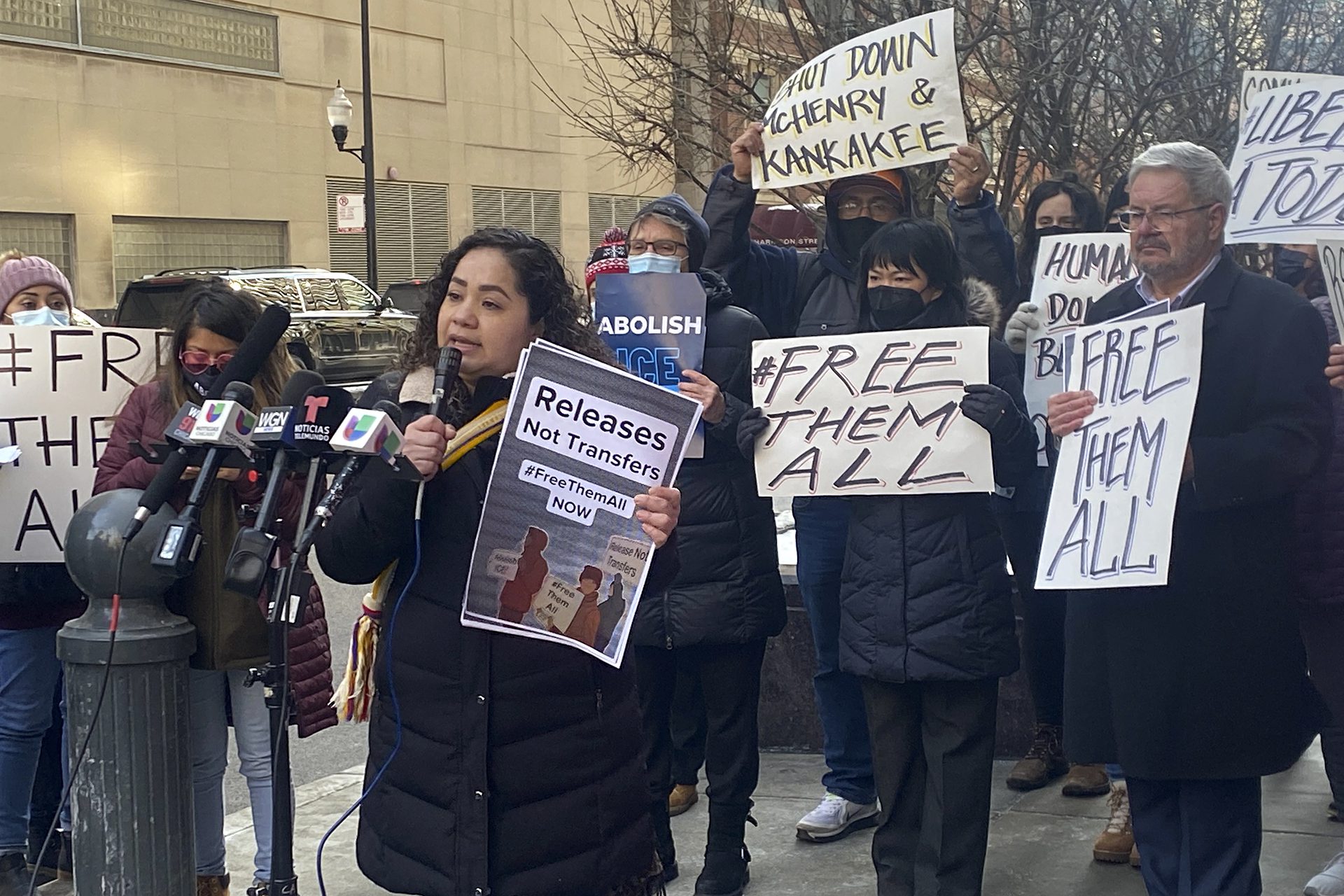 Carlos Ballesteros/Injustice Watch
Angela Osorio speaks at a rally in downtown Chicago Feb. 1, calling on U.S. Immigration and Customs Enforcement to release detainees from jails in McHenry and Kankakee counties. ICE ultimately released about half the detainees who had been in the jails in mid-January and transferred 30 people to detention centers in other states.
Detained immigrants and their families, attorneys, and advocates say what the end of immigration detention in Illinois has meant for them.
This article was originally published by Injustice Watch. Sign up for their weekly newsletter.
Guards came to Armando Cazares' cell at the McHenry County Jail on Feb. 3, half an hour before midnight, and told him to pack his things. They didn't tell him where he was going, he said. They just ushered him in handcuffs to a van, which took him from the jail, located about an hour's drive northwest of Chicago, to a plane, and then another van to an immigration detention facility in Oklahoma.
Want to receive stories like this in your inbox every week?
Sign up for our free newsletter.

"They're just taking me farther and farther from the family," he said in a phone call last week from the Kay County Detention Center in Newkirk, Okla., about 570 miles from his home in the Chicago area. "I didn't even wanna tell my mom where I'm at. I'm scared. I'm breaking my mom's heart."
Cazares was one of the last immigrants held by U.S. Immigration and Customs Enforcement in Illinois. Last August, Gov. J.B. Pritzker signed the Illinois Way Forward Act, which made Illinois one of just four states that have passed laws to ban both private and county-run immigration detention. As of Friday, counties in the state can no longer rent out beds in their jails to ICE, after an appeals court declined to stay the law while a lawsuit moves forward.
Advocates behind the Illinois Way Forward Act said it would help get people out of jail so they could fight their deportation cases at home with their families. But officials in McHenry and Kankakee counties, which had lucrative ICE contracts and sued the state to stop the law from going into effect, said the immigrants in their jails would just be moved to other states, where they'd be isolated further from their communities.
In the end, both were right.
In the weeks leading up to the deadline, ICE released 41 of the 76 immigrants who had been in the McHenry and Kankakee county jails as of mid-January, according to emails from the agency obtained by Injustice Watch. But a week before the deadline, ICE transferred Cazares and 29 other detainees to detention centers in other states, including Indiana, Kentucky, Oklahoma, and Texas. The rest were deported or transferred to other law enforcement agencies.
Injustice Watch spoke with detained immigrants and their families, attorneys, and advocates to understand what the end of immigration detention in Illinois meant for the people most affected by it.
People who were released described excited reunions with families and relief at the thought of not having to spend another night in jail. And for their lawyers and advocates, the number of releases shows what can happen when communities come together to end ICE detention.
"None of these people would've been released if we had not had this legislation and basically forced ICE's hand," said Fred Tsao, senior policy counsel at the Illinois Coalition for Immigrant and Refugee Rights. "That, in itself, is a victory."
But for those who remain in ICE custody, the ending of detention in Illinois brought about haphazard transfers in the middle of the night and increased anxiety that they could be deported without ever seeing their families again.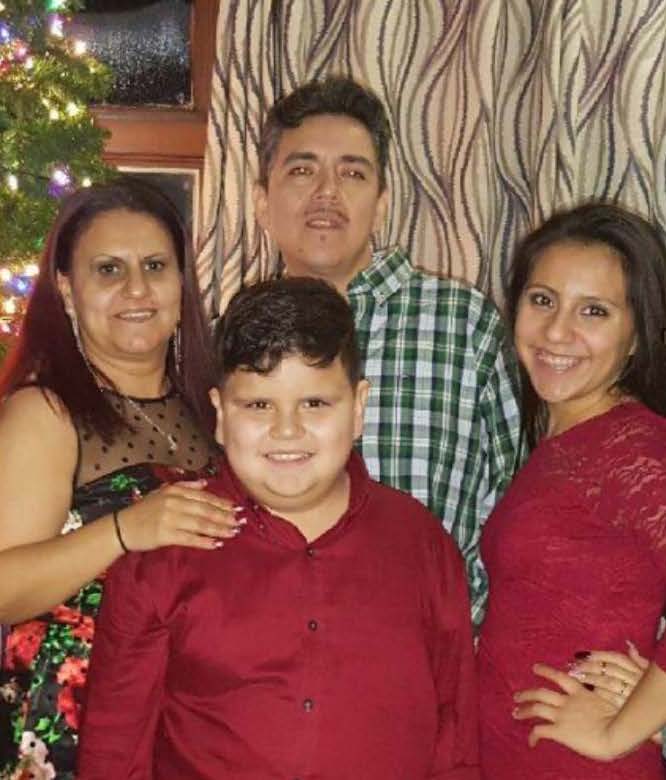 Photo courtesy of David Ruiz-Padilla
Cazares was set to go before a judge in Chicago Immigration Court on Feb. 10 for a final decision on whether he could stay in the country. But now that he has been moved out of state, his deportation proceeding has been delayed until at least March, his attorney said.
"There's no way that we can cope with this. We're all just people who are crying all the time," Cazares said, referring to the people who were transferred. "You feel secluded, like we ran out of help."
In a statement, an ICE spokesperson said the agency prioritizes "the apprehension and removal of noncitizens who pose a threat to our national security, public safety, and border security." The spokesperson also said ICE's transfer policies take into consideration immediate family, attorney of record, and status of removal proceedings.
But advocates said the transfers show how ICE's detention decisions are opaque and often seem to disregard the circumstances of individuals in custody. They pledged to continue fighting for the release of everyone who had been detained in Illinois.
"They could've released the 30 people — there's no lack of authority there," said Xanat Sobrevilla, an organizer with Organized Communities Against Deportations, an activist group in Chicago. "There's just a lack of choice from ICE."
Bull in a China Shop
The death knell for immigration detention in Illinois came Jan. 12, when a three-judge panel for the U.S. Court of Appeals for the 7th Circuit lifted a temporary stay on the Illinois Way Forward Act. That decision meant that ICE had a month to get detainees in its custody out of McHenry and Kankakee counties.
At a virtual meeting with a group of advocates and attorneys on Jan. 21, ICE officials agreed to keep lawyers in the loop about the transfers and to keep phones available to detainees before being taken away, according to people who were at the meeting. On Feb. 3, an ICE official told the group via email that transfers "will be occurring at the beginning of February," according to copies of the emails shared with Injustice Watch.
But mere hours later, ICE began transferring people out of the state. Detainees' attorneys and their families told Injustice Watch the jails cut off phone access, so people in custody couldn't tell their families where they were going.
The hasty transfers left attorneys, advocates, and families of those detained confused and shaken.
"The way I would describe it is ICE walking into the china shop, smashing the vases, and walking out," said Ali Daoud Smith, director for jail visitation for the Interfaith Community for Detained Immigrants, a religious group in Chicago that supports ICE detainees and their families.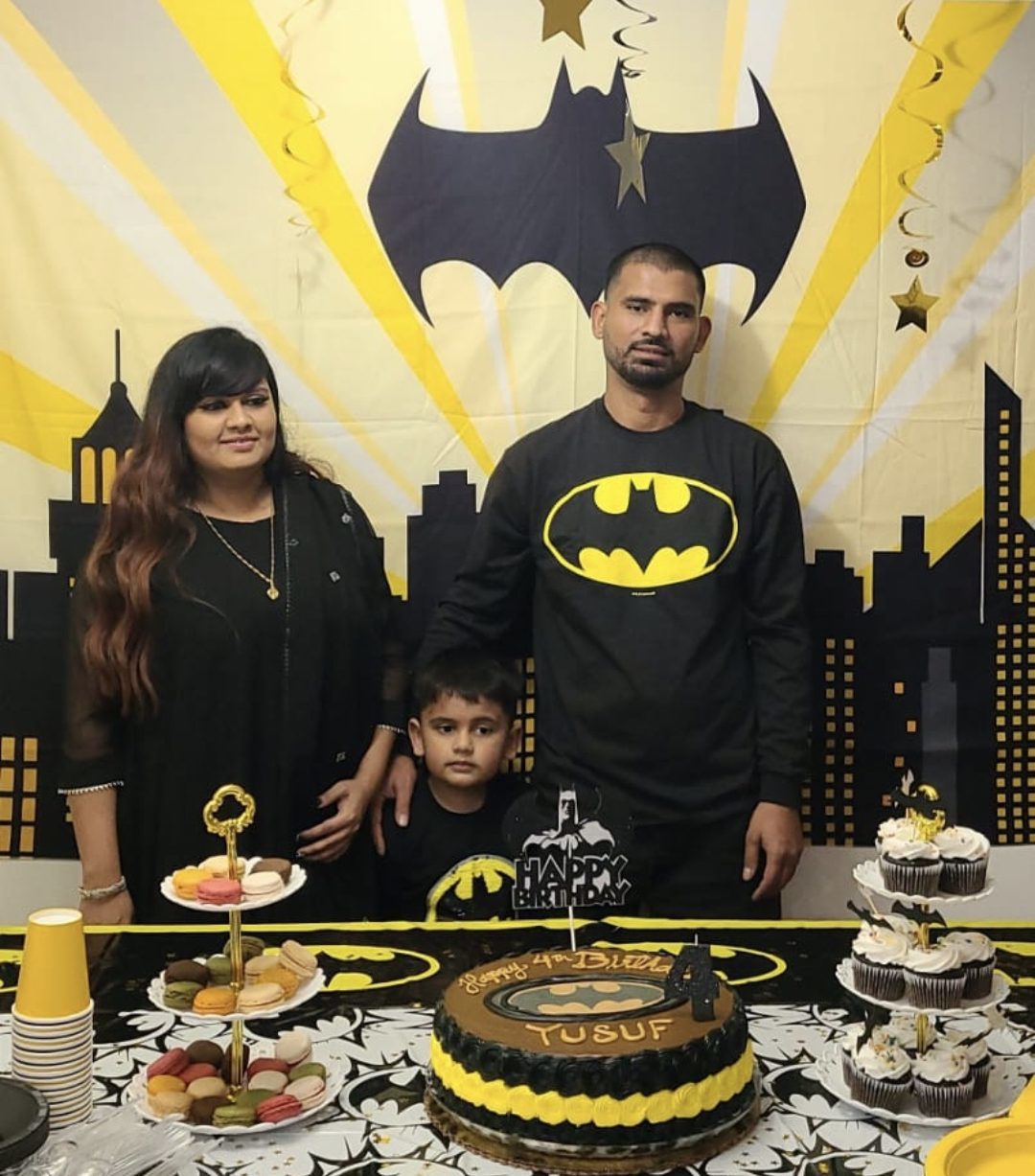 Photo courtesy of Saba Syed
Saba Syed said she couldn't get a hold of her husband, Umair Javaid, for more than a day while he was being transferred from the McHenry County Jail to the detention center in Oklahoma.
"It was already bad enough, you couldn't see him here, but at least you knew he was close by," she said. "But now he's far, far away."
Javaid came to the U.S. in 1999 with a green card, but ICE detained him last August after he was convicted of a crime involving sexual abuse of a minor, his wife said. She expects that he'll be deported, but she doesn't understand why he needs to be detained while he fights his case in immigration court — especially after he already spent time in jail for his criminal conviction.
"If they're going to get deported, at least give them the chance to spend whatever time they have left with their family," she said.
'I've Been Here for 47 years. I don't Have Family Over There'
Cazares, 52, legally immigrated to the U.S. from Mexico with his family when he was 4 years old. He struggled with alcoholism and cocaine addiction throughout his adulthood, byproducts of the physical and emotional abuse he endured from his father, he said.
Cazares racked up a string of convictions, including driving under the influence, in the 2000s. In 2019, he pleaded guilty to felony charges for cocaine possession and he was sentenced to four years in prison. With credit for time served, he was released in November 2020.
When he walked out of prison, Cazares got a job, enrolled in a drug treatment program, and stayed clear of the law, he said. Cazares said he wanted to turn his life around to become a better father for his son, especially after his 19-year-old daughter, Maritza, was shot and killed in a drive-by shooting in Aurora while he was incarcerated. "That's something I'm never going to forget," he said. "Sometimes I blame myself for not being there."
But in August, ICE officers detained him; his cocaine conviction had made him deportable, even though he has a green card. "I've been here for 47 years. I don't have family at all over there. I don't have anybody," he said.
Cazares' lawyer, David Ruiz-Padilla, said ICE should have released him instead of transferring him days before his final court hearing. The Biden administration issued new enforcement guidelines last year that allow ICE to consider the "totality of the facts and circumstances" when deciding whether to detain someone, not just their criminal record.

"We're not saying to terminate the (deportation) proceedings. We're actually saying, let him be released. Let him fight his case with his community members and his family," Ruiz-Padilla said.
Cazares' mother, Maria, told Injustice Watch she wishes ICE would let her son out of detention as he awaits his trial date. "I pray to God for his release," she said, "but what else can I do?"
41 Released from ICE Detention
Advocates and attorneys were dismayed at the number of people ICE transferred to other states as the detention contracts in Illinois came to an end. But they found hope in the number of people ICE released over the last month.
"To think of 41 individual families that are impacted by this, and their trauma has ended. That's a gift to each and every one of those people and their families," said Amanda Hall, co-founder of the Coalition to Cancel the ICE Contract in McHenry County. 
One of the people who won release was Carlos, 22, who entered the U.S. as an unaccompanied minor in 2014. (He asked not to use his last name so he could speak freely about his case.)
A few years later, while Carlos and his girlfriend were walking in the Irving Park neighborhood in Chicago, a group of "unknown males struck him in the head and body numerous times with a baseball bat," according to records filed by his attorneys. Carlos suffered a skull fracture in the attack and was in a coma for several weeks.
The brain injuries he suffered in the attack affected his impulse control and risk assessment, his lawyers said. In 2020, Carlos pleaded guilty to possessing a stolen vehicle and lewd exposure.  When he got out of prison in March 2021, ICE was waiting for him.
"I didn't know I was going to be taken until I got out and ICE came," Carlos said. "My family was there to pick me up. I could only say hi through the (ICE) van."
The attack Carlos suffered earned him the right to apply for a special visa for victims of violent crimes, called a U-visa, which would allow him to remain in the country legally. An immigration judge granted Carlos a visa waiver in November. That should have allowed him to get out of jail while he waited for the visa itself to go through, a process that could take years, his lawyers argued.
Since then, Carlos' lawyers with the National Immigrant Justice Center petitioned ICE several times to release him, citing new guidelines issued by the Biden administration to exercise favorable discretion for people like Carlos who were victims of violent crimes. But ICE refused.
ICE finally released Carlos on Feb. 4, as the deadline for ending immigration detention in Illinois approached.
"I'm relieved. I want to hug my kids. Hopefully they haven't forgotten about me after all this time," he said in a phone call the day before he was released from the Jerome Combs Detention Center in Kankakee. Carlos admits he's still afraid of being deported back to Ecuador, "but for now I'm happy because at least I'll be free and see my kids," who are U.S. citizens.
Carlos' attorneys credit the advocacy and organizing that accompanied the Illinois Way Forward Act for his release. "We're pretty sure that nobody would've been released and everybody would've been transferred without that kind of community activism and organizing," said Lisa Chun, one of Carlos' lawyers.
Hall said the fact that ICE released 41 people from detention should serve as motivation for organizers in other states working to end ICE detention in their communities.
"It's one more stone in the pond. And we're not the first stone — other detention centers have closed — but with each one, (it) will keep sending those ripple effects and it will keep happening," Hall said. "Like, we're definitely not going to be the last ones, and that's an amazing thing to think about."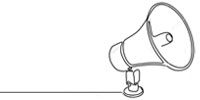 Bring power to immigrant voices!
Our work is made possible thanks to donations from people like you. Support high-quality reporting by making a tax-deductible donation today.