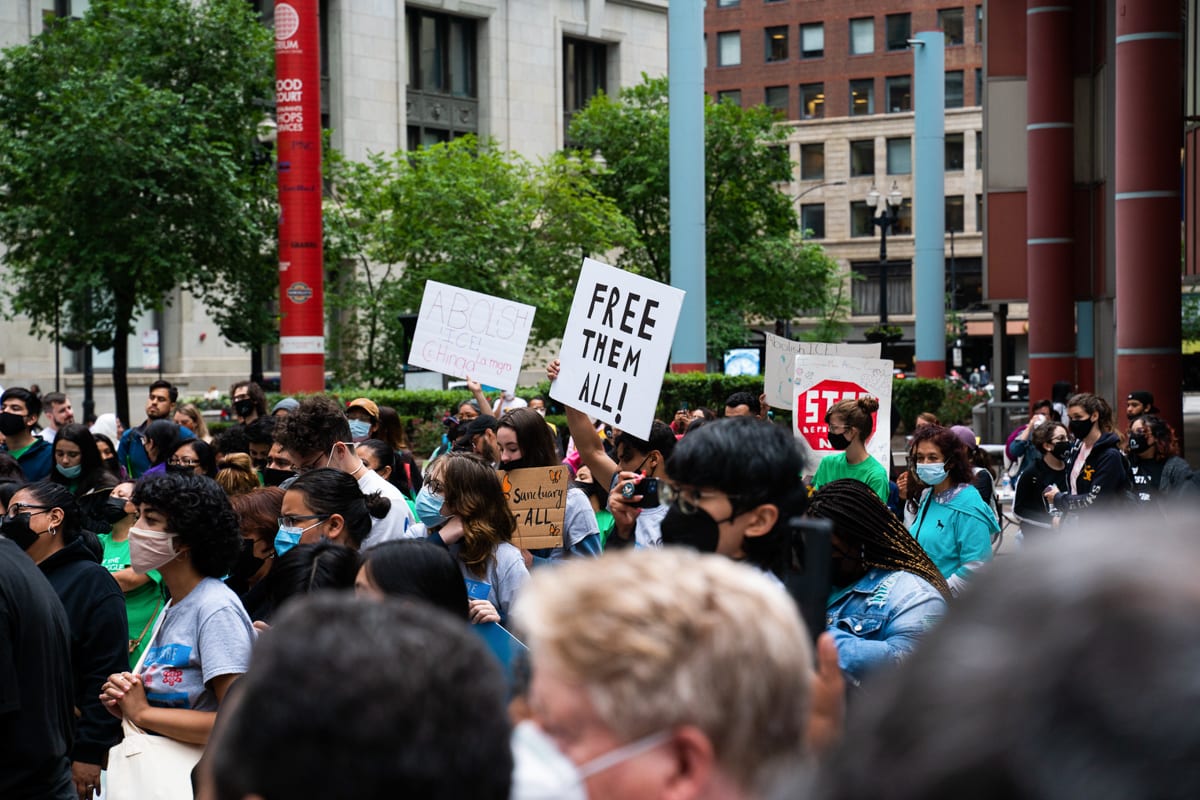 Photo by Camilla Forte/Borderless Magazine
Demonstrators listen to advocates speak against the detention and deportation of immigrants during a rally held by the Illinois Coalition for Immigrant and Refugee Rights on July 8, 2021 in downtown Chicago, Ill.
A federal judge dismissed a lawsuit filed by two Illinois counties hoping to keep their lucrative ICE detention contracts. Those contracts are now set to be phased out starting Jan. 1.
A federal judge on Monday upheld provisions in a new Illinois law that ban cities and counties in the state from renting out beds in their jails to detain immigrants in U.S. Immigration and Customs Enforcement custody.
The decision means McHenry and Kankakee counties, which had sued to stop the Illinois Way Forward Act from going into effect, will have to give up their lucrative ICE detention contracts by the end of January, barring a successful appeal.
In an eight-page ruling, U.S. District Judge Philip G. Reinhard of the Northern District of Illinois said the Illinois Way Forward Act, which Gov. J.B. Pritzker signed this summer, was an appropriate use of the state's constitutional power to prohibit counties from participating in federal regulatory programs such as immigration detention.
Want to receive stories like this in your inbox every week?
Sign up for our free newsletter.

"States are sovereigns. Counties are not," Reinhard wrote in his decision granting the state's motion to dismiss the lawsuit. "The State of Illinois, by legislative act, has decided that its political subdivisions may not enter or remain in such agreements."
McHenry County State's Attorney Patrick Kenneally said in a statement Tuesday that the counties intend to appeal Reinhard's ruling to the U.S. Seventh Circuit Court of Appeals.
"The Illinois Way Forward Act is another example of how the current legislative assembly is likely one of the most partisan and dogmatically rigid in Illinois history," said Kenneally, a Republican who was first elected in 2016. "As such and when legally tenable, we at the McHenry County State's Attorney's Office will continue to push back against the obscurity and futility that the Chicago bulwark in Springfield wishes to consign us to."
An ICE spokesperson did not respond to a request for comment.
Advocates who had lobbied for the law cheered Reinhard's decision, which they said was a step toward their eventual goal of abolishing ICE detention altogether. Barring a reversal on appeal, Illinois will soon join Oregon as the only states to successfully ban all immigration detention within their borders.
"This ruling is a victory for the state of Illinois and for immigrant communities and anyone else across the country who cares about fairness and dignity for immigrants," said Fred Tsao, senior policy counsel for the Illinois Coalition for Immigrant and Refugee Rights.
As of last month, Kankakee County jail held a daily average of 35 ICE detainees, while McHenry County held a daily average of 101 ICE detainees as of October. Both counties had collected millions of dollars a year from the federal government for detaining immigrants in ICE custody.
McHenry County Board Chairman Mike Buehler, a Republican, said in a statement Tuesday that ending the contract "will put real hurt on our taxpayers" and that the Illinois Way Forward Act "is a blow to local government control."
Under the law, the counties have until Jan. 1 to trigger the termination clause in their ICE detention contracts, which wouldn't take effect for another 30 days, according to copies of the contracts reviewed by Injustice Watch.
In the meantime, immigrant rights advocates said they will now turn their attention to securing the release of as many immigrants in ICE custody in the two jails as possible.
Earlier this year, they successfully argued for ICE to release 15 of the 50 immigrants who were detained at the Pulaski County Jail in southern Illinois after county officials there ended their detention contract in response to the Illinois Way Forward Act.
"The most important thing to always remember about immigration is that people are not being held for a criminal violation," said Mark Fleming, associate director of federal litigation at the National Immigrant Justice Center, which represents some of the detained immigrants. "There are many alternatives to detention that are available to ensure that somebody shows up for their immigration proceeding short of physical detention."
Immigrant rights activists nationwide have called on the Biden administration to scale back or eliminate the ICE detention system, especially as the Covid-19 pandemic continues to disproportionately impact incarcerated people.
As of last month, nearly 22,000 immigrants and asylum-seekers in ICE custody were detained behind bars, and 75% of them have no criminal convictions, according to the Transactional Record Access Clearinghouse at Syracuse University, a research group that tracks immigration data.
Advocates argue that many of the jails and private prisons used by ICE have long histories of abuse and serious medical neglect. Reports from the last few years from the Kankakee and McHenry county jails found that detainees went three months without running water in their sinks and endured a mumps outbreak, and the facilities did not provide proper medical care.
A recent study by researchers at the UCLA School of Law that looked at the outcomes of nearly three million immigration cases from 2008 to 2018 found that the vast majority of non-detained immigrants in deportation proceedings showed up to all their court dates.
This article was published in partnership with Injustice Watch. Sign up for their weekly newsletter.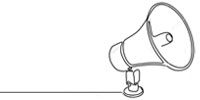 Bring power to immigrant voices!
Our work is made possible thanks to donations from people like you. Support high-quality reporting by making a tax-deductible donation today.