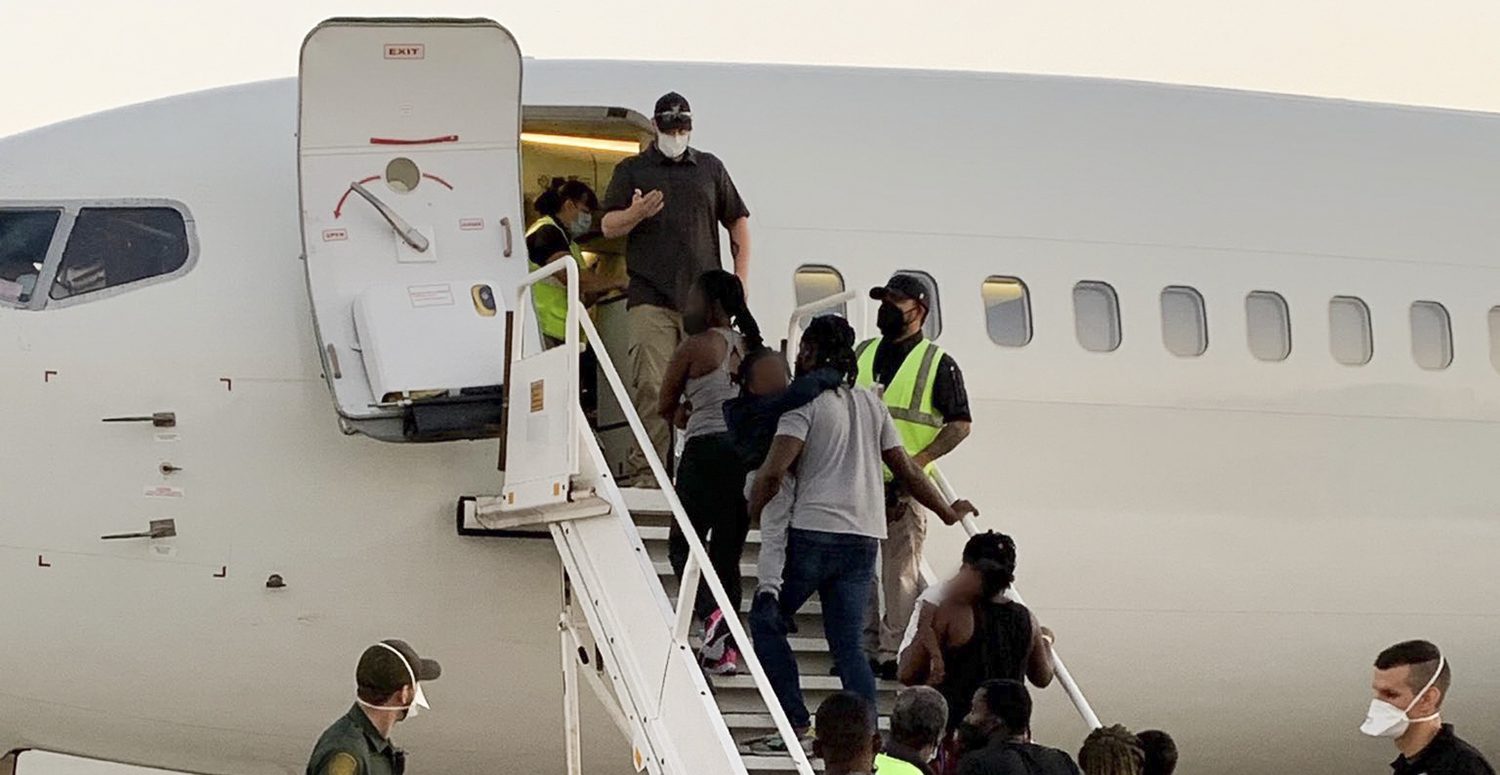 Photo courtesy of Department of Homeland Security
The Department of Homeland Security announced on Sept. 19, 2021 that "due to the influx in irregular migration to Del Rio, Texas, DHS has increased repatriation flights." Photo courtesy of Department of Homeland Security
After photos of Border Patrol agents whipping Haitian asylum seekers were made public, immigrant advocates are calling for an end to Title 42 deportations.
UPDATED 11:15 a.m. Sept. 24, 2021
Immigrant advocates are calling on President Joe Biden to end racist immigration policies after photos circulated this week of U.S. Border Patrol guards using horse reins to whip Haitian asylum seekers near the border in Texas.
"Anti-Black violence and racism from the U.S. Customs and Border Patrol blaring on our TV screens, newspapers and social media feeds mirrors the images of bounty hunters from old films glorifying slavery and colonization," said Leticia Casildo of Alianza Americas. "The Biden Administration's treatment of Haitian and Central American refugees is abhorrent."
Want to receive stories like this in your inbox every week?
Sign up for our free newsletter.

The violence toward Haitian migrants comes as thousands of Haitians have fled political instability and natural disasters in their country. The United States offers Haitians residing in the United States since July 29, 2021 a Temporary Protected Status from deportation due to Haiti's political crisis and human rights abuses, but newly arrived Haitians do not qualify for this protection. American officials living in Haiti are currently "confined to secure compounds because of the danger posed by armed gangs in control of daily life."
The Biden Administration has condemned the recent border patrol violence. Yesterday, the U.S. diplomat overseeing Haiti policy resigned, writing that he would not be associated with Biden's "inhumane, counterproductive decision" to deport thousands of Haitians.
Here is what you need to know about the situation with Haitian asylum seekers at the border.
Why are Haitians seeking asylum in the United States?
Haitians seeking protection in the United States are fleeing a country that has suffered from decades of crises. Haiti's most recent disasters include a 7.2-magnitude earthquake last month and the assasination of Haiti's president, Jovenel Moïse, in July 2021.
Over the years, Haitians have dealt with high rates of unemployment, political instability, food scarcity and natural disasters in the country. The United States has intervened in the country several times in recent decades, including in 1994 when the U.S. military threatened to use force to remove the country's military regime.
The United States began offering Temporary Protected Status to Haitians in 2011 after a catastrophic earthquake. In May 2021, the U.S. administration extended the validity of TPS documents for Haitians already living in the United States, but thousands of Haitians seeking to cross the U.S.-Mexico border continue to be turned away.
Why are asylum seekers being forced to wait in border towns and immigration facilities while waiting for their asylum decision to be made?
In order to claim asylum in the United States, you must come into the country and apply for asylum within one year of your arrival. In previous years, an asylum seeker could stay in the United States while awaiting a decision on their case. They could receive support from local immigrant organizations and even enroll in school.
In January 2019, President Donald Trump issued the Migrant Protection Protocols, also known as the "Remain in Mexico" policy, which forced asylum seekers trying to enter the United States from Mexico to wait for their asylum decision in Mexico instead of the United States. The policy impacted over 71,000 people, mostly from Latin America, and led to a rise in kidnappings, rape and murder of asylum seekers waiting in Mexico.
President Biden ended MPP shortly after taking office, but the U.S. Supreme Court reinstated the policy in late August.
What is the United States' most recent response to Haitians seeking asylum?
Border Patrol agents are processing thousands of migrants at the Del Rio camp who will either be allowed to stay in the U.S. or expelled. According to the Los Angeles Times, migrants are being processed according to color-coded tickets: those with blue and yellow tickets—families and pregnant women, respectively—will be allowed to enter the U.S. and have the opportunity to apply for asylum. Those with red and green tickets will likely be placed on flights back to Haiti. More than one dozen planes carrying up to 135 migrants each have already left the camp. Immigrant advocates argue that this ticket system is akin to "metering"—the practice of capping the number of asylum seekers at the U.S.-Mexico border—which a federal judged recently ruled is illegal.
Additionally, immigrant advocates say that some Haitians are being deported without even being processed or their asylum appeals being heard.
Groups like Black Alliance for Just Immigration and Immigrant Justice Network are calling for the immediate halt of deportations and to grant Haitians humanitarian parole, which allows certain individuals to enter and remain in the United States for urgent humanitarian reasons.
Many see the Biden administration's treatment of Haitians as evidence of a racist U.S. immigration system. Their concerns follow recent news that the Department of Homeland Security is seeking a contractor to run an immigrant detention facility at Guantanamo Bay, as well as trying to hire guards who are fluent in Spanish or Creole. DHS has said it "is not and will not send Haitian nationals being encountered at the southwest border" to this center.
What are Title 42 deportations?
Part of the 1944 Public Health Services Law, Title 42 allows the U.S. government to take emergency measures to "prevent the introduction of communicable diseases."
In March 2020, the once-obscure health statute was invoked by the Trump administration to prevent migrants from entering the United States. It targeted those attempting to cross the U.S.-Mexico border, many of whom are fleeing danger in their home countries. Officials argued that these individuals would contribute to the spread of the COVID-19 pandemic, and they have expelled at least 530,000 migrants without giving them the opportunity to apply for asylum.
While the Biden administration has said it would reverse many Trump-era policies, it has continued to use Title 42 to block asylum seekers. The administration is also defending this application. Last week, a federal judge ruled that the government had two weeks to stop using Title 42 to clamp down on the border; the Biden administration appealed the decision.
Immigration advocates have long called for the end of Title 42.
"What we have witnessed over the last few days is despicable, inhumane, and resembles a page out of the Trump playbook," said Mirtha Colon, president of the Central American Black Organization. "Haitian refugees being met with whips by Border Patrol agents, packed into planes and deported to Haiti is indicative of an immigration system rooted in white supremacy."
"We demand that all deportations be stopped immediately, and that the administration once and for all end Title 42. The first step to addressing the root causes of forced migration is welcoming refugees with humanitarian support including access to shelter, food, legal assistance, and healthcare."
How can I make my voice heard on this issue?
The Coalition of Haitian American Organizations of the Chicagoland area is holding a press conference and peace rally this Sunday, September 26 at 2:30 p.m. at Federal Plaza (230 S. Dearborn St., Chicago).
The Black Alliance for Just Immigration has put together a rapid response toolkit for the border crisis. The toolkit includes social media graphics and sample call or email scripts for talking to your congressional office about how they must help Haitian and Black immigrants seeking asylum.
Talk about the crisis with your family and friends. You can learn more about the United States' history of sending asylum seekers to offshore facilities or to other countries in a new report by FWD.us and the National Immigrant Justice Center. 
How can I help Haitian asylum seekers?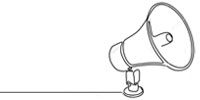 Bring power to immigrant voices!
Our work is made possible thanks to donations from people like you. Support high-quality reporting by making a tax-deductible donation today.