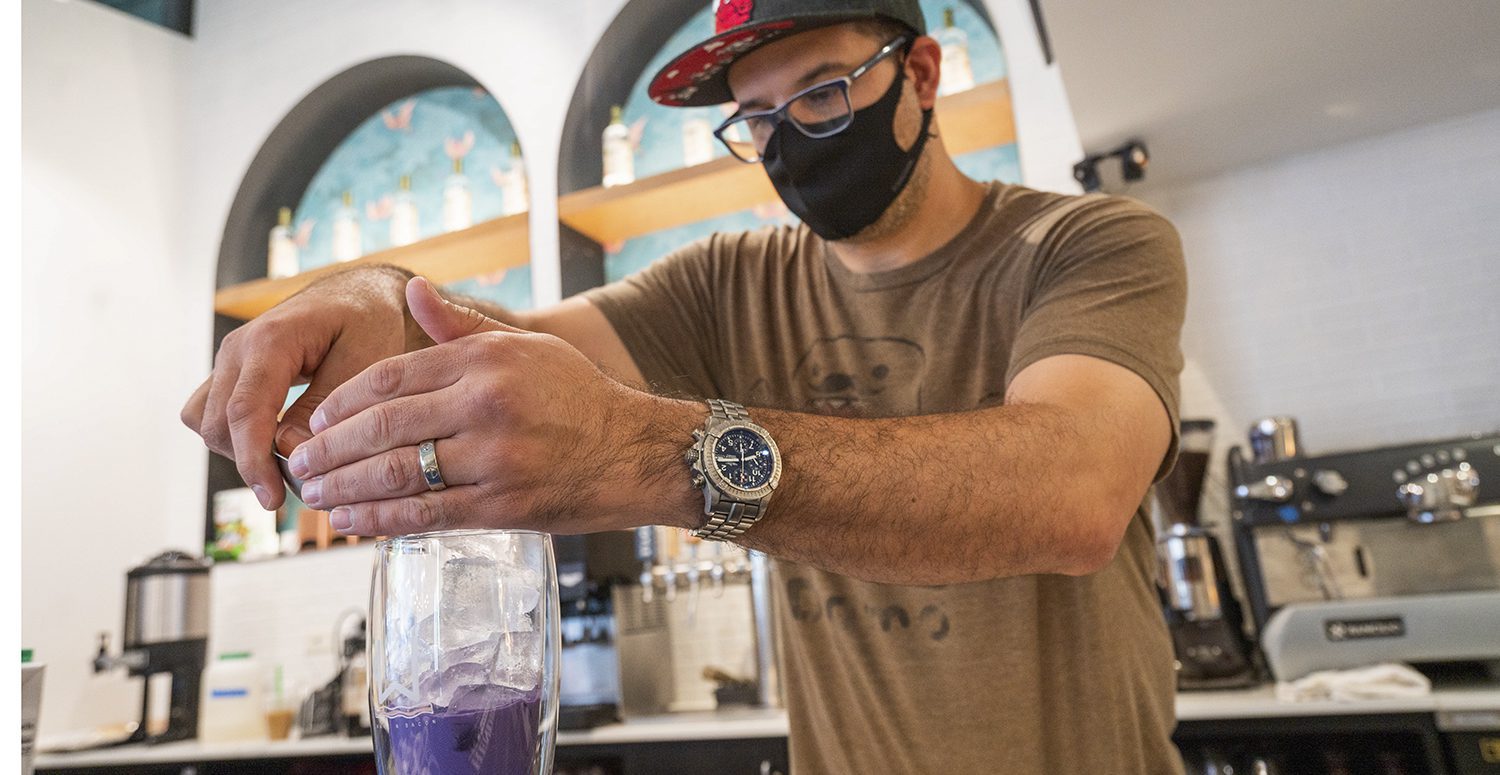 Photo by Camilla Forte/Borderless Mag
Gabriel Ayala prepares one of Wake 'N Bacon's signature drinks, a purple coffee made with ube and coconut milk, as the morning rush comes in on July 14, 2021 in Chicago, Ill.
With social media savvy, owners of brunch spot Wake 'N Bacon have held onto their dream — even in the throes of the COVID-19 pandemic.
Gabriel and Sarah Ayala are seasoned veterans of Chicago's restaurant industry. In 2000, Sarah opened Dragonfly Mandarin, a Chinese restaurant originally in the Gold Coast that lasted an impressive 14 years. Before Dragonfly, for two years she also owned and operated Jalapeño, a Mexican restaurant in her hometown of Evanston on the Northwestern University campus. Gabriel was an operating partner at Blackfinn until leaving to facilitate the opening of SafeHouse, as general manager. In 2004, Sarah hired Gabriel as a bar back at Dragonfly where he gradually worked his way up to becoming a partner.
Want to receive stories like this in your inbox every week?
Sign up for our free newsletter.

But it was Wake 'N Bacon, a Lakeview brunch spot, that was meant to blend the tastes of their cultures and share the flavors that have been traditionally enjoyed by their families with the Chicago community.
In June, the Ayalas celebrated the two-year anniversary of signing their lease for Wake 'N Bacon. Still, they've only been open for business since October.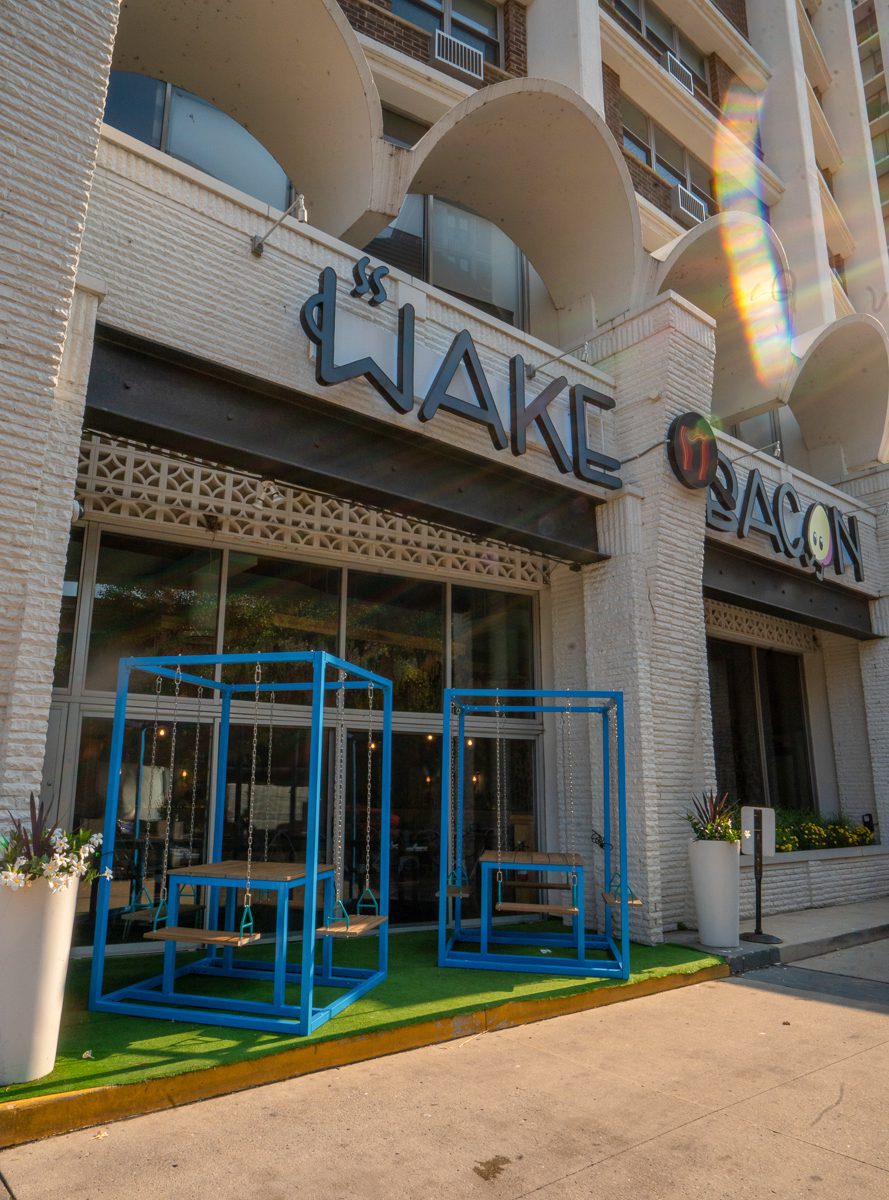 Photo by Camilla Forte/Borderless Magazine
Initially, everything was going according to plan for the couple, who aspire to remix iconic American brunch fare with flavors from their multicultural family recipes: Gabriel is  Salvadorian and Argentinian, and Sarah was born in Taiwan to a Taiwanese mother and Chinese Filipino father. Then, COVID-19 shut down Chicago, significantly delaying construction plans.
When Wake 'N Bacon finally opened, Illinois' second indoor dining ban went into effect a week later, forcing the duo to further stretch their creativity to reinvent the restaurant they had just finished building. They received a Small Business Association loan and aid from the Chicago Hospitality Grant Program, but neither presented long-term solutions.
As part of our series on how immigrant restaurants have survived the pandemic, Borderless Magazine spoke with Gabriel and Sarah about their journey as restaurateurs and how the COVID-19 pandemic has been a challenge in their latest endeavor.
Gabriel: In December we sat and looked closely at our loss differences. We made a comparison between if we closed and waited until indoor dining reopened versus just staying open, and we would've taken a lesser loss if we had closed.
The grants and loans certainly helped, those funds were used strictly for payroll and rent. But it's like a Band-Aid on an open wound — it can only do so much. If we didn't receive those aids, there was a higher chance that we would have shut down.
We were kind of lucky that the indoor ban happened right when we opened because we didn't have a ton of staff. We were just about to hire. Because of that, it was sustainable, we were able to push through. But, we were losing — just like everyone else.
The impact of the losses were personal. At the end of the day, we sacrificed and paid for everything ourselves — we just had to keep going into our funds.
Sarah: Trying to capture a market in the space where everyone was trying to do the same thing, when restaurants had to try to win business as a to-go or delivery restaurant, that was probably the biggest challenge.
Most people don't order brunch for takeout or delivery, so marketing to convince people to order from us and that our food was going to be delicious in their home was difficult. Operationally, we had to test all of our dishes to make sure that they travel well in containers. We learned that some of them didn't and some only traveled well for a short period of time,  and the cost of buying supplies to make sure it all traveled well.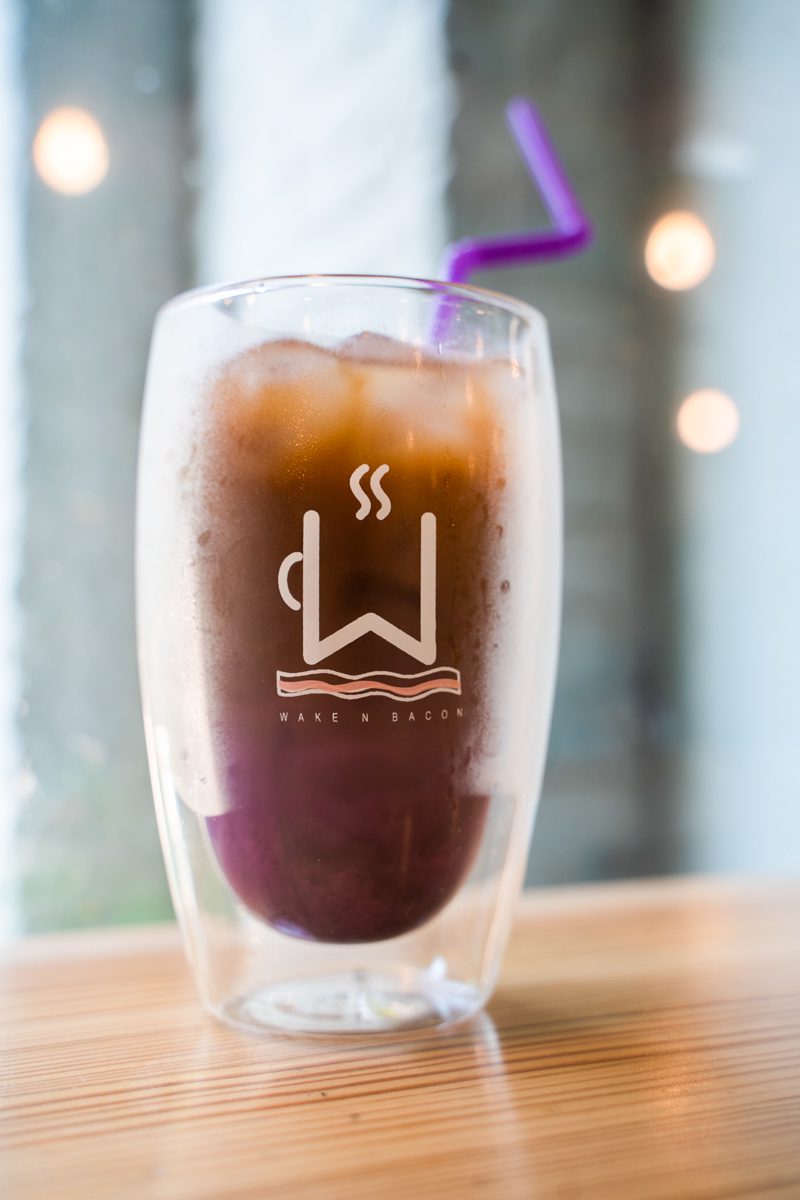 Photo by Camilla Forte/Borderless Magazine
Gabriel: Social media has played a big part in our success. A lot of people like the uniqueness of the food and seeing the different influences. People would order takeout, and they'd post on their Instagram or TikTok.
Sarah: We have this Purple Haze drink — a coffee with ube and coconut milk, and either regular milk or oat milk. It blew up on TikTok because of the colors — it's a gradient and becomes purple when you stir it. We now sell like 40 on weekdays and on weekends, close to 100.
Gabriel: We go through a lot of ube.
We had social media in mind when we designed the place — we wanted every little inch to be "Instagramable." We knew that's what you need to be successful. We're also a little off the beaten path being down the street from Broadway and we needed to make sure there's a reason to come here. When we first opened, we weren't sure if people would like the concept. But, they do, and it's really awesome to see.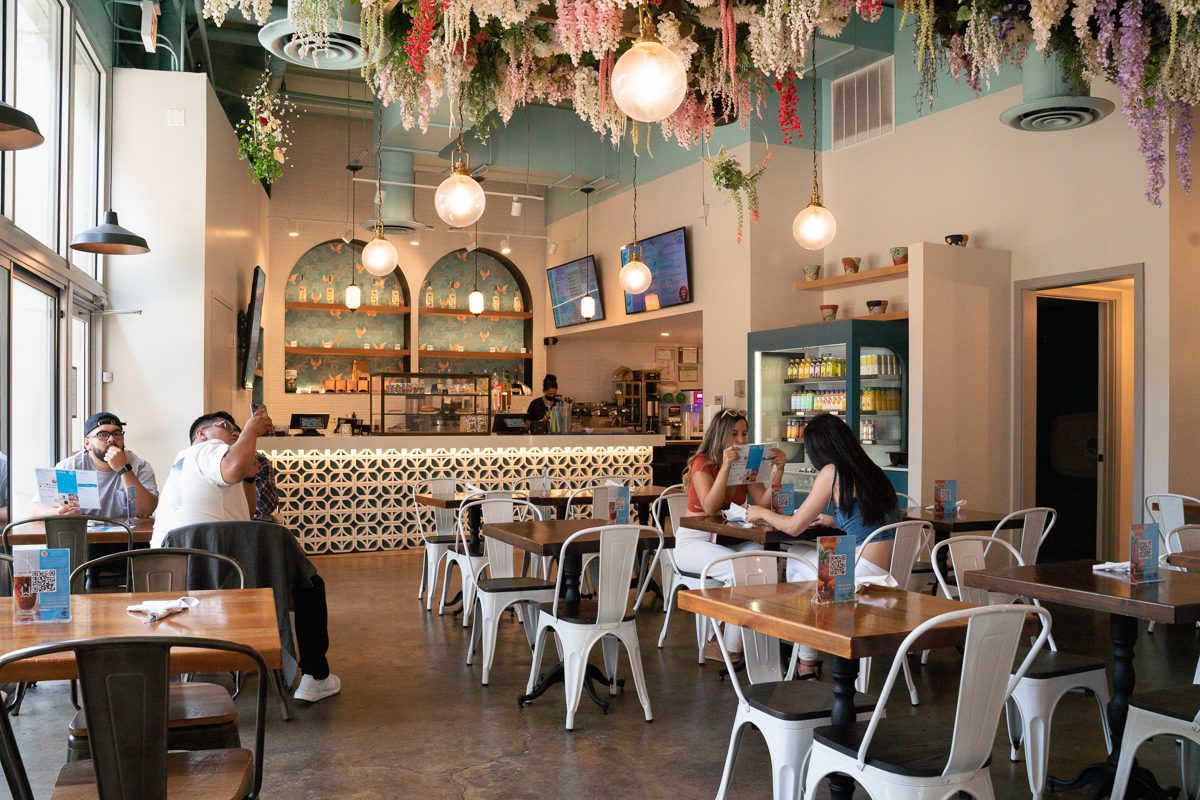 Photo by Camilla Forte/Borderless Magazine
A lot of credit goes to our chef, Will Silas. We would cook different meals for him at our house to show him the different flavor profiles that we were looking for. You can tell the base of the menu is American brunch, like chicken and waffles. But Will adds that twist where you can see the flavors of Sarah's particular background or my particular background.
A good example is our take on a Philly sandwich. Sarah's sister-in-law makes an adobo that we love, and she made it for Will. He took her recipe and made it more commercial-friendly, creating this Philly chicken sandwich with these Filipino flavors. It has adobo, but then you've got this provolone cheese, peppers and onions. On the side, there's an adobo au jus for dipping.
My mom was born in the States but grew up in Argentina — kind of similar to Sarah. The Philippines were occupied by Spain, and of course, Latin America was also occupied by Spain, so there's a lot of similarities between our cuisines.
Sarah: It's easier to incorporate that, versus Chinese.
Gabriel: My dad was escaping the civil war in El Salvador when he came to the States at probably just 20 years old. My aunt had settled in Chicago after immigrating years before, and he stayed with her. She had an El Salvadorian restaurant, a pupuseria, for many years. The spicier stuff is the Latin influence.
On our bacon flight, we've got this traditional American maple peppercorn. But we also do a Tajín rub. That's a chili-lime seasoning that I grew up with, we eat it with all our fruit. Mango, watermelon, any sort of fruit, you just throw it on there. So we decided to do it with the bacon and it turned out really good. The pickled peppers that we have, the salsa verde that we make — more traditional stuff, like the quesadilla — some of our drinks are very Latin-based.
The most popular alcohol in Argentina is fernet, so we incorporate it into some of our drinks. Our Liquid Sunshine is actually based on the Salvadoran drink agua de fresca, which is basically just a fruit juice with chopped-up fruit thrown in.
Now that we're 100 percent open, we're facing a lot of challenges trying to get certain products and ingredients. There is definitely a shortage — we've had difficulty carrying pork belly, spam, specific brands of liquor, calamansi juice and ube extract — to name a few. There's a huge supply-chain challenge that we are trying to work on.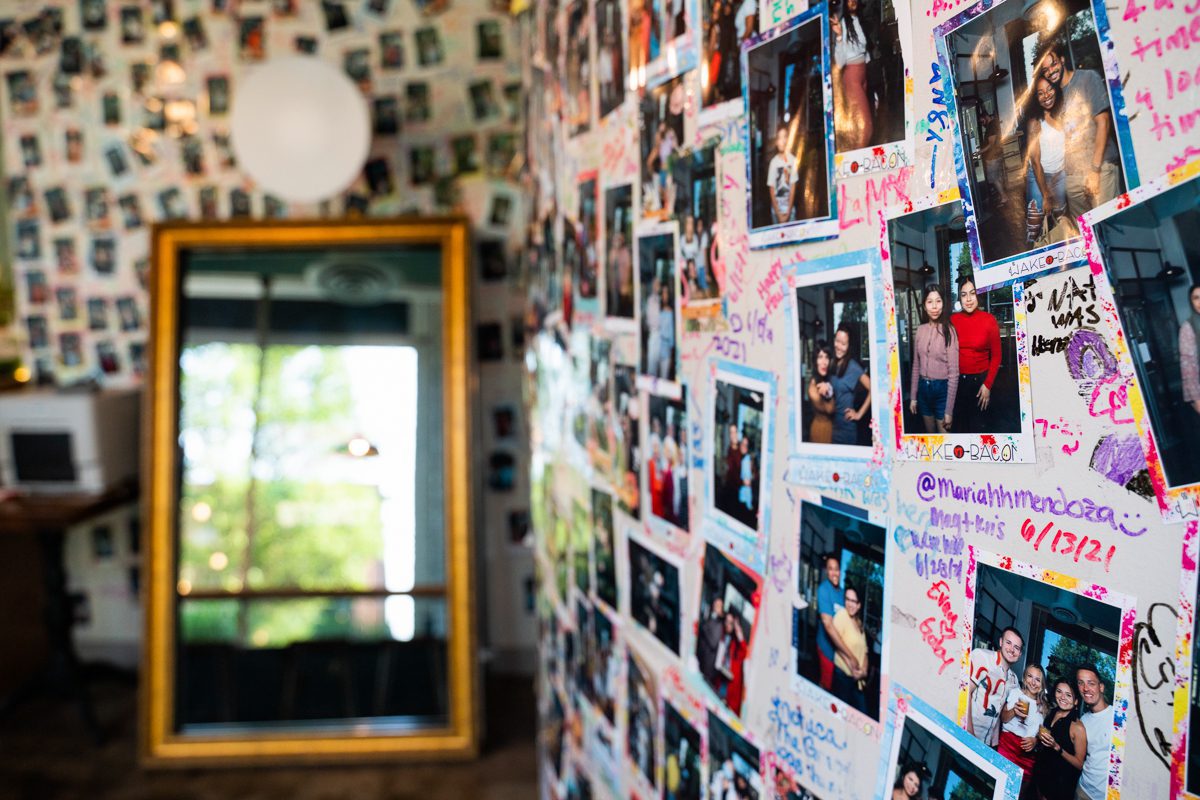 Photo by Camilla Forte/Borderless Magazine
Sarah:  Right now, the biggest struggle is staffing. We went from five employees to 22 in a month and a half — so we were able to find staff — but it's getting to a point now where you can't find any staff.
We're still concerned about getting sick, even with the vaccine, because our kids don't have the vaccines and one is only one year old.  We have three young kids. One has asthma, and when we learned that COVID was a respiratory thing, we were really, really scared to get sick.
Gabriel: I'm very optimistic about what we have planned for the future. I think the majority of people really do enjoy coming here. And a lot of them actually like our story, too, where we're coming from. So, we're getting a lot of support.
There's at least one day in the week where we're like, "this is a new record." Memorial Day was our busiest Monday to date. That's what is really cool, the numbers just keep going up.
This story was reported with help from the Metro Media Lab, a project of the Medill School at Northwestern University aimed at strengthening journalism in Chicago. It is funded by the Robert R. McCormick Foundation.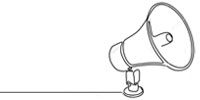 Bring power to immigrant voices!
Our work is made possible thanks to donations from people like you. Support high-quality reporting by making a tax-deductible donation today.