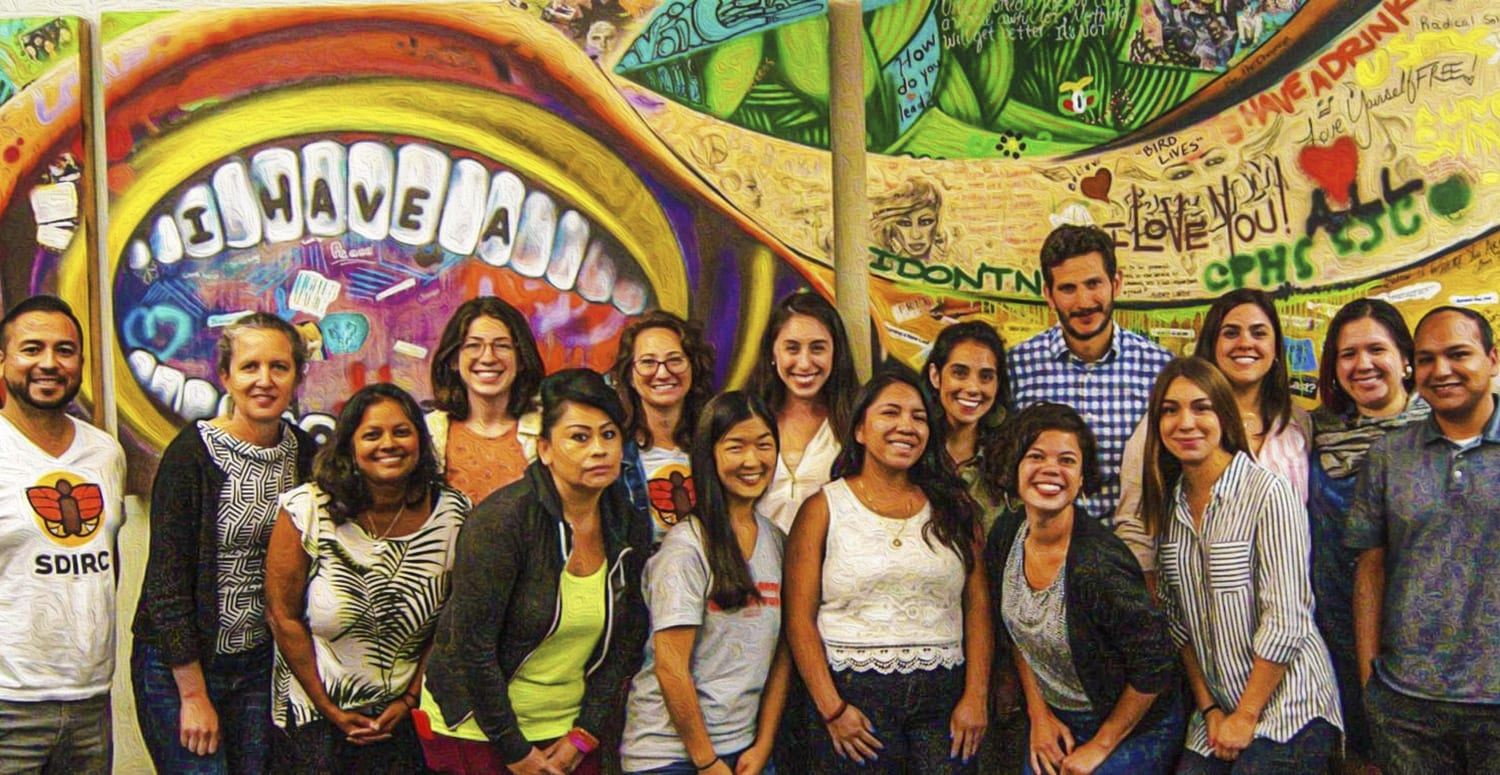 Photo courtesy of Pilar Weiss
Immigration bond fund organizers who are part of the National Bail Fund Network at a meeting in San Diego in July 2019.
The Midwest Immigration Bond Fund Coalition has raised more than $35,000 to bail out detained immigrants from Illinois, Indiana, Wisconsin and Kentucky. 
Never miss a story. Sign up for our Thursday newsletter to learn the latest about Chicago's immigrant communities.
Lester* didn't think anything could be worse than his time in prison. The Guatemalan immigrant had contracted COVID-19 shortly before he was released in September and the prison isolated him in a hotel, where he was forced to cover all costs of his stay.
But the three months he spent in immigrant detention trying to figure out how to pay his $2,500 bond made him almost miss prison.
"It's just supposed to be a holding," Lester said of the detention at a county jail in Woodstock, Illinois, where he was held by Immigration and Customs Enforcement. "But they were feeding us small portions, and they weren't doing quarantine properly. COVID was spreading until the county guys got COVID, and we were in our room all day except for one hour."
Lester was released from ICE detention on April 5 thanks to the support of the new Midwest Immigration Bond Fund Coalition, which posted his bond. The coalition manages a revolving fund that is used to release individuals like Lester from ICE custody. Lester — whom Borderless is granting anonymity for safety reasons — is still going through immigration proceedings and faces possible deportation. He'll now be able to fight his case from the outside.  
While Illinois recently passed a new law that would end immigrant detention at the McHenry County jail and other local jails in the state in 2022, immigrants continue to be held in local jails here and elsewhere in the Midwest. During the pandemic, these detention centers have become hotbeds of infection.
McHenry County jail held an average of 189 detainees per day in fiscal year 2020, according to a county report. The jail has had 14 reported COVID-19 cases among immigrant detainees with the first case reported last July, according to ICE.
Lester said that in his experience, immigrants at McHenry County Adult Correctional Facility were treated "like you're in prison, or worse."

"We're just ICE detainees, so county officers pretty much want nothing to do with us. They never want to help you out," said Lester. 
In response to a records request, the McHenry County facility said detainees receive the same 3,200-calorie diet count during both quarantine isolation and non-quarantine isolation, but that during quarantine some of the meals were pre-packaged rather than prepared in the facility kitchen. Officials assert that CDC guidelines were followed along with McHenry County Department of Health recommendations before, during and after quarantine isolation, and confirm that those incarcerated were allowed out of their cells one hour per day during quarantine isolation.
Still, organizers say the pandemic has added urgency to their work on the new bond fund releasing immigrants who cannot afford to pay bond.
Filling Gaps in a Nationwide Bail Fund Network
Founded in October 2020 by advocates and lawyers from immigrant rights organizations, the Midwest Immigration Bond Fund Coalition has raised more than $35,000 to pay bail for residents of Illinois, Indiana, Wisconsin and Kentucky. When a person's immigration court case concludes and the government reimburses the coalition for the bond paid, that money will be used to bail out more detained immigrants.
The coalition is part of the National Bail Fund Network, a five-year-old umbrella organization that includes more than 80 criminal and immigration bond funds. While criminal bond funds generally work within separate jurisdictions, immigration bond funds have often collaborated across the country to raise funds to release those incarcerated by the immigration system.
The Midwest Immigrant Bond Fund Coalition is part of a movement to end mass incarceration, said National Bail Fund Network director Pilar Weiss.
"People get moved around all the time. I could have ICE target me and put me in detention in California and next week get moved to detention in Ohio, then Florida," Weiss said. "So when we have coordination across 40 immigration bond funds, you can post from anywhere. I can go to the office in San Francisco and post bond for someone held in Illinois. We do a lot of coordination to pool money together."
Bail funds have long existed in the United States, but they have become increasingly urgent over the last year. Incarcerated populations have been disproportionately impacted by the pandemic, which means that they face heightened health risks in addition to the existing harms of prolonged time behind bars. 
Although Illinois recently eliminated the use of cash bail, Illinois residents who are detained by the federal immigration system still need to pay bond in order to be released. And while criminal court bonds generally require a defendant to pay only a percentage of their bond amount in order for a person to be released, immigration bonds must be paid in full and have a minimum level of $1,500.
Freedom From "Dire" Conditions
The idea behind setting bond is to allow those facing criminal or immigration charges to stay out of jail while awaiting their trial. But advocates who seek to end cash bail have argued that it creates an inequitable justice system that allows the wealthy to be free while jailing the poor. While detained and awaiting a court decision, individuals can lose their jobs, their homes and even their children. During the COVID-19 pandemic, detention has also meant increased exposure to the virus. 
"We know that conditions in detention centers are dire," said Annie Chen, program director of the Safety and Fairness for Everyone (SAFE) Initiative at the Vera Institute of Justice, a program that works with local governments to implement publicly funded programs for immigration representation. "People are often in crowded and close quarters with limited access to healthcare." 
Immigrant detention numbers fell to a historic low point earlier this year, a dip that reflects the Trump administration's partial closure of the U.S.–Mexico border in March of 2020, Chen said. In January, there were 15,415 people in immigration detention — the lowest number since 1999, when there were 17,772 people, according to Detention Watch Network. Despite advocates' demands to free all detained immigrants and close ICE facilities nationwide, the number has since increased. At the end of May, there were 21,519 people in ICE detention. 
Chen sees a resistance under the Biden administration to reduce ICE's capacity to detain immigrants. "There was a missed opportunity to permanently scale back facilities and beds. That has not been the pathway that Congress and the administration has taken," she said. "They funded ICE detention at a slightly lower amount, but that's not going to radically change the landscape of detention beds available to ICE."
Since October, the Midwest Immigrant Bond Fund Coalition has paid a total of $36,000 for the release of 13 people whose bail amounts have ranged from $1,500 — the minimum for immigration bonds — to $5,000. Recipients include long-term residents of the country and people who are the main income sources for their families. The fund is actively raising money with the hopes that they can release more immigrants from detention.
"We don't care about convictions," said coalition organizer and immigration attorney Guadalupe Perez. "All we care about is whether you have a bond, and if we have the funds, we'll pay it out."
Jorge*, an immigrant from Puebla, Mexico, was one of the first people to receive help from the coalition. He was held at the McHenry County jail for five months before the coalition posted his $4,000 bond and he was released in February. 
Jorge said because he was released, he's been able to work painting houses and find a new apartment to rent. He now hopes to pay it forward by donating to the fund so that others can be released like he was.
"I was locked up for a long time. I don't wish that on anybody," Jorge said in Spanish. "Thank God I've been able to come home, been able to work. I'm doing well, and I don't want to go back."
The coalition's nondiscriminatory approach has been particularly meaningful for Lester and Jorge, who have both had an opportunity to come home despite their previous criminal charges and convictions.
"The way I see, I already did my time," Lester said. "I should not be detained as if it was a brand new sentence."
Relief Within a Greater Fight for Reform
The set minimum of $1,500 is implemented across the country, but criminal bail amounts can vary widely by jurisdiction based on the judge. A 2018 report by the Transactional Records Access Clearinghouse at Syracuse University found that median bond amounts ranged from a low of $5,000 to a high of $15,000 depending upon court location.
How judges determine bonds seems arbitrary, said Claudia Valenzuela, an attorney with the American Immigration Council.
"Judges here in Chicago are open to testing $2,000 or $3,000 and lately have gone higher to between $5,000 and $6,000. So that is a concern, seeing an uptick in bonds," she said. "Bonds around the country can be up to $20,000 or $25,000. It's exorbitant. So in Chicago it doesn't seem so bad, but when you are indigent, even coming up with $500 is extremely difficult."
Founders of the bond coalition view it as fundamentally abolitionist, serving individuals who are punished not only by the immigration system but also by the criminal justice system. 
"ICE is, after all, a law enforcement agency. These are cops," Valenzuela said. "So just as we see issues with policing generally in the United States because of improper conduct, a punitive mentality and racism, that's going to happen with ICE too."
For Lester, the bond fund provided huge relief. He was previously familiar with commercial bail bondsmen who require collateral to pay a person's bond but had never heard of a community-driven fund.
"I'm pretty sure I could have called most of my family and burdened them [by borrowing money], but my parents are low-income. My dad is retired and got disability from a job injury," he said.
While Lester waits for his immigration court hearings, he said he's grateful that the bond fund gave him a chance to spend time at home with his family.
"It immensely impacted my life. I don't even have a bank account," he said. "I'm actually out able to work, to provide for my family, it's like a blessing."
*Last names are being withheld to protect immigrant sources' safety.
The Midwest Immigration Bond Coalition accepts donations on their website.
Our work is made possible thanks to donations from people like you. Support high-quality reporting by making a donation today.                                                                                                                                                                   
Donate