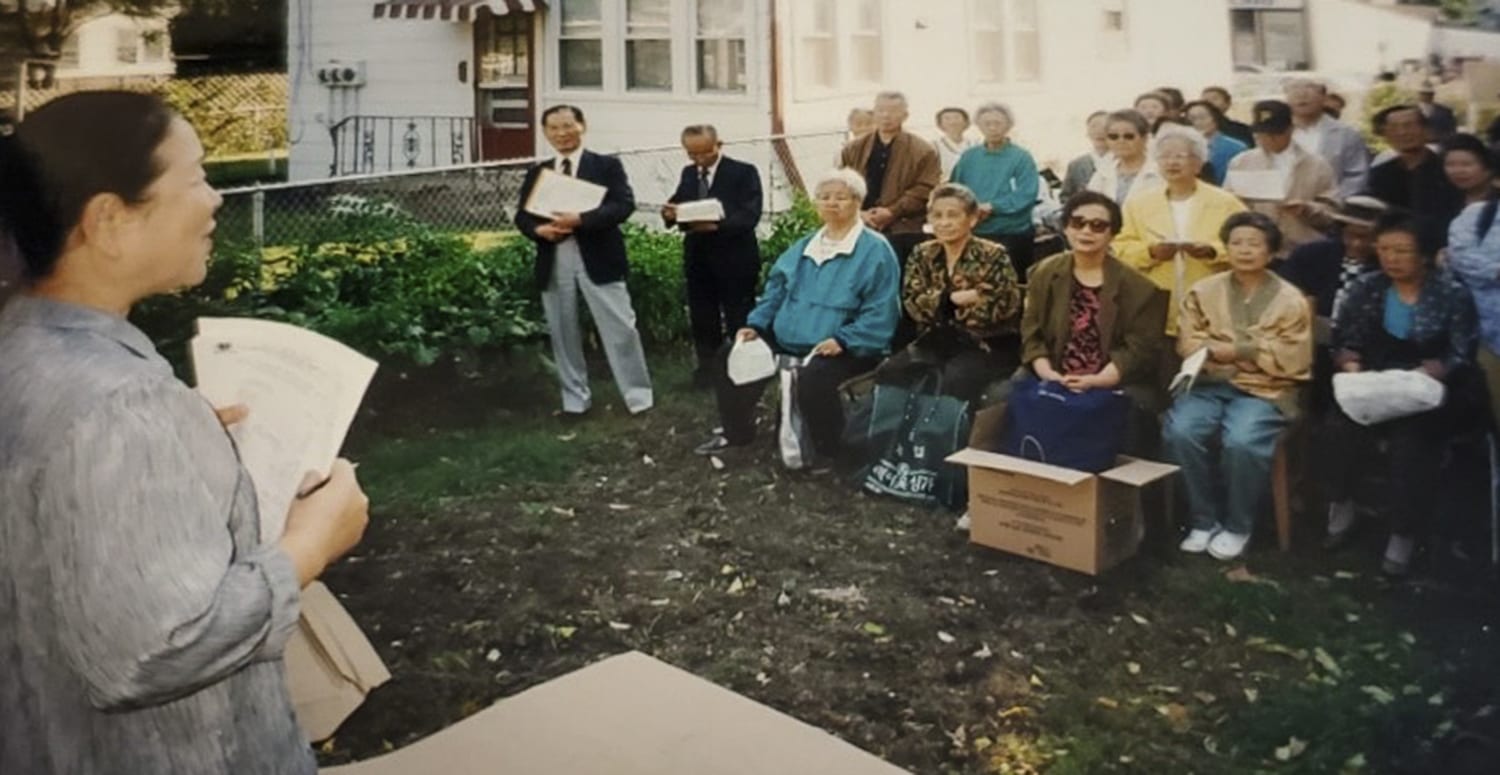 Photo courtesy of Helen Um
A Korean nurse on why she founded a Chicago center that provides health care for immigrants. 
Never miss a story. Sign up for our Thursday newsletter to learn the latest about Chicago's immigrant communities.
My maternal grandmother, Helen Um, first came to the United States from South Korea in 1962. She picked Chicago to be her adopted home when she first visited the city in 1964. At the time, the city had just a few hundred Koreans. Today, it has the country's fifth-largest Korean population with 61,000 Koreans living in the metropolitan area.
Like Asian Americans in other cities, Chicago's Asian population has been the target of increased racism during the COVID-19 pandemic. During this challenging time, I believe that it's important to celebrate and remember Asian American stories. After all, we are more than the attacks on us; we are vibrant communities with rich and complex legacies. 
As Cold Tea Collective cofounder Natasha Jung put it when I spoke to her last week, "Don't just stop Asian hate; celebrate Asian lives."
To celebrate Asian American and Pacific Islander Heritage Month, I spoke with my grandmother about her life in America, how she founded the Korean Self-Help center, and how she serves the communities around her. 
---
There were thirty of us crammed into an apartment in Chicago, using any piece of paper for English class, even the backside of calendar sheets. I was one of three teachers helping the students, who were Korean immigrants who ran their own businesses. But I wasn't a teacher; I was a student pursuing a PhD in nursing at the University of Illinois at Chicago. 
My professional goal was to help my community beyond the walls of the hospital. Though the English classes started due to high demand, I felt like there was a chance for it to grow into something bigger. What if I could expand what we were doing into a fully-fledged organization to serve the Korean community of Chicago? 
Like my students, I also was an immigrant and knew how hard it was to adjust to a new country. 
I was born in Osaka, Japan in 1935 while Korea was under Japanese occupation. In fourth grade, my family moved to Yeosu in South Jeolla Province in the Southwestern part of South Korea. My mother instilled in me patriotism, even as my country was on the brink of being erased. 
I went to nursing school because it was free and found that I actually really enjoyed it. After working as a school nurse, I went to America in 1962 to do an exchange nurse program in Richmond, Virginia. I studied for a nursing degree program during the day and worked at the hospital at night.
The English I learned from school and missionaries in Korea wasn't sufficient, and I struggled a lot with the language. I also missed Korean food; there wasn't a large Korean community in the area and I was the only Korean in my program. And I missed my daughter, my first child who was born just the year before. 
I heard there were more Koreans in Chicago, so after my two years in the program, I headed there. I worked at Cook County Hospital and also studied for a year before returning to Korea in 1965. 
My education from the United States made me stand out from my peers. I became a dean at the Jeonju Margaret Pritchard Nursing College. As my children grew, I found myself restless. I wanted to study advanced nursing and go back to America. 
So in 1981, I returned to America, but this time with my daughter and two sons. I got a scholarship to study a clinical specialist course in Indiana and completed my RN BSN degree as well as the course.
Thankfully, eight months after arriving, my mother came to help with my home and children. My eldest daughter was a college student and my sons were in middle school. Not long after, my husband also joined and my family was whole. 
In 1983, we moved to Chicago as I started my master's degree then my PhD at the University of Illinois at Chicago for nursing. 
From when I first arrived in Chicago to when I came back, the Korean community had grown significantly. In the early '60s there were about 500 Koreans in the city. But when I came to the city the second time, there were 22,000 Koreans as well as a thriving community in Albany Park. I met Koreans who were interested in improving their English and I assembled a mini team of me, a Korean American person, and an American teacher to hold English classes in an apartment every weekday. 
The first class was on May 12, 1985. Five months later, on Oct. 12, 1985 we opened the Korean Self-Help Center [now called the Chicago Comprehensive Community Center]. Through people's help, I learned how to apply for grants and received funding from The Chicago Community Trust and other foundations amounting to approximately $40,000. 
The founding principle of the Center was the primary health care concept, which the World Health Organization defines as "a whole-of-society approach to health that aims at ensuring the highest possible level of health and well-being and their equitable distribution." We prioritized the community above all and we served everyone in it.
The Center was located in the heart of the Korean community at the time, right in Albany Park near Leland and Lawndale. We rented an apartment, and then another one to provide services that went beyond English classes. We had after school childcare, a computer class, health screenings, a driving class, and legal counseling. We also provided mental health services, which were stigmatized at the time to the point that some complained that we were like a mental hospital. 
My husband and mother also got involved serving at the Center. My husband helped when there were dangerous situations concerning domestic violence victims and my mother helped with babysitting and donated the money she earned to poor new immigrants. 
Soon word got around about us and we had professionals like doctors and lawyers partnering with us. I also connected with local nursing schools like the Rush University College of Nursing, the University of Illinois at Chicago, and North Park School of Nursing to have student nurses fulfill community nursing hours at our Center. 
We trained community health workers who were were fluent in Korean as well as bilingual community health workers who spoke both Korean and English and could be interpreters. And we worked with anyone, regardless of their immigration status. 
We had about 500 Koreans coming to the Center daily. As Koreans started leaving Chicago for the Northwest suburbs in the 1990s, we also started working with other immigrants and refugees. Our landlord was not happy about how many people came to our center. 
When I left Chicago in 1998 to return to Korea, this time to Seoul, the landlord tried to kick out the Center. Community members fundraised and I sold land in Korea to raise money to buy a new home for the Center, a house in the same area. That is still where the Center is located.
As the Center adjusted to its new reality, I continued my nursing career in Seoul. I taught parish nursing at Ewha Women's University. I also worked with the mentally ill, disabled, elderly and domestic violence victims. And I kept connected with the Center by being a board member. Additionally, my children remained in America, so I visited the center every so often when I came to see them. 
Today, I am still actively publishing, researching and presenting on topics like dementia prevention and domestic violence victims. The past few years, I've been between Seoul and Chicago tending to my mother who is 105 years old.
To aspiring health care workers, I want to emphasize the importance of working with community people and not just health care providers. Listen to the people, their opinions, ideas and thinking because they know what their problems are. Care for everyone. 
The Chicago Comprehensive Community Center is located at 4934 N Pulaski Rd and can be reached at (773) 545 8348. 
Our work is made possible thanks to donations from people like you. Support high-quality reporting by making a tax-deductible donation today.                                                                                                                                   
Donate