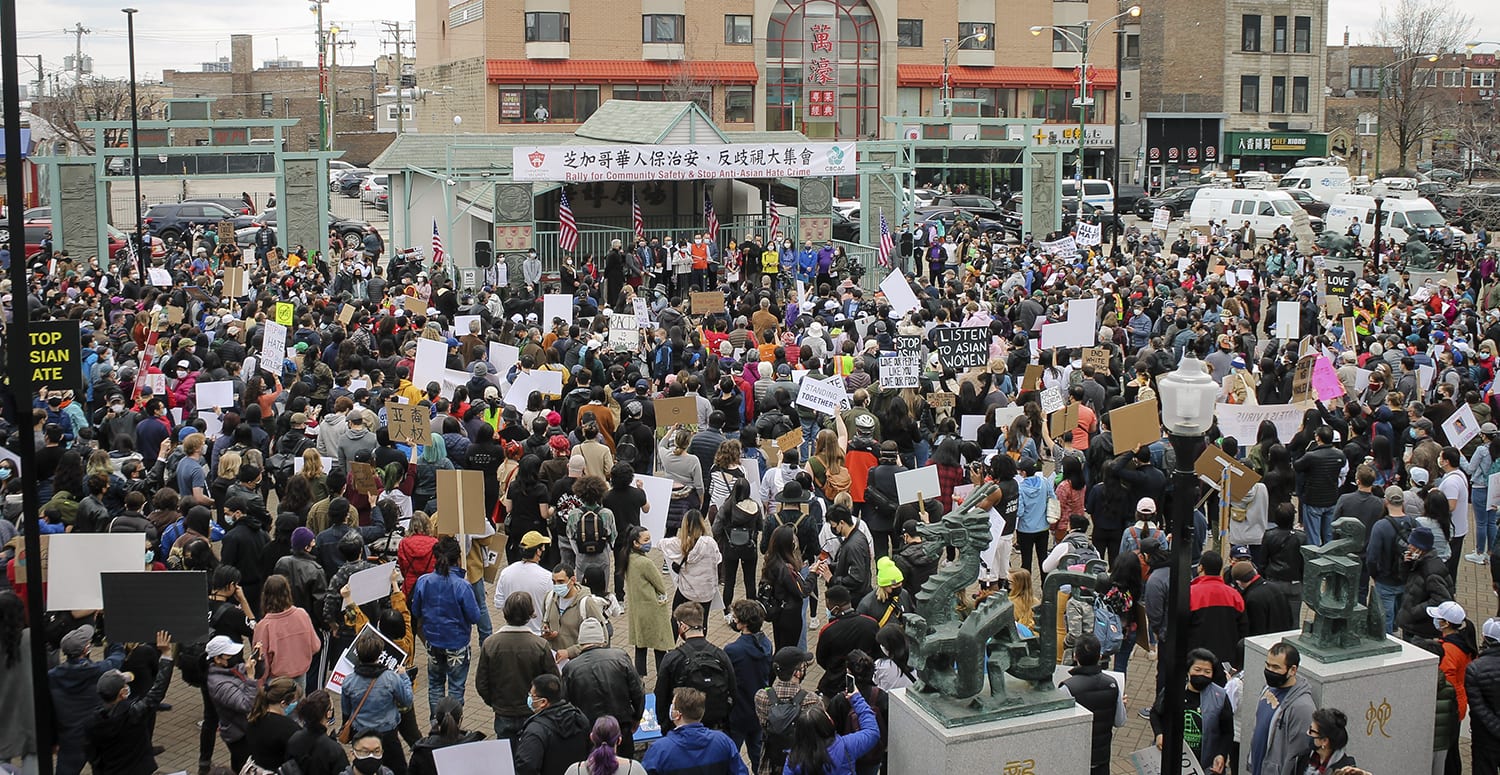 Photo by Diane Bou Khalil/Borderless Magazine
More than 200 people gathered to rally against racism and recent violence targeting Asian Americans in Chinatown Square on Mar. 27, 2021 in Chicago, Ill.
After a year that has seen a rise in attacks against Asian communities in the U.S., local AAPI groups gathered in Chicago's Chinatown to demand action.
Hundreds of demonstrators gathered in Chicago's Chinatown on Saturday for a rally to denounce anti-Asian racism and violence, which has increased over the last year across the United States. The "Stop Asian Hate" rally was one of many held in cities coast-to-coast last week in the wake of the mass shootings in Atlanta, in which a white gunman targeted spas and killed eight people—including six women of Asian descent.

Attendees in the intergenerational crowd of Asian Americans and community allies held up signs with messages such as "We protect us," "We are not a virus," and "Not your model minority." They filled Chinatown Square, spilling onto the staircases and balconies of the outdoor mall as organizers took the stage to speak in English, Cantonese and Mandarin. Joining them were local officials including Ald. Byron Sigcho-Lopez, 25th. and Cook County Board President Toni Preckwinkle, who categorized the Atlanta shootings as an act of both racism and misogyny.
The rally was organized by the Coalition for a Better Chinese American Community (CBCAC) and the Chinatown Security Foundation, a neighborhood watch group that came together after two Asian men were fatally shot in an attempted robbery at a Chinatown parking lot last February. Nearly 100 local groups showed up in solidarity, including representatives from Pakistani and Thai communities. 
"We must take this moment and push forward for progress," Grace Chan McKibben, executive director of CBCAC, said.
One of the most-applauded speakers was Sigcho-Lopez, who noted that Chicago's Chinatown — located in his ward — is one of the few in the country that continues to grow. The alderman also named the root of the attacks against Asians, saying, "We all should not only condemn racism, but we also have to condemn and denounce white supremacy, wherever it is."
Community leaders also shared five demands for action: increase public safety and safety education in Chinatown; take anti-Asian hate crimes seriously; launch a website for people to report anti-Asian hate crimes; fund Asian American organizations that prioritize the wellbeing of senior citizens; and pass the Teaching Equitable Asian American Community History (TEAACH) Act, which would ensure that Asian American history is taught in Illinois public schools.
Notably, the rally was also organized in collaboration with law enforcement; Commander Don Jerome from the 9th district was among the speakers, and police officers stood at the edges of the square.
Along with cities including San Francisco and New York City, Chicago increased police presence in predominantly Asian neighborhoods after the Atlanta shootings. Many people, including members of the Chinatown Security Foundation, support working with law enforcement to combat anti-Asian hate crimes. CSF president Chris Huang has specifically called for more Chinese-speaking police officers in the neighborhood as well as more security cameras.
But policing remains a highly contentious topic, with opinions among the Asian community largely split along generational lines. Many advocates of police reform or abolition argue that policing is itself a cause of violence, particularly against migrants, sex workers, and other marginalized communities.

Chan McKibben told Borderless Magazine that while she views increased policing as a short-term solution to violence against Asians, true progress can occur only with structural changes such as investment in education, mental health services, and more generally, the infrastructure and economies of AAPI communities.
Borderless Magazine's engagement reporter Diane Bou Khalil spoke with Chan McKibben to learn more about the aims of Saturday's rally. 
View this post on Instagram
Our work is made possible thanks to donations from people like you. Support high-quality reporting by making a tax-deductible donation today.                                                                                                                                   
Donate