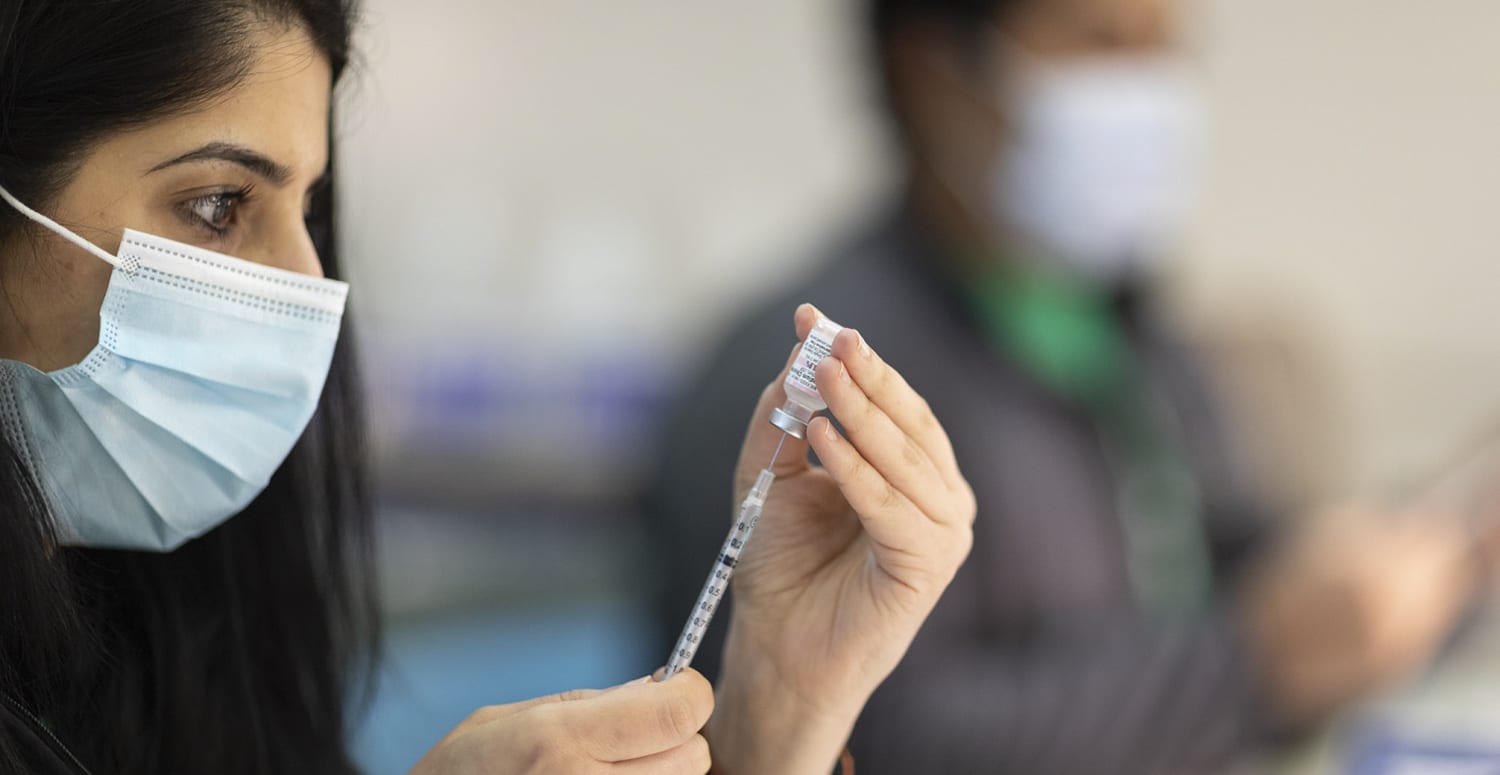 Here's where, how and when you can get vaccinated against COVID-19 in Chicago.
Above: A Clinical Pharmacy Specialist at Rush Hospital prepares to give a COVID-19 vaccine to health care workers. [Provided/Rush Hospital] 
This story was produced by Block Club Chicago, a nonprofit newsroom focused on Chicago's neighborhoods.
CHICAGO — Coronavirus vaccinations are now open to more people in Chicago — but appointments are hard to come by.
All vaccinations in Chicago will be done by appointment, Dr. Allison Arwady, head of the Chicago Department of Public Health, has said. But she's also said patience will be key, as the city only gets a limited amount of vaccine doses from the federal government every week and appointments fill up quickly.
Here's how you can try to get vaccinated:
Who's Eligible For Vaccinations
Chicago is in Phase 1B of its vaccination campaign. Here's who eligible during this phase:
Chicagoans age 65 and older, with special priority given to people 75 and older and people 65 and older with underlying medical conditions.
Frontline essential workers:

Correctional workers.
First responders.
Grocery store workers.
People working in manufacturing/factory settings with outbreaks.
Day care, K-12 and early education workers.
Public transit workers.
Other manufacturing workers.
Agriculture workers.
Continuity of government and postal workers.

People from Phase 1A, including health care workers.
Illinois is in Phase 1B+ of its vaccination campaign, meaning it is also vaccinating people with underlying conditions. Chicago and suburban Cook County are not doing that yet.
Qualifying conditions for Illinois:
Cancer.
Chronic kidney disease.
Chronic obstructive pulmonary disease, known as COPD.
Diabetes.
Heart conditions.
Immunocompromised state from a solid organ transplant.
Smoking.
Obesity.
Pregnancy.
Pulmonary diseases.
Sickle cell disease.
How To Get Vaccinated
Hospitals
The city's health department says you should first contact your primary care provider or a health clinic or hospital where you've received care in the past. You can check their website or contact them for information on vaccinations and setting up an appointment if they're vaccinating people.
The city has also instructed hospitals and other providers to directly contact existing patients who are eligible for vaccines and offer them appointments. Providers are supposed to first offer appointments people most at risk — namely, patients who are oldest and have underlying medical conditions.
Pharmacies
Select pharmacies are offering COVID-19 vaccinations to eligible people, though appointment slots fill up quick.
Here's where you can try to make an appointment online:
Jewel Osco
Mariano's
Walgreens
Note: CVS is not offering vaccinations to the general public at its pharmacies in Illinois.
Workplaces
The city's health department will work with large employers to offer vaccinations through their workplaces.
People who will be vaccinated through their workplace do not need to take action, according to the city health department.
Zocdoc
Zocdoc lists publicly available appointments from the city's vaccinations sites, as well as from local organizations like AMITA Health, Erie Family Health and Innovative Express Care, among others.
Not all vaccine providers in Chicago are listing their open appointments on the scheduling tool. But more providers are expected to join, according to the city.
People will be able to sign up online for the appointments through Zocdoc. The tool will check if you are eligible to be vaccinated. If you are, it will show nearby vaccination locations and open appointments. People can then make an appointment.
You can use the Zocdoc tool by clicking here.
Mass Vaccination Sites
Chicago:
The city's mass vaccination sites are not open to the public for appointments.
Cook County:
Cook County does have vaccination sites that are accepting appointments so long as you are eligible under Phase 1B and you live and/or work in Cook County. Appointments fill up fast. You can register with the county here or call 833-308-1988 to make an appointment and/or to get updates.
United Center
Homebound
People who are homebound for various reasons can sign up online to get vaccinated against coronavirus at their home. Their caregivers will also be vaccinated under the program.
Other
Where To Get Vaccinated
Chicago's health department has a map of some vaccine providers in and around the city:
When Will I Be Eligible?
Here's the city's tentative timeline:
Phase 1A: Continuing. Covers health care workers and people living and working in long-term care facilities.
Phase 1B: Continuing. Covers Chicagoans 65 and older and frontline essential workers.
Phase 1C: Expected to begin March 29. Covers other essential workers and people ages 16-64 with underlying medical conditions that put them at risk for severe cases of COVID-19.
Phase 2: Expected to begin May 31. Covers all Chicagoans 16 and older.
Children will likely not be vaccinated until the summer or later, Arwady has said.
Illinois will start vaccinating people with underlying conditions starting Feb. 25, but Chicago will not do the same.
How To Get Updates
You can sign up with Chi COVID Coach to get updates from the city's health department on its vaccination campaign.
You can check the health department's website for information.
You can also contact Block Club's free coronavirus hotline with questions or sign up for our free text alerts for breaking news.
Read More
New Coronavirus Vaccine Scheduler Lets You Find Appointments From Around Chicago
A Coronavirus Vaccine Is Coming. Here's Everything You Need To Know About Getting One In Chicago
Coronavirus Vaccine Available To All Chicagoans By End Of May? City Reveals Tentative Plan
Chicago's Health Care Workers Can Now Get Vaccinated Against Coronavirus. Here's How To Sign Up
Our work is made possible thanks to donations from people like you. Support high-quality reporting by making a tax-deductible donation today.                                                                                                                                   
Donate