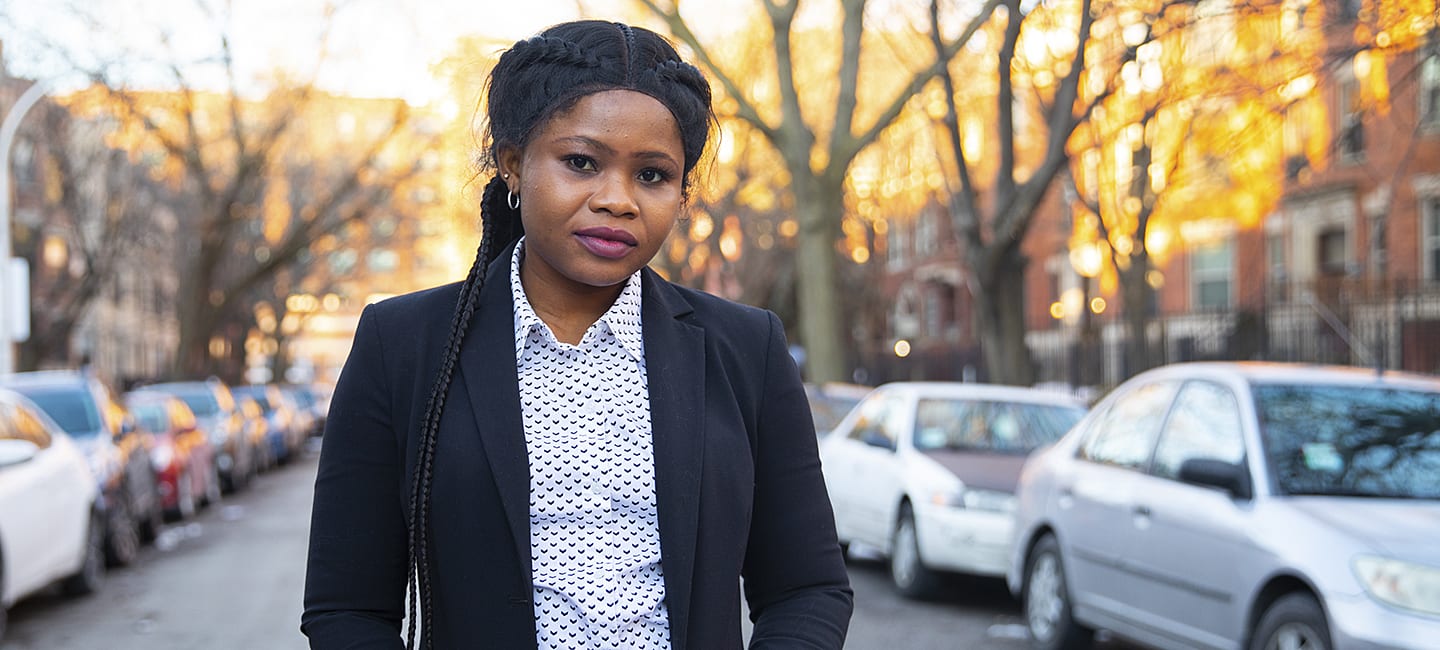 Davon Clark for Borderless Magazine/CatchLight Local Chicago
Vida Opoku near her home on the North Side of Chicago, Ill. on Jan. 21, 2021.
After fleeing domestic violence in Ghana, Vida Opoku found life and light when she immigrated to Chicago.
Vida Opoku left her home country of Ghana at the age of 17 to seek a better life. Fleeing years of abuse, she gave up her family and everything she knew in hopes of reaching the United States. Over four months, she made her way from Africa to South America to Central America, along the way facing jail, hunger, language barriers and an unclear future.
Since her arrival in Chicago in 2016, Opoku has confronted those challenges with ambition and education. The 22-year-old is now a student at Loyola University Chicago studying forensic science and hopes to help incarcerated people like those she met along her journey to Chicago. 
---
I grew up in a small town with almost no technology, schools without buildings and lots of child labor. I would help people with chores or work in local farms to bring food home. My father, a driver, was barely home. That is why families are separated: [People go] where they find jobs. 
I helped a family friend, a farmer and fisherman who gave me money and food in return. He had multiple wives and children, and he would call me his "future wife," which I thought was a joke. One day he locked me in his house, abused me and raped me. I had to live with him. I told my father I didn't want to, but my father said I had to stay because he owed the man money. I was 14 at the time, and he was in his 50s. Years later, I learned that my father had made an agreement with the family friend, that he would marry me when I grew up. 
One day I started vomiting and felt sick. One of the man's wives warned me that I might be pregnant.  
Later, after I had given birth, I was in the market selling fruit, and I saw my aunt from a distance. I had bruises on my face, my mouth was swollen and I'd lost teeth from the abuse. I told her everything, and she insisted I move in with her and consider leaving the country. But by then, I had my son at home.
What about my baby? I didn't want to leave my son. My aunt promised she would help after I left and get my son from my abuser. So I stayed with her for three months, and she arranged for me to go to Ecuador, one of the few countries I could go to where I didn't need a visa. 
That was not the first time I ran away from the abuser. The first time I came back. I'm sure he thought this time I was going to come back again.  
I left in September 2015, when I was 17 years old. It was the first time I ever took a plane. In Ecuador, I told airport security I was a student on vacation and that I would be back in Ghana in two weeks. The only money I had was for five days at a hotel. I had breakfast there every day and [saved] leftovers. 
Two days before my stay expired, I told a taxi to take me to any African restaurant. I arrived at a Nigerian restaurant and poured my heart out to the manager, saying that I don't have money or a place to stay. I needed a job. She felt bad and hired me. 
The manager explained that Ecuador is not a good place for me: I don't speak Spanish, I am young and I am prone to getting abused. She said she would help me go to the U.S. by connecting me to a man who smuggles people to Colombia. 
I had no idea what was going on. Where is America? How far is it? All I knew about the U.S. was that it is a great place, but I never thought I would see this land. I didn't know how many countries there were between Ecuador and the U.S.; I thought I could just go by bus. 
I got to Colombia and then was ready to go to Panama with a smuggler named Santiago. We were a group of 50 people in a boat, from Nigeria, India, Somalia and Bangladesh. Smugglers were collecting $450 from each person, but I didn't even have half a dollar. I started crying. So, I had to stay near the Colombia border for three more weeks until Santiago smuggled me in a small wooden boat. We hid in bushes, traveled by sea and through a jungle that took three days to cross. 
I begged on the streets in Panama City to get money to go to Costa Rica, then to Nicaragua. I lost everything. Smugglers put me in an ambulance to go to Nicaragua. From there, my group and I walked to Honduras. Some people died, which I don't want to remember. After being transported from Honduras to Guatemala by bus, everyone there was telling me they were going to either California or Texas. 
I got to the Guatemala-Mexico border in January 2016, and I took a taxi to the U.S.-Mexico border. I saw many officers in American uniforms, and I remember one asked me where I was going. I told him I am going to America. I know ICE and immigration officers are often like enemies, but this officer was supportive. He told me to take a nap before interviewing me, and he directed me to a place that would take me to Chicago. 
I didn't know what Chicago was, but I was doing everything anyone told me. He offered me good luck. I slept overnight at a warehouse filled with children crying and sleeping. I was provided with a foil paper as a blanket. The next day a Pakistani [immigrant] in a similar situation and I went to O'Hare Airport. People from Heartland International Children's Center [a shelter for unaccompanied migrant children] picked me up. 
Once I turned 18, I had to go to Douglas County Jail in Wisconsin because I had no shelter, and I was afraid I was going to be deported. Everyone in the jail had stolen things, robbed a bank or did drugs. I was just an immigrant. 
I met a superstar named Jajah. She was the deputy program director at the Young Center for Immigrant Children's Rights, and she became my advocate. Jajah never gave up on me. She worked on my case until I was bailed out on April 27, 2016.  
I was so excited when Jajah drove me to a shelter [provided by] Interfaith Community for Detained Immigrants. Apna Ghar also helped me find a home for three months, but then ICDI took me back because I was unable to go on on my own. ICDI helped me go back to school, and I received my high school diploma at Truman Middle College. In 2018, I enrolled at Truman College and played on the soccer team, which paid for my tuition. 
Now, at 22 years old, I have transferred to Loyola University Chicago to study forensic science. It would be nice to work for the CIA, FBI or to be a policymaker because there is so much injustice in America. When I was in jail I saw that many people needed help, and if people get the right help, it can change their lives forever. 
In Chicago, I've learned about the internet, computers, how to use the train and how to order a burger. I had my first pizza slice at 7-Eleven. I tried a burger at McDonald's and then applied there for a job; I picked up Spanish from my coworkers. There were culture shocks, though. In Ghana, I was taught to stand in class and speak loudly when the teacher asks you a question. When I did that in high school here, I got bullied. Students always spoke over the teacher and used the f-word in class, which was shocking. Also, when I took the bus, kids wouldn't give up their seat for an elder.  
Adapting to America and the pandemic has not been easy. I am seen as a stranger here. But I can say I always get support from the people that I have gotten to know. They always check on me, send me an email or cards. I think about my son, who is now with my aunt, and my family back home.
You never know what a person goes through. We have lost so much during this pandemic; it will take a lot of time to heal and get back to normal life. But this should be a lesson to everyone to appreciate those around you.
Our work is made possible thanks to donations from people like you. Support high-quality reporting by making a tax-deductible donation today.                                                                                                                                   
Donate