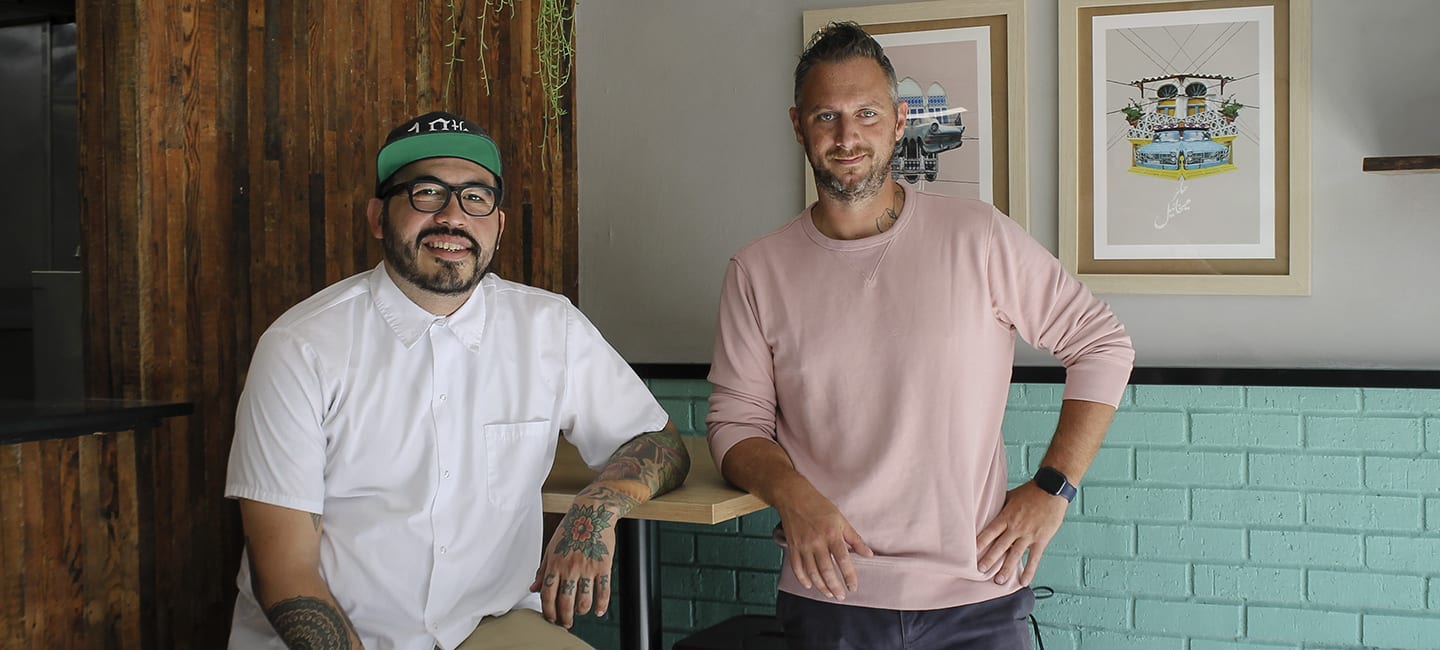 Diane Bou Khalil/Borderless Magazine
Chicago chefs Rafael Esparza and Mitchell AbouJamra drew on family recipes to create Evette's, a new restaurant that highlights Lebanese immigrants' contributions to Mexican cuisine.
Above: Chicago chefs Rafael Esparza and Mitchell AbouJamra in their new restaurant, Evette's, on Oct. 9, 2020 in Chicago, Ill. Diane Bou Khalil/Borderless Magazine
When you bite into a chicken taco árabes at Evette's restaurant, you are tasting over a century of the blending of Lebanese and Mexican cultures, say chefs Rafael Esparza and Mitchell AbouJamra.
The taco consists of cumin-marinated chicken wrapped in pita bread and was inspired by a dish created by Lebanese and other Middle Eastern immigrants who fled to Mexico during the Ottoman Empire.
For Esparza, who identifies as Chicano and whose family comes from Mexico, it's that hidden history of immigrants adopting and blending their cuisine in a new country that makes Evette's unique.
"I want customers to walk away with an understanding of the culture and identity struggle that children of immigrants had," said Esparza, who is co-owner of Evette's with AbouJamra. "Immigrant children try to incorporate their culture and assimilate even through food, Americanizing their food, like "taco pizzas," so we don't seem like weirdos." 
While taco pizzas are not on the menu of Evette's, which opens today at 350 W. Armitage Ave. in Chicago, Esparza and AbouJamra's Mexican and Lebanese heritage is front and center in the menu. 
Customers can choose from a variety of dishes that blend the chefs' immigrant and Midwest roots including pita nachos, halloumi tacos, and baklava shakes. The nachos, made with fried pita bread, are covered in a special sauce from a family recipe passed down from Esparza's grandmother.
The idea for Evette's came from AbouJamra, who dreamed of starting a restaurant that would blend his own family's cooking with other cultures. The restaurant is named after AbouJamra's grandmother. 
---