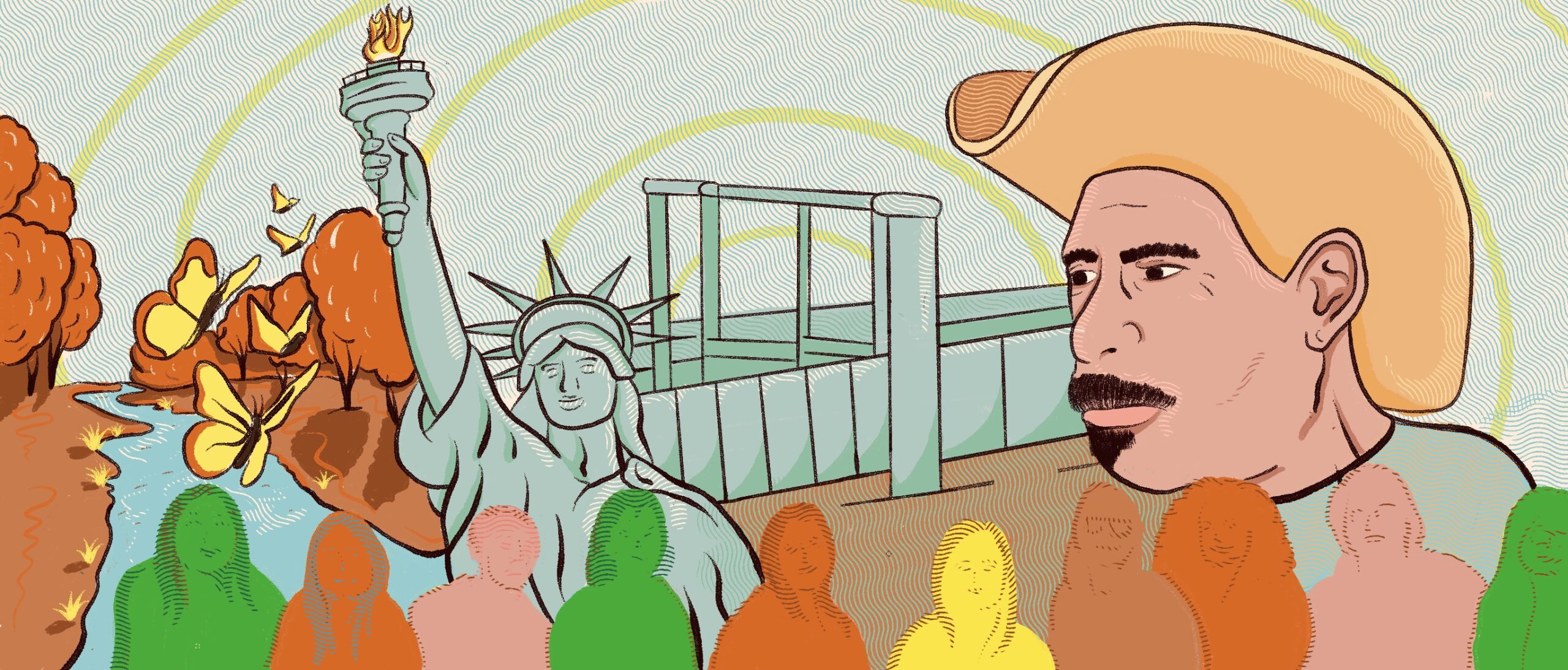 From volunteer to a lawyer, Linda Rivas is fighting the uphill battle for immigration reform.
Above: Las Americas employees in front of a mural by Cimi Alvarado outside their office.
Illustrations by Brian Herrera/Borderless Magazine
Linda Rivas dreams of a future in which her job is no longer necessary. The executive director of Las Americas Immigrant Advocacy Center—a Texas law office for low-income immigrants—is an immigrant herself. When she was young, Las Americas assisted some members of her family, inspiring her to help communities in despair. She is now dedicated to providing legal assistance to immigrants who are held in detention centers in El Paso.
---
I was born in Pachuca, Hidalgo. My father was Mexican and my mother was an American citizen. I came to El Paso when I was four, and I acquired citizenship. My mother managed to grant me and my father our American citizenship all by herself. She didn't use an attorney.  
In the '90s, some of my other family members received help from Las Americas to file immigrant petitions, which changed their lives. And that always really stuck with me. I remember they would say things like, "Le tenemos que llevar esto a la abogada." ("We have to bring this to the attorney.") And I think about that when our clients call; sometimes they're stressed and distressed because there are so many policy changes right now. Managing what they are going through is something that is very near to my heart because my family went through it as well. To be able to come back and be a part of this is very much a dream come true. 
I was intrigued by how my family's abogada held so much power in shaping their life. And I wanted to be someone who could help families like mine. I decided to go to law school, and I looked for some volunteering opportunities. In college, I hadn't had much time to do extracurriculars: My mom had recently died, and I really took on caring for my younger brother who has ADHD. Once he got older, I finally had the opportunity to volunteer with a migrant shelter.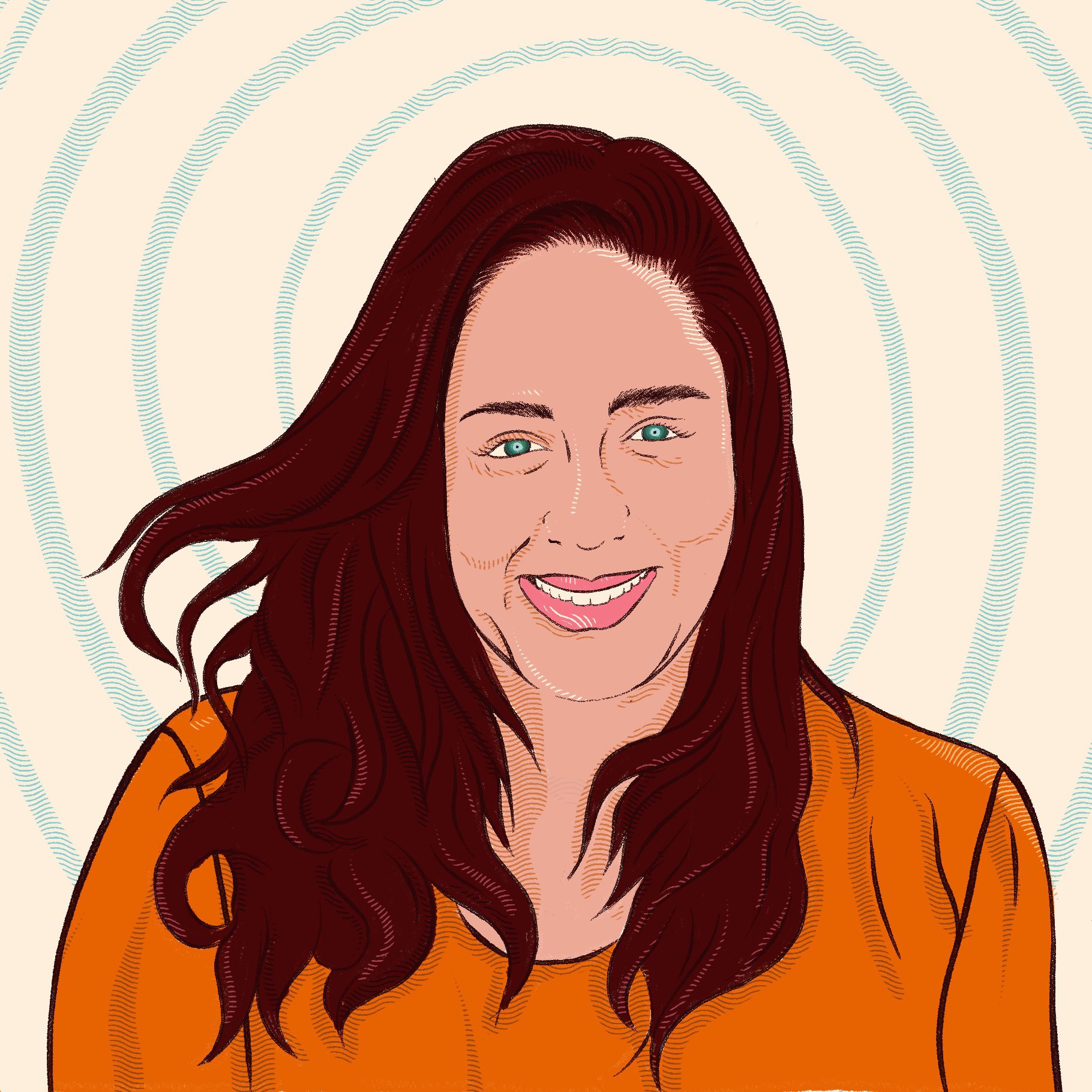 After volunteering there, it's like I was bitten by a bug. I just knew that this was a space I wanted to be in. These people need somebody to accompany them throughout the really difficult, complicated journey of navigating the U.S. immigration system. And as a volunteer, you navigate between thinking: "Do I have a savior complex? Or am I truly empowering people?" 
That's why I always say that it is an honor to serve the people we get to serve. We empower them by walking them through this very complicated legal process that's designed for them to fail. If we're able to break that, and get them any sort of legal status or get them out of a dangerous situation—for me, that's all I set out to do. A very frustrating part of this job is seeing how a lot of people think that immigrants are undocumented because they want to be, and that if only they had all the rules, or had waited in line, or had just filed the proper papers, they'd be fine. That's not the case. 
I lost my mom when I was 17, then my dad about four years ago. That's been hard. But at the same time, this loss helps me relate to my clients. They, too, suffer a great loss by leaving their home country. 
In my nearly six years with Las Americas, one case that has really impacted me is the case of Alía and Maria. Maria and her children came to the United States in 2014 after her husband was killed in their hometown of Ciudad Juárez, and they applied for asylum. While they were trying to navigate the court system, Maria's six-year-old daughter Alía was diagnosed with a very serious form of bone cancer. The family lost their case at a very early stage, and they came to Las Americas. We fought a lot, and as Alía's cancer worsened, Maria faced deportation. We petitioned ICE for her stay of removal. They said yes. 
We fought hard, and they allowed her to stay for six months. Then Maria ended up remarrying her former husband, who is the father of her first two daughters. Because he is an American citizen, we were able to help her attain immigration status. If she hadn't married him, I don't know how much longer we could have protected her from deportation. To me, Maria shows the perseverance of a mother who is a fighter. She is a portrait of a refugee who is doing all she can in the worst of circumstances. 
I think about what our future could be like if we had true immigration reform. What would it mean if we had a moral ability for people to live safely in this country, to not have to live in the shadows, to not be scared of deportation? I think about how much they could grow and flourish. 
We're really losing the opportunity to honor them and allow them to truly be a part of the success of communities around the country. Plenty of immigrants have contributed to our community. These are people who have raised doctors, nurses, and teachers. They own property and open businesses. I look at their lives in a packet that I present to the government to ask for their citizenship. To me, this packet represents so much strength and resilience.
I love working in Las Americas. It represents a lot of hope in the community; it offers some of the first defense against harmful policies that target refugees. But we want a future where Las Americas doesn't have to exist. We want a future where migration is a human right, and it is recognized as such. We want a future where we don't have to continuously be in this fight—where the fight has already been won. And that's definitely a future that we continue to dream about. We're nowhere near the end right now.
Our work is made possible thanks to donations from people like you. Support high-quality reporting by making a tax-deductible donation today.                                                                                                                       
Donate