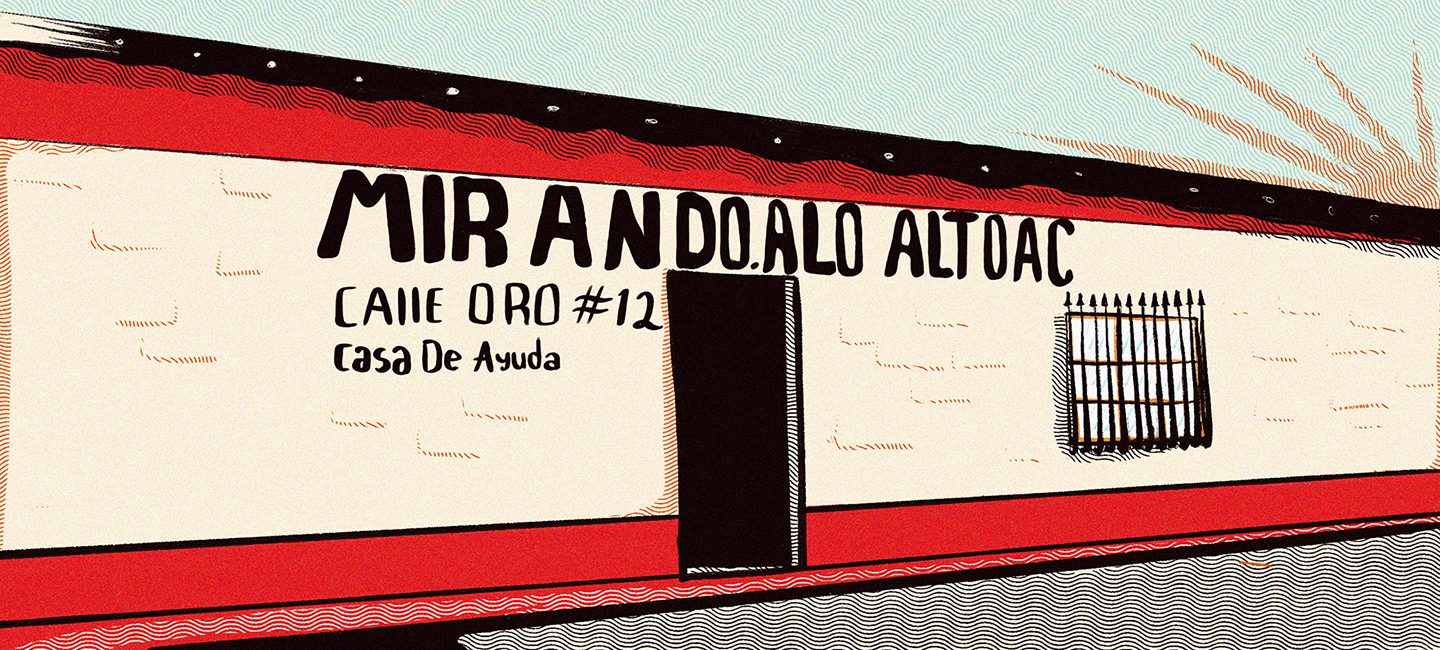 Jesús "El Caracol" Tavizón Rodriguez has housed and fed thousands of immigrants in his shelter in Ciudad Juarez, Mexico over the last 20 years.
Illustrations by Brian Herrera/Borderless Magazine
In his younger years, Jesús "El Caracol" Tavizón Rodríguez was known as "The King of Pickpockets." His life was filled with crime, violence and drugs. After multiple attempts at rehabilitation over the years Caracol found religion and a new reason to live: providing housing to hundreds of homeless people and deported immigrants. 
Caracol, 59, can see the border wall through the windows at Mirando a lo Alto A.C., the shelter he runs in Ciudad Juárez, Mexico. The United States seems so close, but for the people Caracol helps it's impossibly far away. 
---
If I am being honest, never in my life did I imagine I would be doing all this. We host deported people from everywhere. People come from Brazil, Cuba, Venezuela, the south of Mexico, and many other places. When they arrive here they can see Trump's wall and they get excited. But it makes me sad when they manage to leave the shelter and cross the border only for the U.S. to send them back again. 
This morning the shelter is quiet. Just a handful of people and Alejandro are here. Alejandro came from Mexico City 10 years ago. He crossed the border and then got deported. He came to my shelter and little by little he lost his mind. Now you can't even have a conversation with him. Alejandro is always walking by the border wall. Sometimes he is gone for weeks, but he always manages to come back. This is his home.
I have never crossed the puddle myself.  My youth was filled with bullets, stabs, guns and blood. But God always protected me. You see all these scars, they are my battle scars. 
When I was 14, I started to dabble in the art of pickpocketing. I got to visit plenty of parts of Mexico. I used to travel doing what I'd call "stealing campaigns." That was a very intense life that brought terrible consequences. The money you earn easily is lost easily. I got addicted to alcohol, cocaine and heroin, and I became an evil person. It was a tough and difficult life. 
I hurt so many people, physically and emotionally, especially my last wife. We were married for 20 years. Then my son fell into the world of drugs as well. For me, that was the last straw. I hit rock bottom and down there I met God. 
God ended my addiction and my life of crime and I joined the church. It was my only way out. Then I went to rehab and managed to become sober. It was a struggle, but I overcame it. 
After that I met a man that ran a rehabilitation center and decided to help him. My dream back then was to run one. But my plans changed to a shelter when I realized that immigrants needed a place to eat and sleep. I never refuse anyone who wants to stay here.
When we first started this shelter twenty years ago the place was a shack. It didn't even have a roof. As years went by we managed to somehow fix the place up. I now live here but we don't receive much help. We survive on people's donations. The government tells us we don't qualify as an organization to them because we don't have an accountant. Every time I try to register the shelter in the state they send us back the paperwork. The excuses they give are endless and we are unable to get help from them. 
But there are so many people in need, especially immigrants who aren't from anywhere near here. I always tell people to bring us some food and that God will provide us with the rest. That is how we've managed to provide food and shelter to thousands of immigrants throughout the years. Sometimes we have over 150 people and we have to take the tables out in the backyard to share the food. But there is always enough food when it is shared. It is a miracle. 
Today around noon there is a group of deported immigrants arriving. I don't like the "gringos." They treat our people very poorly. All my people want is to go there and work for them. 
Border Patrol sends them back and they arrive here very dehydrated and hungry. We have food ready for them. That way they can feel like they came back to something good.
Mirando a lo Alto A.C., +52 1 (656) 194-2499
Our work is made possible thanks to donations from people like you. Support high-quality reporting by making a tax-deductible donation today.                                                                                                                       
Donate