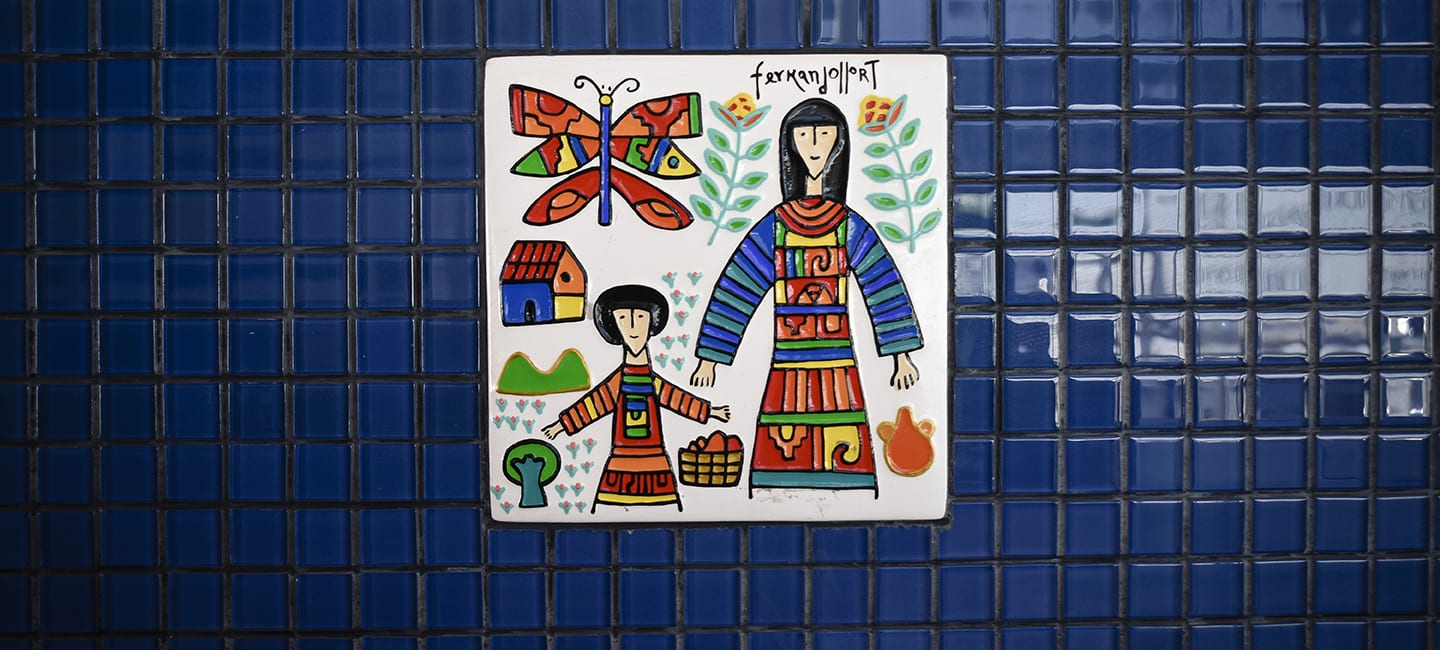 Francisco Velazquez/Borderless Magazine
Madison's Finca Coffee celebrates its first anniversary with authentic pupusas and coffee beans bought directly from farmers in El Salvador.
Above: Tile designs by Fernando LLort, a Salvadoran artist and former member of the '70s band La Banda del Sol, at Finca Coffee July 4, 2020 in Madison, Wis. According to LLort, the tiles reflect colorful, childlike representations of El Salvador. Francisco Velazquez/Borderless Magazine
Finca Coffee is tucked into a new apartment complex on the south side of Madison, Wisconsin. 
The one-year-old cafe's sun-soaked walls are bursting with color and covered with tiles designed by Fernando LLort, a Salvadoran artist and former member of the '70s band La Banda del Sol.
Finca means "farm" in Spanish and the cafe is designed to evoke the hip feel of a cafetería that could be found walking the streets of San Salvador, El Salvador.
Sitting on the bookshelf near a record player is a glass sculpture of El Salvador's national bird, the torogoz, with its double tail feathers. 
But a year after first opening the cafe, like so many other businesses, is struggling due to the ongoing coronavirus pandemic. Co-owner Marleni De Valle is behind the kitchen's indigo countertop making one of her famous pupusas when Borderless stops by to chat.
"They are more than just handmade tortillas stuffed with ingredients, "They are my mother's recipe," Marleni De Valle said. "I feel happy being able to share that authentic Salvadoran flavor. My mother's kitchen recipes are sacred. They're culinary secrets."
Pupusas, which are considered El Salvador's national dish, are more than just handmade tortillas stuffed with ingredients, Marleni De Valle says. They're her signature dish and she packs them with cheese, beans, or meat, or a mix of the three. 
Marleni De Valle wants to expand the cafe and open locations elsewhere in the Midwest, including Chicago. She'd also like to bring her mother to Wisconsin from El Salvador so that she could visit the cafe and see customers enjoying her famous pupusas. But many of those plans are on hold due to the uncertainty of when the pandemic will be over. 
Finca is one of only a handful of Salvadoran restaurants in the Madison area. Its customers are a mix of Salvadoran immigrants as well as people who may be unfamiliar with the Central American country's cuisine.
"It makes me happy to see that people eat something and they're like 'Wow, I like this,'" said Marleni De Valle. 
Marleni De Valle prides herself on the quality of her cafe's food and drinks. She and her husband, Silas De Valle, and their general manager, Todd Allbaugh, carefully source each ingredient.
For instance,  before the pandemic the De Valles bought their cafe's beans directly from farmers in El Salvador as a way to help support the livelihoods of coffee pickers, who are often women, said Allbaugh. It's a labor intensive job requiring harvesters to climb steep hillsides to get to the coffee trees and then carrying heavy bags of beans over their shoulders.  
"By [buying from farmers], we cut out the middle person buyer that most companies use," Allbaugh said. "We pay a higher price per pound, this way we help create at least five jobs down there."
However the business has taken a hit during the ongoing COVID-19 pandemic. Finca Coffee was completely closed from March 23 until May 27 and only reopened at the end of May for pick-up orders and outdoor dining. The business only made half their regular earnings via these sales. The cafe has also struggled to source its coffee beans from El Salvador since the virus has spread across the globe more and the couple have had to look elsewhere for coffee beans.
Finca's origin has its roots in a friendship sparked nearly over 30 years ago after Silas De Valle first received a USAID scholarship to attend University of Wisconsin in Richland. In 1989 he left his home in Metapan, El Salvador — a border town 7.5 miles from Guatemala — and arrived at the home of his first host family. He stayed for six months. After Silas De Valle met Allbaugh they became close friends and he spent the remainder of his studies living with his future general manager's parents. 
When Silas De Valle went to visit El Salvador in the winter of 1991 Allbaugh joined him. The country was in the midst of a 12 year civil war and Allbaugh called the trip an "awakening moment" for himself. 
"I went down during Christmas and realized that you don't need a Christmas tree. You don't need a big deal. Just people that love you unconditionally and some beautiful weather," Allbaugh said. He has since returned to El Salvador nearly 40 times.
Silas De Valle returned to El Salvador in 1993 and had a 21 year career in finance for organizations including Hanes and UW-Madison.   
During that time Marleni and Silas De Valle also launched a small advertising company which they continue to operate.
When the couple moved back to Wisconsin in 2017 they wanted to open a cafe with Allbaugh. By July 2019 Finca opened its doors to the public.
"Things were excellent," said Silas De Valle. "We sold more than we had. The space was full and our new customers were recommending us to their friends. We thought the dream was to break even, and we did."
Now the cafe is adapting to the new normal of social distanced dining and face masks. Yet customers like Denise Benitez are thankful Finca Coffee remains open despite the new challenges it faces.
"It's my bit of peace in these hectic times," said Benitez.
Our work is made possible thanks to donations from people like you. Support high-quality reporting by making a tax-deductible donation today.                                                                                                                       
Donate