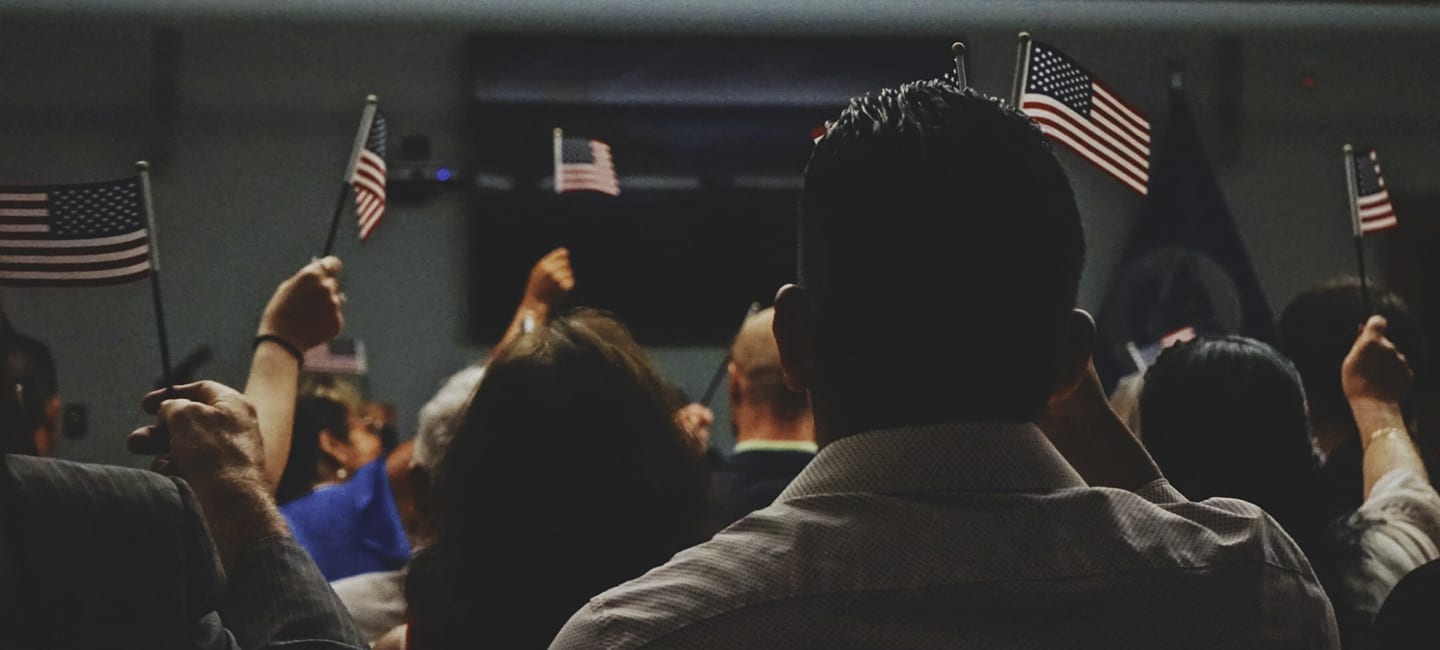 Immigration advocate Fred Tsao reacts to Trump's new immigration ban and shares his hopes for a better future.
Above: Photo by Elias Castillo on Unsplash.
President Donald Trump announced a new immigration ban Tuesday evening. Anyone applying for a green card will need to wait at least 60 days until the temporary ban is lifted.
The announcement followed a tweet late Monday night in which Trump said he'd sign an executive order "to temporarily suspend immigration into the United States" in order to slow the spread of COVID-19.
Immigration has already been stalled in the United States because of the coronavirus pandemic and steps the Trump administration has taken to curb both refugee admissions and asylum processing. 
In light of the new executive order Borderless Magazine asked Fred Tsao, senior policy counsel at the Illinois Coalition for Immigrant and Refugee Rights (ICIRR), how Trump's latest immigration ban will impact people.
---
Borderless Magazine: How does the latest ban fit into the larger framework of Trump's policies regarding immigration and his administration's handling of the coronavirus pandemic?
Fred Tsao: It says more about him and his mindset than the real needs of this country. Instead of continuing to try to identify testing resources and mobilizing key industries to produce health care resources, he's trying to play to his base and continuing to demonize immigrants.
Our country has a long, somewhat uneven, but really proud tradition of welcoming people who are seeking safety. That's not to say individuals trying to come here should not go through a health screening or that we should not take measures to ensure that they're not going to pose a danger, because we absolutely should.
But to shut things down entirely is a very steep and dangerous overreaction to the threat. 
When thinking about shutting down our southern border, we have many more COVID cases in the United States than in Mexico. In fact, we are exporting the coronavirus to countries in Central America. 
Let's not lose sight of people who are trying to seek safety or people who are trying to be reunited with their families by coming here. Or for that matter, people who are filling key roles in our economy.
Borderless: How has the COVID-19 pandemic impacted immigrants here?
Tsao: The pandemic has revealed many disparities in our society. Not the least of which being the excessive percentages of cases and fatalities among our communities of color— both African Americans, Latinx and to some extent Asian communities as well. 
On top of that, many immigrant families are outright excluded from many of the measures that the federal government has taken to provide relief. Mixed status families and undocumented families are just left out of the IRS payments. Undocumented workers are generally ineligible for unemployment benefits. The public charge rule continues to cause confusion among immigrants who may want to pursue COVID-19 testing or health care. 
People are hurting. They're without work and without income. And particularly among undocumented immigrants there's no relief available. So the question we're asking is: How can communities come together to support those among us who are not able to support themselves in the moment? Can we pool our resources? If one person does not need the IRS payment, can that be donated to help support others? These are the kinds of things that are on our mind.
Borderless: Last month ICIRR launched the "Everybody In" campaign in response to the pandemic. What's its goal?
Tsao: Much of our bread and butter is advocating for strong, pro-immigrant policies. We knew we needed to provide a response for all levels of government to assist and support immigrants during this time. Some of the ideas are pretty obvious, like increasing access to COVID-19 testing and treatment. Others may not be so clearly germane, but are important. Like extending immigration statuses and work permits while immigration services are shut down. 
We are also advocating for the safe release of as many people in immigration detention and criminal custody as can be done to prevent the spread of coronavirus. We are detaining way too many people. Most, if not all, people in immigration detention do not need to be there. The only people who are really benefiting from the detention system are the private prison companies and jails that get paid to house detainees. 
Many of the people in detention can safely be returned to their communities and their families or can be provided shelter though other arrangements that actually tend to their needs as opposed to just locking them away. 
Borderless: What makes you hopeful during this difficult time?
Tsao: People are coming forward and wanting to provide help to those who are in need and who are less fortunate. All of our member organizations have gone to remote work so they're not able to see clients in their offices, yet they are still in contact with their clients. They're still assisting communities and trying to run classes and help people fill out their immigration paperwork and citizenship applications. Despite all of the obstacles that are in place now that work is continuing.
I'm also heartened by so many people participating in our virtual action day. Who are eager to start planning for our electoral work in the fall or maintaining the census outreach work that is still happening. 
We're not knocking on doors in neighborhoods. But many of our census partners are actively running phone banks and social media campaigns and other forms of outreach. If the census response numbers are any indication, that work has paid off. That's kept me hopeful as well.
Finally, this is an opportunity to dream bigger. We can envision a society more compassionate which provides real and deep support for people of need. That is willing to take a hard look at racial and economic disparity. We need to be ready to roll up our sleeves to fix these underlying problems and not count out or exclude anybody based on race, ethnicity or economic status. As a society we need to truly realize that everybody should be included.
Fred Tsao will join Borderless Magazine Executive Director Nissa Rhee next Monday April 27 for a conversation about immigration hosted by New America and The Chicago Community Trust. RSVP for the virtual event here.
Have questions about the coronavirus and how to protect yourself from COVID-19? Read the CDC's guide to the coronavirus here.
Our work is made possible thanks to donations from people like you. Support high-quality reporting by making a tax-deductible donation today.                                            
Support Us