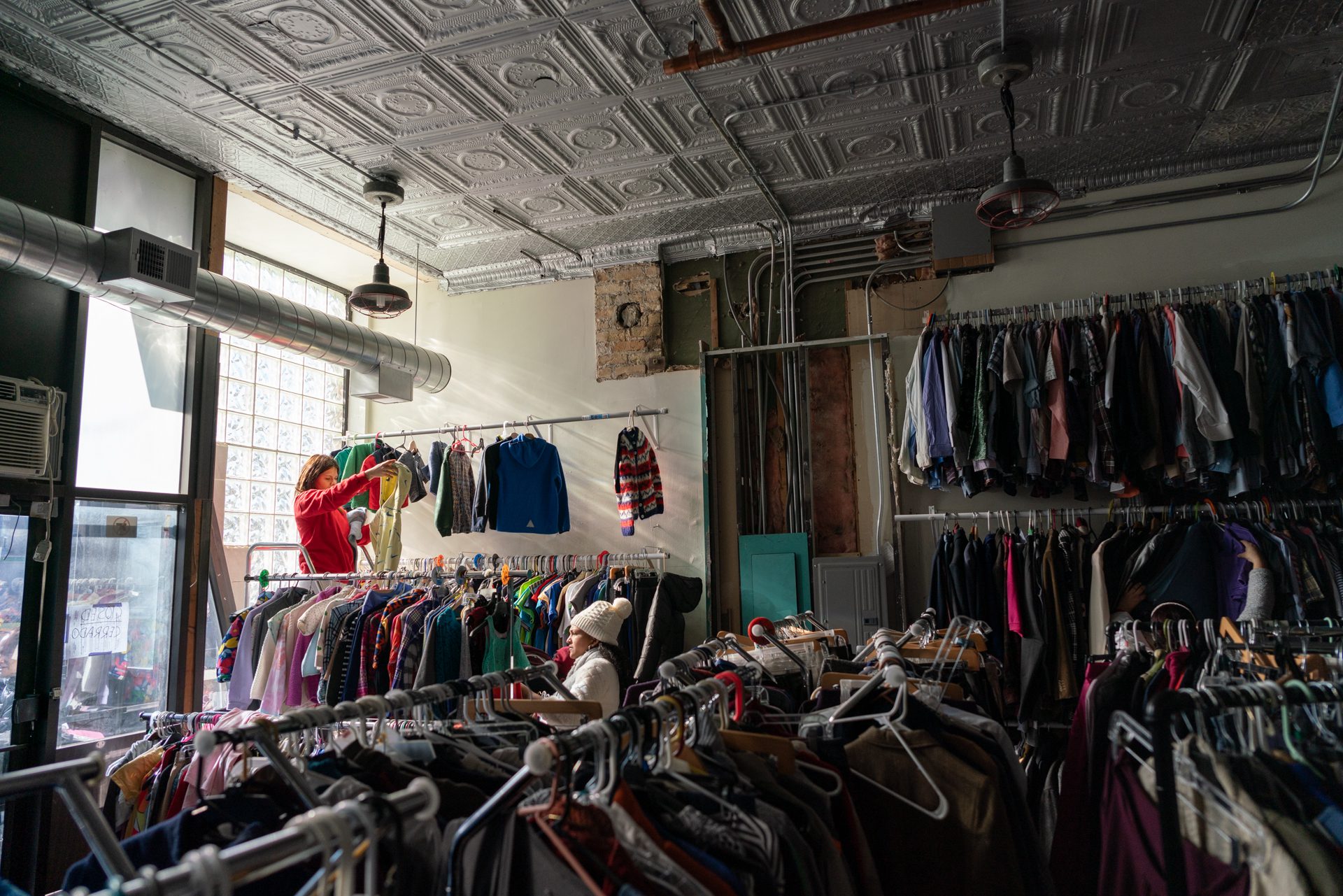 Max Herman/Borderless Magazine
Clients browse clothes at the free store located inside the Pilsen Food Pantry on November 14, 2023. Around 50 people visit the free store each day, says volunteer coordinator Veronica Saldaña.
The Pilsen Food Pantry provides essentials, including food, clothing, and sleeping bags, to new migrants living in local police stations and shelters.
On the corner of 21st St. and Ashland Ave., Yuraisy Rodriguez waits outside the Pilsen Food Pantry's clothing shop on Chicago's Lower West Side. She hopes to find coats for her brothers, who are making the journey to the United States from Venezuela.
Every week, anticipating their arrival, Rodriguez stops by the shop, sifting through clothing racks to find items their size. For people who are just arriving, Rodriguez said, "it's difficult…They come with nothing, just the clothes on their backs.
Want to receive stories like this in your inbox every week?
Sign up for our free newsletter.

The resources at the pantry, she said, have helped her and other Venezuelans looking to find stability. "They are giving clothes, blankets, gloves, hats — all of it," Yuraisy said. "Thank God for this type of help."
In September of last year, the Pilsen Food Pantry established a program dedicated to supporting migrants with necessities — including food, clothes and sleeping bags — filling a gap in support from local, state and federal governments.
The Pilsen Food Pantry was established in 2018 by family physicians and spouses Evelyn Figueroa and Alex Wu under the Figueroa Wu Family Foundation to address food insecurity and provide access to clothing and health care to individuals in need in the majority Latino neighborhood. They see nearly 800 individuals each week at the food pantry and average around 11 new clients weekly, most of whom are migrants new to the Chicago area and needing essentials. 
Both Figueroa and Wu come from immigrant families and have dedicated their personal time and professional careers to caring for vulnerable individuals. Through their work in exceptionally low-resource environments, the pair found that addressing the social issues surrounding individuals experiencing extreme needs was also a part of basic medical care.
This was the impetus for establishing the food pantry.
Max Herman/Borderless Magazine
In its first year, the Pilsen Food Pantry saw around 6,000 people walk through their doors. Five years later, that number has increased nearly 400%, in large part due to the dramatic influx of Venezuelan migrants coming from Texas. 
Over 20,000 migrants have arrived in Chicago by bus since August 2022 under Texas Gov. Greg Abbott's orders. This has strained many local resources and organizations aiming to help provide basic human necessities to immigrants. But organizations like The Pilsen Food Pantry are not giving up. 
Read More of Our Coverage
Open for those in need
On a recent Thursday, Indira Linares spent more than an hour on the bus to get to the food pantry from Chicago's North Side. She joined the line down the block, waiting with about 100 people needing groceries and clothing. Since arriving from Venezuela, the 50-year-old has spent countless hours looking for a job. In the meantime, she has relied on the pantry for essentials.
"For people with few resources, it's a very big help," she said. 
The Pilsen Food Pantry ensures that everyone who comes through their doors is provided with a "dignified experience," said Dr. Figueroa. The food pantry aims to be both responsive and inclusive. When individuals walk into the food pantry, they are greeted by friendly staff and volunteers who speak a mix of Spanish, English, Taishanese and Cantonese. They can select from free clothes — including jackets, new underwear and cold-weather essentials — along with fresh produce, meat and other sustenance. 
"We don't turn anyone away," said Veronica Saldaña, The Pilsen Food Pantry's nonprofit volunteer coordinator. "We serve anyone who walks through the door." 
And while the Pilsen Food Pantry processes over 30,000 pounds of food every week for individuals in 10 different Chicago shelters, their work doesn't stop there.
Max Herman/Borderless Magazine
There are currently around 1,800 migrants using 22 local police stations for temporary shelter while they wait for more permanent living situations.
Initially, Dr. Figueroa had been going to the Chicago Police Department's District 12 station to provide medical assistance and answer questions to those in need in partnership with the Mobile Migrant Health Team. But she saw there was more that Pilsen Food Pantry could do to help these individuals without clothes, bedding and hygiene essentials.
The Pilsen Food Pantry — in partnership with the local mutual aid network — responded promptly to the growing need and now provides meals, drinking water and ice, sleeping bags, hygiene kits, clothing and yoga mats for individuals and families taking shelter at the local station.
Since May 2023, numbers have exceeded 2,500. They launder and clean all the sleeping bags and yoga mats, used for sleeping, so they can be used again, and operate as a hub providing storage for supplies to the asylum seekers at the District 12 station. 
Additionally, The Pilsen Food Pantry has a fund specifically for caring for migrants. This allows them to purchase any additional supplies needed and fill potential gaps in donations.
Max Herman/Borderless Magazine
'It's Not Humane to Let People Live this Way'
The number of migrants coming on buses from Texas has begun to decrease, along with the number of individuals staying in police stations. This is a positive sign for organizations like the Pilsen Food Pantry, whose resources were being stretched thin. But Dr. Figueroa wants people to get past the rhetoric that there were never enough resources to go around. 
There are current efforts to repeal Chicago's sanctuary city status, predominantly sparked by the recent increase in migrants. But to Dr. Figueroa and other immigrant advocates around the city, scaling back or repealing the status would not only be a dangerous and unjust decision but would also incorrectly point the blame at migrants simply seeking refuge.
"If people don't think that they have enough, then we need to work together to figure out how to get them what they need," said Dr. Figueroa. "But it's not by depriving another group — just because we deprive the newest Americans doesn't mean you're going to get more, it just means they're going to get less."
Photo courtesy of Evelyn Figueroa.
Instead, Dr. Figueroa wants everyone to see our newest residents as our neighbors, to look toward local, state and federal government to define what a sanctuary city is, and to provide the basic human needs everybody should have. She says that housing is an obvious necessity for everyone, along with healthy food, clothing and health care. 
"In healthcare, housing is the root of so many disparities or health successes, and we know that this is common sense that if people don't have housing, they can't work on all the other things in their life, their life becomes much more chaotic, they don't have security, they don't have privacy, they can't preserve food," she said. "We report each other when we leave dogs outside, so I just don't understand this. It's just not humane to let people live this way."
As the weather gets colder, the need for housing and other necessities only intensifies. And while the goal at temporary shelters like police stations is to get as many people as possible inside and away from the elements, overcrowded spaces mean that many people end up outside with only hand warmers and layers to keep warm. 
"I know that things were very bad for these people to leave their homes and come to Chicago, but there's no way that anyone expected it to be this hard," said Dr. Figueroa.
The Pilsen Food Pantry will continue to serve its neighbors and try to make them as comfortable as possible through the winter months. Some of their most needed donations are new or clean sleeping bags and new thick yoga mats. You can find a list of other donation requests here.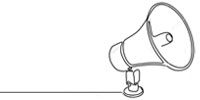 Bring power to immigrant voices!
Our work is made possible thanks to donations from people like you. Support high-quality reporting by making a tax-deductible donation today.