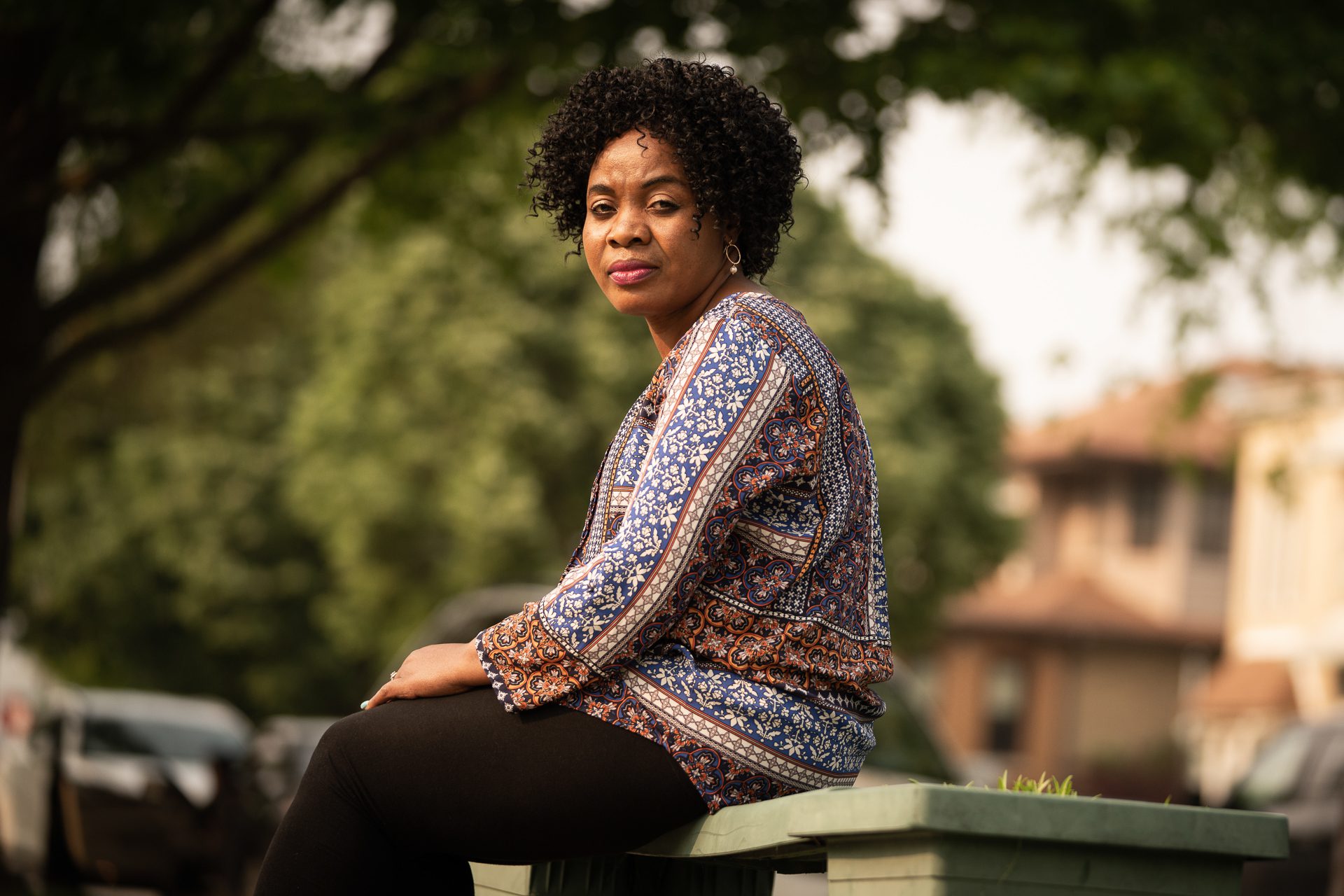 Martine Séverin for Borderless Magazine
Agnes Kanjinga outside her home in Skokie, Ill. May 19, 2023.
She left Congo to escape ongoing violence. In search of a safe home for her children, she came to Chicago and found her community.
Pew Research estimates 1 in 10 Black people in the United States is an immigrant. In Black Immigrants Today, Borderless Magazine spoke to Black immigrants around Chicago about their homes, their lives, and the challenges they faced coming to the U.S.
Agnes Kanjinga knew no one when she came to Chicago with her brother and three children. Kanjinga, who is of Congolese descent, arrived in the city as a refugee from South Africa.
She left the Democratic Republic of Congo to escape ongoing violence. Despite her years on the move, she's been able to connect with people who speak her language. Today, Kanjinga runs a busy home in suburban Skokie where she cares for three children and works as a nursing assistant.
Kanjinga talked to Borderless about growing up in Congo, her search for a safe home for her children and how she's found community since coming to Chicago.
Get Borderless in your inbox
Sign up for our free newsletter. Each Thursday we share ways to support immigrant organizations and stories about our communities.

I came to the U.S. in 2016 through an Ethiopian agency after registering with the United Nations. They picked Chicago because of the Ethiopian community already there. We lived in Evanston at first. I came with me, my three children, and my younger brother. I was both happy and nervous. I was nervous to see what could happen in America.
I was born and went to school in Congo. I grew up in the city of Lubumbashi with my parents. I had a big family. I was young and staying in my fathers house, and in total we are nine. I had my parents and didn't think anything bad of the country then. My dream was to become a doctor, but my dad passed away and I had to help my mother. So there weren't that many possibilities for me to go and continue with my education. Congo at the time were people fighting. I was around 24 when I moved to Zambia in 2007, I was there for one year.
I lived in Durban, South Africa after 2007. I didn't know anyone when I moved. The father of my children had gone to South Africa. I was looking for him, but I didn't know where he was. Some family in South Africa agreed to let me stay in their house with my three children for one week so I could figure out how to find their father.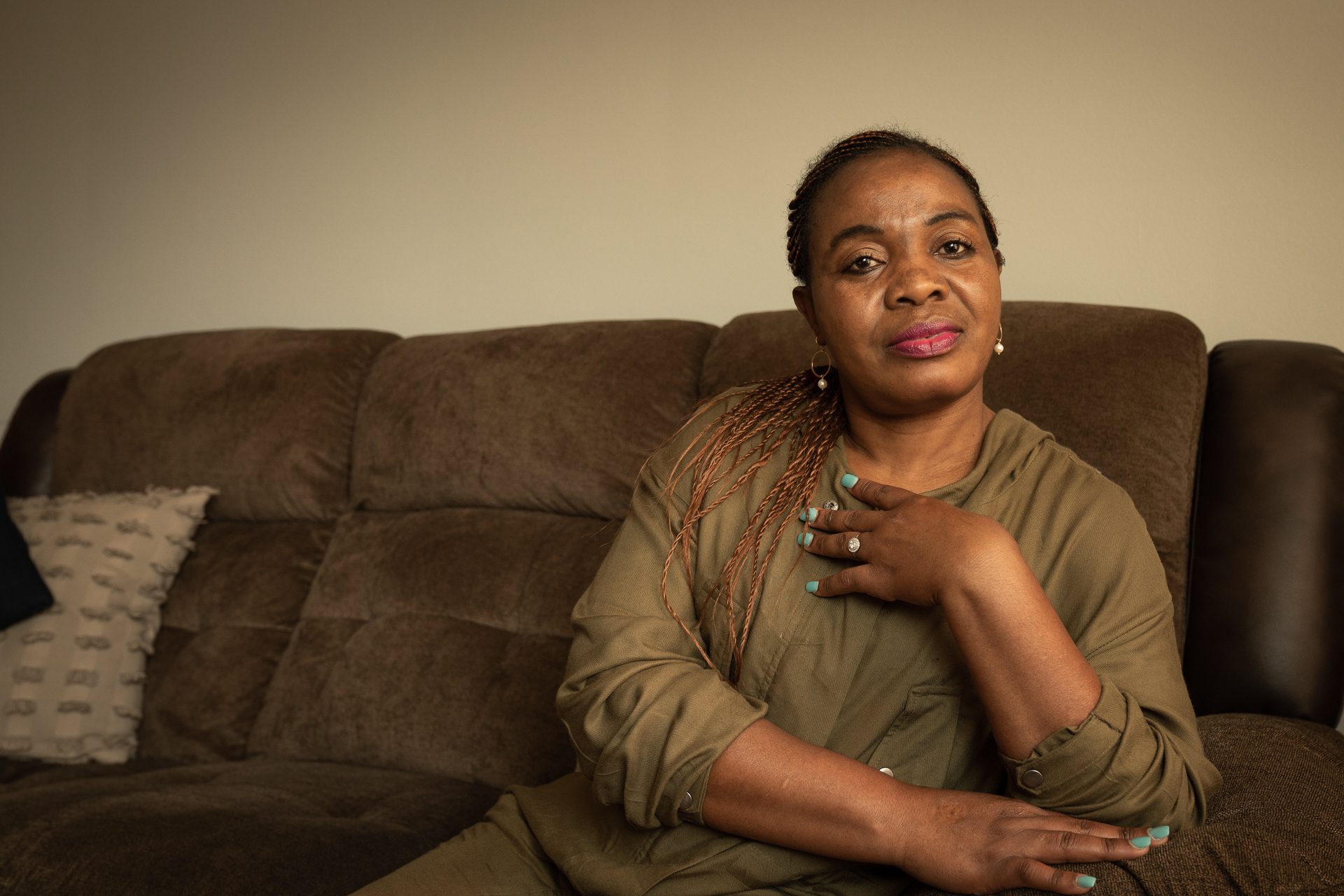 Martine Séverin for Borderless Magazine
It was not easy because he was living in another city. A city that was really far. Like the distance from Chicago to somewhere in California. I was new to the area, I didn't know how to use the bus or the train. I didn't know the language. My daughter was only 6 months old at the time. But I went and found him living with his friends, so I moved in with them until I found my own apartment. I found work as a tailor, sewing from 7 a.m. to 6 p.m.
Our time in South Africa was so nice, this was before the xenophobia started. That began around 2015. There was no peace or protection. The Zulu people could be dangerous. They didn't want foreign workers in the country. If you work with them, and they don't like you, anytime they could kill you. Sometimes it was not safe, that was the challenge for us. When my kids would go to school I was scared and prayed for them to come back safe.
It took three years to finally move to America for our safety. The process was not easy because you had to have a direct connection with someone at the place where you go and register. My friend called, and said the United Nations High Commissioner for Refugees (UNHCR) were working at a church and helping refugees. Because I worked so many hours during the day, we had to go at night. It was around 10 at night when I went with my younger brother to the church and took their phone number.
Martine Séverin for Borderless Magazine
My migration was through them. I registered first and started the process with an interview. When I came to Chicago in 2016, UNHCR helped with my rent and helped me find a job. Usually they only help for like three months, but they helped me for six months.
I found a community here when I arrived. I found a friend close by my house in Evanston, she was a Congolese refugee like me. I met her while dropping my kids at school. During a RefugeeOne Zoom meeting, I volunteered to care for an elderly woman. She is from the Congo too, but came here long ago. She can't speak English, but she knows my language.
I met Emma Yaaka at Aramark, we worked together then. It was our first entry job, Aramark tends to hire migrants. We cleaned and did housekeeping. He spoke my language, and everytime someone speaks my language I'm happy to be close to that person. Sometimes me and Emma work in the community together. We speak, and sometimes I talk to families he's working with.
Emma and I worked with Aramark for around two years, and after that moved forward with school and got our certificates. Then we started new jobs. I'm a certified nursing assistant now and want to be a licensed practical nurse. My second son is in college. He attends Oakton Community College. My dream is for my kids to have a nice education, progress in their lives and have the American dream.
This story was produced using Borderless Magazine's collaborative as-told-to method.  To learn how we make stories like these, check out our as-told-to visual explainer.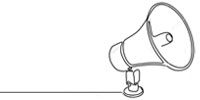 Bring power to immigrant voices!
Our work is made possible thanks to donations from people like you. Support high-quality reporting by making a tax-deductible donation today.