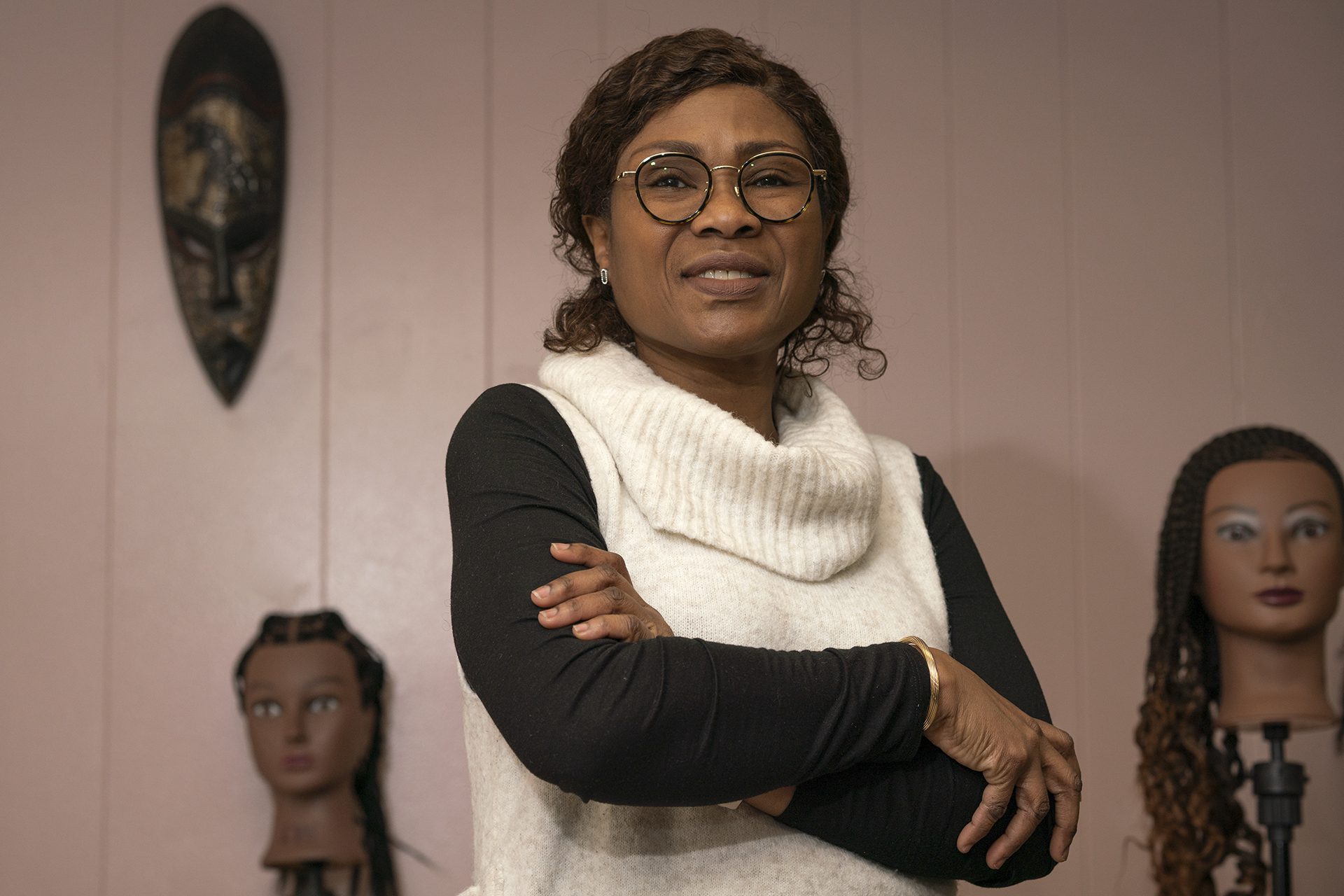 Martine Séverin for Borderless Magazine
Yolande Sanvi pictured at Launching Your Success African Hair Braiding in Chicago, Ill., Feb. 27, 2023. Sanvi started the hair salon in 1996 and launched the school in 2017 as a place where stylists could launch their careers and "have the chance at a slice of the American dream."
She was a software engineer, now she teaches African hairstyling to help others live the American dream.
Pew Research estimates 1 in 10 Black people in the United States is an immigrant. In Black Immigrants Today, Borderless Magazine spoke to Black immigrants around Chicago about their homes, their lives, and the challenges they faced coming to the U.S.
At the corner of Western Ave. and 63rd St. sits Launching Your Success African Hair Braiding (LYS) studio and school. The inside is filled with black leather styling chairs and dark end tables displaying lines of hair products. LYS is a well-oiled machine. When it opens at 8:30 a.m., LYS owner Yolande Sanvi and her team sweep the studio, clean it, check the inventory and confirm arrival times for clients and hairstylists.
Get Borderless in your inbox
Sign up for our free newsletter. Each Thursday we share ways to support immigrant organizations and stories about our communities.

When she founded her hairstyling studio in 1996, Yolande did it all by herself – lips pursed and eyes squinting as she braided the hair of client after client. Now, 27 years later, she has a team with her to run the hair studio and school. She says she has achieved the American dream and is proud of what she has been able to accomplish in the nearly three decades since she left Togo and came to the United States.
Borderless spoke with Sanvi about hair, running a small business and why she thinks it is important to share the necessary skills with others like her to achieve the American dream.
I view myself as African, not specifically Togolese even though Togo is my home. I'm from Aného, a small city near Lomé, the capital of Togo but I also have family in Benin. Growing up, my parents emphasized education and so I only focused on my studies. My life was school, church, home and then the same the next day and the next. So I didn't have that sense of a strong connection with getting my hair done growing up.
I studied software engineering in France in the 1980s and graduated in 1989. It was during that time that I had a small taste of living somewhere else. It made me interested in living overseas.
After I married in 1993, I left my parents and siblings behind in Togo and Benin and moved to the United States in 1994. I wanted a better life by achieving the American dream. The American dream is about being able to succeed in life and making your own dreams become reality. For me, I wanted the freedom to be my own boss. How could I improve my life in the U.S.? I wondered. Could I provide for my family better?
Martine Séverin for Borderless Magazine
During the first years of my time in the U.S., it was an adjustment. In France, I knew the language. In Togo we speak French, Ewé and Kabiyé, but English was new to me. I couldn't connect with anyone and felt very lonely. At first, I lived in New York with my former husband, and I had my son there in 1995.
It was surprising for me to witness segregation, to see Black neighborhoods and white neighborhoods. I also noticed that the Black American community was very different from the African community. I felt like there was a disconnect between them because our cultures are not the same. Americans are individualistic and Africans are very communal. We share everything: our time, food, space. Eventually, we moved to Chicago in 1996 to find new job opportunities.
'Our Hair Brings Us Together'
Within the first year of living in the U.S. I decided to change my career path to the beauty industry. My career wasn't turning out like I had intended. My English wasn't great at the time, and I was not getting the job offers in engineering that I thought I would.
I saw many African women succeeding in the hair industry, and I knew if they could do it, I could do it. I would have the ability to be my own boss. But it wasn't easy at first. The only hair experience I had at the time was braiding my sister's hair when we were young. I really needed to humble myself and be grateful for the other opportunities out there.
Looking back, it was a natural move for me to make because of the role hair plays in my community. Hair is a big part of our lives. African women braid each other's hair all the time in different types of styles — box braids, twists, cornrows — it's in our history. How Black people do their hair traces back to Africa. People are connected to their hair. Our hair brings us together.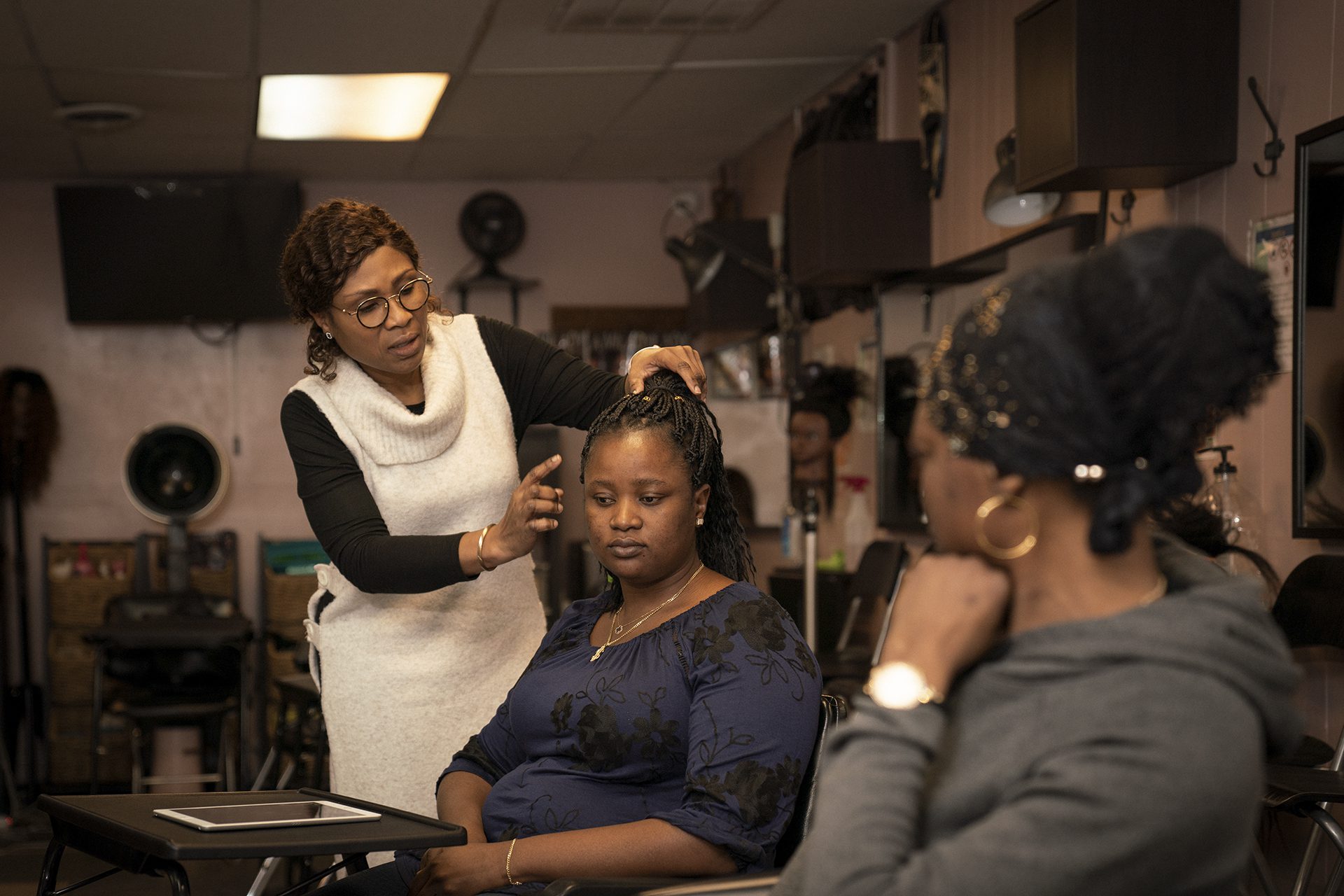 Martine Séverin for Borderless Magazine
When you come to the U.S. as an immigrant, sometimes you don't have many career opportunities available because of your immigration status. I went through a lot of rejection. It is more rewarding when you can be your own boss and have more control over your path.
As I was getting ready to start my business, I made sure that the people I hired were immigrants who needed the job and would work really hard. I gained training and experience as I worked as a stylist at a salon. I only got my cosmetology license later because of policy changes in Illinois.
LYS functions as both a hair studio and hair school. We provide hair services for all different hair types. Our school offers career path bridge programs that allow people, from any community, the opportunity to receive their license and certification. This allows LYS students to then go on and get a job in the industry and become their own bosses.
Fighting for Her American Dream
As Africans, we are very communal. We share everything and work together. Around 1999, myself, along with several other owners of braiding shops, received "cease and desist business" letters from the government. The letters created so much chaos and confusion among us. We later learned that there had been a change in the state law, stating that any form of hair service business must have a cosmetology license. This requirement made it difficult for immigrants like us to work, because we often don't have the language ability or money to get a cosmetology license.
We came together as a community to form a group to challenge this sudden change, but it was difficult to organize. Eventually, we picked a group leader, Alikaba who is the founder of the United African Organization, who enlisted the help of a lawyer. We traveled to Springfield to protest. After meeting with different political leaders, the law was eventually changed to creating a separate curriculum and license for hair braiders without the requirement of cosmetology training.
There will be a lot of sweat, tears and blood to live the American dream. It's easier to navigate around obstacles if you know what you're doing. But, you don't know what you don't know. How can you succeed? Sharing is the key to success. I wanted to share the American dream with others in my community because even though the dream is challenging to reach, it is possible.
This story was produced using Borderless Magazine's collaborative as-told-to method.  To learn how we make stories like these, check out our as-told-to visual explainer.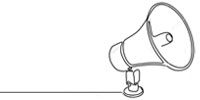 Bring power to immigrant voices!
Our work is made possible thanks to donations from people like you. Support high-quality reporting by making a tax-deductible donation today.