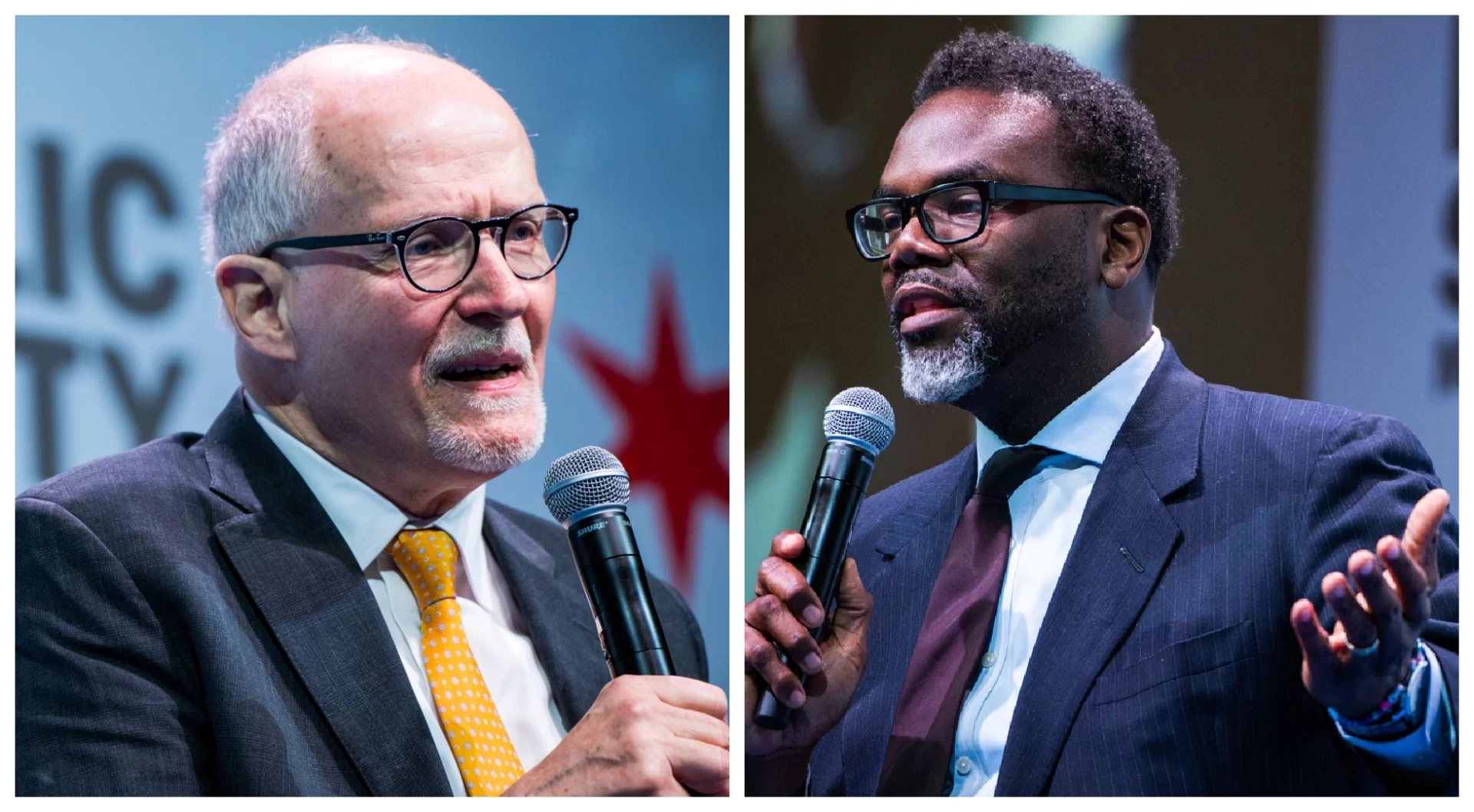 Colin Boyle/Block Club Chicago
Brandon Johnson and Paul Vallas are going head to head in the April 4 mayoral runoff election.
The candidates have laid out radically different plans to combat crime, improve public school performance and bring in new city revenue. The runoff election is April 4.
Block Club Chicago is a nonprofit newsroom focused on Chicago's neighborhoods. Sign up for its free daily newsletter.
Two mayoral candidates with dramatically different views on policing, taxes and education will go head-to-head in the April 4 runoff to determine who will lead Chicago.
Former schools CEO Paul Vallas came in first of nine candidates in the Feb. 28 election, receiving 33 percent of the vote. Cook County Commissioner Brandon Johnson followed with about 22 percent. The two knocked out incumbent Mayor Lori Lightfoot.
In debates, policy positions and endorsements before the Feb. 28 election and over the past few weeks, both candidates have laid out plans to combat crime, improve the performance of public schools and bring in city revenue.
Want to receive stories like this in your inbox every week?
Sign up for our free newsletter.

Vallas and Johnson agree on some issues, like ending Lightfoot's policy of automatically raising property taxes based on inflation.
Both also have said they would expand the Invest South/West initiative and reduce the number of speed cameras. Neither supports spending public dollars to keep the Bears at Soldier Field as team leaders threatened to move the football team to suburban Arlington Heights.
But Johnson's and Vallas' core policy ideas, backgrounds and supporters differ widely, especially when it comes to public safety and policing.
Both have racked up a slew of endorsements from elected officials, unions and other groups in recent weeks.
Vallas has been backed by the Fraternal Order of Police, and he's won the support of former mayoral candidates Willie Wilson, Ja'Mal Green and Ald. Rod Sawyer (6th). He's also been endorsed by former Illinois Secretary of State Jesse White, former Illinois Senate President Emil Jones and billionaire Ken Griffin, founder and CEO of the investment firm Citadel. Vallas has collected more than $5.6 million in campaign donations in the last three weeks alone, much of it from wealthy business owners and investors.
Johnson's campaign, meanwhile, has received more than $3.7 million in the last three weeks, including more than $1.3 million from the Chicago Teachers Union, where he has worked as an organizer. He's also landed endorsements from U.S. senators Bernie Sanders and Elizabeth Warren, former mayoral candidates U.S. Rep. Jesús "Chuy" García and state Rep. Kam Buckner, Cook County board President Toni Preckwinkle, Illinois Attorney General Kwame Raoul and civil rights activist Jesse Jackson.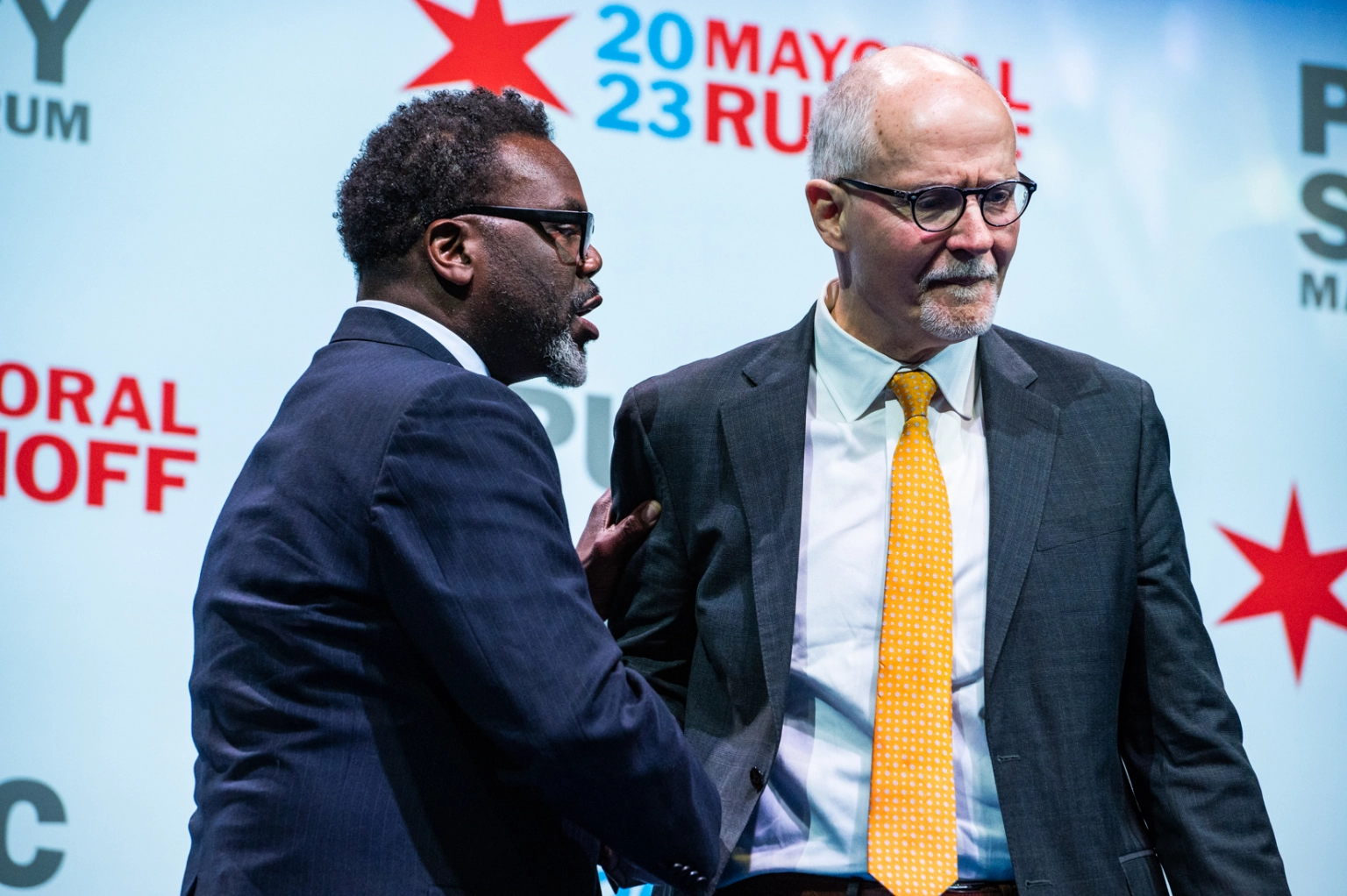 Colin Boyle/Block Club Chicago
Lightfoot, who came in third Feb. 28, has not yet announced plans to endorse Vallas or Johnson.
The runoff is April 4, with early voting starting March 20.
The Issues
Here's where Vallas and Johnson stand on seven key issues: crime, public transportation, schools, taxes, development, affordable housing and the Chicago Bears.
The information comes from each candidate's campaign websites, public statements and forums attended by Block Club reporters.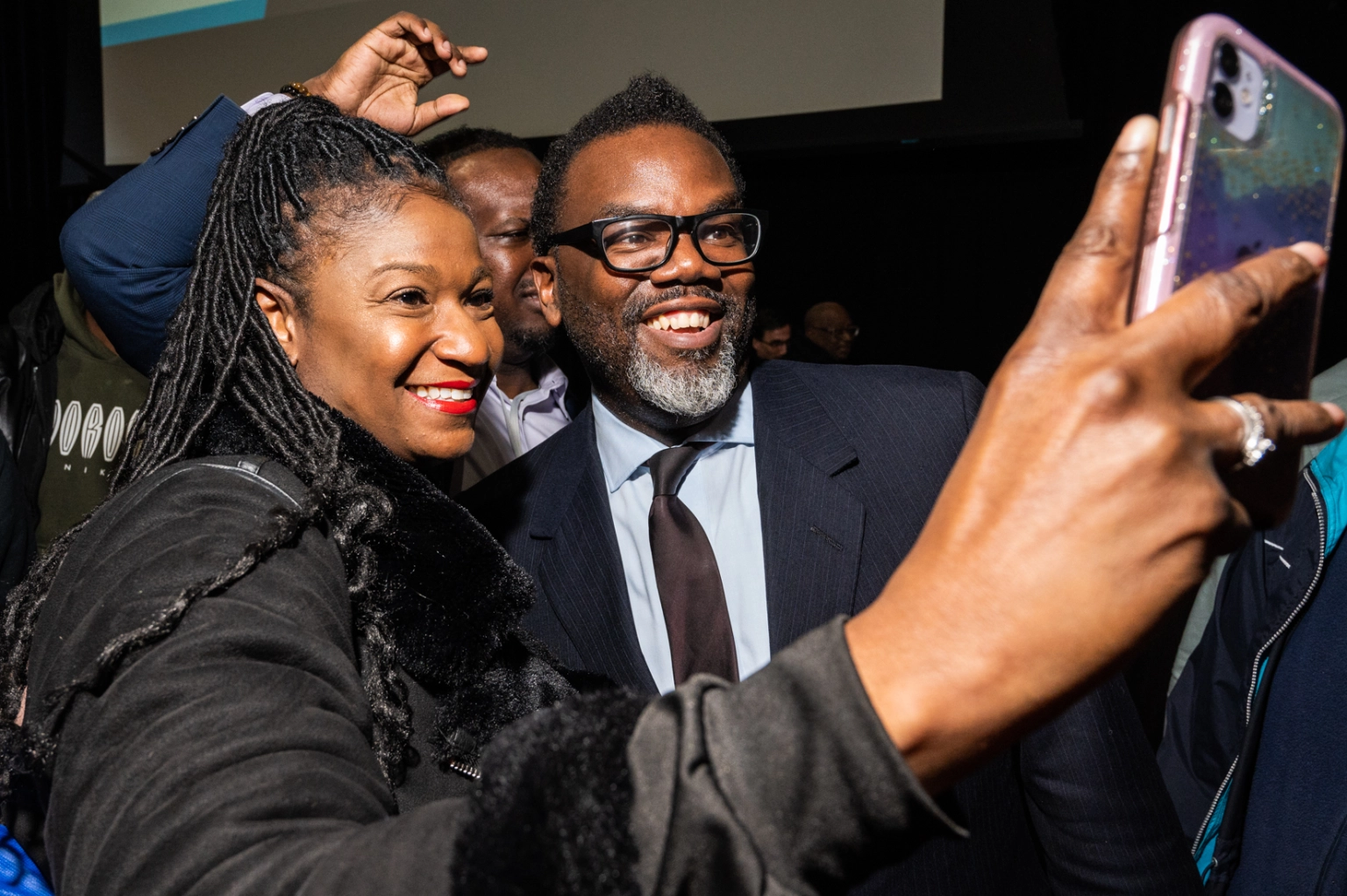 Credit: Colin Boyle/Block Club Chicago
Brandon Johnson
Campaign website • Feb. 7 interview with Block Club: Read/Watch/Listen • March 15 interview with Block Club: Read/Watch/Listen • Read all stories
Johnson is a former school teacher and current county commissioner, representing areas of the West Side and suburbs. He has also worked as a Chicago Teachers Union organizer.
Johnson lives in Austin and has spoken often about the community's struggles with gun violence — a perspective he has said gives him a unique approach to combating crime.
"I might be the first mayor of the city of Chicago to live in one of the most violent neighborhoods in the entire city. I have the lived experience. I love the West Side, I love living in Austin, but it is one of the more violent communities in the entire city," he said at a March 14 public safety forum.
Johnson has stressed that, if elected, he'll work to address the root causes of crime. But in recent weeks, he's walked back past comments that seemed to support reducing police funding, such as when he described defunding the police as "an actual, political goal" in 2020.
When pressed on his stance at the March 14 forum, Johnson claimed while he "said it was a political goal. I never said it was mine."
Colin Boyle/Block Club Chicago
Johnson clarified last week he does not support defunding the police, but he does back a more "holistic" approach to public safety.
"As far as my vision for public safety, I'm not going to defund the police," Johnson said in an interview with Block Club Wednesday. "But what I am committed to doing is to make sure that we are actually investing in a smart way."
Crime: Johnson has said adding more police officers isn't the answer to Chicago's public safety challenges. He instead would "hire and promote" 200 detectives from within the department. Johnson supports deploying non-police responders to address mental health calls and domestic disputes instead of on-duty officers. He has also vowed to eliminate Chicago's controversial gang database.
CTA: Johnson will create a citywide bus lane network and rapid transit system "that gives buses priority over other traffic," according to his website. He's also said he would support the return of the CTA's "ambassador program" to assist staff with people experiencing homelessness or suffering from mental health issues on trains.
Schools: A parent and former teacher of public school students, Johnson has said he will be in a strong position to advocate for CPS funding. He supported an elected school board and has called for fully funding neighborhood schools. He's also criticized Chicago's selective enrollment system in which students must apply to attend top-performing schools.
Taxes: Johnson has said he'd bring in $1 billion in new revenue if elected, in part through a number of taxes aimed at the wealthiest Chicagoans, visitors and companies doing business in the city. That includes upping the city's hotel accommodation tax and reinstating a corporate head tax, which would require companies of a certain size to pay a small amount per employee. Johnson declined to say at a March 8 debate hosted by NBC 5 exactly how much that amount could be.
Development: Johnson has said he would keep Lightfoot's Invest South/West initiative, which focuses development on the historically underserved South and West sides. But he'd also work to expand it, including providing microgrants to "jump start" small businesses and developers, he has said.
Affordable Housing: Johnson wants to raise the city's real estate transfer tax on property sales of more than $1 million to fund homelessness services in the city, an effort that's been branded the Bring Chicago Home initiative. He also supports adding more housing options by expanding the Additional Dwelling Unit and multi-unit deconversion fee pilot programs, according to his website.
The Bears: Johnson has said he would not support subsidizing the team, but he would sit down with ownership to find "creative ways" to keep the football team in Chicago.
Kathleen Hinkel/Block Club Chicago
Paul Vallas
Campaign website • Feb. 13 interview with Block Club: Read/Watch/Listen • March 27 interview with Block Club: Coming soon • Read all stories
A former CPS CEO, Vallas has centered on public safety and crime reduction in his current mayoral campaign, pledging to hire more police officers to fill vacancies and consistently deploy cops to the same neighborhoods.
Vallas ran for mayor in 2019, placing ninth. He unsuccessfully ran for governor in the 2002 Democratic primary and for lieutenant governor in 2014 as Democrat Pat Quinn's running mate.
Previously, Vallas worked as the city's budget director from 1990 to 1993 under former Mayor Richard M. Daley, who then appointed him head of the school district.
In recent months, Vallas has been dogged by questions over whether he is actually a Republican and holds conservative views.
At the March 8 NBC debate, moderator Mary Ann Ahern played a clip from a 2009 interview where Vallas said he was "more of a Republican than Democrat."
Vallas has tried to distance himself from the interview and reiterated at the debate he was a "lifelong Democrat" and cited his many political runs as a member of the Democratic Party.
Vallas has also ended up in hot water for activity on his campaign's social media accounts, which have "liked" racist and offensive posts. The Vallas campaign has said the candidate does not run his social media and he did not personally "like" the posts.
In addition, Vallas has been criticized by progressive alderpeople who said he limited LGBTQ education in schools. But Lakeview Ald. Tom Tunney has defended about Vallas' equal rights record.
In addition to Chicago, Vallas led school systems in New Orleans, Philadelphia and Connecticut. He has been a longtime advocate for school choice and supports expanding charter and magnet schools in Chicago.
Colin Boyle/Block Club Chicago
Crime: Vallas has called for bringing back retired officers and those who have transferred out of the police department to fill staffing shortfalls. He said at the NBC debate he's "absolutely convinced" hundreds of officers will return under new leadership hired from within the department and a more "humane" work schedule. He's also proposed running two police academy classes in one year to expedite getting officers onto the force.
CTA: Vallas has called for eliminating private security on the CTA and flooding trains and platforms with uniformed police officers under a dedicated transit unit. He also supports creating a "co-response" model that would work with city and nonprofit providers to respond to people experiencing homelessness and mental health crises on the CTA, according to his website.
Schools: A longtime advocate for school choice, Vallas has called for an audit of CPS to add social workers and school counselors and trim down the central office. He also wants to introduce work-study to high schools and to keep schools open longer after hours and on weekends and holidays. Vallas has criticized remote learning at CPS during the pandemic.
Affordable Housing: Vallas has advocated for funding housing and social services through what he calls a Fair Share Community Investment fund paid for by revenue from the forthcoming casino, video gaming and developer fees. However, money from the yet-to-be-built Chicago casino is exclusively earmarked for the city's fire and police pensions.
Taxes: Vallas has called for capping individual property taxes, but he has not offered specifics. A spokesperson for his campaign told WBEZ Vallas is "committed to not raising city property taxes."
Development: Vallas has said he'd expand Lightfoot's Invest South/West program. At the NBC 5 debate, he said he would do "massive land banking" on the South and West sides. On his website, Vallas said he'd create a city land trust to acquire "non-performing" assets like closed industrial sites and other vacant properties to support their development.
The Bears: Vallas has said he would let the team leave the city, and he has criticized the Lightfoot administration for not being more proactive. He said he would not support any public subsidies to keep the team at Soldier Field.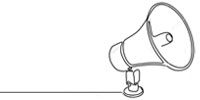 Bring power to immigrant voices!
Our work is made possible thanks to donations from people like you. Support high-quality reporting by making a tax-deductible donation today.