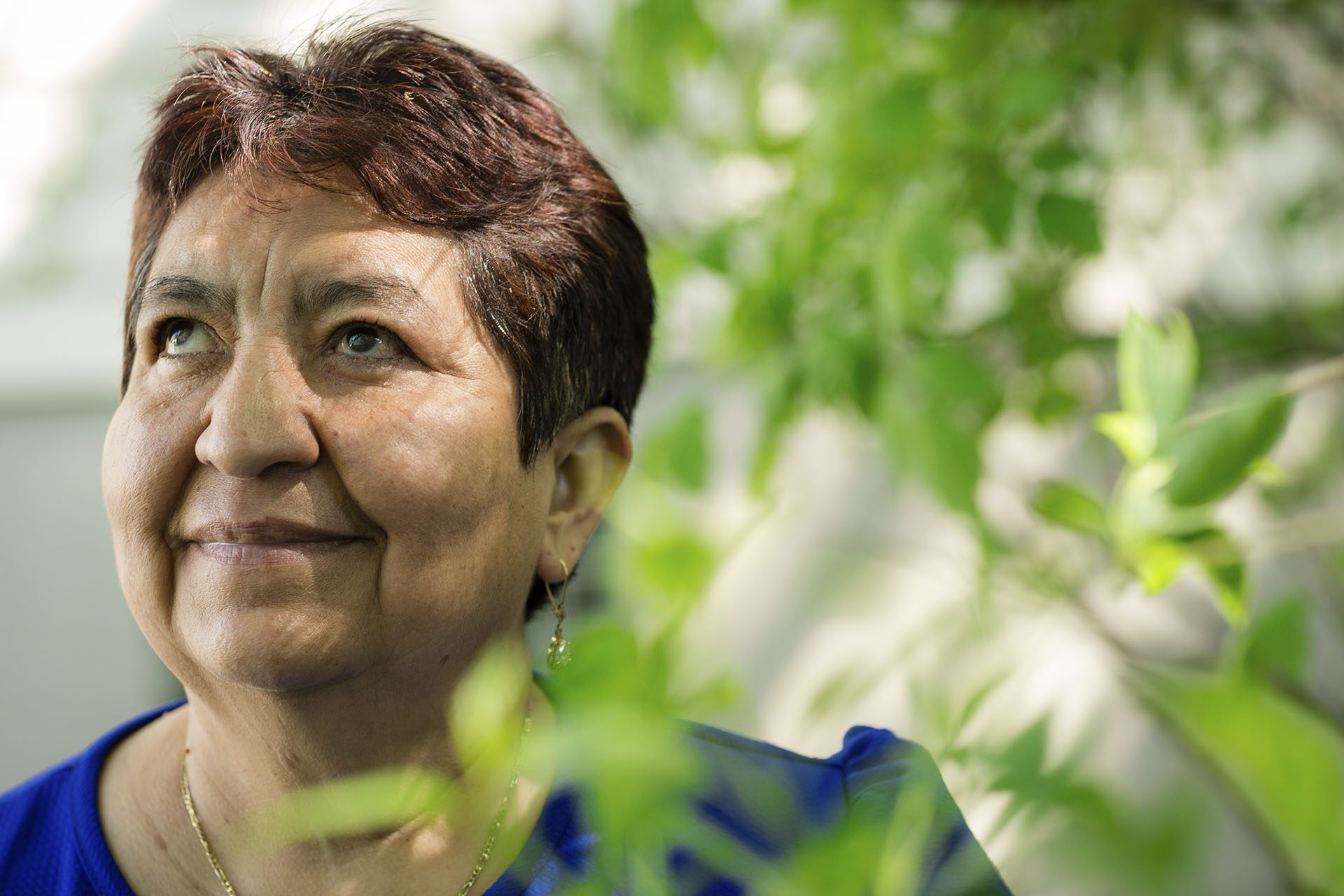 Michelle Kanaar/Borderless Magazine
Alicia Gomez outside her home in Evanston, Ill., May 16, 2022. Gomez was driving in January 2021 when she suddenly lost vision in her left eye. Four procedures later she has regained vision, though not fully.
The Immigrant Health Academy is helping Chicago area immigrants navigate the health care system and access funding for their medical bills.
Alicia Gomez was driving to the grocery store last year when everything started to go black. 
She had been having health problems for a while. Years ago she had had a tumor removed from her neck, and her eyes had been giving her trouble more recently. But this was the first time she lost her vision in her left eye. Terrified, she headed to the hospital.
"I didn't want to be left in the dark," said Gomez.
That hospital visit would ultimately lead to more doctor visits and a series of procedures. Last month she saw a specialist for a procedure and was given a pile of documents to fill out, including a contract which she thought she had to sign. Only later did she realize that it made her fully responsible for paying her medical bills, including one for over $900. 
"My bills were very expensive, and I was starting to panic," said Gomez, who lives in Evanston and speaks primarily Spanish. "I kept asking myself, 'What am I going to do?' No one helped me at the hospital. They didn't inform me about [any health insurance options]. I didn't know where to seek financial support, and I couldn't find information related to my health rights."
Want to receive stories like this in your inbox every week?
Sign up for our free newsletter.

Seeing how worried his mother was, Gomez's son introduced her to Luvia Quiñones, senior director of health policy at the Immigrant Coalition for Immigrant and Refugee Rights (ICIRR), in late April. Quiñones directed Gomez to fill out an application for the Health Benefits for Immigrant Seniors program in Illinois with Centro Romero, a legal aid group for Spanish-speaking immigrants in Chicago. To Gomez, learning about this Medicaid-like program, which helps immigrant seniors with limited income, was more than helpful — it was a blessing.
"I give thanks to God everyday because he sent me to Luvia," Gomez said. "We need resources, and we need clear health information — like where someone should go if they need free health services and what number we should call for questions about health matters. We need this type of support to understand and be aware of health issues."
Thanks to a new program in Chicago's suburbs, more immigrants like Gomez will soon receive help navigating the health system. ICIRR and six local immigrant-serving organizations launched the Immigrant Health Academy last October as a two-year pilot program. The academy is training immigrant community leaders and providing them with multilingual resources so that they can better help their community members feel confident in making health care decisions and combat misinformation about the health care system. Community partners include Arab American Family Services in Worth, Southwest Suburban Immigrant Project in Bolingbrook, Mano a Mano Family Resource Center in Round Lake Park, Mujeres Latinas en Acción in North Riverside, and the Legal Council for Health Justice and Shriver Center on Poverty Law in Chicago.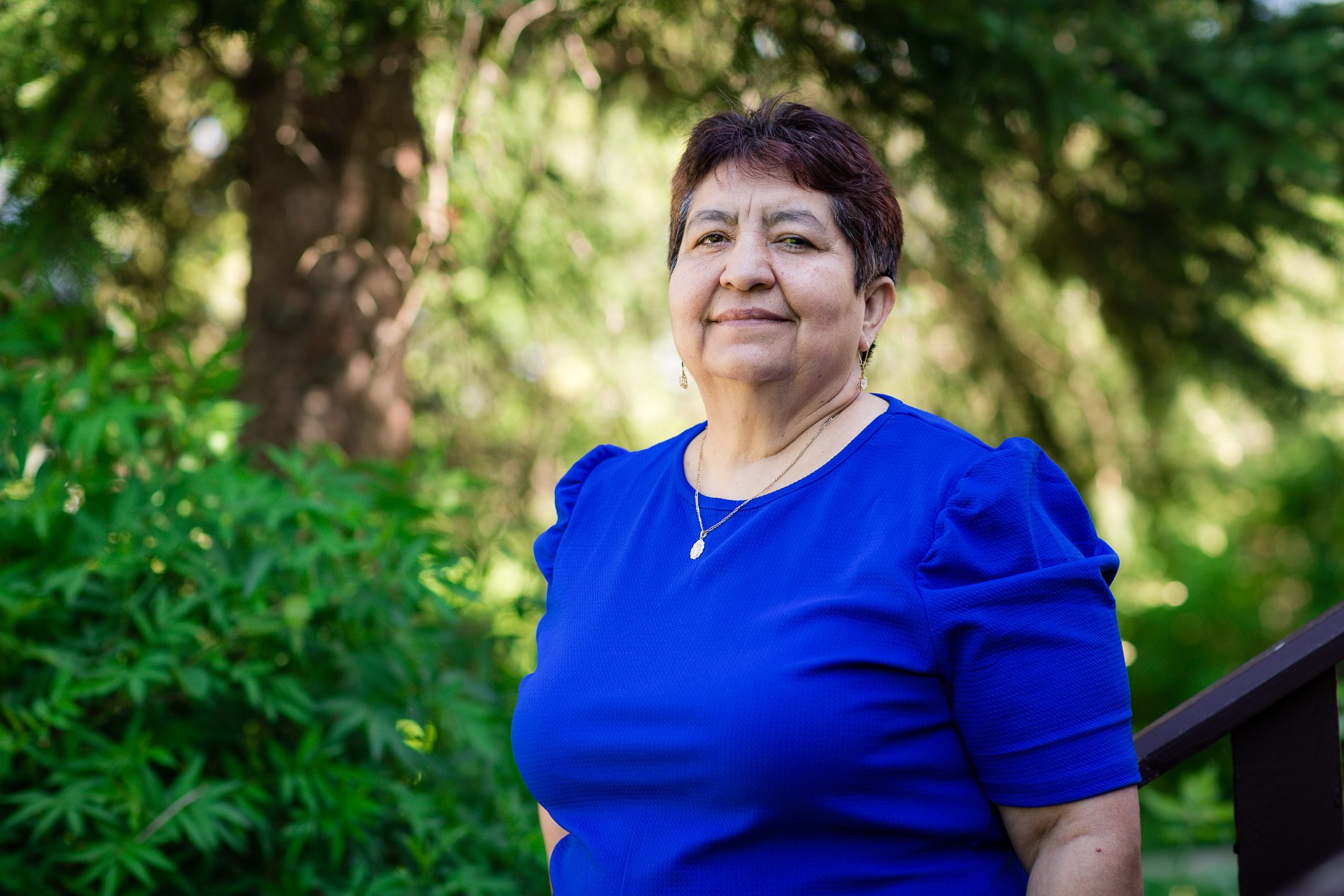 Michelle Kanaar/Borderless Magazine
"In hospitals, there are health finance assistants that address patients' concerns, but that is not enough," said Gloria Ruiz, a community leader with Mujeres Latinas en Acción. "They don't address every issue immigrant patients have because they are afraid to ask questions. But the program will cover everything [immigrants] need to know before they step in a clinic."
Immigrants face several barriers to receiving and paying for high quality health care, including language and cultural issues which make it difficult for them to communicate with medical staff. Additionally, the lack of affordable health insurance options can make low income immigrants nervous about seeking health care services. Undocumented immigrants, who make up about 23% of the United States' immigrant population, or more than 2.4 million people, are even more vulnerable as they cannot receive health insurance through work. They are excluded from certain health care services and do not receive coverage under the Affordable Care Act. 
Organizers with the Immigrant Health Academy have spent the last several months building a curriculum that caters to immigrants' health needs. The curriculum, which is almost finalized, will touch on policies such as Medicaid and the Affordable Care Act while creating new flyers, fact sheets and graphics in several languages such as Arabic and Spanish. Training began in April for organization leaders from suburban areas in Illinois with high immigrant populations, including Cicero and Worth. Community organizers will be attending another training session this month that will focus on simplifying policy language and helping communities navigate the health care system regardless of their immigrant status.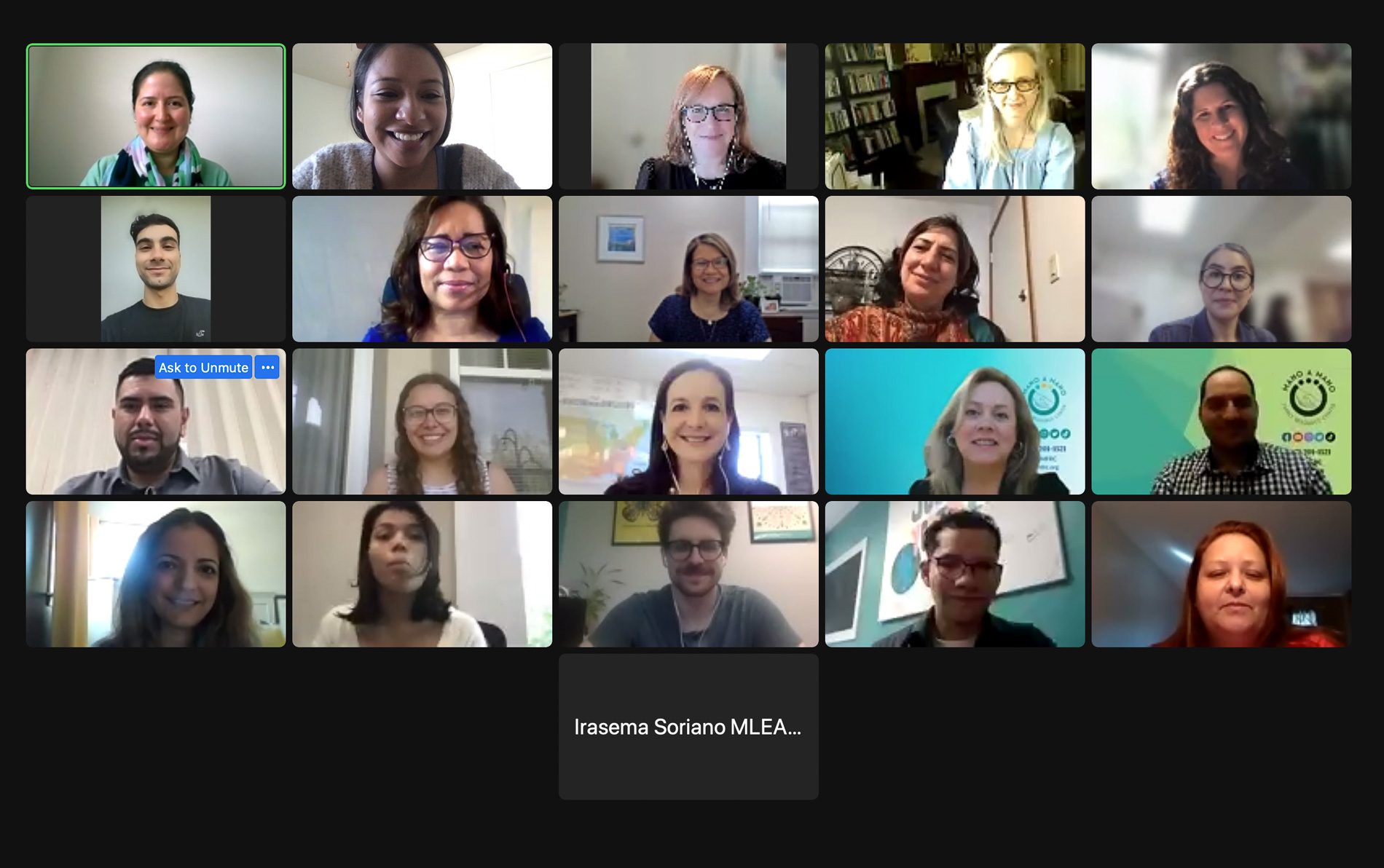 Photo courtesy of the Illinois Coalition for Immigrant & Refugee Rights
A group photo of the third virtual training session held by the Immigrant Health Academy on May 13, 2022. The session was titled "ACA is Here to Stay! (Affordable Care Act)" and led by the Legal Council for Health Justice and the Shriver Center. Members of the Academy's community partners Mujeres Latinas en Accion, Arab American Family Services, Southwest Suburban Immigrant Project, Mano a Mano Family Resource Center attended. Photo courtesy of the Illinois Coalition for Immigrant & Refugee Rights
Quiñones has seen health disparities firsthand in the Hermosa community, where she once lived. A few years ago, her mother was diagnosed with cancer. Despite her having insurance, the family had difficulty navigating the health care system due to language and cultural barriers. Ultimately her mother passed away.
"Health care barriers exist even when people have access to insurance," said Quiñones. "When we work with individuals, we inform them about their rights so they can address barriers and navigate the healthcare system."
One barrier is the fear that interacting with the system would negatively affect their immigration status. Quiñones said ICIRR receives questions daily from community members asking about health care plans, insurance and their health rights. One of the academy's goals is to remind communities that they will not face legal repercussions if they accept free services such as health exams or the COVID-19 vaccine.
Much of this fear, Quiñones added, is rooted in the "public charge" rule, a Trump-era policy that denies immigrants from seeking lawful permanent residence status if they request public services. The policy, which has caused many people to avoid seeking government aid on health insurance and other resources, during the pandemic, was rolled back by the Biden administration in February. Still, it has had a lasting influence.
"Although the [policy] is no longer in effect, there is still a lot of misinformation, as well as fear and anxiety in [immigrant] communities," said Quiñones.
When it comes to the COVID-19 vaccine, for instance, most immigrants who have approached ICIRR were not aware that vaccine shots were free, according to Quiñones. Some immigrants also were unwilling to share their personal information with health care providers, according to ICIRR. Nationally, large shares of undocumented immigrants reported in a KFF study that they found it difficult to receive information about COVID-19 vaccines in their languages or were unsure of how to get a vaccine.
The Immigrant Health Academy has come up with ways to overcome language barriers, including equipping communities with the necessary conversational skills to navigate the health care system. Its partner organizations will also create personal resources, such as cards that list an individual's health rights, in languages from Arabic to Spanish. Similar to know-your-rights immigration cards, these cards will help remind immigrants of their health care rights and empower them to ask for the help they need when visiting a doctor. 
"A lot of the community that we serve are undocumented and do not know how to speak English," said Khaled Humaidan, a case worker for Arab American Family Services. "At the end of the day, you can bring as much information to the community, but if those materials are not translated or explained well, your work will not be effective."
Humaidan believes the academy will also have broader impacts, including painting a more accurate representation of immigrants in the medical industry. Last May, his organization successfully fought to include Middle Eastern and North African in the racial categories of vaccine registration forms.   
"Under the government's census, we are considered Caucasian," said Humaidan, who is Palestinian American. "The [Middle Eastern] community is often ignored and not included in health studies. Today, you will not find any information or statistics regarding [health care gaps]. So that lack of representation is the greatest challenge that we're facing right now."
The Immigrant Health Academy has so far held three training sessions and plans to hold more this summer. Each trained community leader will then tailor how they present health care information to their respective communities. As the program continues, an independent researcher will monitor its impact to help determine whether the academy should extend beyond its pilot phase.
Gomez, whose health insurance application is now pending, says she hopes that programs like the academy will stay. Thanks to her application, her doctor's office has put a hold on her bills until her health insurance situation is resolved. She hopes to receive an approval on her application sometime this month. 
In the meantime, Gomez continues to need treatment for her eyes. Her vision problems have kept her from taking a job outside of her neighborhood. She says she has faith that in time her health will improve.
"If the path is shorter for us to receive health assistance through the academy, then that is what we need at this moment. I am going to continue to fight for my vision and my health rights," she said. 
Editor's Note: Borderless Magazine receives funding from the Healthy Communities Foundation, which also supported the Immigrant Health Academy.
Correction 5/19/22: An earlier version of this article incorrectly stated Alicia Gomez had applied for Medicaid for support when in fact it was to the Illinois Health Benefits for Immigrant Seniors program.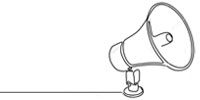 Bring power to immigrant voices!
Our work is made possible thanks to donations from people like you. Support high-quality reporting by making a tax-deductible donation today.