Photo courtesy of Gerber/Hart Library and Archives
Amigas Latinas cofounder Mona Noriega and founding board member Lydia Vega, center with black and white shirts, and other Amigas Latinas members on a float in Chicago, Ill. in the late 1990s/early 2000s.
The monthly discussion group Amigas Latinas provided a safe space in Chicago for Latina lesbian, bisexual, transgender and queer women.
For 20 years, queer Latinas could count on one space in Chicago where they could fully be themselves: Amigas Latinas. The volunteer-run support group and organization met monthly in different members' homes, gathering around potlucks. 
Get Borderless in your inbox
Sign up for our free newsletter. Each Thursday we share ways to support immigrant organizations and stories about our communities.

Amigas Latinas grew out of Women of All Colors and Cultures Together, a peer group for Chicago women. Cofounders Evette Cardona and Mona Noriega saw the need for a similar group where Latinx lesbian, bisexual, transgender and queer women could bond over their shared identities. Beginning in 1995, Amigas Latinas met for platicas (chats) on the third Sunday of every month. Members provided support for and found home in one another as they talked about what it meant to be queer and Latina, struggles of coming out, motherhood, navigating the legal and education systems and more.
Over the group's 20-year tenure, it grew to be the organization in Chicago where queer Latinas could not only seek resources and meet people but also thrive. There, women met their partners, became mothers and found pathways to careers and stability. For the 1990s, this was unique, profound and life-altering for members, and why Amigas Latinas grew to have over 300 members all over the Chicago area. 
Borderless spoke with Cardona and Noriega about the origins of Amigas Latinas and why it matters two decades on. 
Evette Cardona: About a year after [Women of All Colors and Cultures Together] started, we were at a brunch in a home in Rogers Park. There were probably 60 women there, including about 15 queer Latinas, and somebody said, "Hey, why don't we do this for ourselves, for Latina women?" I always say that was my moment to seize my window of opportunity.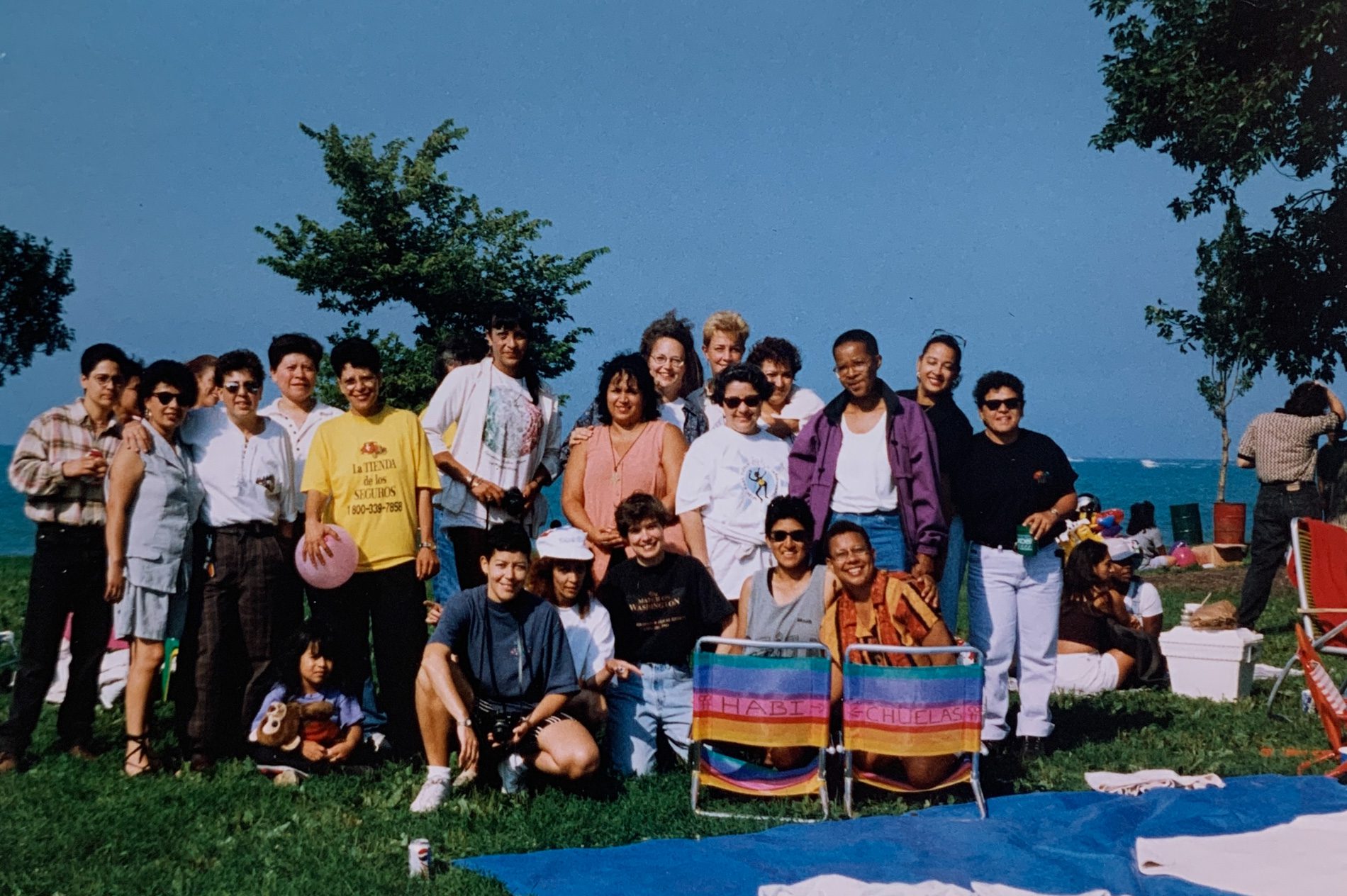 Photo courtesy of Gerber/Hart Library and Archives
We decided to follow a similar model. You know, because a girl's got to eat! We had our first brunch on the third Sunday in July during that heat wave of 1995. We always say Amigas was born out of that heat, and the rest is history.
WACT had grown so large that you couldn't really make space for discussion … questions like, "What does it mean to be Latina and lesbian?" We would have discussions about what it means to be queer. How out is out, what about raising children, holidays and bringing your partner with, or when you can't and what does that mean? Culture, racism, alcoholism, substance abuse, domestic violence, legal issues … We really ran the gamut.

This was all before email, before Facebook and any social media stuff. [We did it] through collecting money for stamps and envelopes and flyers, and seeking volunteers to host the next brunch and then putting together a mailing list that grew to a little over 300.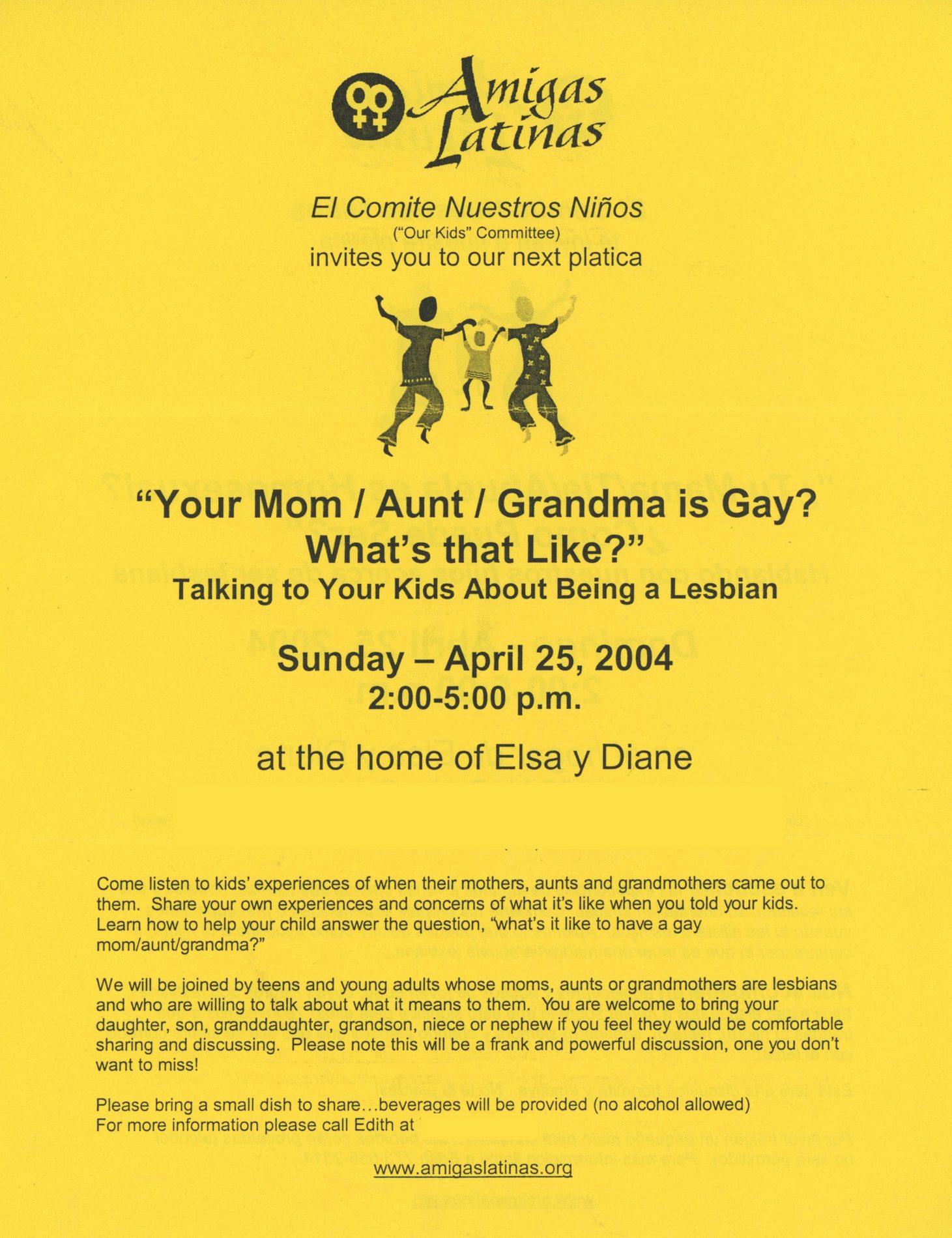 Image courtesy of Gerber/Hart Library and Archives
Mona Noriega: I have to say that it was very different from what it is now. Although all that sounds really easy, it wasn't. It was very, very, very emotional.
For women to even say that they were a lesbian, we purposely could not say that sometimes because women did not want to carry the burden. They just wanted to be around other women, and they wanted to have the freedom to explore.
Today's world is so different. I think about coming out into your identity at that time in history: You almost had to be one with your sexual orientation identity to the exclusion of your other identities. The concept of same sex was so fragile that you couldn't add that to the dimension. People were so flipped out just to talk about same sex. 
Some Latina women were interested in hookups, and we said, "This isn't a hookup group, this is a support group and education group. It's about exploring our multiple identities in a safe space. We take that very seriously. We can't say that you won't hook up with somebody, but that's not what we're about." And that was an important message to always put out there.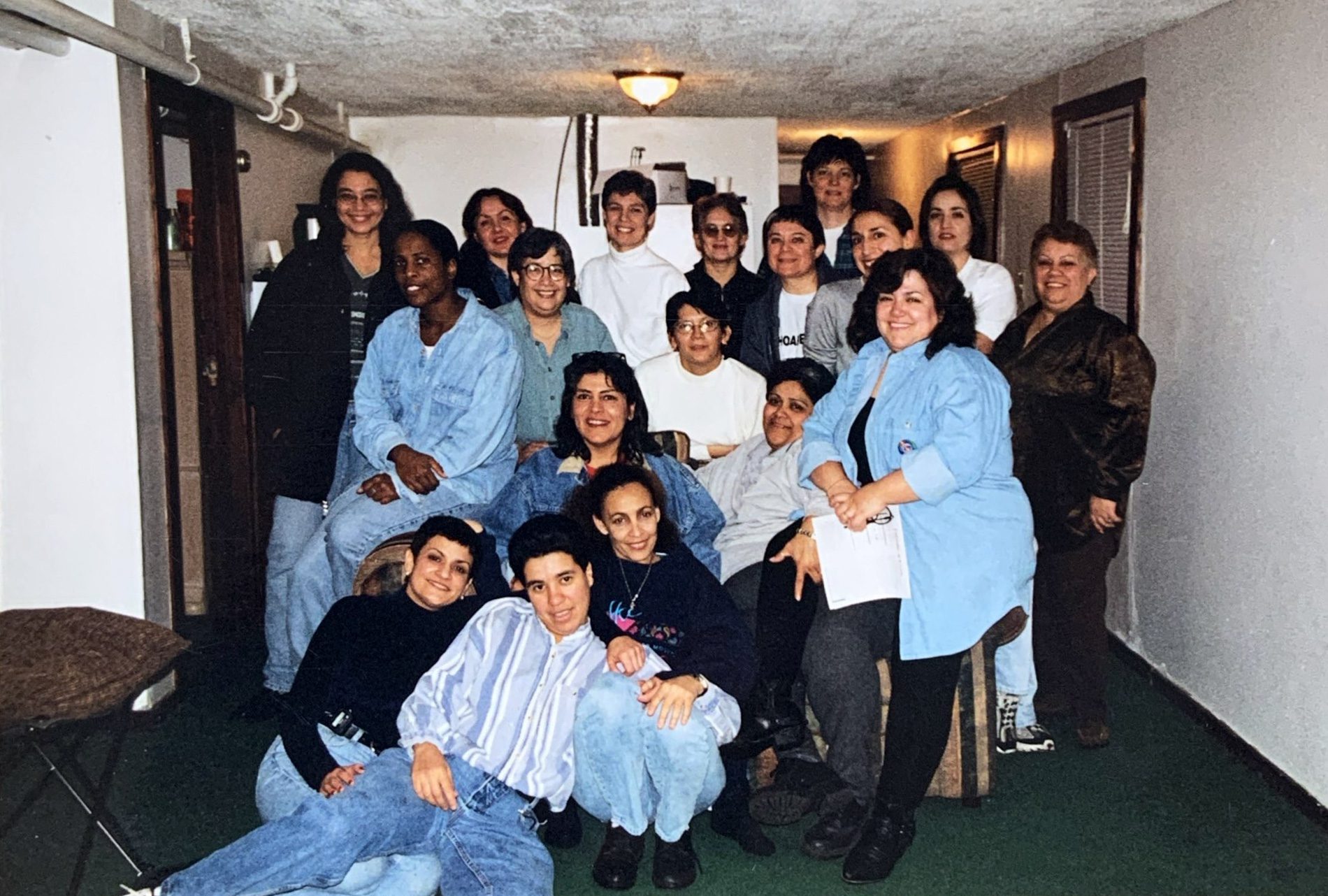 Photo courtesy of Gerber/Hart Library and Archives
Cardona: The monthly brunches, for a lot of women, and for me, it was the first space I was in where I didn't have to leave my Latina identity at the door, and I didn't have to leave my queer identity, like when I've walked into Latinx spaces. That was so powerful. Some people are Mexican American and Cuban American. I'm Latina lesbian. That's my hyphenated identity.
I couldn't leave one aside anymore. For a lot of women, that was a really powerful thing and almost too powerful: to walk into a room with 40 Latina lesbians owning their sexuality, celebrating their sexuality. You would never apologize for being Latina, and don't ever apologize for being queer. Now, that's easier said than done, but for some women that really resonated.
It wasn't until 2003 that we became an official 501(c)(3) organization. For being so small and volunteer-run, we were pretty efficient. Our annual budget was never bigger than $40,000.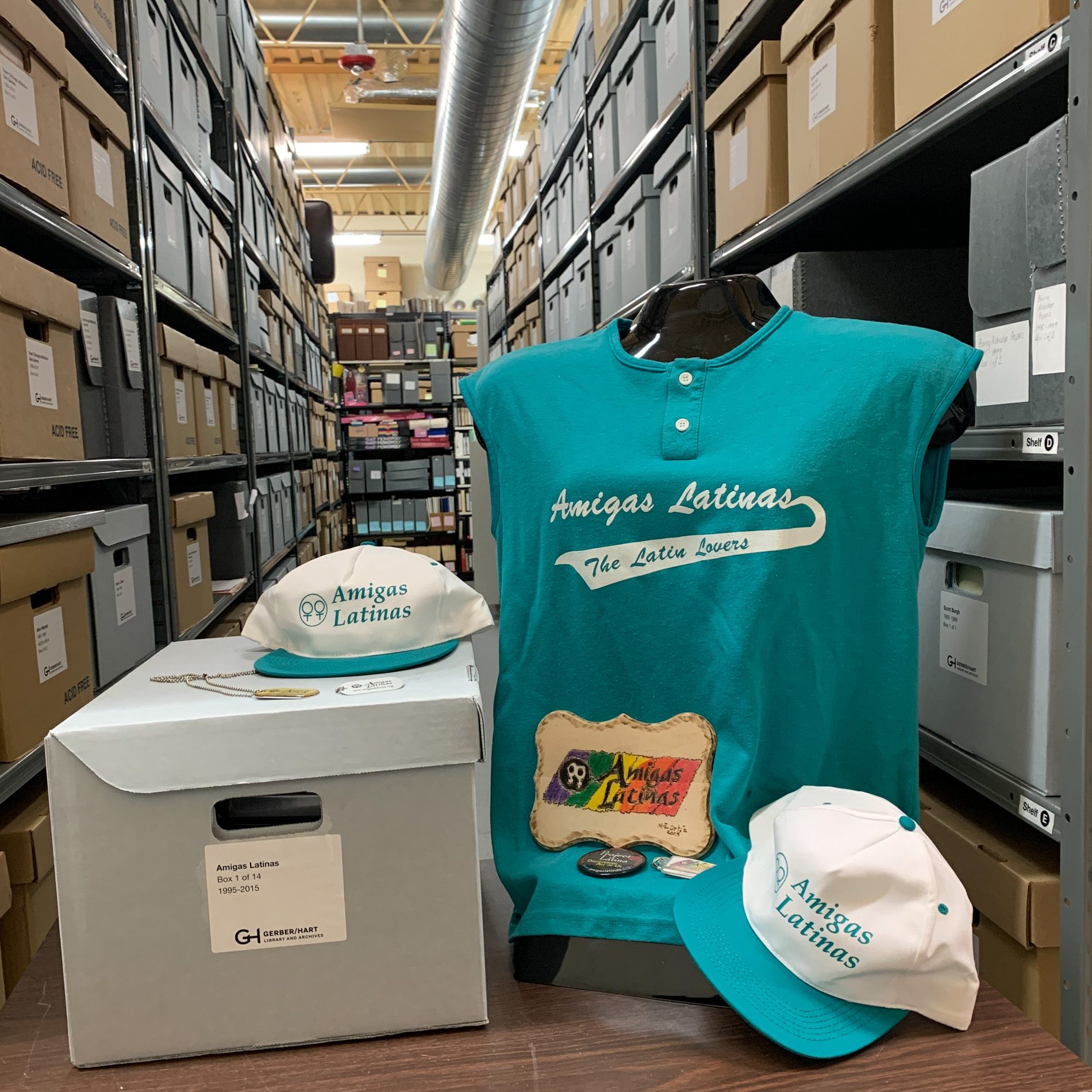 Photo courtesy of Gerber/Hart Library and Archives
In 2015, founding members got together to say it's time to close. We knew when to begin, we knew how to continue, and we could say it's OK to end. Being older and being moms, we were not attracting that younger, more creative energy. We were not able to cultivate this younger group, this new generation. They were not challenged with the founding issue of creating space for our multiple identities. That was a beautiful thing, actually. That was so beautiful, and so we felt by pulling back, we were leaving the door open.
Noriega: Latinx queer issues became about women's issues, reproductive health, domestic violence, immigration, right? I mean, the ones that are in the immigration movement are young and queer. Their fight was about being queer and being undocumented in that. And so in terms of that next generation, this is where we are. You progress.
When we ended, that was the best party that was thrown. There were so many tears at the end when we closed out that night. It was such a cathartic moment. 
As part of the closure we wanted to gather up our materials (newsletters, fliers, photos, softball uniforms, buttons, and more) and house them at Gerber/Hart, it being a Chicago-based organization in the gay movement. With us both being Chicagoans and organizers, we'd always felt that Midwestern issues and organizing are overlooked by the East and West coasts. Donating our materials to a Midwestern, queer organzation meant to affirm that there has been and continues to be real organizing work in Chicago. The funny thing is now, I don't feel the same way anymore. [Seven years since the end of Amigas Latinas,] I think that Chicago is now more recognized as a location of organizing.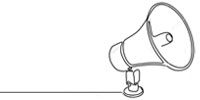 Bring power to immigrant voices!
Our work is made possible thanks to donations from people like you. Support high-quality reporting by making a tax-deductible donation today.