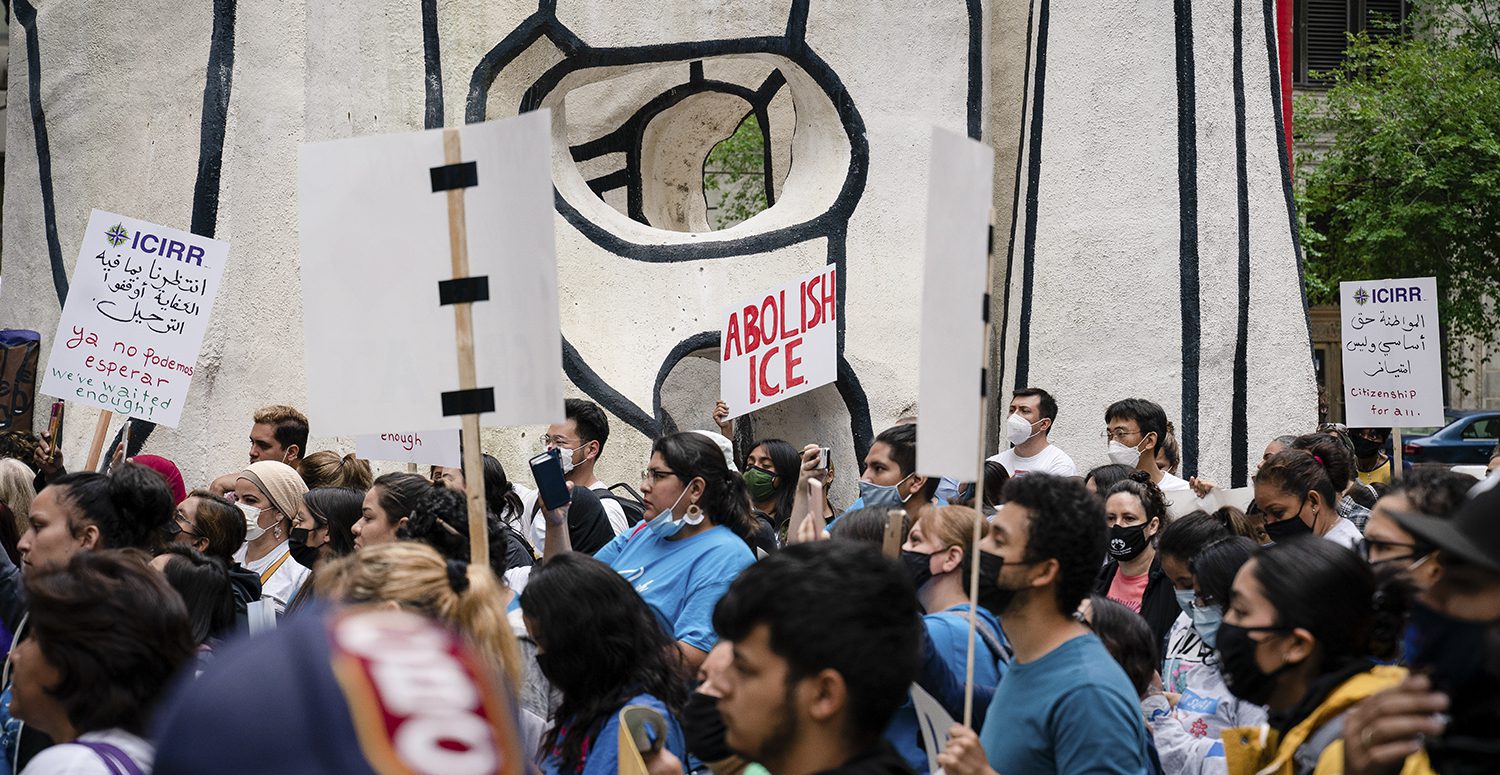 Photo by Camilla Forte/Borderless Magazine
Demonstrators listen to advocates speak against the detention and deportation of immigrants during a rally held by the Illinois Coalition for Immigrant and Refugee Rights on July 8, 2021 in downtown Chicago, Ill.
Illinois Gov. JB Pritzker signed the Illinois Way Forward Act today, which will end immigrant detention in the state in 2022 and expand protections for immigrant communities.
Illinois Gov. JB. Pritzker signed legislation today to increase protections for immigrants and end local partnerships with federal immigration enforcement authorities. Illinois is now the second state in the nation to have such a requirement.
"Throughout my governorship I've directed my administration to adopt policies that make Illinois a welcoming state for immigrants, and I'm proud to sign these accountability measures into law to advance our cause," said Pritzker. "Every family, every child, every human being deserves to feel safe and secure in the place they call home. I am committed to making sure that value defines what it means to live in Illinois."
The Illinois Way Forward Act (SB 667) strengthens the existing Illinois TRUST Act and the Voices of Immigrant Communities Empowering Survivors (VOICES) Act. The legislation:
Provides clarity around action that law enforcement officials can and cannot take around warrants.

Prohibits state or local governments from signing contracts with the federal government to detain immigrants.

Places limitations on local enforcement of discriminatory practices by prohibiting officials from inquiring about the citizenship or immigration status of an individual in custody unless they're presented with a federal criminal warrant, or otherwise required by federal law.

Increases transparency by requiring state and local law enforcement agencies to submit annual reports regarding requests from the U.S. Department of Homeland Security.

Authorizes the Attorney General to conduct investigations into violation of the Illinois TRUST Act.
While some Illinois cities like Chicago have existing legislation prohibiting local police officers and government officials from working with Immigration and Customs Enforcement, the patchwork nature of this legislation has led to loopholes. In June, Borderless Magazine reported on the case of Cesar Mauricio Elizarraraz, a Mexico-born, longtime Illinois resident who was handed over to ICE after being arrested in Crystal Lake, despite the suburb having a policy of not working with the immigration enforcement agency. The Crystal Lake police transferred Elizarraraz to McHenry County Jail, which serves as an immigrant detention center and regularly alerts ICE to immigrant inmates.
"For years, immigration and customs enforcement agencies have relied on local law enforcement to target people who pose no threat to public safety, which just drives fear in immigrant and Latino communities and breaks the trust between people and law enforcement," said Rep. Lisa Hernandez (D-Cicero). "By adding additional teeth to the TRUST Act, we are taking steps to make sure our families aren't afraid to take their children to school, seek medical attention, attend court hearings, utilize public services or seek police protection."
The new law will effectively close immigrant detention centers in Illinois by 2022. The state currently has three detention centers, including McHenry County Jail in Woodstock. The two other detention centers are at Kankakee County Jail in Kankakee and Pulaski County Jail in Ullin. Immigrants currently detained at Illinois detention centers will have to be either released or transferred to detention centers in other states.
In addition to the Illinois Way Forward Act, Prtizker signed legislation expanding protections for Deferred Action for Childhood Arrivals (DACA) recipients. HB 121 clarifies "work authorization status" in the Illinois Human Rights Act and makes it a civil rights violation for employers to refuse to hire, segregate or engage in harassment on the basis of work authorization status.
Never miss a story. Sign up for our Thursday newsletter to learn the latest about Chicago's immigrant communities.