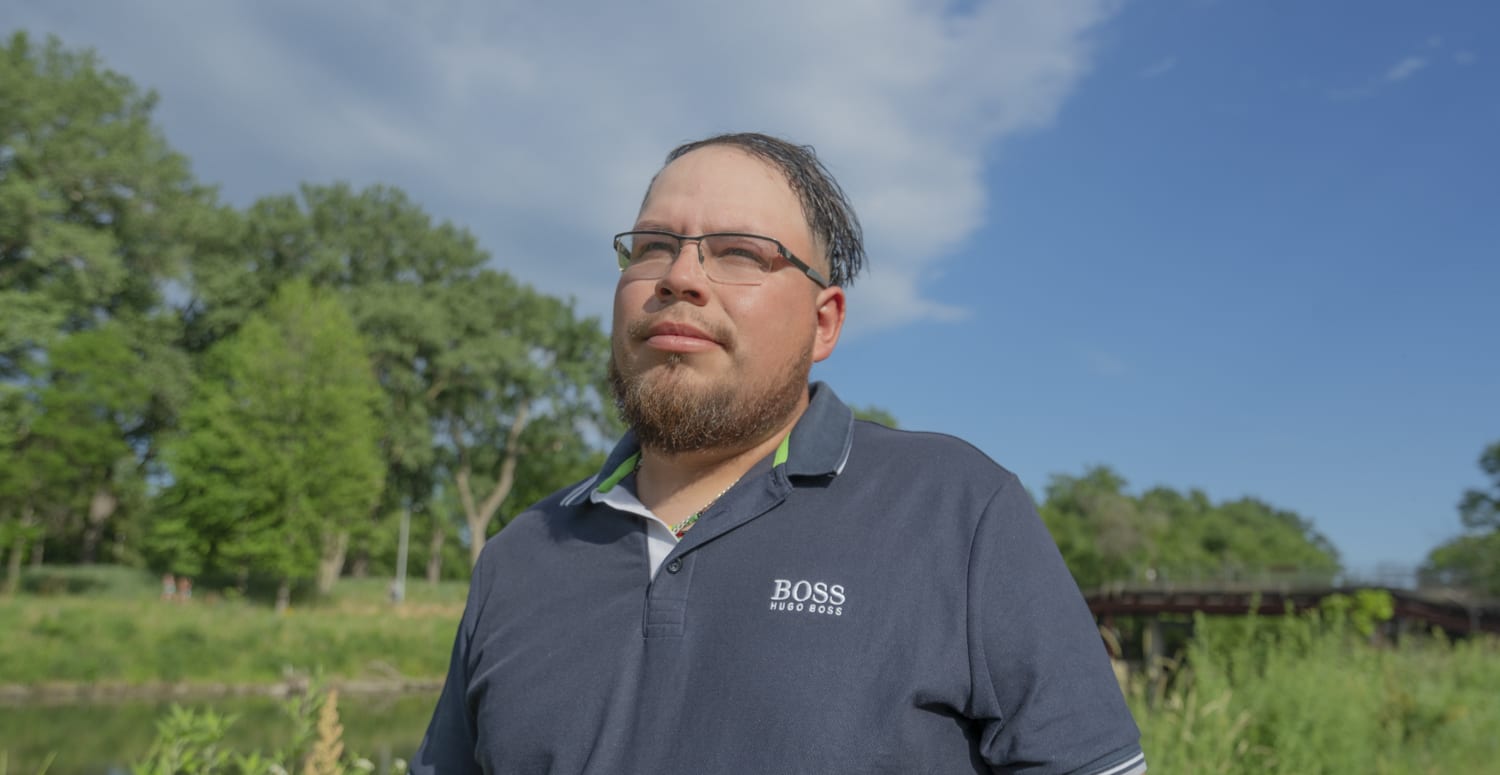 Photo by Camilla Forte/Borderless Magazine
Cristian Coss, 24, in his neighborhood of Albany Park in Chicago, IL, on June 14, 2021.
A Mexican immigrant in Chicago's Albany Park neighborhood reflects on the pressures to support his family during the pandemic.
Never miss a story. Sign up for our Thursday newsletter to learn the latest about Chicago's immigrant communities.
Cristian Coss is a cable lineman who immigrated to the United States from Mexico at age 4. Now 24, Coss shares his thoughts on the financial and mental health impacts of COVID-19 on immigrant families.
---
When you are a little kid, everything is easy for you. You go to school; they offer you a lot of things like free education and healthcare. 
But you see your parents struggle because they cannot find a good job that requires a Social Security number. Or if they get a fake social, they are limited as to what jobs they could get. Only my dad worked. Working as a butcher in the local supermarket, he provided for the home, and I saw him struggle. 
Once you start looking for a job, you have limited doors. You have to take on stuff that will not get done by somebody who was born in the United States. Even though you know you could do the same things as everybody else. It makes you feel like people look down on you. They think, "He's probably an immigrant" right away, no matter how old you are. You do feel less than anybody else because you can easily be targeted.  
Being in the middle of a pandemic, as an immigrant, you have limited opportunities. Some people are provided with free healthcare, but it is a lot harder for immigrant families who do not have sustainable income to look into those options. 
I was fortunate enough to have a steady job so that I had saved up just in case I got sick. At my job, we do not get paid sick days. 
I was not taking it too seriously at first. Eventually it got to me. I thought it was going to be like the end of the world.  
My family does not have medical insurance. I thought, "What if they get COVID? Where are they going to go for help? What about all the medical bills and expenses?" You start forming scenarios in your head so you can be ready. It brings you down a bit. 
Immigrants are not prioritized as much as someone else who has their doctor and health insurance. You have to go to public hospitals like Cook County. I know a lot of people who went there because there is more help for immigrant communities.
They are also not receiving stimulus checks or any type of financial help. I know other people who have full time jobs, got stimulus checks and just blew all their money.
I know a guy who was working 10 hours a week and was the only one with income in his family. I put myself in that position. How are you going to provide for your family? You have to think about other people beside yourself. You have to be more cautious; you cannot be selfish. Because if you get it, you do not want your family to be going through that sickness. 
When I got COVID, I felt like my world was coming down. I did think I was going to die. You feel like the world is shrinking upon you. 
I thought the worst. Es como un peso, si te mueres (it's like a weight if you die). You leave your family with that emotional, financial burden, everything. 
People look at how the pandemic affected them financially, like I did at first, but then you think about the emotional side. How did I feel when I got COVID? Helpless. 
Back in the day, Mexican families would not address depression or anxiety — it was not part of their culture. It was not brought up as much. Nowadays, it is diagnosed more. 
Still, Latinx families will not see mental illness as a problem. They say, "Just stop thinking about it." But you cannot stop thinking about something that is there. 
When you are the head of a household — let's say it could have been my dad that got COVID, they would look at him and say, "You're not supposed to get COVID, because you're a man." 
You cannot let that bring you down. When I was sick, my mother asked, "How could you let that get to you?" Emotionally, you are breaking down. You do not know what is going to happen next.  
This story was produced in partnership with Northeastern Illinois University's Community Media class. Thanks to Professor Edie Rubinowitz in the Department of Communication, Media, and Theatre for her help on this project.
Our work is made possible thanks to donations from people like you. Support high-quality reporting by making a donation today.                                                                                                                                                                   
Donate