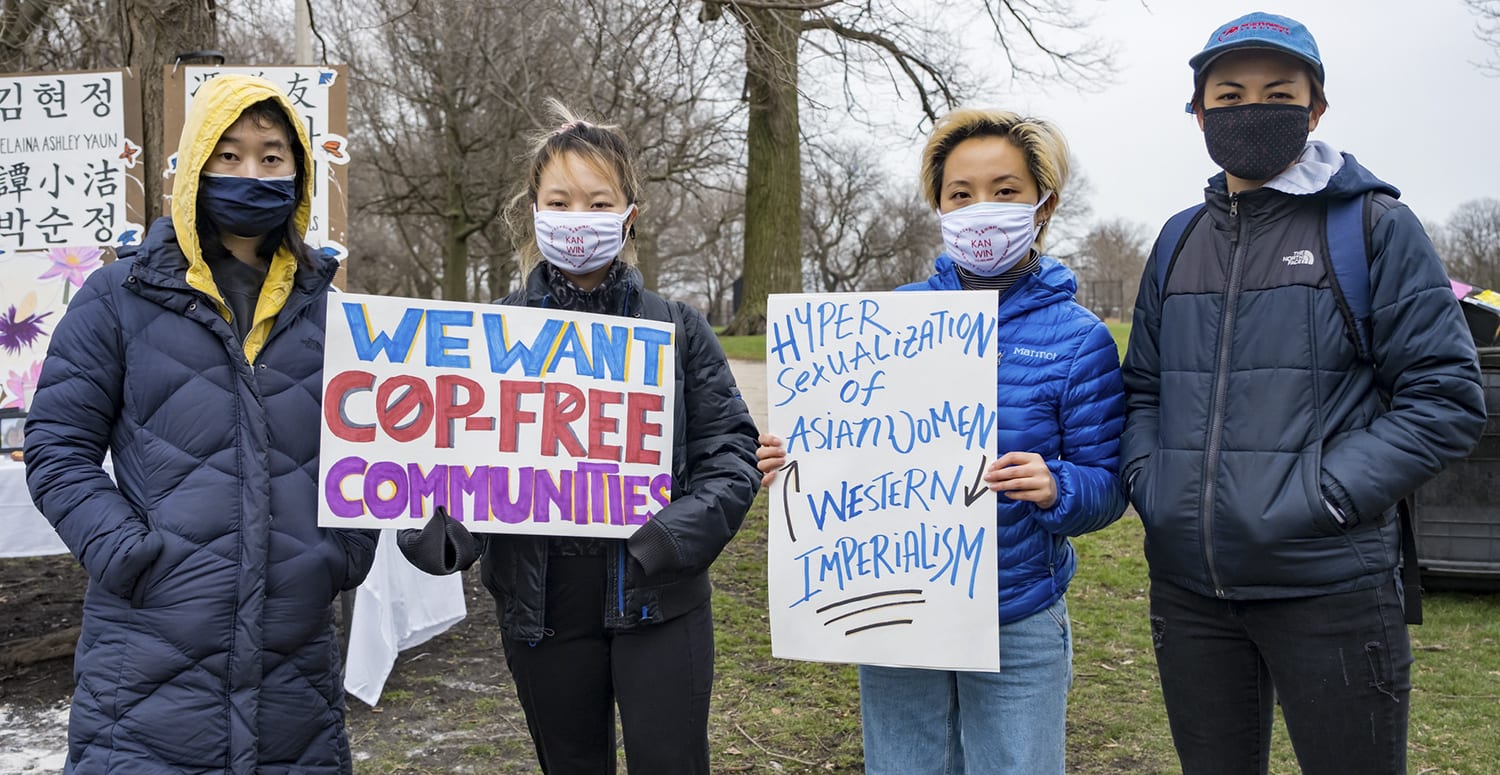 Photo By: Sarah-Ji
Communities of Asian descent reflect on a year of heightened anxiety
Never miss a story. Sign up for our Thursday newsletter to learn the latest about Chicago's immigrant communities.
This story was originally published by South Side Weekly on April 29, 2021.
Editor's note: This story uses Asian American and Pacific Islander (AAPI) to refer to the community being reported, recognizing that the community includes a diverse range of ethnicities and identities. Sources may refer to particular or collective groups as "people of Asian descent" or "Asian Americans," in which cases we maintain the original language from the sources. 
Over the past year, Asian American and Pacific Islander (AAPI) community members in Chicago and across the nation have struggled with fear, stress, and anxieties coming from the rise of anti-Asian violence, on top of the alienation and stressors exacerbated by the coronavirus pandemic. "I was heartbroken and deeply sad and angry. I think it took me some time to really fully grieve what happened," said Grace Pai, the Director of Organizing at Asian Americans Advancing Justice (AAAJ) Chicago, about the March 16 mass shooting in Atlanta that killed eight people, six of whom were women of Asian descent.
In the immediate aftermath of the shooting, AAAJ led virtual healing spaces for community members to reflect and help each other. Among these discussions, she heard stories about anti-Asian harassment and discrimination in the workplace and on the streets. "A lot of this kind of harassment has become very normalized, especially because of the Trump administration's rhetoric."
The greater Chinatown community continues to be deeply affected by the murders of Huayi Bian and Weizhong Xiong, who were fatally shot in an attempted robbery in Chinatown in February 2020. The carjacking-turned-murder of Shuai Guan in Bridgeport in December 2020 increased calls for community safety.
"We've seen an increased number of patients looking for mental health counseling," said Dr. Hong Liu, executive director of the Midwest Asian Health Association (MAHA) and vice president of the Chinatown Security Foundation, a neighborhood watch group that came together after the murders of Bian and Xiong. "The pandemic has impacted people's social lives, job loss, and with the recent increase of robberies… people are scared to go out."
Over the course of three months, community organizations facilitated conversations to think about long-term solutions and goals for a planned march in January, but rescheduled to March 27 due to safety concerns after the U.S. Capitol insurrection. The original intent of the March rally was to respond to the death of Guan, but it evolved after the revelation that Asian women were targeted in the Atlanta shooting amid a rise in reports of anti-Asian violence.
Over seventy greater Chinatown community organizations sponsored the rally on March 27, consisting of a multitude of different Chinese interest groups, family associations, and social groups. "We cannot be silent anymore," Liu said.
The unheard side of data
Shortly after the Atlanta shooting, The New York Times tallied nationwide media reports of harassment against people of Asian descent, including physical or verbal attacks and vandalism that involved clear evidence of racial motivation. Among more than 110 reported crimes, two happened in Chicago in March 2020 and January 2021. The Chicago Police Department (CPD)'s hate crime dashboard showed that in 2020, two hate crimes based on "anti-Asian bias" were reported, a number that is consistent with the previous ten years.
But community testimonies outside of law enforcement reports said otherwise.
MAHA and the Coalition for a Better Chinese American Community (CBCAC) sent out an informal community survey on WeChat, a social media and communication platform primarily used by Mandarin speakers, to gauge if Chinese speakers experienced discrimination. Around 150 people from the greater Chicago Chinatown community answered the survey, with about sixty percent of participants stating they experienced bullying or discrimination in primarily public spaces such as on the street or in school; and of those who were discriminated, the majority felt it was because they were Asian or Chinese.
Meanwhile, an overwhelming majority, around ninety percent of those respondents, said they chose not to report the incidents.
Other outlets like the Stop AAPI Hate reporting center launched at the beginning of the pandemic collect self-reported data, which includes all kinds of incidents, many of which do not fit the legal definition of hate crime and yet show the subtle and insidious pressure of racism experienced by the AAPI community. In a 2020 report that covers nearly 4,000 nationwide incidents, 92 occurred in Illinois.
Few from the immigrant community report to law enforcement in the first place, due to fear of losing immigration status or being racially profiled, according to Pai. In the MAHA and CBCAC survey, respondents considered reporting to the police as useless because of the language barriers to make a report, lack of understanding of how to report, and fear of retaliation.
The underreporting of anti-Asian incident data called into question the disconnect between the city and the community. In Chicago, the AAPI community is largely invisible due to lack of political representation. While more AAPI representatives went into the state legislature in the past five years, the number was still only five out of 177 members. In the City Council, there are no AAPI officials. Compared to other large cities and states with similarly large AAPI populations, Pai believes that the political infrastructure in Chicago—and the Midwest—is not as strong.
"No one is necessarily asking us, like, how we're doing and what we're experiencing—so then you start to just brush it off or internalize it, but not talk about it outwardly," said Yasmine Ramachandra, a Chicago Chapter Leader at the National Asian Pacific American Women's Forum (NAPAWF). As a result, she believes that community members are desensitized, and many of them wouldn't think of their experiences as reportable crimes.
Without the accurate data that reflects AAPI experiences, officials tend to ignore the needs of the community. Last summer, NAPAWF compiled a report of anti-Asian crimes with testimonies from local chapter members, including in Chicago, and sent the report to the offices of Governor J.B. Pritzker and Mayor Lori Lighfoot, requesting a public statement denouncing the rise in incidents targeting the AAPI elderly. "Unfortunately what the government did was ignore it for some time," Ramachandra said.
Broadly, because of the sustained low number of official reports on anti-Asian attacks, high-profile cases that caught wide attention on social media were not being investigated because these "occurrences don't show signs of being racially motivated," NBC News reported.
"We need to do a better job educating our community," said Paul Luu, the chief executive officer of the Chinatown-based Chinese American Service League (CASL), pointing out that efforts need to be made for community members to recognize that they have the right to speak up about the assaults they have faced.
"When they are able to have the data, we need to illustrate [their] needs to our stakeholders that this is happening," Luu said. "When you do that, you now capture something larger than just data… you have a larger voice to say there is a need."
Ultimately, in the videos and the data, the physical and verbal violence hits close to home. "People can see themselves or their families in the victims," said Grace Chan McKibben, executive director of CBCAC.
Recent Chinese immigrants experience a great culture shock when it comes to gun violence, Chan McKibben said. "No one they know has ever been killed by gunshots. That's completely unheard of in China."
Divided visions of safety
With recent incidents clearly calling safety into question, Asian communities in Chicago are divided on the subject of police presence.
There were calls at a recent Chinatown rally to increase public safety and surveillance, improve street lighting, and create harsher punishments through the legal system for anti-Asian hate crimes to support more people to come forward to report incidents. This would be in collaboration with the CPD; Commander Don Jerome from the 9th District spoke at the March 27 gathering along with elected officials.
"We need to be united, we should work with legislators, and the police district," Liu said, adding that working with police would help to "trace criminal activities and to arrest the criminals."
Organizers called for officers to act on any potential hate crime report in a culturally sensitive manner. Most recently, after conversations with Chinatown community members, at least one CPD officer now patrolling through Chinatown is either a Cantonese or Mandarin speaker. And the organizers hope that relationships with the police will encourage more Chinatown residents to report incidents.
Darek Lau, a program associate at CBCAC, immediately saw the "diverse opinions of pro-police and anti-police" in the Chinatown gathering crowd and amongst the speakers. Throughout the crowd, Lau noticed a generational divide between younger folks holding posters advocating for abolition next to older folks with posters for calls of increased law enforcement.
Just one day prior, in a vigil and rally held in Irving Park to mourn and victims of the Atlanta shooting, organizers directly called for "a response which centers Asian American women, femmes, and elders — NOT an increased police presence," reads a tweet by NAPAWF, one of the leading organizations for the event.
According to Neha Gill, the executive director of another participating organization, Apna Ghar, which serves AAPI survivors of gender-based violence, the organizations "talked about making sure that our work does not come at the expense of work that Black and Indigenous communities have already been doing…we are very much in solidarity with not warning law enforcement."
Bob Wong, a pastor with the English-speaking congregation at The Chinese Christian Union Church (CCUC), said that church leadership internally asked: "How can we be a part of the preventative work to try and protect people? To seek ways to be a part of the solution?"
CCUC is partnering with the Chinatown Neighborhood Watch and the CPD to implement The Chinatown Peace Project. With CPD, church staff are going door-to-door to "educate our neighbors about crime prevention and safety practices," said Wong. CCUC has also partnered with Ring, a home security and smart home company owned by Amazon, to provide any Chinatown resident with a doorbell security system. This motion-detected doorbell allows the resident to see and can record whoever is at the doorstep. Since 2019, Ring has partnered with CPD to allow access to any surveillance footage.
Wong said the community care team wanted to take a holistic approach in figuring out solutions to seek justice and mercy for both victims and the offenders. The team also wants to work with victims, supporting them throughout the legal process, helping with medical expenses, and continued emotional support. CCUC aims to provide career, educational, or spiritual resources to offenders.
Luu also mentioned that CASL has and will communicate with CPD to advocate for the safety of the community. With more than 500 employees, CASL is now one of the largest and most comprehensive AAPI advocacy organizations in the country. Luu regularly meets with the police commander to make sure that when incidents happen, CASL learns about it and can be there to serve as a representative of the community.
"I know that the Black community may have a different view," he said, "but right now what we do and what we are saying is that we want to communicate and continue working with the police." Luu emphasized that AAPI organizations need to work with Black and Latinx communities to strengthen the connections and pursue a common goal of having a healthy community space.
Yet among local organizations, there are voices against policing. "People who feel the most comfortable with calling for police don't necessarily have the most awareness about issues that our Black neighbors face," said Ramachandra.
On April 15, released body-worn camera footage made the fatal shooting of thirteen-year-old Adam Toledo the center of national attention. Protesters across the city went on the streets to decry CPD, who took away the life of one child—and many more over decades of police violence. Across the state line in Minnesota, twenty-year-old Daunte Wright was killed while the trial of Derek Chauvin, the former Minneapolis officer who killed George Floyd, was held about 10 miles away.
As nationwide sentiment calls police accountability into question, organizers like Ramachandra believe that asking for more policing ultimately oppresses other minority groups. "If Black people are not calling for police, why are we calling for police, when our liberations are tied to one another? How can that exist?" she said.
Other organizers such as Pai also pointed out that racism has been deeply pervasive in law enforcement and equally affects AAPI communities. After the Atlanta shooting, local Sheriff's Office Captain Jay Baker described the shooter as having a "bad day" instead of mentioning racial motivation behind the attack, stirring backlash and anger across the country. Although Baker was later removed from his position as spokesperson on the incident, the Sheriff's Office defended his intention, claiming that his words "were not intended to disrespect any of the victims."
"That just shows how much a disconnect there is between law enforcement and our communities," Pai said. "When we see police downplaying what the shooter said, it's hard to trust that those police officers will protect our communities."
Conversation within the communities
Discussion over community safety is part of the ongoing dialogues within the AAPI communities living in America. "It's a matter of figuring out the racism within our own community," Ramachandra pointed out.
In particular, the generational difference made it hard to start an anti-racism talk among AAPI groups. When young organizers at NAPAWF tried to raise awareness of AAPI solidarity with the Black Lives Matter movement in the past summer, most of them were hesitant to talk to their parents and grandparents about their activism. To many of them, one of the values that they were taught during their upbringing is "family comes first," Ramachandra said, which includes paying respect to the elders and following the ancestors' lead.
When she talked to her family about her activism and organizing, Ramachandra received pushback from her family members, who told her that "your great grandma would not do that," pointing to an idea of how the wishes of "the dead" can weigh on younger AAPI generations.
But the ancestors, she said, were also radical in themselves. "A lot of them faced state violence in their homelands. Sometimes I think we forget when we come here."
In addition, the concept of the AAPI community in itself is complicated and diverse. In Illinois, the AAPI community comprises groups that are radically different in ethnicity, history, and socioeconomic background.
According to data from the 2010 Census, Chicago is the seventh city with a large Asian population. In Chicago and the surrounding suburbs, the Asian populations are predominantly Indian, Chinese, Filipino, Korean, and Pakistani.
Most of Chicago's Asian populations primarily reside on the Southwest and far North sides. Generally, South and Southeast Asian groups, including Indian, Vietnamese, Cambodian, Filipino, Pakistani and Thai populations reside on the far North Side in neighborhoods such as Uptown and Rogers Park. A large Korean population moved from the Northwest Side to suburbs to the North and Northwest like Des Plaines.
On the Southwest side, the majority are Chinese residents around the Greater Chinatown area that includes Chinatown, Armour Square, Bridgeport, and McKinley Park. However, the community also includes immigrants from different parts of China who speak different dialects, like Mandarin or Cantonese.
Today, eleven percent of Asian Americans in Illinois live in poverty. In a 2012 Midwest Demographics Report compiled by AAAJ Chicago, Asian American-owned businesses employ the most people and dispense the most payroll among all ethnic groups, while the number of unemployed Asian American in Illinois grew 200 percent from 2007-2010.
Different voices naturally arise from this diverse makeup. Gill recalled that when AAPI leaders came together to meet with the elected officials, there were different opinions. "With the governor and everybody else that we've been speaking to, [we said to] not pit Asian communities up against other communities of color, because we've seen that happen," she said of the demand for less policing, which was also coming from the Uptown community members they work with. Yet she also acknowledged that community leaders present at the meeting represented other groups and could have heard different attitudes.
When talking about challenges in starting conversations with first-generation Chinese immigrants, "there's definitely a language barrier, even using terms like 'white supremacy' it's a confusing term for some people," Lau said. Still, he has heard and seen an interest from the intergenerational community to learn. "The community isn't completely made up of conservative voices, pro-police, or pro-carceral systems," Lau said.
CBCAC noticed a lack of resources for Chinese-speaking first-generation immigrants about anti-racism, white supremacy, and the historical context of Chinese living in the United States. In response, CBCAC is piloting a program geared towards Chinese-speaking parents in Cantonese and Mandarin to facilitate these conversations. "We need to explain what anti-Blackness means and what history there is in the community and what white supremacy history is," Chan McKibben said.
Chan McKibben, along with other leaders within the 25th Ward and Alderman Byron Sigcho-Lopez, has been in conversations on long-term solutions such as mental health services, alternative restorative justice programs, and alternatives to policing.
Chan McKibben believes that police are only a short-term solution to the larger systemic issues. "Increased police presence or police work is only a part of the solution, because the police are not able to do prevention. They only get called when something happens," she said. "It would be good to invest in housing, invest in development opportunities, and invest in youth engagement opportunities."
"We don't want these conversations to blame certain other races," she said. "Asian Americans don't want to be blamed for the [COVID-19] virus or be blamed for whatever the Chinese government does. We also don't want Chinese Americans to blame all African Americans, all Latinx Americans, or all white people for action that only some may do."
A path forward
On April 14, the Teaching Equitable Asian American Community History (TEAACH) Act was passed in the Illinois House of Representatives and is moving to the Illinois Senate.
The call for passing the TEAACH Act was one of the demands at the Chinatown rally and was led by AAAJ Chicago. The act, once passed, would add Asian American history to the Illinois School Code and be implemented in every public school in the state. Supporters believe it is extremely important for all Illinois residents to learn about the history of the Asian diaspora in the United States and challenge the singular notion of race.
One example of an important historical piece is the murder of Vincent Chin, Pai said. The Chinese American draftsman was beaten to death in 1982 by two white men outside of Detroit who blamed him for the success of Japan's auto industry. Meanwhile, she hoped to bring up positive examples such as when Filipino workers, led by Larry Itliong, partnered with Mexican-American farmworkers to fight for fair treatment.
"So much of our experience of harassment and discrimination is based on how people perceive us, not necessarily the identities that we hold. That shapes so much of what it means to live in a society that is grounded in white supremacy," Pai said.
"My ten-year-old daughter said about the TEAACH Act, she said it's so important that my friends can be good champions of our community too, so that we don't have to do this alone," Luu said.
For AAPI organizers in Chicago, the need for more political representation is as important as educating future generations and raising awareness of the situations that AAPI communities face among allies. The TEAACH Act is a starting point. "We need that consistent investment to get to the similar level as those other [city] contexts," Pai said.
Mallory Cheng is a freelance audio producer and reporter based in Bridgeport. Her work has appeared in The Anti-Racism Daily Podcast and The Gazette Chicago. She is also a City Bureau Documenter. She previously contributed to BoSS for Best of Chinatown 2020. Yiwen Lu is a reporter for the Weekly who primarily covers politics. She last wrote about Chicago frontline workers' experiences with the vaccine. 
Our work is made possible thanks to donations from people like you. Support high-quality reporting by making a donation today.                                                                                                                                                                   
Donate