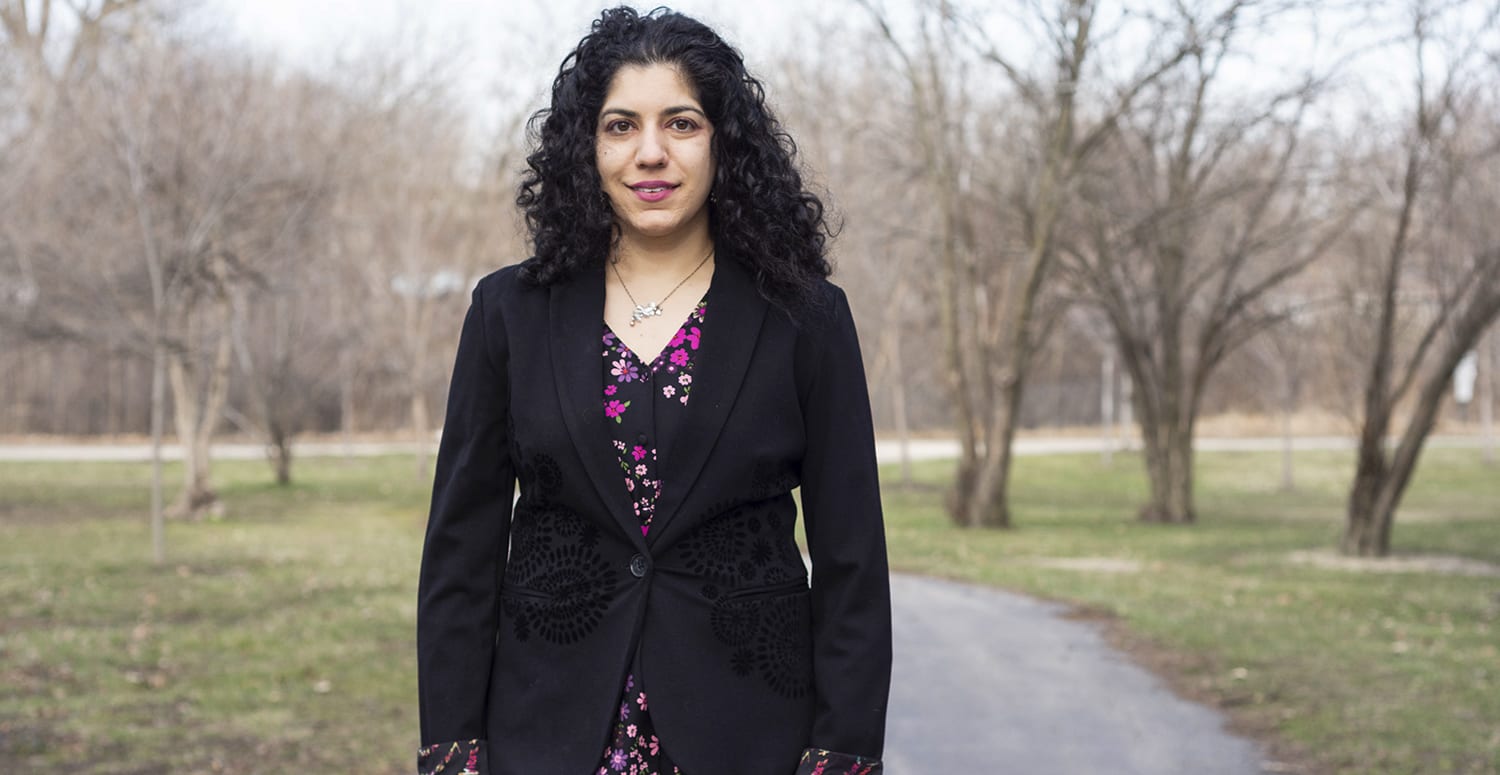 Photo by April Alonso for Borderless Magazine/Catchlight Local
Hena Mansori, the head attorney of the new immigration unit in the Cook County Public Defender's Office, near her home March 22, on the Northwest Side of Chicago.
A bill passed Monday by the Illinois General Assembly would allow the Cook County public defender's office to represent immigrants at the Chicago Immigration Court.
Never miss a story. Sign up for our Thursday newsletter to learn the latest about Chicago's immigrant communities.
A bill passed Monday by the Illinois General Assembly would allow the Cook County public defender's office to represent immigrants at the Chicago Immigration Court, a step that advocates said will help more immigrants in the county avoid deportation.
Unlike criminal defendants, immigrants facing deportation don't have the right to a government-appointed attorney. The Cook County public defender's office created an immigration unit last year to represent immigrants in immigration court, but it needed authorization from the state legislature to do so.
The bill, HB 2790, passed the state Senate 36 to 18, along party lines, after passing the House last month. The bill now heads to Democratic Gov. J.B. Pritzker's desk. A spokesperson for the governor said he "looks forward to reviewing the bill."
Supporters of the bill said providing deportation defense through the public defender's office will help immigrants who can't afford an attorney and who might have a legal right to stay in the country.
Liz Kenney, an immigration policy expert at the nonprofit Vera Institute of Justice who helped Cook County develop its immigration unit, said it will help "level the playing field."
"People are being deported who have legal claims to stay in the United States but can't assert them because they don't have the help of an attorney," Kenney said.
Nearly 70% of the more than 10,000 immigrants with deportation cases before the Chicago Immigration Court last fiscal year did not have a lawyer, according to data compiled and analyzed by Syracuse University's Transactional Records Access Clearinghouse. Immigrants are five to 10 times more likely to avoid deportation if they have legal representation, according to recent studies that analyzed immigration court data from Chicago and New York.
The bill doesn't require Cook County to provide a lawyer for every immigrant facing deportation or provide the county with new state funds to hire more immigration attorneys. Indeed, the county's immigration unit has enough funding to hire just two immigration attorneys this year. Advocates want the county to hire another two next year — which is not nearly enough to represent everyone in need of a lawyer at the Chicago Immigration Court.
But local immigrant rights advocates with the Defenders for All Coalition, which helped push for the bill, said it is a small step toward their ultimate goal of legal representation for everyone in immigration court.
"Everyone has the right to due process, including immigrants, and immigrants should also have the right to an attorney if they can't afford one," said Eréndira Rendón, vice president of immigrant advocacy and defense at The Resurrection Project, a nonprofit based in Chicago's Pilsen neighborhood and one of the coalition's lead organizers. "The coalition will keep working towards universal representation, and this bill is one important piece that helps us get there."
Hena Mansori, a longtime Chicago immigration attorney who was tapped to lead the public defender's immigration unit, said she expects the unit to take on its first deportation case early next year.
The immediate focus will be to represent immigrants in immigration detention and to take on cases stemming from criminal convictions that could set legal precedents that would benefit other immigrants in similar circumstances, Mansori said.
The benefits of PDs in immigration court
More than 40 cities and counties provide public funds for deportation defense. Most of those jurisdictions — including Chicago — pay immigration nonprofits to take on deportation cases.
Only a handful have public defenders directly represent immigrants in immigration court. One of the first was Alameda County, California, which includes Oakland and Berkeley and was one of the models for Cook County's immigration unit.
Raha Jorjani, who has run the Alameda County immigration unit since its inception in 2014, said incorporating deportation defense within a public defender's office helps cut down the time that an immigrant might spend in detention — which helps keeps immigrant families and their communities intact.
"When you're able to start the defense early, even before someone ends up in immigration custody, ultimately, you are reducing the amount of time that [a client] might have to be in custody," Jorjani said.
Irakere Picón, a lead organizer of the Defenders for All Coalition and director of legal services at the Illinois Business Immigration Coalition, said nonprofits can only "fill in the voids" that exist in funding from city, county, and state governments.
Publicly funded immigration defense programs are a "much more permanent" solution, Picón said.
The continuity of service and commitment to defending immigrants, even if their cases are complicated by an arrest or a criminal conviction, are hallmarks of the public defender model, said Kenney, who is the associate program director of the Safety and Fairness for Everyone Initiative at the Vera Institute of Justice, which partners with local jurisdictions on deportation defense programs and advocates for universal representation.
Embedding a deportation defense program in a public defender's office shows a county's "firm commitment that everyone, regardless of their contact with the criminal legal system, regardless of their national origin, deserves a zealous defense when they're faced with the consequences of deportation," Kenney said.
Since she started in September, Mansori has focused on advising public defenders about how to mount the best criminal defense for their noncitizen clients. Once the bill is signed into law, she said the unit will be able to keep representing some of those same clients if they end up in deportation hearings.
The Cook County Board of Commissioners allocated $350,000 for the immigration unit for this fiscal year, which ends Nov. 30. The JB and MK Pritzker Family Foundation, a philanthropic organization funded by Pritzker's personal fortune, chipped in another $300,000 to help launch the unit. It hopes to have two attorneys, a paralegal, and a case manager by the end of the year. The foundation has earmarked another $300,000 for next fiscal year, and
Cook County Board President Toni Preckwinkle said the county is "committed to continuing the unit into the future."
Mansori said she hopes that the immigration unit will be a model that can be scaled up if the local or federal governments make additional funding available.
We want to "be able to set the example and gather the data to continue the push towards advocating for federal funding for universal representation by showing what a difference it can make," she said.
Our work is made possible thanks to donations from people like you. Support high-quality reporting by making a tax-deductible donation today.                                                                                                                                   
Donate