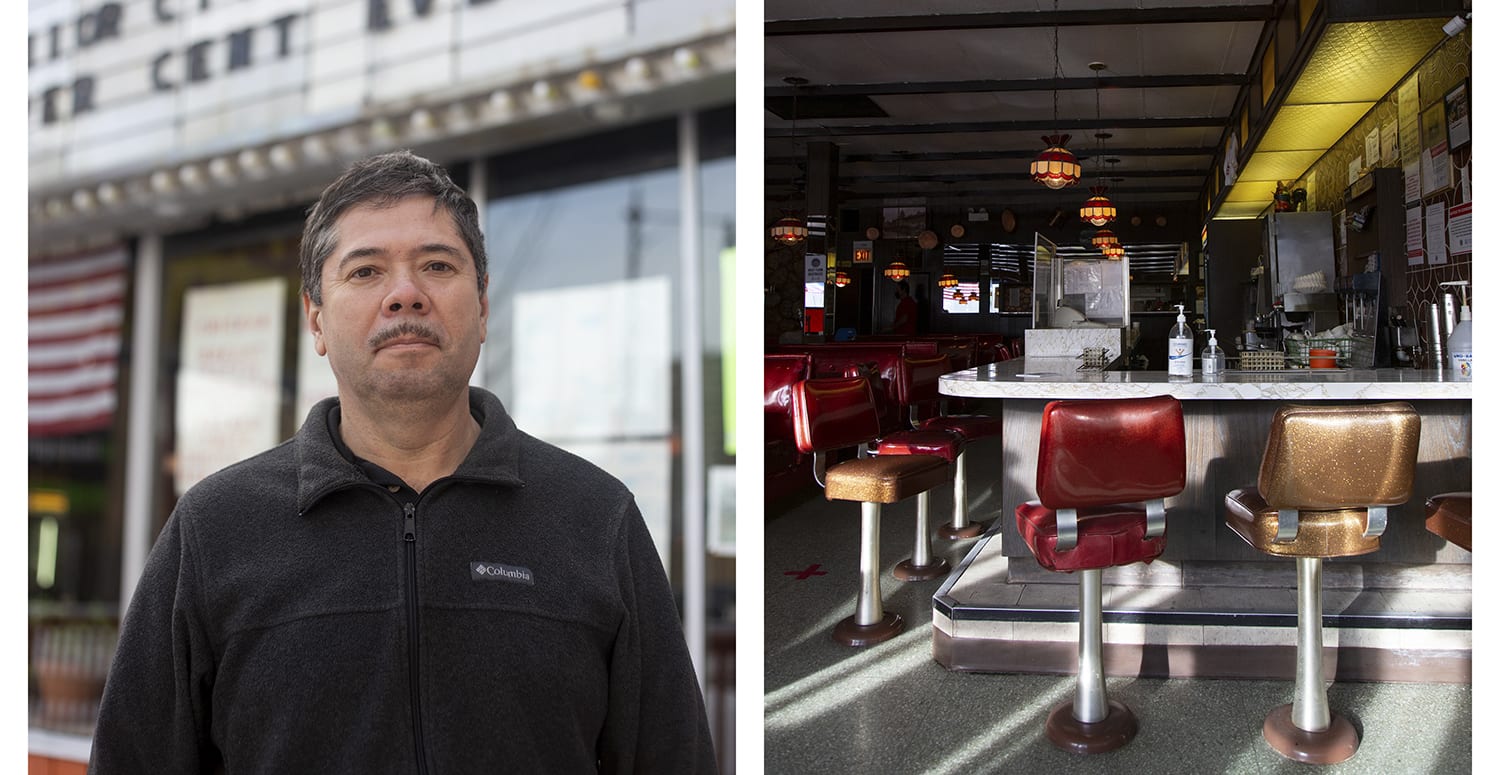 Photo by Woojae Julia Song for Block Club Chicago/CatchLight Local Chicago
Left: Hugo Espino, longtime co-owner and manager of Golden House Restaurant and Pancake House, poses for a portrait outside his restaurant on January 29, 2021. Right: two bottles of hand sanitizer sit on the bar inside the restaurant on February 25, 2021.
With insufficient federal financial relief, restaurants like Uptown's Golden House have had to lay off staff, adapt to constantly changing policies, risk their health daily and make painful decisions in an effort to stay open.
This story is part of a series on how immigrant business owners and workers of the bustling restaurant scene in Uptown have navigated the COVID-19 pandemic and the neighborhood's gentrification. It was produced in partnership with CatchLight Local and the Institute for Nonprofit News.
UPTOWN — When Hugo Lino Espino arrived in Uptown in 1984, he had years of experience working at a woodshop in his home state of Michoacán, Mexico.
He dreamed of opening his own shop in Chicago but quickly learned there were few opportunities. And he needed a job, fast.
So Espino did what many immigrants new to Chicago do: He took a job at a restaurant.
"Nobody in my community worked in wood. Everybody worked in restaurants. And I had no choice," Espino said. "Either it was a restaurant or no work."
Espino's uncle worked at Uptown's Golden House and got his nephew a part-time job at the diner. Starting with a dishwashing job that paid $30 a week, Espino eventually moved up the ranks and brought his siblings into the business: first Juvenal, then Audiel, Oliveros and one of their sisters. Eventually, Hugo partnered with his siblings to buy the diner.
The family has successfully run the business for more than three decades. But the coronavirus pandemic, which has devastated the restaurant industry and disproportionately impacted communities of color and immigrant communities, has threatened that hard work.
The pandemic has caused an untold number of local restaurants, such as Golden House, to teeter on the brink of closing for nearly a year. With insufficient federal financial relief, restaurant workers and owners like the Espinos have had to lay off staff, adapt to constantly changing policies, risk their health daily and make painful decisions in an effort to stay open. They've survived with support from the community and each other.
"Before the pandemic, we were doing very well. Now it's super slow," Espino said. "You feel bad because it's part of your life here. When you're here 30 years, every day, seven days a week …  you feel hard."
The pandemic's economic impact has cost the restaurant industry dearly. Illinois lost 124,000 restaurant jobs from the start of the pandemic through the end of 2020, according to the Illinois Restaurant Association. The association estimates 20 percent of the state's restaurants — or about 5,000 businesses — will close due to the pandemic.
Immigrants represent 22 percent of the national restaurant workforce compared to 13 percent of the population overall, according to a 2017 report by the Chicago Council on Global Affairs. They also own 37 percent of small restaurants nationwide.
Uptown already faced rising housing and business costs due to gentrification; now, its large business community is also navigating fallout from the pandemic. Immigrants or people of color own 75 of the 206 businesses that are members with the Uptown Chamber of Commerce, according to the chamber. Many of the businesses are small, family-operated spots.
Golden House closed when the state's stay at home order started in late March 2020. The Espino siblings eventually reopened to offer takeout to pay their bills, though they weren't sure how fruitful their effort would be.
"We have to pay for the water, the lights, the gas, the insurance, the alarm, the garbage, everything," he said. "Better come in and make the money at least for those bills, you know?"
Besides the five Espino siblings, Golden House had just two employees: two women who were servers. When the diner reopened, Espino offered them their jobs back at reduced hours. But they declined. One decided to retire early, he said, and the other explained that staying on unemployment benefits or getting work cleaning houses gave her more financial stability than the limited hours she'd be working at the restaurant.
"I said, 'Do the best for you. And then when everything is OK, we'll start back together, how we used to be,'" Espino said.
So the diner became a true family business in that only the siblings were left employed. As remaining employees who had more of a stake in the business, they banded together to help the business get through the pandemic. The family also owns the Golden House building, which means they don't pay thousands of dollars in rent every month.
As the city's coronavirus outbreak came under control, outdoor dining was allowed in early June and indoor dining was allowed later in the month.
As the resident maintenance man, Hugo built and painted a bright orange patio structure that matches the restaurant's facade so people could eat outside.
That was a welcome bright spot for the breakfast diner, which often acted as a community hangout and refuge. Diner food does not work as well for takeout as pizza or tacos, Espino said.
But still, with Golden House open to only 25 percent of its capacity, the diner was hard to operate.
Then, with a surge of cases in the fall, Golden House was again forced to close its doors to in-person service.
Many restaurants decided to close for the winter, hoping to wait out the worst of the pandemic.
But Golden House stayed open every day except Christmas, getting by on the skeleton crew of siblings and the business of its regulars. Golden House received a $38,649 federal Paycheck Protection Program loan and a $10,000 loan through the state's Business Improvement Grant program, but those one-time grants barely kept the lights on, Espino said.
"It's like when you have a big cut in your hand and somebody gives you an aspirin," he said.
Regulars, who went to the neighborhood diner for more than breakfast food, have kept Golden House afloat.
John Blick has enjoyed many a "recovery brunch" and solo meal at Golden House since 2005, when he moved to Uptown from Wisconsin. Even after moving out of the neighborhood, Blick maintained his routine of ordering a ham-and-cheese omelette with hash browns and rye toast.
Prior to the pandemic, the diner bustled with diners who squeezed into the red vinyl booths and the bar. The smell of coffee and pancakes filled the air. That classic aesthetic has landed Golden House on the screen in shows like "Shameless" and Chance the Rapper's music videos.
"I loved the place for its no-frills aesthetic," Blick said. "It just was a very honest, straightforward diner."
While the neighborhood's visual and commercial landscape have shifted, Blick said, the diner's food, menu and design have remained exactly as he remembers.
Blick, who works as the Uptown Chamber of Commerce's director of partnerships, has also gotten to know Espino over the years.
"He's a generous, kind, talkative, proud, accomplished, focused brother and father," he said.
Over the years, Espino has served customers who grow up and bring their children, then their grandchildren. He talks with almost everyone who comes through the door and has even introduced some customers seeking legal support about their immigration status to regulars who are lawyers.
"I love to help people when they have necessities or they need something," he said. "The customer is not a customer; they're like a part of your family."
When the diner became takeout-only, customers lost that friendly — and helpful — conversation. It turned out many people missed that atmosphere as much as the siblings who own the business.
"Most of the time it's regulars" who order takeout, Espino said. "They tell me, 'When I come to a restaurant, I want people to talk with. I have food at home, but I want to talk to somebody. I want to feel important.' it's what they tell me."
One recent morning, six patrons sat distanced around the diner's perimeter. Some sat in pairs, but most were alone. "Kiss Me" by Sixpence None the Richer played on the radio. Oliveros Espino, who works as the only front-of-house staff these days, offered a woman a coffee refill.
"Are you ready for today?" he asked an older man as he brought over the check.
With coronavirus's spread slowing, Golden House is again open to indoor dining. It hasn't been the salve many businesses who hibernated all winter are hoping for, Espino said. And Uptown residents still seem more hesitant to dine out than those in other neighborhoods, he said, which is good for public health but not so good for businesses.
But it's a start.
Uptown's change continues apace. Across the street from Golden House is the Bridgeview Bank Building, which is the latest historic Uptown structure to be turned into luxury apartments.
The changes in Uptown have pushed out some of the residents who might frequent an affordable diner. It has also made business expensive, and Espino said he has fielded many requests to buy his restaurant building, which sits right next to the Riviera Theater, now closed due to the pandemic.
Espino came to Uptown to join a life his family had begun to build there. Though he and his siblings have moved to more affordable neighborhoods like Hermosa, the Espinos have kept their Uptown business with little thought of giving it up.
"It's like my second hometown," Espino said of the neighborhood. "Here, I can make my money to eat and support the community."
Golden House Restaurant and Pancake House is located at 4744 N. Broadway, Chicago, IL 60640.
Our work is made possible thanks to donations from people like you. Support high-quality reporting by making a tax-deductible donation today.                                                                                                                                   
Donate