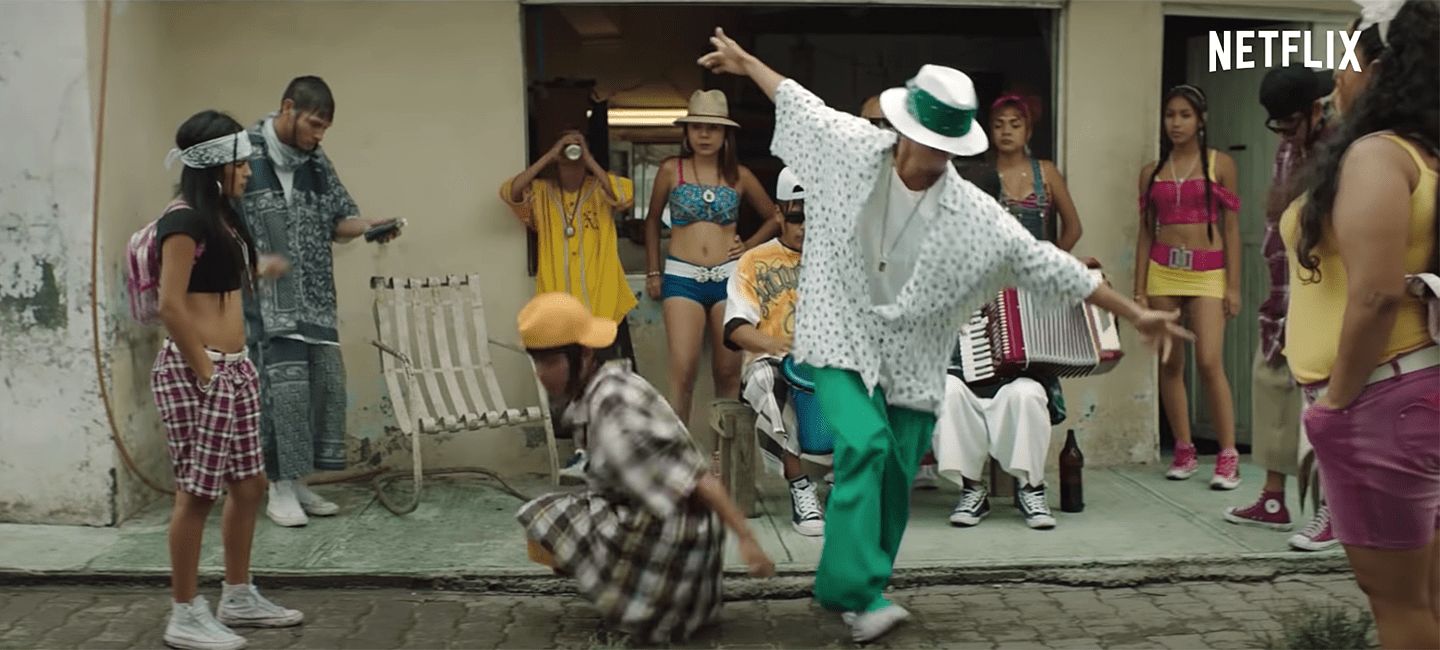 From stories about undocumented immigrants to comedies about first-generation families, here are some of our favorite things to watch and read about immigration.
Above: Netflix
The CDC recommends people spend this year's holidays at home to curb the rise in COVID cases. So why not take advantage of the time at home to dive into stories about immigration?
Each year, more than one million immigrants arrive in the United States as permanent legal residents, asylum-seekers, refugees, and other categories. Around 28 percent of the U.S. population are immigrants, according to the 2018 Current Population Survey.
Each immigration story is unique, and a study conducted by Define American showed people who are more exposed to immigration-related stories are more likely to take inclusive immigration-related actions. 
"This was due in part to being transported into, or immersed in, the story world," the study says. 
Borderless Magazine's contributing reporter Claudia Hernandez shares ten of her favorite things to read and watch about immigration. 
Double your impact today. Until Dec. 31 NewsMatch will match your new monthly donation 12x or your one-time gift, all up to $5,000.                                                                                                                    
Donate
Want to learn more about undocumented immigrants in the United States? Take a look at these:
"I'm No Longer Here (Ya No Estoy Aquí)" (2019)
"I'm No Longer Here" is a Mexican film directed by Fernando Frías de la Parra. This film is about a 17-year-old teenager named Ulises (Juan Daniel Garcia Treviño) who is the leader of a gang in Monterrey, Mexico, called "Los Terkos." They dress in a peculiar way; have unique hairdos and honor the counterculture of Kolombia, which consists of dancing a type of cumbias. After having a dangerous encounter with another gang, he is forced to migrate to the United States. He arrives in New York and starts his journey of adapting to a new culture which is completely different from his own. This is a nonlinear narrative film that shows the present and the past simultaneously. The film jumps between his experiences in Monterrey and New York City, where he is forced to start a new life as an undocumented immigrant who doesn't speak a word in English. This film has been selected as the Mexican candidate for Best International Feature at the 93rd edition of the Academy Awards.  
Watch on Netflix.
"Desierto" (2015)
"Desierto" is a Mexican-French film directed by Alfonso Cuarón's son Jonás Cuarón. This is a thriller that will keep you on the edge of your seat the whole time. It is about a group of Mexican workers who are trying to cross the U.S.-Mexico border in the middle of the desert. When the truck breaks down in the middle of nowhere, they are left there on their own. As Moises (Gael García Bernal) and the group try to cross the desert, they meet an American man who mercilessly starts shooting at them. Moises has no other choice but to run for his life in the unforgiving desert, trying to hide from the shooter. This movie shows the harsh journey that many immigrants have to go through when crossing the border. 
Watch on Youtube.
"Immigration Nation" (2020)
"Immigration Nation" is a documentary directed by Christina Clusiau and Shaul Schwarz. This film is a compilation of footage filmed from 2017 to 2020 of the U.S. Immigration and Customs Enforcement (ICE). This film caused a lot of controversy because ICE threatened the filmmakers and demanded that the film's release be delayed until after the 2020 presidential elections. While this film is not easy to watch, it is an important record of the world's largest immigration detention system. 
Watch on Netflix.
"Waking Dream" (2018)
"Waking Dream" is a film directed and produced by Theo Rigby. This film shows the story of six undocumented young people who have received Deferred Action for Childhood Arrivals (DACA) status. While DACA has given them some sense of security, the laws are constantly changing, leaving these people unsure about their safety and their future. This film showcases the struggles of pursuing their vision of the "American dream." 
Watch on Kanopy.
Looking for something lighter about the immigrant experience? Take a look at these:
"Code-Switched" (2020)
"Code-Switched" is a web series directed by Karan Sunil that follows the life of five South Asian friends who are trying to build their future while acknowledging their multicultural backgrounds. This project started out as a short film in 2017 which received several awards, including Best TV/Web Screenplay at the Los Angeles Independent Film Festival Awards. Sunil previously spoke to Borderless Magazine about the importance of telling stories of South Asians by South Asians.
Watch on YouTube.
"Kim's Convenience" (2016)
"Kim's Convenience" is a Canadian sitcom based on a play of the same name by Ins Choi. The all-Asian lead cast show follows the story of a Korean-Canadian family who runs a convenience store in Toronto, Canada. It currently has four seasons and has been renewed for two more seasons. Kim's Convenience takes a comedic approach to immigration and it is a great show to watch with the family. The show has a score of 91 percent on Rotten Tomatoes and it has been nominated for several categories including Best Comedy Series at the Canadian Screen Awards. 
Watch on Amazon Prime.
"Ramy" (2019)
"Ramy" is an American television series created by and starring Ramy Youssef. This show portrays the life of American Muslilms in a way that goes beyond stereotypes. Ramy follows first-generation American Muslim-Arabs in a neighborhood in New Jersey and the moral, spiritual and intellectual challenges they encounter. In 2020, Youssef was awarded a Golden Globe Award for his performance in Ramy. This series has two seasons and was recently renewed for a third season. 
This show can be found on Hulu.
"Little America" (2020)
"Little America" is a show inspired by a photo essay about immigration published by Epic Magazine. This show is a breath of fresh air in a dark time for immigration in the United States and provides a very human portrayal of immigrant life. Little America has been renewed for a second season after receiving good ratings and 95 percent on Rotten Tomatoes. 
Watch on AppleTV.
Do you prefer books over movies? Check out these novels about immigration:
"Lost Children Archive" (2019)
"Lost Children Archive" is a novel written by the Mexican author Valeria Luiselli. It's inspired by the current immigration system in the United States and how many immigrant families have been separated from their loved ones because of it. The novel follows the story of a couple and their children while they drive from New York to Arizona. The book shares stories, memories and poems from the perspective of the wife, who is an unnamed Mexican documentarian. This book has received great reviews and won the 2020 Rathbones Folio Prize. Luiselli translated her novel to Spanish under the name "Desierto Sonoro."
Buy at your local bookstore.
"Homegoing" (2016)
"Homegoing" is a novel by Ghananian-American author Yaa Gyasi and follows the descendants of an Asante woman named Maane. Each chapter follows a different descendant and how they are impacted by different historical events. Each chapter stands on its own as a mini story. Gyasi has received several awards for this novel which was originally published in English and has now been translated to several languages. 
Buy at your local bookstore.