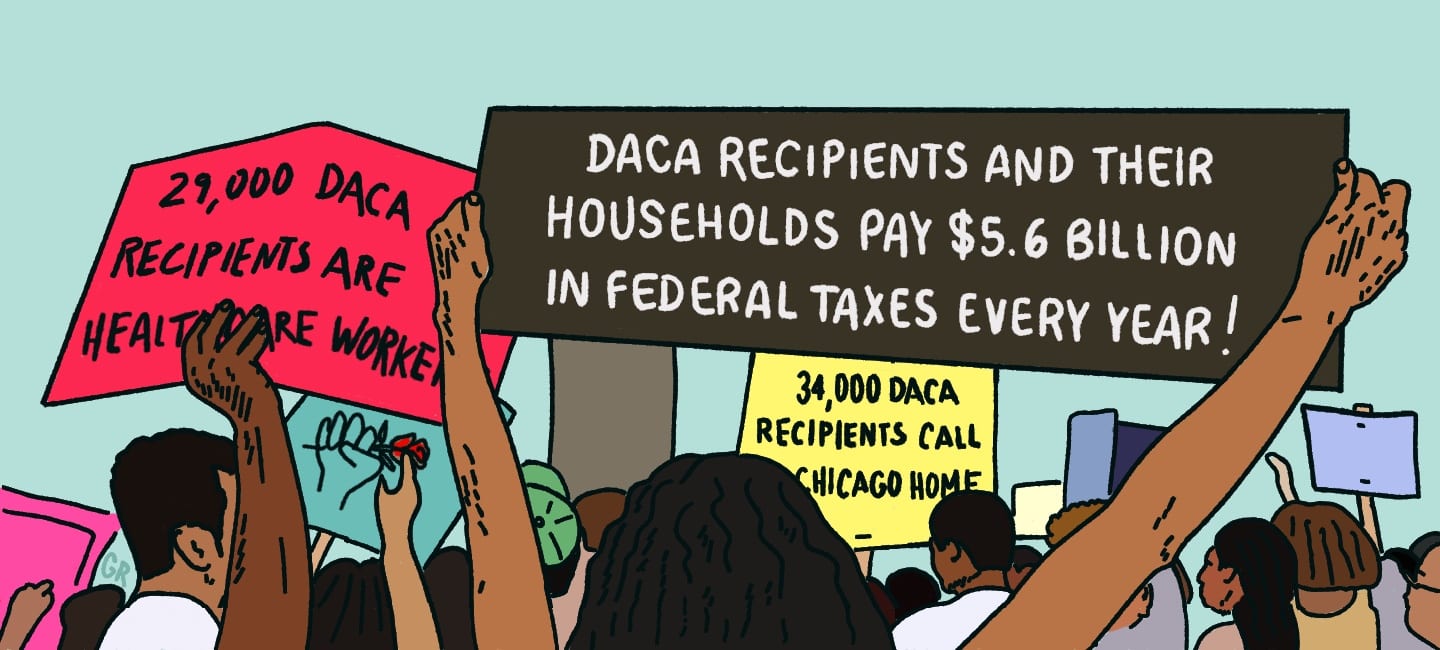 The Supreme Court rejected President Trump's termination of DACA today. The policy has allowed over 825,000 immigrants to work and go to school in the United States since 2012.
Above: Illustration by Grae Rosa for Borderless Magazine
UPDATE 6/18/20: The Supreme Court ruled to protect DACA.
The Supreme Court ruled this month that President Donald Trump's attempt to terminate DACA was unlawful. 
The Obama-era immigration program currently gives nearly 650,000 immigrants temporary protection from deportation. 
President Donald Trump attempted to terminate the Deferred Action for Childhood Arrivals program in 2017. The Supreme Court's decision means that Trump's decision is canceled and that the program may continue to exist. 
If the court had sided with Trump, Immigration and Customs Enforcement (ICE) could have begun deporting DACA recipients with final orders of removal.  
Here's what you need to know about DACA ahead of the Supreme Court's decision. 
What is DACA? 
President Barack Obama created the Deferred Action for Childhood Arrivals program, or DACA, through a presidential memorandum he signed June 15, 2012. Obama's goal was to give qualifying undocumented immigrants brought to the United States as children a reprieve from deportation for a two-year period that was renewable. 
Over 825,000 eligible immigrants have received DACA status since the policy's creation. DACA recipients are eligible for a work permit, can freely attend school and apply for a driver's license. DACA is separate from the DREAM Act that was introduced to Congress by Sen. Dick Durbin (D-Ill.) and former Sen. Orrin Hatch (R-UT) in 2001 but failed to be signed into law. DACA does not provide a path to citizenship and its recipients are ineligible for federal aid or student loans.
President Obama attempted to create a similar program for undocumented parents of U.S. citizens and lawful residents in 2014 but that program was also blocked. 
Who are DACA recipients?
DACA applicants must meet a number of criteria in order to qualify for the program, including having lived in the United States continuously since 2007, been under the age of 31 as of June 15, 2012, and having not been convicted of a felony or serious misdemeanor. The application process is complex, involves extensive background checks, and can cost at least $495.
The oldest DACA recipients are now in their late 30s and many have established lives and careers in the United States. DACA recipients have an estimated 250,000 U.S.-born children. 
More than 80% of DACA recipients were born in Mexico. California and Texas have the highest number of DACA recipients The Chicago metropolitan area is home to over 34,000 DACA recipients.    
DACA recipients work and study in a variety of fields. An estimated 29,000 DACA recipients are health care workers and advocates worry that if those recipients lose their status it could jeopardize the United States' fight against coronavirus.
Each year, DACA recipients and those in their household pay $5.6 billion in federal taxes and $3.1 billion in state and local taxes. 
Why is the Supreme Court Weighing in on DACA? 
Former Attorney General Jeff Sessions announced Trump's plan to rescind DACA on Sept. 5, 2017. Over ten legal challenges to Trump's decision were filed arguing that his administration had violated equal protection and due process rights. 
On June 28, 2019, the Supreme Court agreed to hear three of the complaints challenging Trump's decision to end DACA. The court will first decide if it can review the Trump administration's decision. If the court decides it can, then it will review if Trump's decision to terminate DACA was legal. 
The Supreme Court heard oral arguments  Nov. 12, 2019. The court later agreed to allow DACA advocates to make an additional filing on April 20, 2020 arguing DACA recipients provide essential health care during the coronavirus pandemic.
Their decision on these cases was announced June 18, 2020.
What did the court decide?
The Supreme Court decided it does have the authority to review the matter and that Trump's termination of DACA was unlawful.
In the court's opinion, Chief Justice Roberts wrote, "We conclude that the Acting Secretary did violate the [Administrative Procedure Act], and that the rescission must be vacated." The decision will allow DACA to continue as a program, but the president may attempt to end the program again in the future.
How can I apply for DACA? 
The U.S. Citizenship and Immigration Services is accepting applications for DACA renewal at this time but not any new applications. For help on renewing your DACA status if you currently have or once had DACA, check out resources provided by Home is Here and the National Immigrant Justice Center.
Our work is made possible thanks to donations from people like you. Support high-quality reporting by making a tax-deductible donation today.                                            
Support Us