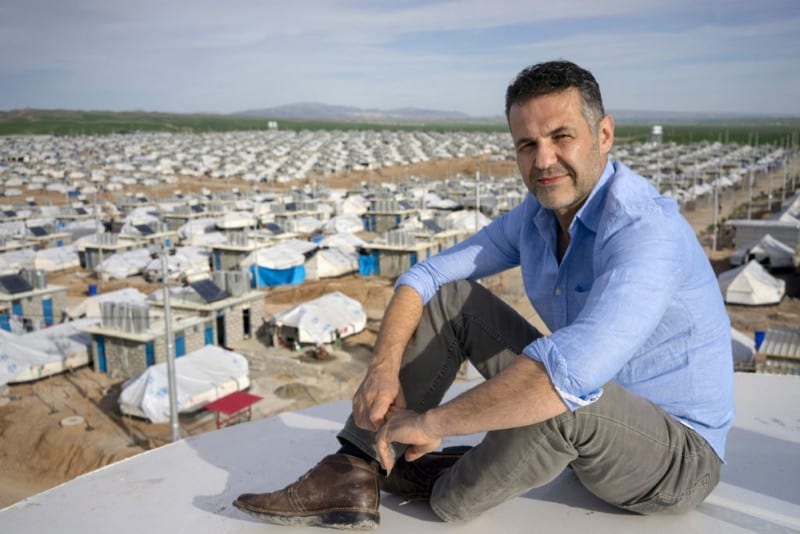 Before he became the best-selling author author of "The Kite Runner," Khaled Hosseini was an asylum seeker.
Before he became the best-selling author author of "The Kite Runner," Khaled Hosseini was an asylum seeker. His family sought refuge in the United States in 1980 after a bloody communist coup in his country of Afghanistan kept his family from returning home.
Now, Hosseini is uplifting the stories of other asylum seekers and refugees with his short novel Sea Prayer. Proceeds from the book will go to The Khaled Hosseini Foundation and the UNHCR, the UN refugee agency where Hosseini is a Goodwill Ambassador.
Hosseini told Borderless why he thinks it is important to tell stories about refugees and asylum seekers now.
So much of the anti-refugee sentiment we are seeing at the moment, although there are mixed reasons for it, is based on a poor understanding of who refugees are, what they face and what they go through.
There is a series of misconceptions, and that's part of the reason why I think books written about refugees — not just Sea Prayer — but others too, help humanize the story and allow us to experience it in an emotional sense, to help us connect with the individuals rather than the headlines.
We are a species wired to storytelling — we can read statistics, we can watch the news, but they have a way of hitting us and then we move on. Numbers and figures have a way of blunting our emotional response to stories.
As human beings, for us to understand something we have to care first, and for us to care, we have to feel something. Storytelling is important in that it is a very good first step.
I think that is the gift of stories. I'm not saying that storytelling is enough, but it is indispensable. That's often where it starts — we are invited into another person's experiences, we recognize something that connects with us, that moves us, that angers us.
I wrote Sea Prayer to honor the memory of three-year-old Syrian refugee Alan Kurdi whose lifeless body was washed up on a beach in Turkey after he drowned, along with his siblings and mother, trying to reach safety in Europe. I also wanted to pay tribute to the thousands of others who have lost their lives making similarly desperate journeys.
But these dangerous journeys are not just undertaken by refugees trying to get to Europe. Right now over 68.5 million people around the world have been forcibly displaced (of that, over 25 million are refugees) so there is a global angle.
Whether you are talking about Syria or Afghanistan or South Sudan, every time somebody abandons home and flees toward a border that can rightly be called a desperate journey because that's the experience of being a refugee — escaping one nightmare and falling into another.
I want to highlight the fact that thousands of other families, both before and after the death of Alan Kurdi, have undergone a similar experience.
Thousands of other families have faced the same agonizing choice to abandon their homes and to put their lifesavings in the hands of smugglers who have very little regard for human life and then set out on the open sea, toward a completely uncertain future.
I would invite people to think about their own lives, and their own families and think about what it would take for them to abandon everything that defines them — their land, their home, their property, their community and to set out to sea, knowing how many people at have perished before them in their attempt to reach safety and sanctuary.