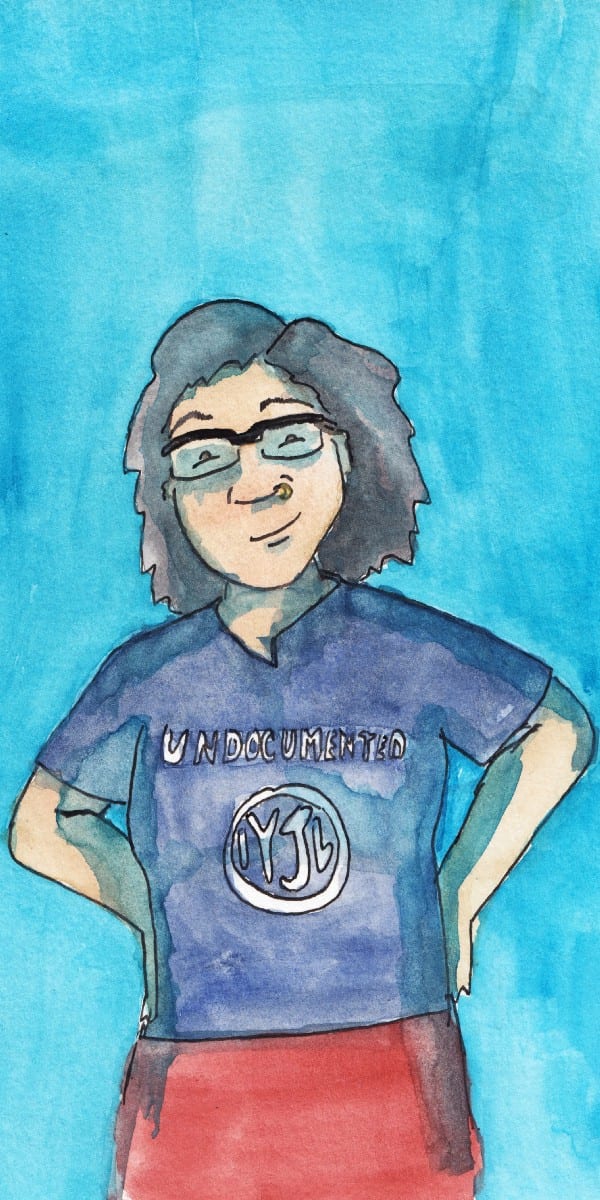 Tania Unzueta is a fierce advocate for the rights of undocumented immigrants around the country.
Tania Unzueta is a fierce advocate for the rights of undocumented immigrants around the country. She helped found three organizations that defend the rights of immigrants, including Organized Communities Against Deportation and its predecessor the Immigrant Youth Justice League, and Mijente, a national Latinx organization. She was first arrested for staging a sit-in in Senator John McCain's office in 2010 in support of the Dream Act. These days, she continues to work with OCAD and serves as the policy director for Mijente, a political hub that calls itself pro-Latinx, pro-Black, pro-woman, pro-queer and pro-poor.
Tania came to the United States from Mexico when she was 10 years old and settled in Little Village. She continues to live in Little Village today. Borderless spoke to Tania over the phone while she was in Texas fighting for the rights of immigrants detained along the border.
Since Trump has been elected, undocumented immigrants have faced a series of pretty sharp attacks in a way that we hadn't seen before. There's a lack of accountability to anyone in immigration enforcement in a way that didn't exist under the Obama administration. There's a lot of fear with people not knowing whether they're going to see their loved one soon. A lot of folks who thought they were safe are fearing deportation again.
In Little Village and places like Back of the Yards, there's times when people are scared. They don't go to school that day. There's less people on the street, particularly after immigration raids happen, which have been hitting both of these communities.
But it's not just all fear. Part of the work we do is to figure out how to organize the community members so that we can fight for policies that actually protect people at the local, state, and national level.
Right now we're calling for the abolition of Immigration and Customs Enforcement, the organization founded in 2003. We don't want to go back to the the Obama-era immigration enforcement practices, we want to make sure that whatever we get next provides some level of liberation for our people. My long-term vision is a world where people can be happy, can live without fear, and I can organize without fear. And to me that means the abolition of ICE and changing the funding of local police enforcement.
I don't think Chicago is a sanctuary city right now. Sanctuary is supposed to be a place that you've protected. How ever you look at it, Chicago is only a sanctuary because the mayor says it is so. Even the sanctuary city ordinance, the "Welcoming City Ordinance," has big exceptions that to me are pretty bad, that leave people unprotected. The welcoming city ordinance says that police won't communicate with ICE unless a person is in the gang database or the person has been charged with a felony, regardless of whether they've been convicted or not. Those are categories that are completely dependent on the Chicago police and the police have a bad history of working with communities of color.
The sanctuary city policy only defends people that the police haven't criminalized. When we have a police force that is corrupt, violent, and has shown that it discriminates against people of color, that is incredibly harmful for communities in Chicago.
The other thing is that everyone deserves sanctuary. Not just immigrants. And immigrants need protection from police, not just ICE. It is pretty clear to me that when we talk about communities of color in Chicago, including immigrant communities, the police and immigration agents are the biggest threat to our community safety.
I think everyone is a target right now for immigration. We literally had people put into deportation proceedings after they talked to newspapers and their story gets published. I feel like I am a target as an activist. But I think everyone who's undocumented is a target right now.
I think there's a lot of focus by folks who are not immigrants on children and young people. And I think what they don't understand is that we actually don't just want them to care about us. We won't survive without our parents. The thing that has happened over and over is that people have thrown our parents under the bus in order to be able to get stuff for us, like the Deferred Action for Childhood Arrivals (DACA) program.
I think it's happening now with the children at the border. Their parents are being prosecuted by the Department of Justice and being put into a private prison. The only thing people care about is the children. And it's like, yeah, who do you think the children are supposed to be with? They're supposed to be with their parents, who are being criminally prosecuted right now!
I get it. I get chills about babies in jail. But I think you can't isolate one part of our families without thinking about the other.
The other thing people don't understand is our anger toward immigration enforcement. They think that it can just be made better or go back to the way it was under Obama. What we're telling people is that it doesn't matter. It doesn't matter whether they're being nice or being assholes when they separate our families. We don't want them to separate our families period.
What we're trying to get them to understand is that the literal existence of immigration and customs enforcement is to detain people. It's used as a political arm of the government. It's the president's own police force. Whether the president is Democrat or Republican, he's going to continue to use ICE to separate families.
I need people to stop saying, "Keep families together." If they want to help us, I need them to start saying, "Abolish ICE." And get rid of the ways that police help out law enforcement.
---
Tania Unzueta
Una organizadora nos hace cuestionarnos la forma en que pensamos — y vigilamos — la migración en la actualidad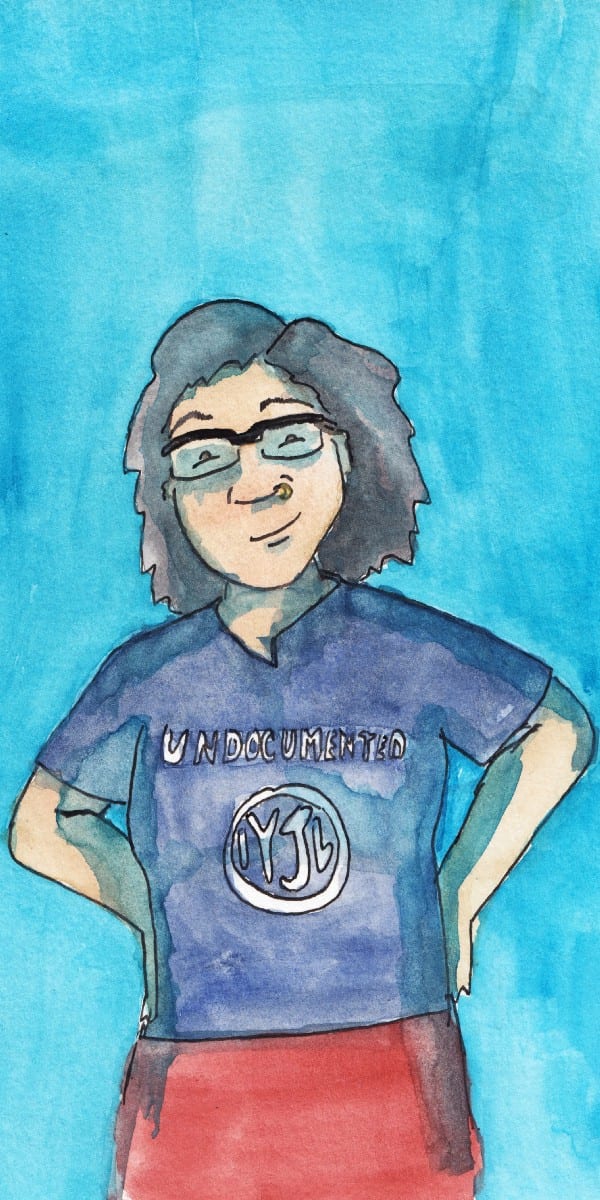 Tania Unzueta es una aguerrida activista que ha luchado por los derechos de migrantes indocumentados en los Estados Unidos. Ayudó a fundar tres organizaciones que defienden derechos migratorios, como La Liga de la Justicia de Jóvenes Migrantes, o la organización que la sucedió: Las Comunidades Organizadas en contra de las Deportaciones (OCAD, por sus siglas en inglés), e incluso la organización Latina, Mijente. Unzueta fue arrestada por primera vez cuando participó en una sentada en apoyo y solidaridad con el Dream Act afuera de las oficinas del senador John McCain en el año 2010. Hoy en día, continúa trabajando en OCAD y es la directora de políticas públicas para Mijente, una organización nodal que expresa apoyo de la comunidad negra, mujeres, queer y gente en situación de pobreza.
Tania llegó a los Estados Unidos cuando tenía 10 años, tras dejar a su tierra en México. Se estableció con su familia en La Villita donde hoy sigue viviendo. Borderless platicó con Tania por teléfono cuando ella se encontraba en Texas defendiendo los derechos de migrantes que han sido detenidos en la frontera.
Desde el momento en que Trump fue electo, los migrantes indocumentados han sufrido ataques sumamente agresivos que de cierta forma nunca habíamos visto. No se hace responsable a ninguna de las autoridades migratorias, sucede de una manera que no se veía durante la administración de Obama. Hay mucho miedo gracias a que la gente no sabe si podrán ver pronto a sus seres queridos. Mucha gente que creía estar a salvo hoy teme ser deportada.
En La Villita, y en lugares como Back of the Yards, hay días en que a la gente le entra el miedo. En esos momentos, no van a la escuela y hay menos gente en la calle. Especialmente después de que han habido redadas contra migrantes, que han sido un golpe contra ambos vecindarios.
Pero no todo lo que sienten es miedo. Parte de lo que nos enfrentamos es averiguar cómo organizar a miembros de la comunidad para que puedan luchar para impulsar políticas que los protejan en un nivel local, estatal y nacional.
En este momento estamos haciendo el llamado para abolir el Servicio de Inmigración y Control de Aduanas de los Estados Unidos (o ICE, por sus siglas en inglés), una organización fundada en el año 2003. Nosotros no queremos regresar a las prácticas policiacas y de vigilancia contra migrantes de la era de Obama, lo que queremos es asegurarnos de que lo que sea que venga, garantice un nivel de liberación para nuestra gente. Mi visión a largo plazo es un mundo donde la gente pueda ser feliz, donde la gente pueda vivir sin miedo y que yo pueda organizar sin miedo. Y para mi, eso es lo que significa abolir ICE y cambiar la forma en que adquieren fondos los cuerpos locales de la policía.
Yo no creo que Chicago sea una ciudad santuario en este momento. Un santuario es un lugar donde estás protegido. No importa cómo lo veas, pero Chicago es una ciudad santuario sólo porque el alcalde dice que lo es. Incluso la ordenanza que le da estatus de ciudad santuario a Chicago, la "Welcoming City Ordinance," tiene grandes excepciones que para mi son bastante graves y dejan a la gente en una posición vulnerable. La "Welcoming City Ordinance" dice que la policía no se puede comunicar con ICE a menos que la persona se encuentre en la base de datos de pandillas o que haya cometido algún delito, sin importar si fue condenado o no. Todas esas son categorías que dependen completamente de la policía de Chicago que tiene una mala reputación cuando se trata de trabajar con comunidades no blancas.
La política de ciudad santuario sólo defiende a la gente que la policía aún no ha criminalizado. Cuando tenemos un cuerpo policiaco que es corrupto, violento y que ha demostrado que discrimina a gente que no es blanca, se convierte en algo sumamente dañino para las comunidades en Chicago.
La otra cuestión es que todos merecen un santuario, no sólo los migrantes. Y los migrantes necesitan ser protegidos no sólo de ICE, sino también de la policía. Para mi es muy claro que cuando hablamos sobre comunidades no blancas en Chicago, incluyendo a las comunidades de migrantes, la policía y las autoridades migratorias representan el mayor riesgo para el bienestar de nuestras comunidades.
Yo pienso que todos son un objetivo para las autoridades migratorias hoy en día. Hemos tenido a gente que literalmente la ponen en procesos de deportación inmediatamente después de que cuentan su historia a los medios y sus historias son publicadas. Yo me siento como un objetivo como activista. Pero creo que toda aquella persona que esté indocumentada es un objetivo en este momento.
Yo creo que quienes no son migrantes se han enfocado mucho en los niños y los jóvenes. Yo creo que lo que no entienden es que queremos que no sólo se preocupen por nosotros. No vamos a sobrevivir sin nuestros padres. Y lo que ha sucedido una y otra vez es que la gente ha sacrificado a nuestros padres con tal de que sea posible que nos den ciertas cosas, como el programa de la Acción Diferida para los Llegados en la Infancia (DACA, por sus siglas en inglés).
Pienso que está pasando en este momento con los niños que están siendo separados en la frontera. Sus padres están siendo procesados por el Departamento de Justicia y los están metiendo en prisiones privadas. La cosa aquí es que a la gente le importan los niños. Y es como de "Sí, ¿y con quién piensan que deberían estar los niños?" ¡Ellos deberían estar con sus padres, que están siendo procesados como criminales en este momento!
Lo entiendo. La idea de tener niños en la cárcel me da escalofríos. Pero creo que no puedes aislar una parte de las familias sin pensar en la otra.
Otra cuestión que la gente no entiende es la ira que existe hacia la policía migratoria. Creen que se puede mejorar o que se puede regresar a cómo funcionaba bajo la administración de Obama. Lo que le estamos diciendo a la gente es que eso no importa. No importa si son amables o si son unos culeros cuando están separando familias. No queremos que ellos separen a las familias. Punto.
Lo que estamos intentando hacer que la gente entienda es que, literalmente, el propósito de la existencia de ICE es detener gente. Está siendo utilizado por el gobierno como un brazo político. Es la policía del presidente. Sea demócrata o republicano, el presidente seguirá utilizando el ICE para separar a las familias.
Necesito que dejen de decir "Hay que mantener juntas a las familias." Si la gente quiere ayudarnos, hay que dejar de decir "Hay que mantener juntas a las familias" y empezar a decir 'hay que abolir el ICE."
Tal como fue contado a Nissa Rhee; Traducción de Sebastián González de León