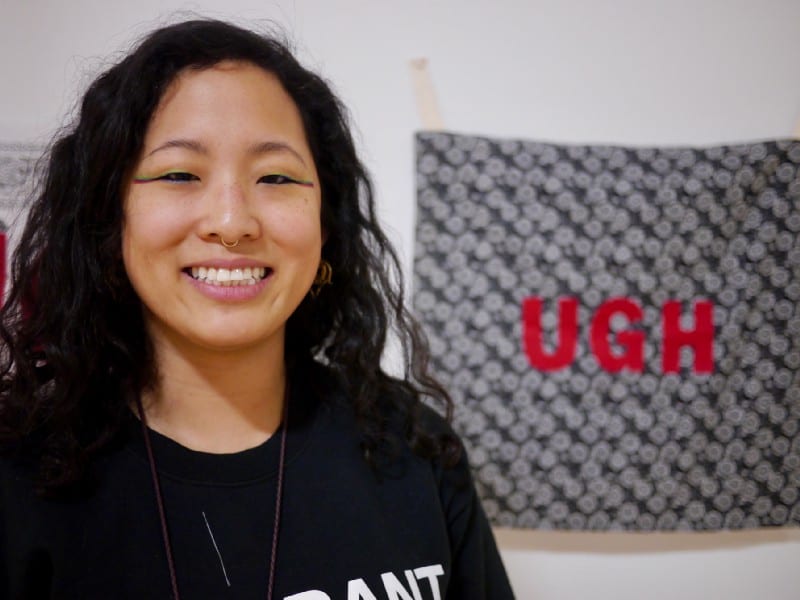 After living in the United States for 25 years, Aram Han Sifuentes applied to be a citizen this week.
After living in the United States for 25 years, Aram Han Sifuentes applied to be a citizen this week. Sifuentes says she's a little sad to be letting go of her South Korean citizenship and giving up things like universal health care, but she fears for her safety and her work as an artist under President Donald Trump.
In recent years, Sifuentes has strongly advocated for immigrants in her artwork through projects like her U.S. Citizenship Test Sampler and Protest Banner Lending Library. Much of her work has been inspired by her parents' own struggles as new immigrants and well as the large undocumented Latinx population that surrounded her as a child.
Borderless sat down with Sifuentes at her public studio in the Chicago Cultural Center recently to talk about her work.
I was five when we came to the United States in 1992. My family moved to the Central Valley in California, where my aunt was living. The plan was to go to L.A., actually. But the L.A. Riots happened right after we got here and a lot of Korean businesses were attacked. So with that happening, we just stuck around.
Coming from Seoul, which is so active and has high-rises everywhere, to being in the country in California was pretty weird. My family told me that I stopped talking for a year. No Korean, no English. I was pretty confused trying to make sense of it all.
More than 50 percent of the population in the Central Valley is Latinx and a lot of people are undocumented, because they are migrant farm workers. Growing up in a place like that and being an immigrant myself, I was always aware of the issue of immigration. So I went to U.C. Berkeley for undergrad and I studied Latin American studies, with a focus on immigration policy. I thought I was going to be a veterinarian or an immigration lawyer, but I fell in love with art there.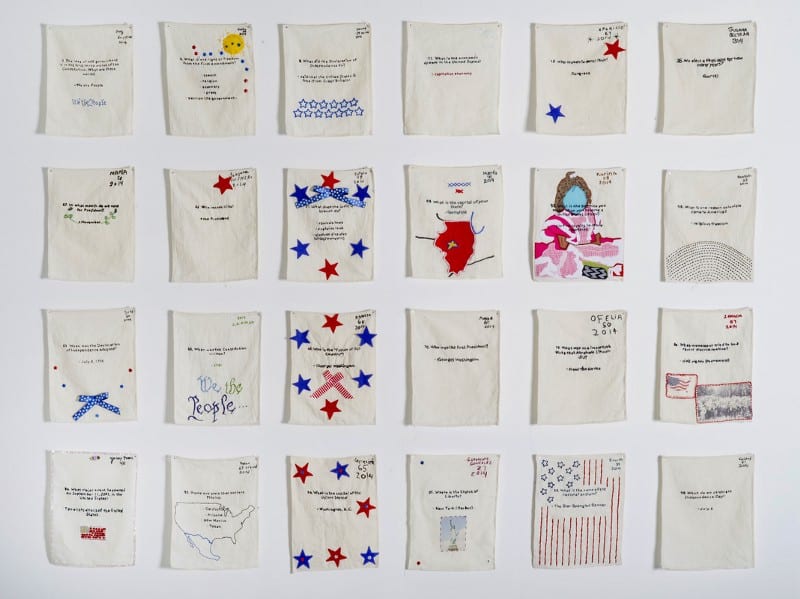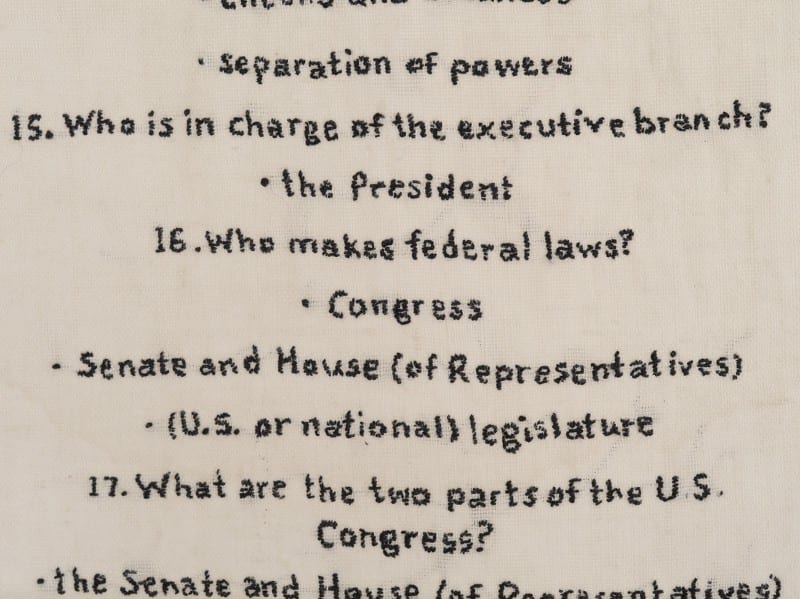 In my work today, I'm trying to complicate and deepen people's understanding of the immigrant experience. So with my U.S. Citizenship Sampler project I'm sewing the questions from the citizenship test. I'm highlighting just how hard the test is and how discriminatory that language is against immigrants. That we have to learn these really stupid questions that citizens would never need to know. Like who was president during World War I? Why is that that going to make me a good citizen if I know that?
I do workshops with the samplers where I go to groups of non-citizens that are already meeting, oftentimes as parent groups at schools. I'll go every week for two months or something and we talk about the test and the unfairness of it. We also share resources and study together, and make these samplers that are on sale for the cost of applying for citizenship — $725. So we can sell these samplers and whoever makes it can use the money to go toward the test or whatever they need it to go toward. A lot of my participants are undocumented and they have a bunch of legal fees.
We have a hundred samplers now and I've sold ten. Before, the ones that were selling were the ones that were more decorative, but now I've been pushing to sell those of people who have greater need with Trump and using them to talk about how precarious it is to be a non-citizen, even if you're a legal resident. Especially now, we see that with the travel ban that even with your green card it didn't matter. You only get certain rights as a citizen.
I'm still a non-citizen. I was going to wait to finish my sampler to apply for citizenship, but I freaked out after Trump. Especially making political work, I just want to be more confrontational and not fear the consequences. And I have my daughter to worry about, my "anchor baby." So with that, I freaked out. I knew that this one person was interested in buying it, so I asked them if they would buy it without it being complete. And they were like yeah.
People tell me, your work is so timely. But I'm like, when is immigration not timely? When are these issues not a big problem? With Trump, I think people are just more aware of what's going on and it's more at the forefront of people's minds. There's more urgency and awareness. I hope things have gotten worse for them to get better, for people to mobilize and demand for better things to happen.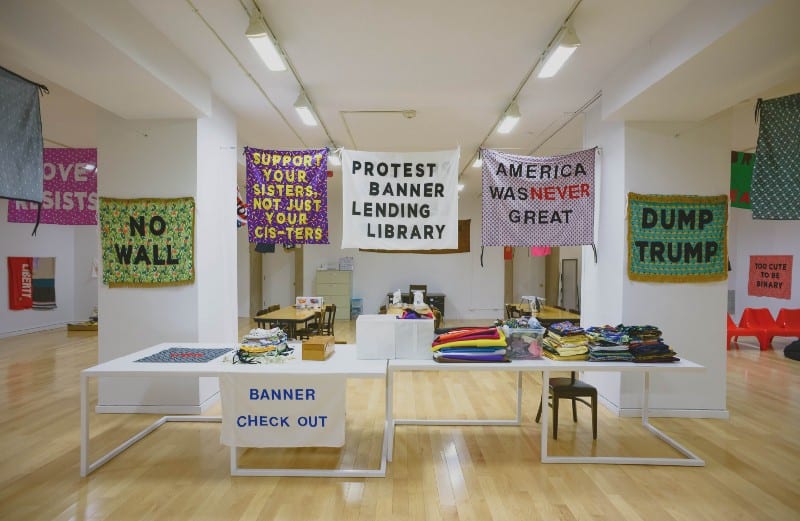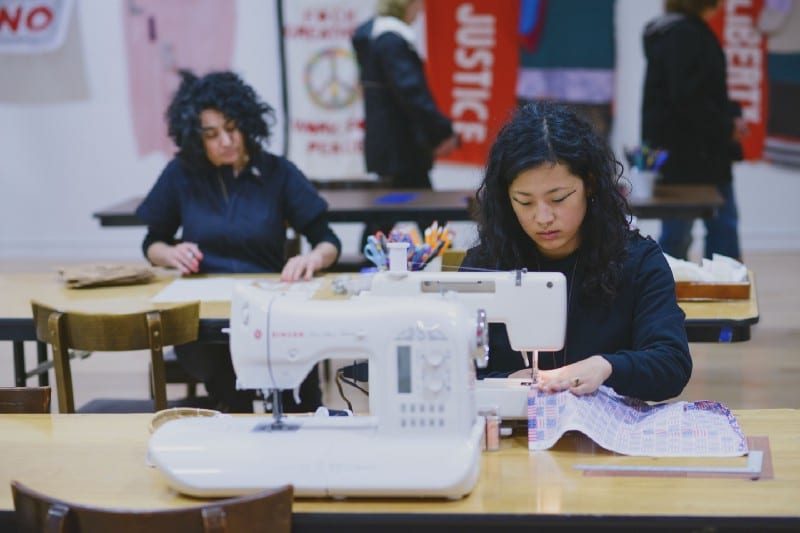 I decided to start the Protest Banner Lending Library right after the election. It's kind of a workspace where we're making banners constantly, but other people are coming in and they can learn how to make their own banners and we provide all of the materials. It takes about an hour and a half to two hours. So people come and make their own banners. What's really important to me is use, so I tell people once they make theirs, if you're going to use it, please take it to use. But if you'd like other people to use them, then you can donate it to the library.
Right now we have over 110 banners. And we have about 50 checked out. Most of them are used in protests, but they get used in theater productions and a few teachers have taken banners to put up in their classrooms to use as part of their lessons. Some people take them and put them up in their workspaces or their houses.
Why it's a library is because I wanted to create a space for people who don't feel comfortable going to protests. I think that maybe I'm a bit more fearful because it's right in front of my face and I'm aware of people getting deported, legal residents getting deported for very minor issues all of the time. Even for being arrested at protests. So I have fears around that and of course being a new mom, I don't feel comfortable going to protests and taking my daughter, because you never know what's going to happen. So that's why it ended up turning into a library. That way, the banners could still be used. We don't have to stay silent. We can still participate in this way.
I'm depressed sometimes and I think the future is really grim. But I hope that by fighting and resisting Trump we overcorrect. I've been reading that sales of art supplies have gone up because people are making their own banners and being active in protesting. That kind of thing really keeps me going. There are a lot of people who care and are doing something about it.
We've got to resist together and protect each other and love each other, because fuck Trump.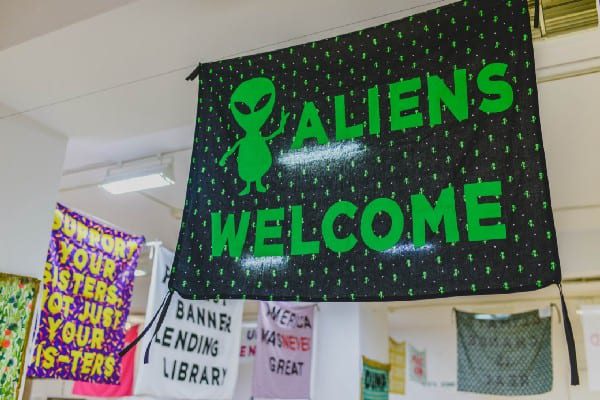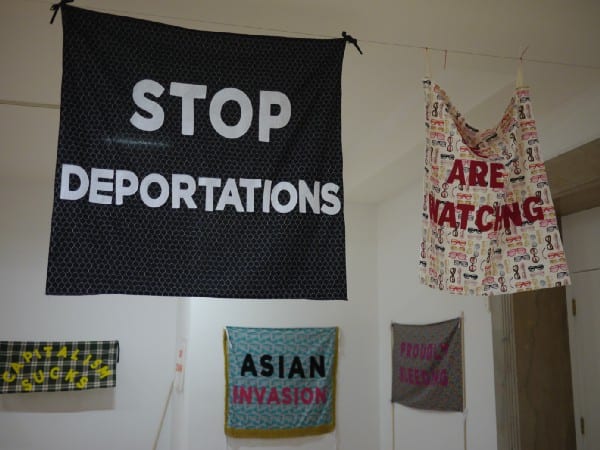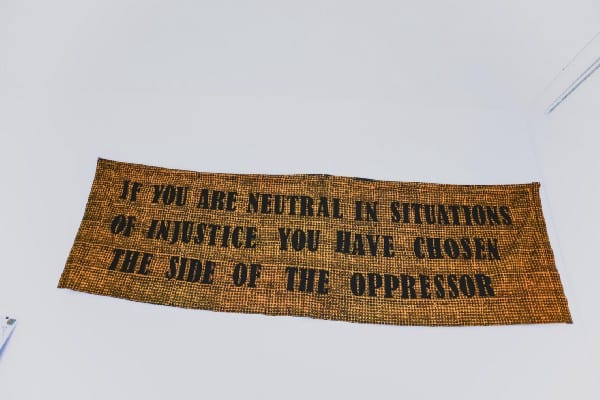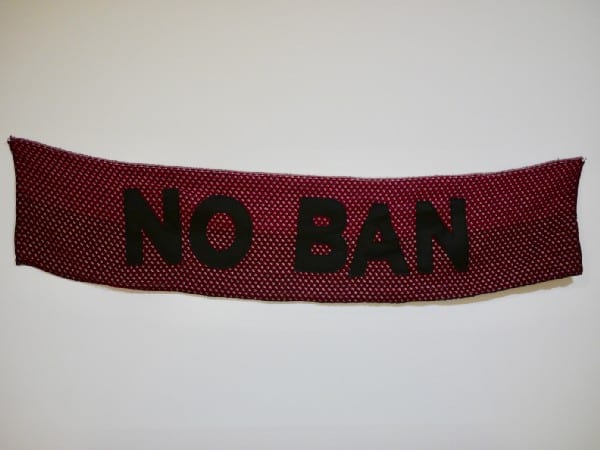 Sifuentes' Protest Banner Lending Library will be at the Chicago Cultural Center through May 17. After that, people hoping to contribute or borrow from the library can do so by contacting Sifuentes on Facebook.