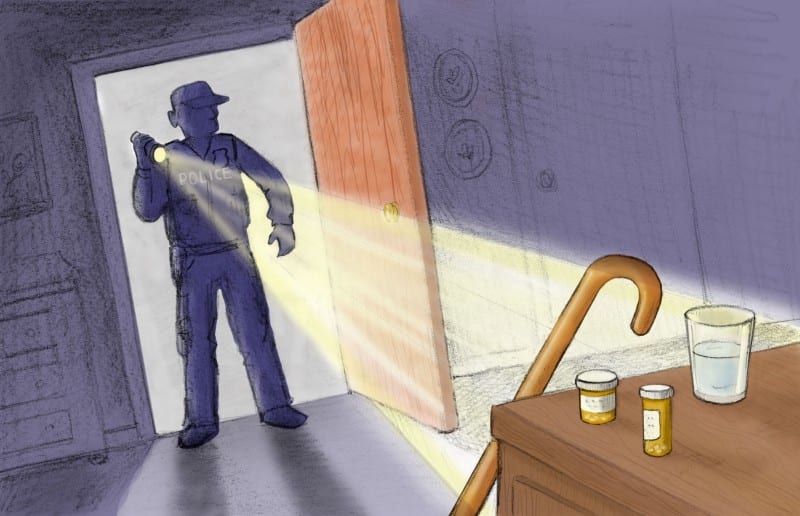 On March 27, Wilmer Catalan-Ramirez was dragged from his home by Immigration and Customs Enforcement agents posing as police officers.
On March 27, Wilmer Catalan-Ramirez was dragged from his home by Immigration and Customs Enforcement agents posing as police officers. According to Organized Communities Against Deportations, his arrest was part of a "Gang Ops" raid targeting and apprehending community members who have alleged gang ties. But Catalan-Ramirez's family and lawyers say that he was never a gang member.
His arrest appears to be the result of his reported inclusion in the Chicago Police Department's "gang database," which the department shared with ICE despite the city's status as a "sanctuary city."
Catalan-Ramirez is currently the plaintiff in a lawsuit filed in the U.S. District Court for the Northern District of Illinois on May 1. It alleges, among other things, that ICE agents aggravated his pre-existing injuries when they took him into custody as well as engaged in violations of unreasonable search and seizure, and due process protections in the U.S. Constitution. The complaint also alleges CPD's practice of gathering and disseminating information on gang membership violated the Illinois Civil Rights Act, which prohibits racial and ethnic discrimination.
Catalan-Ramirez has been recovering from gun shot wounds he sustained as a bystander during a drive-by shooting in January. Before being wounded he was a mechanic, but after the shooting he's been recovering from fractures to his skull, shoulder, and a traumatic brain injury that has caused him partial paralysis, his family says.
Wilmer is now being held in federal detention facilities awaiting deportation proceedings. Borderless spoke to Wilmer's wife Celene Adame at a recent Albany Park Defense Network meeting ahead of the lawsuit's filing about the day her husband was taken from her by ICE agents. This interview has been translated from its original Spanish.
I don't think my husband should be where he is. He was in the middle of rehabilitation, he's infirm. He's paralyzed from his left side. He practically can't move by himself. He needs help to move, and the other people being detained with him have tried to help. But the detention people are being vigilant to keep the other detainees from helping him. They do this by either threatening to punish Wilmer or the detainees who help him.
The day ICE took him, I left the house like I always do around 6:30 a.m. to drop off my children at school. While I was walking I saw two police officers get out of a car and approach me. I say police officers because they didn't tell me they were from ICE. Their bulletproof vests said "Police," but the car they used wasn't a Chicago police patrol car. They were in private cars without markings. They asked if I knew this criminal and showed me a photo of someone. The man in the photo was not my husband. I don't know who it was.
They asked me where I was going, and I told them I was taking my children to school. They asked which school and I told them I was going to the school across the street. They said okay, and I continued on my way. When I came back to my home I saw the same men knocking on my door. I asked them if they could please remove themselves from my home, because I'd already answered the questions they'd asked me. They told me they wanted to speak to my husband. They were insistent about it.
I told them my husband is chronically ill, that he had recently been hospitalized for a month and a half, and was sleeping right now. They started trying to ask me questions again and I asked them to leave.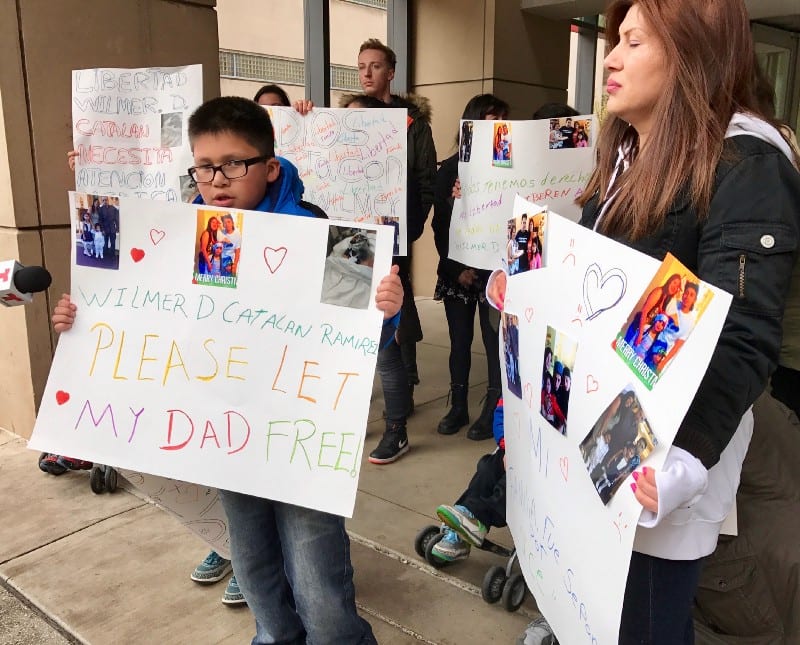 Then, I heard my three-year-old son screaming from inside the apartment so I went inside and that's when I saw the officers already inside my home. I could not imagine that some other men were inside my home. I believe that they entered through the rear door that was unlocked.
I asked one of the officers who spoke Spanish in my home why they were inside like this without a warrant. Why they were there when they said they were looking for someone who wasn't my husband.
The men with flashlights were in my home searching the bathroom, my children's' rooms, my bedroom. My husband, they walked up to him, shined a flashlight in his face, and then pulled him out of our bedroom.
He was barefoot and only wearing his shorts so I quickly went to grab him a long sleeve shirt that he could put it on. He needs a walking stick and a special kind of boot, that looks like a prosthesis, that helps me to help him move. These men in my house just took him. I told them to please leave my husband alone, because he's ill and needs my help to move.
They just grabbed him by his arms, in such an ugly way, they threw him to the floor. Then they jumped on him while he was on the floor. They broke his shoulder.
I picked up my cell phone and started filming them. They tried to take my phone away from me, and I told them no. I told them this was my home and they entered without my permission and weren't even here looking for my husband. They entered my home, my private property, like it belonged to them.
The men who were taking my husband, I kept telling them they couldn't take my husband because he's sick. And these men in my home, not once did they say they were from ICE.
He's been in detention for about a month so far. I just want him to be released as quickly as possible. He can't be in there, it's cold and he's infirm. The conditions there are only going to hurt his health and he's getting worse while he's there. If something happens to my husband there, the fault is going to be with ICE because they don't want to let him go. He's sick. He needs to finish his rehabilitation and needs people's help to do so, and the detention center won't let him get that. That's why I'm asking for his liberation from that place.