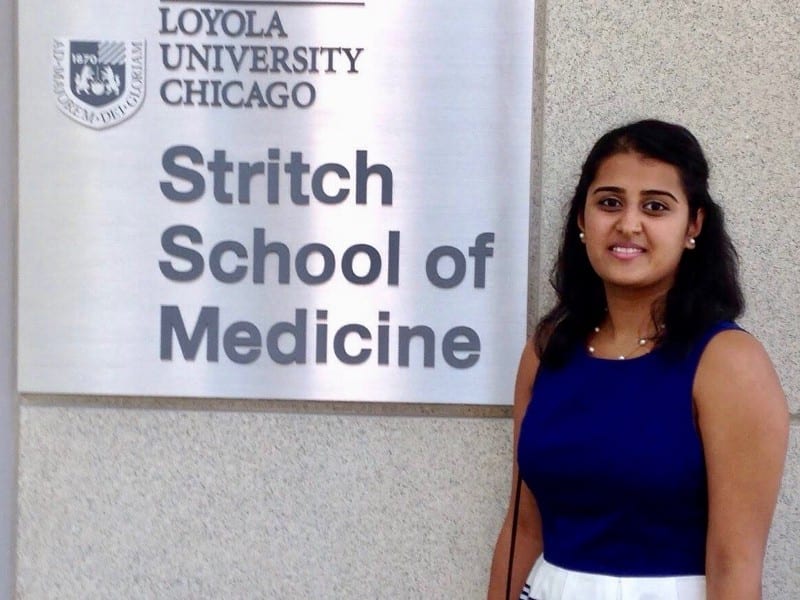 After 21 years of secrecy, Zarna Patel is stepping out of the shadows and claiming her undocumented identity.
After 21 years of secrecy, Zarna Patel is stepping out of the shadows and claiming her undocumented identity. The second-year medical student at Loyola University Chicago's Stritch School of Medicine emigrated from Gujarat, India at 3 years old and has lived here ever since.
Patel is one of 28 students with "Deferred Action for Childhood Arrival," or DACA, status at Stritch, which has the largest concentration of DACA students at a medical school in the country. She's volunteered with cancer patients, the homeless, and the uninsured and believes that health care — no matter your status — is a human right.
On February 28, she was a guest of the Illinois Congressional delegation at President Trump's joint session speech at the U.S. Congress as a statement on immigration reform. In this essay for Borderless, Patel talks about her inability to access health care as an undocumented immigrant, and why she hopes to give back to the most vulnerable communities in the country she considers home.
Twenty-one years ago, my family made the decision to bring me to the United States as an undocumented immigrant. It was an act of love to provide us with a safer and brighter future, but a move that caused us years of struggles in a complicated and clogged immigration system. My family had no idea what "undocumented" meant, or that 21 years would pass while we waited for my mother and two younger siblings stuck in India to finally join us in America. Though I had no role in the decision to become undocumented, it's a singular decision that has haunted me my entire life.
For 21 years, America has been home. I've worked hard, succeeded in school, volunteered in marginalized and underserved communities, and advocated for the voiceless. As a child I learned about the rich history of our country while I pledged allegiance to the stars and stripes every day at school. Americans from all walks of life are my brethren, and I've never wished anyone harm, or taken any opportunities away. America isn't just a home, it's actually the only home I've ever known.
Many people try to blame the parents of undocumented children for knowingly or unknowingly creating this situation. However, I don't blame my family for the challenges I have faced. It is through my family's long hours of hard work, endless optimism, and valiant determination that I have come as far as I have today. Without their encouragement, blessing, and financial support, I couldn't have graduated from high school, succeeded in college, or been accepted to medical school. When I walk through the doors to go to school, I am not only carrying myself in, but bringing along my entire extended family spanning several generations who has invested in me. Their struggles as immigrants in this country and their never-ending hope for the American dream is reflected in every action I am privileged to take as a medical student and future doctor.
As someone that grew up undocumented, uninsured, and low-income, the healthcare system was always out of reach. My fear of being discovered as undocumented barred me from accessing health care most of my life. Today, my dream is to be a primary care doctor and serve America's poorest, most marginalized, and uninsured. I want to ensure that all who call this country home are cared for and feel safe.
I know that being undocumented makes you want to give. I have so many aspirations for the future: from becoming a primary care provider in an underserved community to raising a family with the core American values of independence, tolerance, and determination. Through hard work, determination, and a little bit of luck, I've become one of the 65 DACAmented medical students in America.
But I know that achieving goals when you are undocumented is not based on grades or a resume; it's based on what the system allows you to achieve. Success is an outcome that is not under my control no matter how hard I work. It is in the hands of this country and its elected officials who will decide if undocumented people, like me, belong here and deserve the right to live as contributing members of society.
Regardless of my good intentions and dreams for the future, America has had a hard time accepting me. I've been called illegal, alien, criminal, a "bad hombre." Inherently, I'm seen as something that is wrong — a blemish, something sacrilege, unwanted, and deeply feared from the very people I hope to serve. In the end, it's dehumanizing.
Fear and silence are constant companions in the life of an undocumented person. From a very early age you learn to stay silent and to not get close to people for fear that they might discover your real status. Being undocumented is a life of never saying a word about you to anyone. It's about being cautious and never crossing lines.
Until recently, this was my life. I felt paralyzed whenever I spoke about my status. But the accepting environment of medical school changed things. I felt welcomed by so many classmates who empathize with our struggles as undocumented people. This support helped me finally accept who I am: an undocumented immigrant.
In the past few months, I have felt the return of that crippling fear. I feel it in my pounding heart whenever I get behind the wheel. I feel it in my numb fingers and legs when a police car drives by me. I feel it in the butterflies in my stomach when I take the train. I feel it in the darkness when I wake up from yet another nightmare of ICE showing up at my door. I feel it when I read the headlines and listen to the news about another person shot to death, another family separated, another brave soul searching for solace only to be forced into detention. And I realize this isn't new. This has always been under the surface. We've been here before, before the campaign, before DACA.
A few days after the election, everything hadn't hit me yet. People kept asking me how I felt, and I could only say that it wasn't a new feeling. But the difference now is that we are out of the shadows. Fear in the past kept me hidden, but now this very fear makes me strong. It serves as a reminder that going back is not an option. It's a reminder that there is still much work to be done. Now the only way to take control over powerlessness is by owning my narrative: to combat the misconceptions out there with my own personal story, to put a face to the issue, to advocate for those that cannot, and to continue the work that so many brave men and women have been doing for decades.