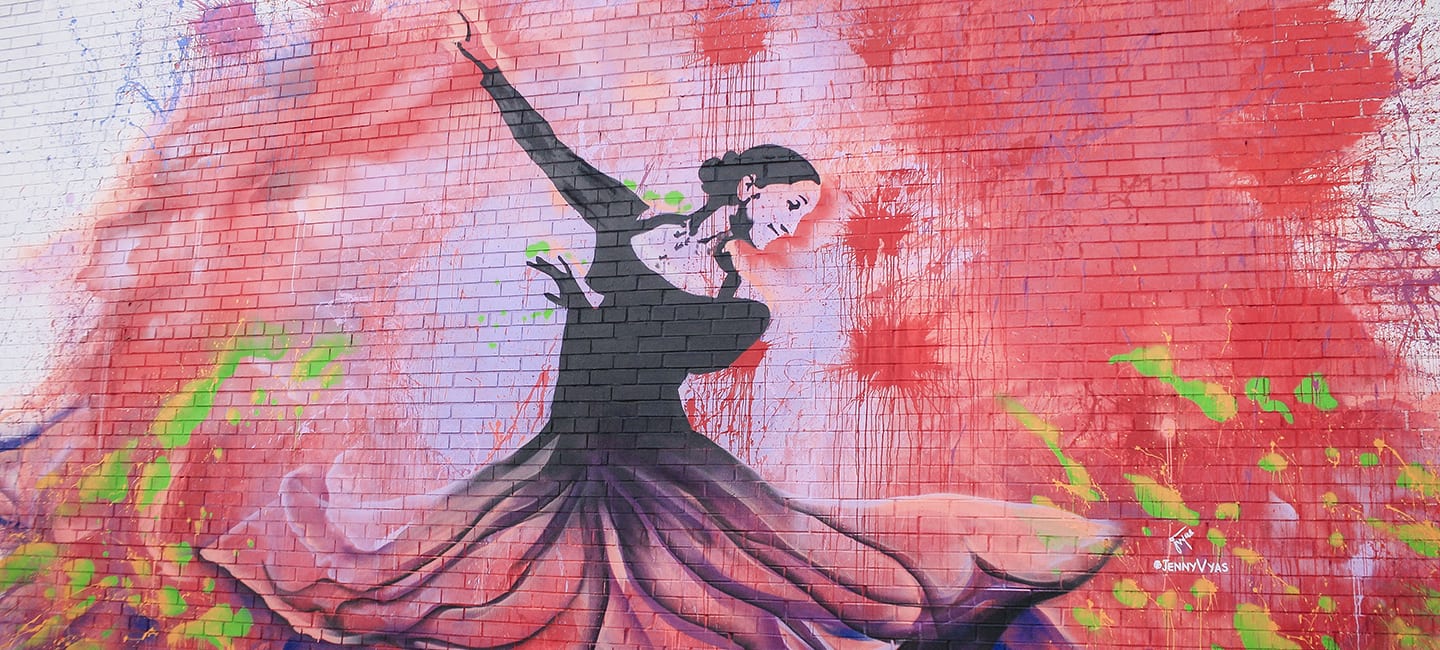 Diane Bou Khalil/Borderless Magazine
Chicago's thriving, multicultural neighborhood West Ridge has been my beloved home ever since I left Lebanon four years ago. It is now a COVID-19 hotspot.
Above: "GLOW" is a mural by Jenny Vyas located on the 2500 block of Devon Avenue in Chicago's West Ridge neighborhood. It celebrates the Indian festival of "Holi" with a "Kathak" dancer. Holi is an ancient Hindu festival heralding the arrival of spring now celebrated all over the world by non-Hindu communities as well. Diane Bou Khalil/Borderless Magazine
To me, America is watching my West Ridge block fill with Jamaicans as they gather at their church for their Sunday prayers dressed in vibrant dresses and church hats. It is driving through a crowded Devon Avenue on Friday seeing Muslim families prepare for Salat Al Jumaa at their mosque. It is having strong Arabic coffee with my Syrian neighbor while we talk about her fears and dreams and her family stuck in Tripoli, Lebanon for the last eight years.
Chicago's thriving, multicultural neighborhood West Ridge has been my beloved home ever since I left Lebanon four years ago. It's my personal slice of America. But all that has changed with the coronavirus. In early April, West Ridge had the most COVID-19 cases in the city. By April 28, it had 588 cases and one of the highest rates of infection in the state. 
My family, like so many others, is now staying at home. 
My brother and I have been home since mid-March, when our college classes were moved online and I started working from home. My dad works as a technician and normally travels around the city to his customers' houses. Now he only does urgent services, like fixing someone's refrigerator or oven when they break, so people are able to continue to feed themselves and their families. 
My dad moved to West Ridge in 1996. Some of his friends from back home in Beirut were already living in the neighborhood and he was drawn to West Ridge's diversity. 
"This area is special because almost every culture is here. Like Polish, Georgian, Arabs, Jewish, Pakistani, Indian and Mexican," he explained.
The neighborhood is still home to over 30,000 refugees and immigrants. But COVID-19 has caused the crowds to disappear and many businesses to temporarily close.
Illinois Governor J.B. Pritzker closed all restaurants and bars to try to slow the spread of coronavirus last month. 
"This surprised many, and we still don't know what will happen after this outbreak is over," my dad said. "How will people start making a normal living again after experiencing lots of losses?"
I see those losses at places like Libanais. It's a bakery, cafe and restaurant all in one that's been closed for dine-in eating since March 17. 
Before the virus, I would go to Libanais every Sunday for brunch. I would have their delicious man'oushe zaatar, which is a warm fresh flatbread topped with za'atar spread that is ground dried thyme, oregano, marjoram, sesame seeds and olive oil. I'd get it with a side of fresh vegetables and shai Arabic tea. 
There would be music playing — often the Rahbani Brothers' jazzy instrumental beats — and waiters rushing past packed tables. I'd always take my friends visiting from Lebanon there. Going to Libanais felt like a home away from home.
Now, when I go to Libanais wearing my gloves and mask, those brunches seem like a dream. The sweets are still there: counters filled with baklava, maamoul cookies, and my favorite, knafeh, a Levant specialty. It is made with sweet cheese, cream and sugar syrup soaked in a dough crust, called farkeh. But just beyond them are plastic-covered dining tables and staff wearing masks. 
"We are praying every day to go back to our normal lives," said Libanais' owner Nasr Khonaisser on a recent visit.
He told me his business sales have dropped by 80 percent since the COVID-19 pandemic began. 
"The people who used to work at the dining room are all sitting at home," Khoneisser said. "We have kept a few employees who work in the kitchen for a few hours a week just for them to have some money in their hands, but we cannot give them as many hours as they need."
Libanais is offering curbside pickup and delivery to help protect customers who do not want to come inside. But the business, which has been open since 2012, is not the same.
"We used to have people from all over coming to us: Americans, Indians, Pakistanis, Arabs, Assyrians, Jewish. We are missing the business, the customers and our employees," Khoneisser said. 
Somer Food Mart is still busy. It's a tiny Middle Eastern grocery store down the block from Libanais that has been in the neighborhood since 2011. I love going to Somer to get their bread made from scratch, hummus and fuul, which are cooked fava beans. They also sell souvenirs like t-shirts, mugs and keychains that have the Iraqi, Armenian, Assyrian, and Syrian flags. 
When the governor announced the stay-at-home policy Somer was flooded with customers, said owner Eddie Abada. 
"[The store] was crazy, and customers were panicking. We ran out of rice the next day and the cans of food were completely wiped out. We sold 300 bags of pita in a couple of hours," Abada said. 
Over a month into the stay home order things have quieted down but still don't feel normal. When I went there on a recent Monday afternoon the store only had a handful of customers. The TV on the wall by the register was playing Iraqi pop videos. 
"I wake up every day at 3 a.m. to prepare bread for the bakery, which means I've been wearing a mask since 3 a.m.," Abada said. "I am dealing with customers all day. Then I have to go back to my kids at home. I am trying to do as much as I can to stay safe and not get infected. It is a virus at the end of the day, and it can spread very easily." 
Few of his customers wear masks, Abada said. Though that will change in May with the governor's new order requiring people to wear masks anywhere they can't social distance goes into effect. He wonders what life will be like for him and his family when the stay-at-home order is finally lifted.
"My kids have been home for more than a month. Once this is all over I am afraid they will run like monkeys after they go outdoors. But even if the state does re-open, I will not be going to any restaurants anytime soon," Abada said.
We are in an in-between space and so much of our future is unknown. When will the life I remember return to West Ridge? When will this pandemic end?
I was supposed to graduate from undergrad at Northeastern Illinois University next month. I'm the first in my family to get a college degree in the United States. That graduation is now cancelled. I'm disappointed but it is better to be safe than sorry.
My brother, dad, and I are always home now. We fill our days in whatever ways we can. My dad gardens in our backyard and fixes things around the house. I call my Syrian neighbor once a week. I miss playing with her newborn baby and eating her delicious dishes like kibbeh labanieh, a sour yogurt soup made with onions, garlic and Middle Eastern stuffed meatballs that are made with ground lamb served with rice on the side. 
As we keep busy we set our eyes on the future.
 "What we are going through is a big warning," my dad said. "Hopefully after this is all over a new system can be established. Leaders who plan for tomorrow are hopefully taking this as a lesson for it not to happen again."
Have questions about the coronavirus and how to protect yourself from COVID-19? Read the CDC's guide to the coronavirus here.
Are you or your loved ones immigrants? How have you been impacted by COVID-19? Send us an email at info@borderlessmag.org and we'll work with you to share your story. We pay for all essays.
Our work is made possible thanks to donations from people like you. Support high-quality reporting by making a tax-deductible donation today.                                            
Support Us