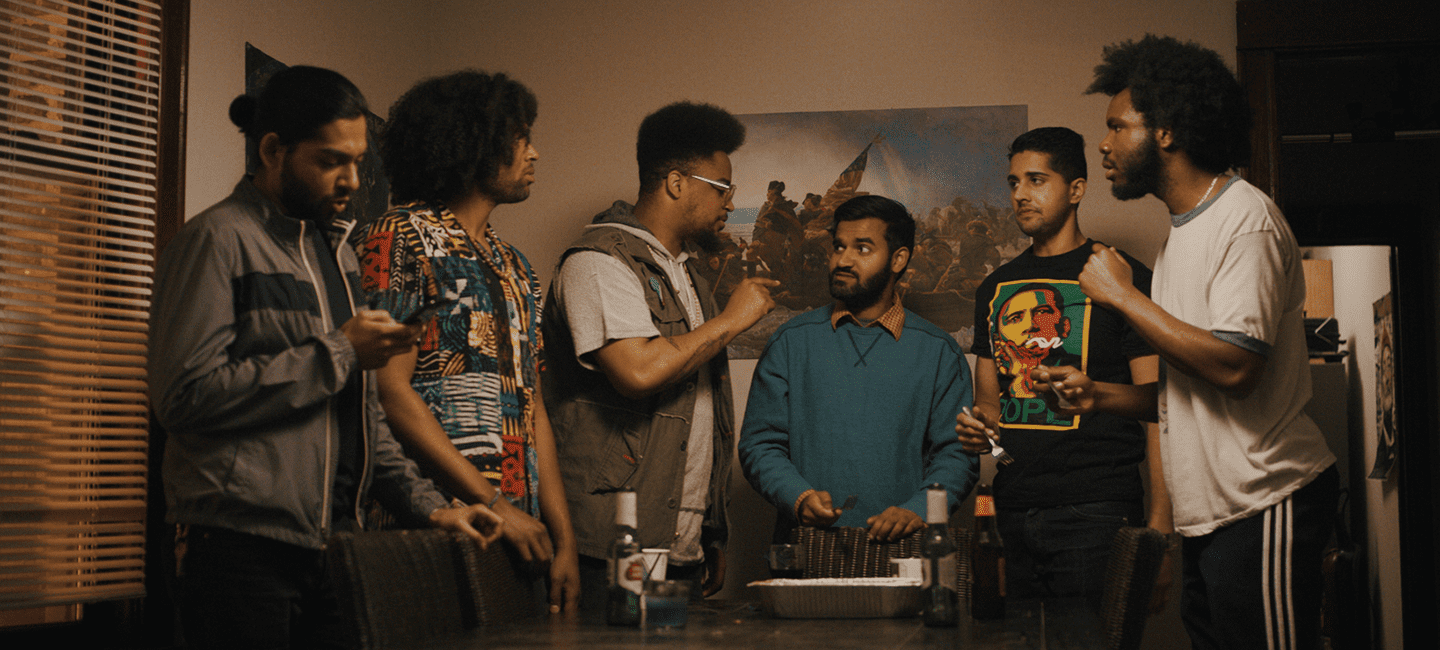 The new sitcom follows five South Asian friends juggling love, work and family in Chicago.
When Karan Sunil moved to the United States with his family from India in 2002, he expected his new life to be like a scene from Friends. But he quickly realized that the diverse America around him did not look anything like the one he saw on his favorite sitcoms. 
Almost two decades later, Sunil has brought to life his vision of America in a new Chicago sitcom called Code-Switched. The web series features five South Asian friends who juggle love, work and family in a multicultural city. 
Code-Switched made its debut as a short in 2017, which won several awards including Best TV/Web Screenplay at the Los Angeles Independent Film Festival Awards. The first full season came out October 28 on YouTube and Open Television. 
Sunil spoke to Borderless Magazine about the importance of telling stories of South Asians by South Asians. 
Borderless Magazine: Why did you create Code-Switched?
Karan Sunil: I was born in India and moved to Seattle when I was nine. Throughout my childhood, I always watched TV and friendship sitcoms like Friends and Seinfeld and I thought that was what American culture was. When I moved to Seattle it was not like that, and I realized that there weren't a lot of people that looked like me on those friendship shows. 
I wanted to make a show about a group of people that were like me, kind of confused, and who also embraced a lot of parts of themselves, like their community, careers and their family. 
I think friendship shows are very cathartic. There's a reason people cook and sleep to the shows. It gives a feeling that the characters are your friends. The people that I showed in Code-Switched are the types of relationships and spaces I occupied. I wanted to provide that for people.
Borderless Magazine: How is the media doing now when it comes to portraying South Asian people?
Karan Sunil: I think the media tends to make immigrants look like a homogenous group.  There are so many different types of immigrants, forms of immigration, and many stories in front of us, in people we see everyday, that are yet to be told.
I'm actually very encouraged by a lot of the work that's come out in the past couple of years. I think shows like Ramy, for example, are hyper specific to a perspective. The narrative is in the hands of people that embody that. Ramy Youssef is someone who has a relationship with Islam and grew up in Jersey. Those are all a part of him that he puts in those characters in his show. Shows like Ramy or even my show are not meant to encapsulate the experience of South Asian folks but rather meant to tell a certain type of story and a specific one.
Double your impact today. Between November 1 and December 31 NewsMatch will match your new monthly donation 12x or double your one-time gift, all up to $5,000.                                                                                                                     
Donate
Borderless Magazine: How did you build the cast and stories featured in Code-Switched?
Karan Sunil: The process was long, fun, and interesting. Besides my own story of being a straight Indian Hindu-raised guy, there are a lot of stories that I don't know around me. So I spoke to focus groups of South Asian millennials between 18-25 in Chicago and Seattle about their experiences. 
I handpicked the cast, who are mostly comedians, stand-ups and improvisers. I scouted comedy shows in Chicago for months, everything from paid tickets, to open mics at Mexican restaurants and sports bars. I wanted to find five people that embody the character's roles in some way. I landed on Sonal Aggarwal, Sabeen Sadiq, Stephen George, Saurabh Pande and Vikram Pandya, who were all so interesting in their way. They are funny people that I liked and I would hang out with.
For example, the character Priya, who's played by Sonal, is an Indian woman who grew up in Chicago who has a very special relationship with her mother. Sonal added a texture to Priya because Sonal is Indian herself, living in Chicago with a special relationship with her mom. So we built those characters together. 
Borderless Magazine: What kind of stories did you want to tell in Code-Switched?
Karan Sunil: The cast and I being predominantly South Asian, we wanted to take our jokes and make fun of ourselves, because oftentimes the jokes made about us are from white people. 
I wanted to build a show where the South Asian characters are not chasing whiteness. I also wanted to include a very millennial experience where they are trying to have a family that loves them, friends they can rely on, flex on everybody at work. 
I think we face pressure from being first-generation or an immigrant. You are so closely tied to the process of coming here and tied to the deep sacrifice that it took, you just don't want to fail. The characters in Code-Switched are focused on their career and figuring their lives out, but also reaping the rewards of those sacrifices.
I wanted to humanize that. 
Borderless Magazine: What is your favorite scene? 
Karan Sunil: One of my favorite parts is when Zara's Muslim Pakistani parents are on a date in one scene, and Zara and Rahul are on a date in another scene. Zara's dad in his 50s and Rahul in his 20s were doing the same thing, trying to make their partner laugh and be corny. 
It accomplishes a lot of what I wanted to do with the show in one sequence, which was to show different perspectives. The conversations the parents had in the scene are moments a lot of immigrant parents don't show because it takes so much vulnerability and strength. 
Borderless Magazine: What has been the response to the show? 
Karan Sunil: I was floored by the response to the show. I just put the show out to celebrate ourselves, our cast, and the Chicago comedy community that I love. I had no expectations in terms of numbers or reach because we had no marketing budget and we were not created with a company. We ended up getting 190,000 views in two days on the trailer. 
I think it just struck a chord with people around the world because I think they saw themselves on screen in some way. I would love for audiences to see this and want to make more of it. I really want people to be inspired to do more stuff. I just feel very grateful.
Borderless Magazine: Will we be seeing a second season? 
Karan Sunil:  I think there's a lot more stories to tell in the Code-Switched universe. But right now we're figuring out what that looks like. Whether that's more episodes in a web series format or whether we adapt it into a different format, those are all things we're open to, but we definitely want to be making more.