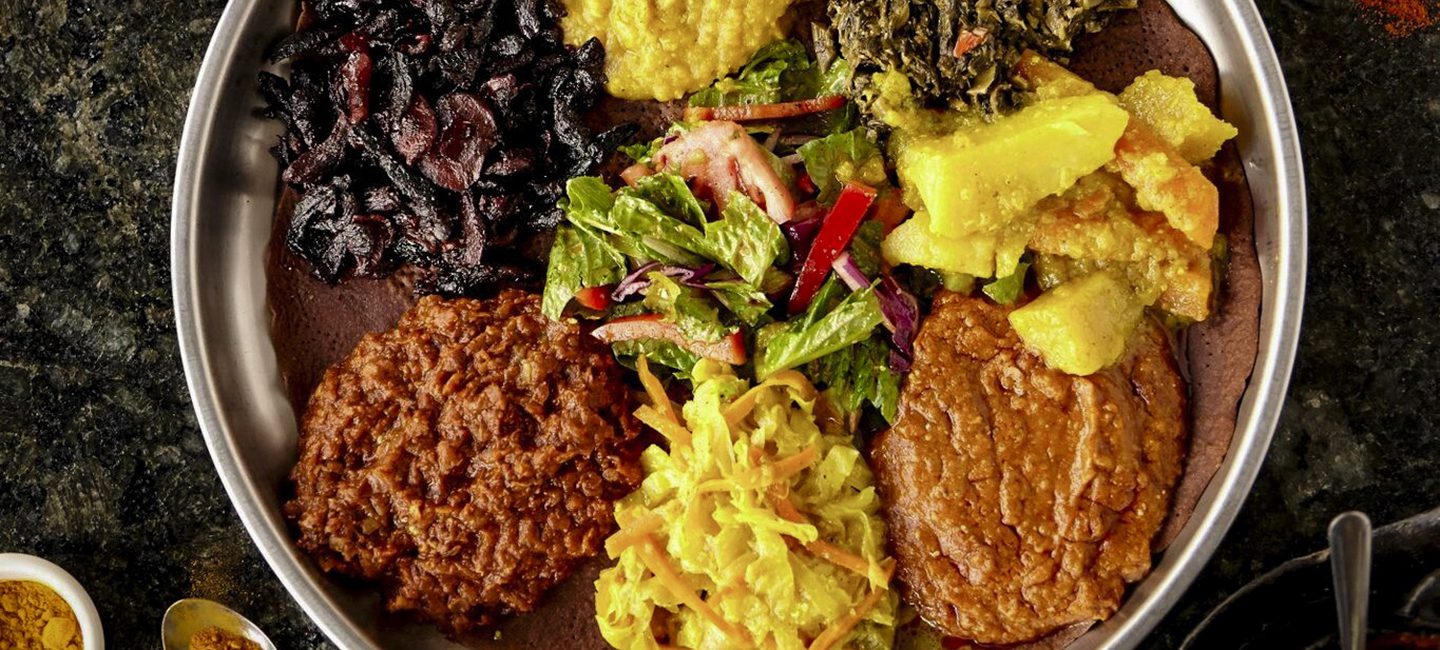 Photo courtesy of Demera
The restaurants are offering "World Food Tour" meal packages showcasing Vietnamese and Ethiopian cuisine.
Above: Demera's messob platter which is offered in the "World Food Tour" meal package. Photo courtesy of Demera
Mary Nguyen Aregoni is a survivor. When her family came to the United States as refugees after fleeing violence during the Vietnam War Aregoni learned English so she could translate everything for her family. She climbed the ranks of Procter and Gamble but wanted to be an entrepreneur so she quit her job in 2009 to open a Vietnamese restaurant called Saigon Sisters (567 W Lake St, Chicago, IL 60661). When COVID-19 hit Chicago and cut her sales in more than half she formed a new partnership with Demera Ethiopian Restaurant (4801 N Broadway St, Chicago, IL 60640), a competing restaurant.
Five years ago, she met Tigist Reda, Demera's owner, at a small business program at Goldman Sachs and the women have been helping each other out ever since.
"Collaboration is the only way to survive," Aregoni said. "We're not on our little islands anymore."
Since the end of May Saigon Sisters and Demera have been swapping food and offering "World Food Tour" meal packages. At both restaurants customers can pre-order and pick up an Ethiopian platter, a Vietnamese platter or a combination of both. 
For one package Reda chose one of her cuisine's signature items: messob, which is a platter of small dishes that include meat, fish and vegetables along with injera. Meanwhile, Saigon Sisters offers a Vietnamese deluxe salad with vegetable egg rolls and rice noodles. 
To get the word out about the partnership Reda and Aregoni sent out a newsletter to their customers. Chicago media outlets covered the launch and Aregoni even got a call from family back in Vietnam that they saw her on local TV. So far they've sold about 100 World Food Tour meals. Within the promotion's first month Saigon Sisters' sales went up 25 percent.
The "World Food Tour" partnership is proving to be a lucrative partnership as both restaurants fight to survive the pandemic. Due to COVID-19 Reda had to lay off 27 employees. For months before the collaboration her staff was reduced to two managers and Reda. Laying off employees was a low point for her during the pandemic. 
"When we shut down everyone was calling, emailing saying, 'Are you guys okay?'" Reda said. "They gave very generous tips to the staff members when we shut down, [as] we were saving the tips for the people that are not working. People were tipping extra and donating to our GoFundMe. So it's just amazing to see how people showed up."  
Every month, Demera's been able to divide about $4,000 in tips and GoFundMe donations among the restaurants' unemployed staff. But the money is never split evenly. 
"We put a message out [to our employees] saying, 'Hey, this is how much we have. Please let us know who needs it,'" Reda said. "People would come and say, 'Hey, I'm good. Give it to someone else.' The people that needed most got the money instead of dividing it equally among everyone."
Thanks to help from customers and employees Reda was able to bring back 80 percent of Demera's kitchen staff by June. Aregoni also had to lay-off some part-timers but has been able to keep most of her key employees.
 Between Saigon Sisters' three locations, Aregoni's had to switch up her approach. In late March she closed her stand at the Chicago French Market due to indoor dining restrictions. At the beginning of August, the stand reopened but with reduced hours. Lacking outdoor dining space Aregoni's main location now focuses on delivery service and carry-out orders. Saigon Sisters' third location at Northwestern Memorial Hospital has never closed and was serving essential workers.
Aregoni says the emotional support she's gotten from Reda has helped both of them get through this tough time. During the pandemic they've exchanged notes on their applications for small business loans and helped each other build larger clienteles by offering email marketing and social media tips. 
Reda and Aregoni hope the success of their ongoing partnership inspires other business owners, especially women, to support each other emotionally and through profitable partnerships during this pandemic.  
---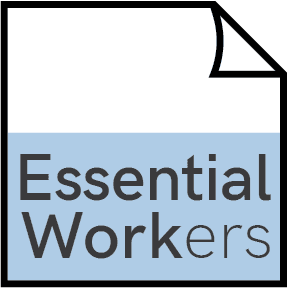 This story is a part of the Solving for Chicago collaborative effort by newsrooms to cover the workers deemed "essential" during COVID-19 and how the pandemic is reshaping work and employment.
It is a project of the Local Media Foundation with support from the Google News Initiative and the Solutions Journalism Network. The 19 partners span print, digital and broadcasting and include WBEZ, WTTW, the Chicago Reader, the Chicago Defender, La Raza, Shaw Media, Block Club Chicago, Borderless Magazine, the South Side Weekly, Injustice Watch, Austin Weekly News, Wednesday Journal, Forest Park Review, Riverside Brookfield Landmark, Windy City Times, the Hyde Park Herald, Inside Publications, Loop North News and Chicago Music Guide.
Our work is made possible thanks to donations from people like you. Support high-quality reporting by making a tax-deductible donation today.                                                                                                                       
Donate