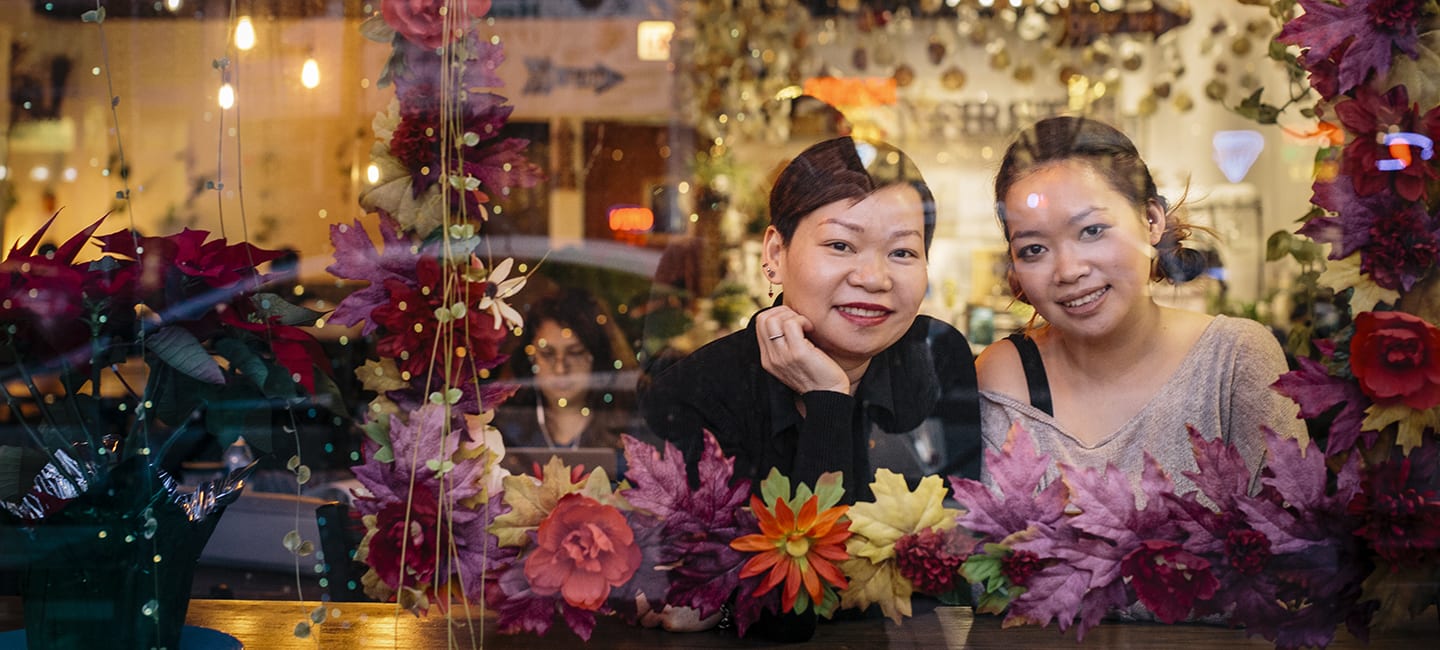 Michelle Kanaar/Borderless Magazine
After closing for over two months during the COVID-19 pandemic, an Uptown cafe that blends Vietnamese and Western tastes reopens its doors.
Above: Gigi and Erin Hoang are sisters who own First Sip. Photographed Dec. 19, 2019 in the Uptown neighborhood of Chicago, Ill. The cafe blends Vietnamese coffee and tea culture with Western-style sandwiches. Michelle Kanaar/Borderless Magazine
When Vietnamese sisters Erin and Gigi Hoang saw a beautiful storefront open in the heart of their Uptown neighborhood two and a half years ago they decided on a whim to open a coffee shop. Within a month they signed a lease on the storefront at 1057 W. Argyle St. and transformed the place into First Sip, a cafe that blends Vietnamese coffee and tea culture with Western-style sandwiches.
Before the COVID-19 pandemic the Hoang sisters worked at First Sip seven days a week. They'd only stopped once to take a 24-hour vacation to Miami, Florida. But when Illinois closed restaurants as part of the stay-at-home order they truly closed their business for the first time March 18. They only reopened for carryout orders June 1.
"The first two weeks it felt like vacation. But then I just felt like I wasn't doing anything productive and I was frustrated just being inside," Erin Hoang said. 
The sisters weren't worried about their business financially. Their main bill was their rent payments and they had enough savings to cover that. They are also the only two employees. So, while they had no income they didn't have to worry about other employees. 
They felt privileged, and lucky, they were alright and decided not to apply for unemployment or other financial help. That way government money could support those who needed it most. 
First Sip is now open every day except Wednesday from 10 a.m. to 8 p.m. On Wednesday, the cafe is open from 10 a.m. to 5 p.m. The sisters are asking customers to place orders for pick-up or carry-out online. Fans can also support the business by purchasing gift cards. But since reopening earlier this month First Sip has seen fewer customers than usual.
"Sales are okay," Erin Hoang said. "[But] with COVID a lot of our college students are back at home [and not in the neighborhood]. And people are working at home. Now people are being laid off so we are concerned for these next couple of months."
When they first started the business they had no coffee shop experience. Both had worked in restaurants but never as baristas. Their friends and family told them it was a terrible idea to open up the coffee shop.
The two put everything they had into it and 99 percent of the furniture and decor comes from Goodwill. The tables were donated by nonprofit Axis Lab. Gigi Hoang built the shelves, benches, and made the decor — which consists mostly of creative pots like a broken blender or a teapot holding a variety of plants.
"We aren't coffee purists because we don't have that experience," Erin Hoang said. "We are willing to experiment with anything and everything." 
Gigi Hoang chimes in to say the sisters aren't afraid to "break the rules" because of this. Erin Hoang's  favorite menu item is the mapled oats tea, which consists of dandelion tea with maple syrup and oat milk that tastes like oatmeal. 
Gigi Hoang prefers the ubae latte, which is made from a sweet purple yam like taro and tastes like a tropical latte.
The sisters and their parents came to the United States as refugees from Vietnam in 1997. Their parents now own Cafe Hoang, a Vietnamese restaurant two blocks down from First Sip. 
"I kind of look up to my parents. I'm thinking if they could come with five kids to a brand new country with no English in their early 40s and be able to raise five kids … I'm going to be fine, I'm gonna be okay," Erin Hoang said.
Our work is made possible thanks to donations from people like you. Support high-quality reporting by making a tax-deductible donation today.                                                                                                                       
Donate