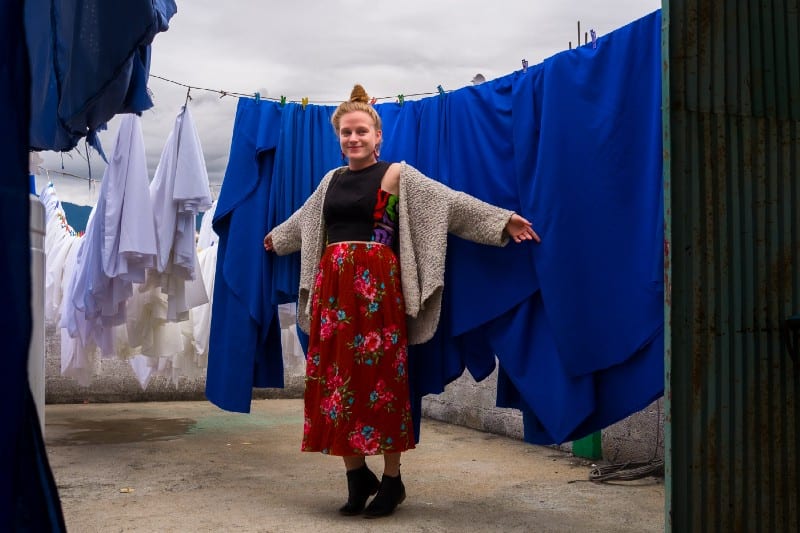 Natalie González is a Mexico-based artist and illustrator.
Natalie González is a Mexico-based artist and illustrator. She previously lived in Chicago while attending the School of the Art Institute of Chicago. After Natalie illustrated two stories for Borderless' La Vida de La Villita issue, we talked to her about her own experiences with immigration.
Borderless: What is your own connection to the issue of immigration?
Gonzalez: I am a dual-national who was born and raised in Mexico. My mother is American and my father is Chicano. I look like my mother, who is light-skinned and blue-eyed. I have the privilege of holding two passports so I can go between countries without a problem. For a lot of people, it's problematic that I am mixed, fluent in both languages and white. I am Mexican and American but I am not accepted as that in either culture. In Mexico I'm told I'm too white, and it the United States I'm told I'm not brown enough.
Borderless: What do you think most reporters get wrong when they are reporting about immigrants?
Gonzalez: I think that it's hard to communicate how human the issue is. More specifically, how hard life is for people who are leaving their previous lives and sometimes risking everything for the thought of having a better life. People don't risk everything if there isn't something deeply wrong with the conditions in which they are living. I think it's hard to live in the United States and understand how corrupt, unfair and dangerous it is in many countries around the world.
Borderless: What do you love most about Little Village in Chicago?
Gonzalez: Little Village felt like home when I lived in Chicago. People are out on the street and there is a lively neighborhood life. It's loud and it feels like a stronger community than the place I'd lived on the North Side.
Borderless: What's your favorite place to eat or shop in Little Village?
Gonzalez: Los Comales in La Villita is the best one in the chain!