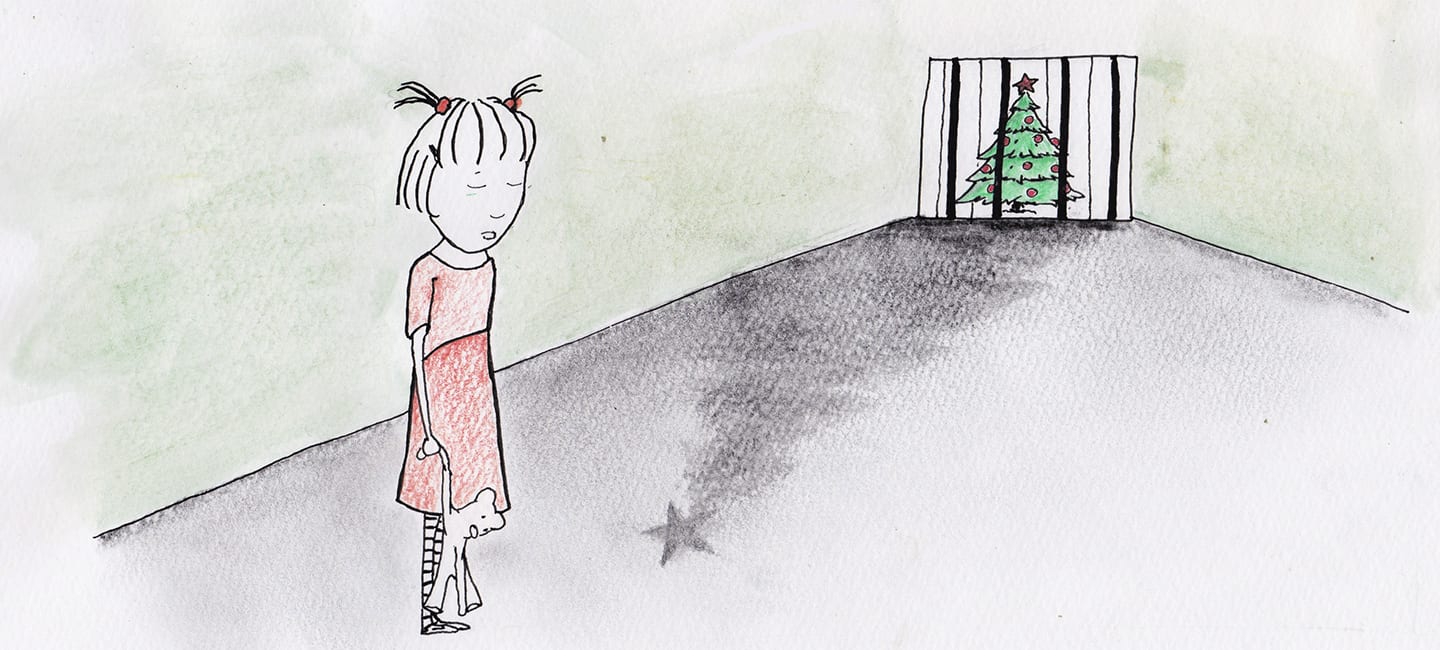 After spending over 10 months detained by ICE, an immigrant from Benin hopes to raise $3,400 this week to support 30 families.
Above: Illustration by Julia McDonald/Connect Kankakee in support of the toy drive
As Johannes Favi sat in the Kankakee County Jail last December, all he could think about was giving his children Christmas presents. 
His wife had been four months pregnant when Favi was picked up by Immigration and Customs Enforcement earlier that June. The immigration officers had surprised him during a routine visit with his probation officer related to a financial crime he'd plead guilty to over three years prior. They sent him to the Jerome Combs Detention Center, a Kankakee county-run jail an hour and a half south of Chicago that is contracted by ICE to hold people like Favi who were awaiting immigration court hearings. 
Triple your impact today. Between November 1 and December 31 NewsMatch will match your new monthly donation 12x or triple your one-time gift, all up to $5,000.                                                                                                                    
Donate
Favi longed to see his family, and he knew they were struggling without him there. His wife worked at the post office near their home in Indiana, but without Favi's income, she and his children were evicted from their family home.
"I was so sad to see that I couldn't afford even to buy a single toy for my kids or be there with them to hold them and see them," Favi said. 
Now released from detention, Favi hopes to help other families who are facing similar challenges during the holiday season. He is running a toy drive GoFundMe campaign through December 20 with the goal of raising $3,400 to support 30 families. He'll use the money to send $50 gift cards to 68 children with detained immigrant family members so that they can purchase presents.
Favi says that the toy drive is his way of giving some peace of mind to detainees who are worried about their families this holiday season. He was inspired by the Chicago-based National Immigrant Justice Center, who represented him in immigration court, which made his children's Christmas special during that difficult year.
"NIJC raised some money and went to see my family on Christmas, gave them gift cards, jackets, and boots," recalled Favi. "And this is really what gave me the idea to return the blessing to others this Christmas."
Favi says that by helping families of immigrant detainees who are struggling during the holidays through the toy drive, he hopes he can bring them a bit of joy in the midst of a profoundly difficult situation. 
"They're human beings, they're not animals," said Favi. "They have families, and not all of them cross the border illegally. I want people to know that these are not all criminals, these are some good people that are actually helping society."
Favi himself never imagined he would end up in a detention center when he came to the United States from Benin in 2013 on a visitor visa to see his then-girlfriend, who was a U.S. citizen. Favi ended up settling in Indiana and starting a family, working several jobs at a time to support them. He has a bachelor's degree in computer science from a university in Benin, but worked as a convenience store clerk, cleaning schools and universities, and working at a landscaping company.  
Favi was picked up by ICE in June 2019, and he would end up spending over 10 months in JCDC, under what he describes as "horrific conditions."
"We'd see worms coming out of the shower and fungus coming out of the vents," Favi said. "I wasn't allowed to go outside, smell the fresh air, and see the sun."
While in detention, Favi witnessed another detainee hang himself. He says he developed high blood pressure as a result of the stress of being detained. He also missed out on huge milestones for his family, including the birth of his third child. 
As COVID-19 began to spread in the United States, conditions at the detention center worsened, Favi and other detainees say. Favi was housed in an open dorm that held 48 people and he shared a cubicle with three other individuals. Each cubicle had just one sink and one toilet. The detainees ate together in a common area, making social distancing impossible.
Favi says that detainees were not given sanitizer or gloves and not told to follow the CDC's COVID-19 preventative measures. Other detainees at the Kankakee detention center have described similar problems during the pandemic, but the Kankakee County Sheriff's Office has denied such claims. 
Chad Kolitwenzew, the chief of corrections at the Kankakee County Sheriff's Office previously told Borderless Magazine that the jail has been taking steps to protect both detainees and corrections officers from COVID-19 since early March when they stopped allowing in-person visits to the jail. He said that the jail posted information about COVID-19 sometime in the first half of March and that the facility is being cleaned four times a day.
The United States runs the largest immigrant detention system in the world. Since February, 7,888 immigrant detainees have tested positive for COVID-19 while in ICE custody. Eight detainees have died after testing positive for COVID-19 while in custody, according to ICE data, but some researchers have questioned the immigration agency's reporting on coronavirus. 
Favi says that he feared for his life in the detention center during those first few weeks of the COVID-19 pandemic. He suffered from ongoing respiratory issues that he had developed after spending six months in the hospital with pneumonia in 2007. He tried to be as careful as possible in the detention center, going so far as to use socks as gloves when he could afford to call his wife on the payphone. 
Favi spoke with his lawyer about the conditions of the facility and how he believed he was at a high-risk for suffering complications if he contracted COVID-19. Because of his risk, his lawyer fought and won a federal case for his immediate release. 
Favi left the detention center on April 10, 2020, ten months and two weeks after he was arrested. After quarantining in a spare bedroom in his house for two weeks and getting a negative COVID-19 test, Favi was reunited with his wife and three children, including his newborn son. 
"I was happy to hold [my family]. It was good for me to see them and to know that I was free, but at the same time, I didn't know how to feel," Favi said. "I was happy and sad at the same time looking at the people behind me [in the detention center] that were still there that I'd spent days, weeks, a year with… and nobody could do anything to help them."
Favi and his wife are now waiting for their green card approval. Favi had been scheduled for a green card appointment in March, but was not able to attend because of his detention. They now have an appointment in August 2021 — a full 15 months after his original meeting was scheduled.
Since his release, Favi has devoted his time to finding ways to support those who remain in ICE custody. He's tried to spread awareness about the conditions of detention centers, including the lack of mental health support, and even shared his story with the US House of Representatives Committee during the Democratic Virtual Roundtable on ICE's Response to COVID-19. 
Favi has also raised money both for the individuals who remain in detention centers and their families. Favi's toy drive this week is being supported by NIJC, Interfaith Community for Detained Immigrants, and Connect Kankakee, a group focused on defending ethnic and racial diversity in the Kankakee area. The campaign is currently $320 short of his goal.
Favi hopes that more people will contribute to the campaign before it ends on Sunday. But he recognizes that the needs of immigrant detainees will go far beyond the holiday season. He plans to keep speaking out on their behalf in the year to come.
"If you keep quiet and stay silent, you're just agreeing with what is happening," Favi said.
You can donate to Johannes Favi's toy drive here.